Learn how to make pumpkin version of Chinese crispy sesame seed balls filled with sweet red bean paste. Crispy on the outside and perfectly hollow on the inside. They are naturally gluten-free too.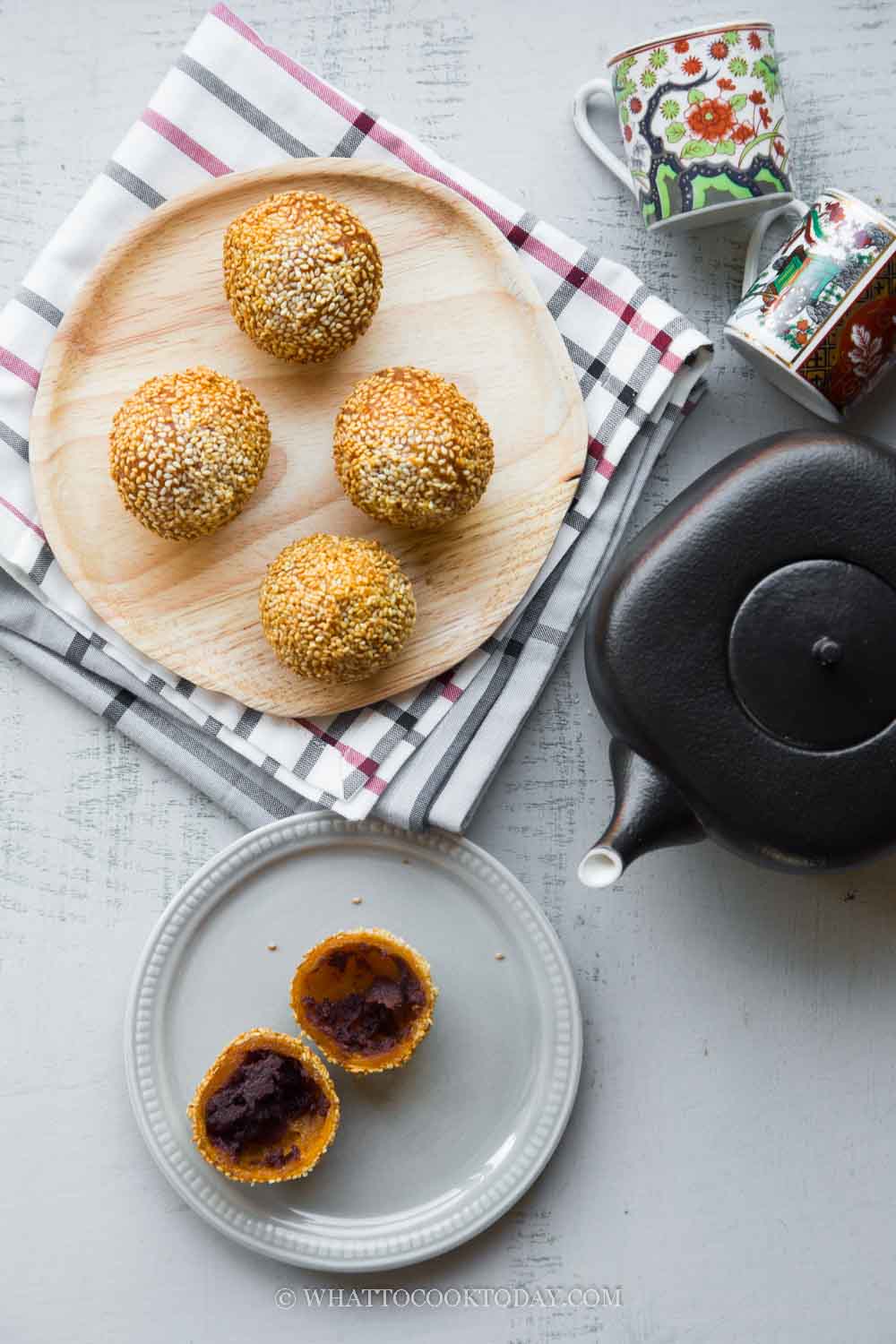 If you enjoy eating Chinese sesame seed balls (jian dui), you will love this pumpkin version of jian dui too. I'm the happiest during pumpkin season 🙂 I love to use pumpkin in lots of my cooking and baking. They give natural vibrant orange color and nutritious. What not to love about that! This time around I fill these crispy sesame balls with red bean paste. The family couldn't have enough!
How to make pumpkin jian dui
1. Cut the pumpkin into chunks and steam for 10 minutes until fork-tender. Mash while it's still hot. If you are using canned pumpkin puree, heat it up in the microwave on high for a minute or heat it up on the stove or steamer until they are hot.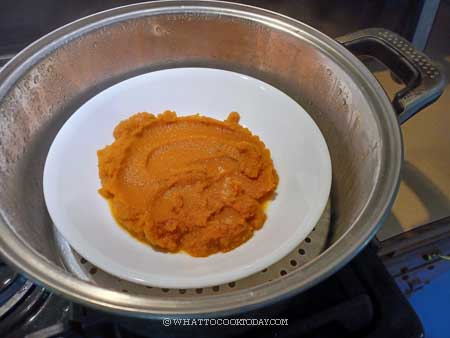 2. Add sugar and flour and mix while they are still warm with a spoon at first and then knead into a smooth dough. It's important for the pumpkin to be warm so the dough won't break easily


3. If the dough is too sticky, you can add a bit more glutinous rice flour until you can get non-sticky smooth dough. If the dough feels dry, you can add a bit more of the hot water


4. Divide the dough into 10 balls, about 30 grams each. I'm doing half recipe in this photo, so I only had 5. Keep them covered and work with one at a time


5. Take one ball and use your thumb to make a well in the center of the dough and work on widening the well to fit the filling in there. Put 1 red bean paste ball


6. Gather the edge to enclose. Pinch to seal and then roll the dough ball in between your palms to make it smooth. Make sure the dough ball is smooth with no cracks so the filling won't leak out during filling. If the dough becomes dry when you wrap, dab with a bit of water and you should be able to roll it smooth again. Repeat with the rest


7. Prepare the flour paste by mixing the flour and water together. Roll one dough into the paste and then roll into the sesame seeds. Repeat with the rest


8. Preheat your fryer with about 3-inches of oil over medium heat. If you put a skewer into the oil and there are bubbles around it, the oil is too hot. Lower the heat and wait for 3-5 minutes before frying. Gently place the sesame balls into the oil. You may need to do this in 2-3 batches. The sesame balls will sink to the bottom at first. Use a spoon to keep them moving and turning them around so they fry evenly and don't get burn in certain spots. When you fry them over low-medium heat, the balls have lower chance of exploding and fry evenly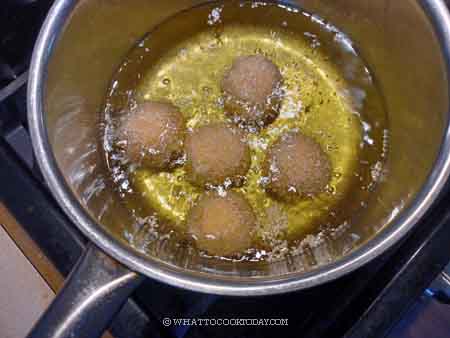 9. Once they are crispy on the outside and lightly golden brown, remove and place on an absorbent paper towel


10. If you want them to stay crispy longer, you can fry for second time after resting for at least 10 minutes. The second round of frying happens quickly. The balls will darken much faster, so you want to make sure you only fry for a minute or less over medium heat. Remove from the hot oil and put on absorbent paper towel

And there you have them…pumpkin jian dui. They are so yummy! The outside crust is crispy and the inside is perfectly hollow and filled with the red bean paste.

Important tips
1. Make sure to mix the pumpkin with the glutinous flour while the pumpkin is still hot. The dough will be soft and pliable, making it easier to shape without breaking
2. Don't shape the balls too big as they will take longer to cook and more prone to burst out during frying
3. Make sure to coat the balls in flour paste before coating with sesame seeds. You won't lose the seeds during frying when you do this
4. Use untoasted white sesame seeds to coat the jian dui so they won't get too dark after frying
5. Fry over medium-low heat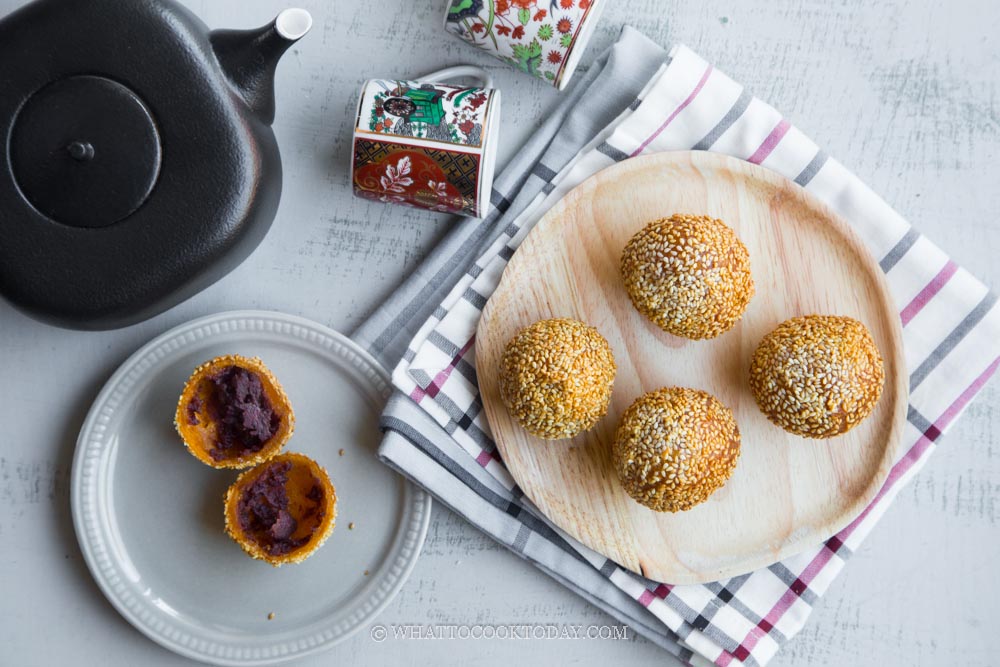 How to store pumpkin jian dui
They are best eaten the same day they were made. They can be made ahead and kept frozen. Here's how:
1. Line a baking sheet with parchment paper.
2. Once the fried sesame balls have cooled down completely, place them on the baking sheet, not touching each other and pop them into the freezer for about 1 hour. They won't be completely frozen yet
3. Transfer to the freezer bag and they won't stick to each other anymore
4. They can be reheated in a toaster oven, air fryer, or oven at 350 F for about 10 minutes or until they are crispy again
Did you make this recipe?
I love it when you guys snap a photo and tag to show me what you've made 🙂 Simply tag me @WhatToCookToday #WhatToCookToday on Instagram and I'll be sure to stop by and take a peek for real!

Pumpkin Jian Dui / Sesame Seed Balls with Red Bean Paste
Ingredients
For coating:
1

cup

white sesame seeds

untoasted
For frying:
Oil

enough for deep-frying
Instructions
For the filling:
For sweet red bean paste: divide the bean paste into 10 portion, about 15 grams each. Oil you palms with a bit of cooking oil and roll the bean paste into balls
Prepare the dough:
Cut the pumpkin into chunks and steam for 10 minutes until fork-tender. Mash while it's still hot. If you are using canned pumpkin puree, heat it up in the microwave on high for a minute or heat it up on the stove or steamer until they are hot. Add sugar and flour and mix while they are still warm with a spoon at first and then knead into a smooth dough. It's important for the pumpkin to be warm so the dough won't break easily

If the dough is too sticky, you can add a bit more glutinous rice flour until you can get non-sticky smooth dough. If the dough feels dry, you can add a bit more of the hot water
Shaping:
Divide the dough into 10 balls, about 30 grams each. Keep them covered and work with one at a time

Take one ball and use your thumb to make a well in the center of the dough and work on widening the well to fit the filling in there. Put 1 red bean paste ball

Gather the edge to enclose. Pinch to seal and then roll the dough ball in between your palms to make it smooth. Make sure the dough ball is smooth with no cracks so the filling won't leak out during filling. If the dough becomes dry when you wrap, dab with a bit of water and you should be able to roll it smooth again. Repeat with the rest

Prepare the flour paste by mixing the flour and water together. Roll one dough into the paste and then roll into the sesame seeds. Repeat with the rest
Deep frying:
Preheat your fryer with about 3-inches of oil over medium heat. If you put a skewer into the oil and there are bubbles around it, the oil is too hot. Lower the heat and wait for 3-5 minutes before frying

Gently place the sesame balls into the oil. You may need to do this in 2-3 batches. The sesame balls will sink to the bottom at first. Use a spoon to keep them moving and turning them around so they fry evenly and don't get burn in certain spots. When you fry them over low-medium heat, the balls have lower chance of exploding and fry evenly

Once they are crispy on the outside and lightly golden brown, remove and place on an absorbent paper towel

If you want them to stay crispy longer, you can fry for second time after resting for at least 10 minutes. The second round of frying happens quickly. The balls will darken much faster, so you want to make sure you only fry for a minute or less over medium heat. Remove from the hot oil and put on absorbent paper towel
Air-frying:
Preheat your air fryer at 320 F (160 C) for 5 minutes. Brush the jian dui with some oil and put in the air fryer basket. Air fry for about 15 minutes. Then increase the temperature to 350 F (180 C) and air fry for another 15 minutes or until lightly golden brown. The timing is just for reference. Check on them once or twice in between. They should be crispy on the outside and just lightly golden brown
Nutrition
Serving:
1
sesame seed ball
|
Calories:
205
kcal
|
Carbohydrates:
25
g
|
Protein:
4
g
|
Fat:
11
g
|
Saturated Fat:
1
g
|
Polyunsaturated Fat:
4
g
|
Monounsaturated Fat:
5
g
|
Trans Fat:
1
g
|
Sodium:
2
mg
|
Potassium:
100
mg
|
Fiber:
3
g
|
Sugar:
10
g
|
Vitamin A:
1558
IU
|
Vitamin C:
1
mg
|
Calcium:
155
mg
|
Iron:
3
mg