Taiwanese style stir-fried rice vermicelli noodles with shredded pumpkin, mushrooms, chicken, eggs, and seasonings made for an easy satisfying meal.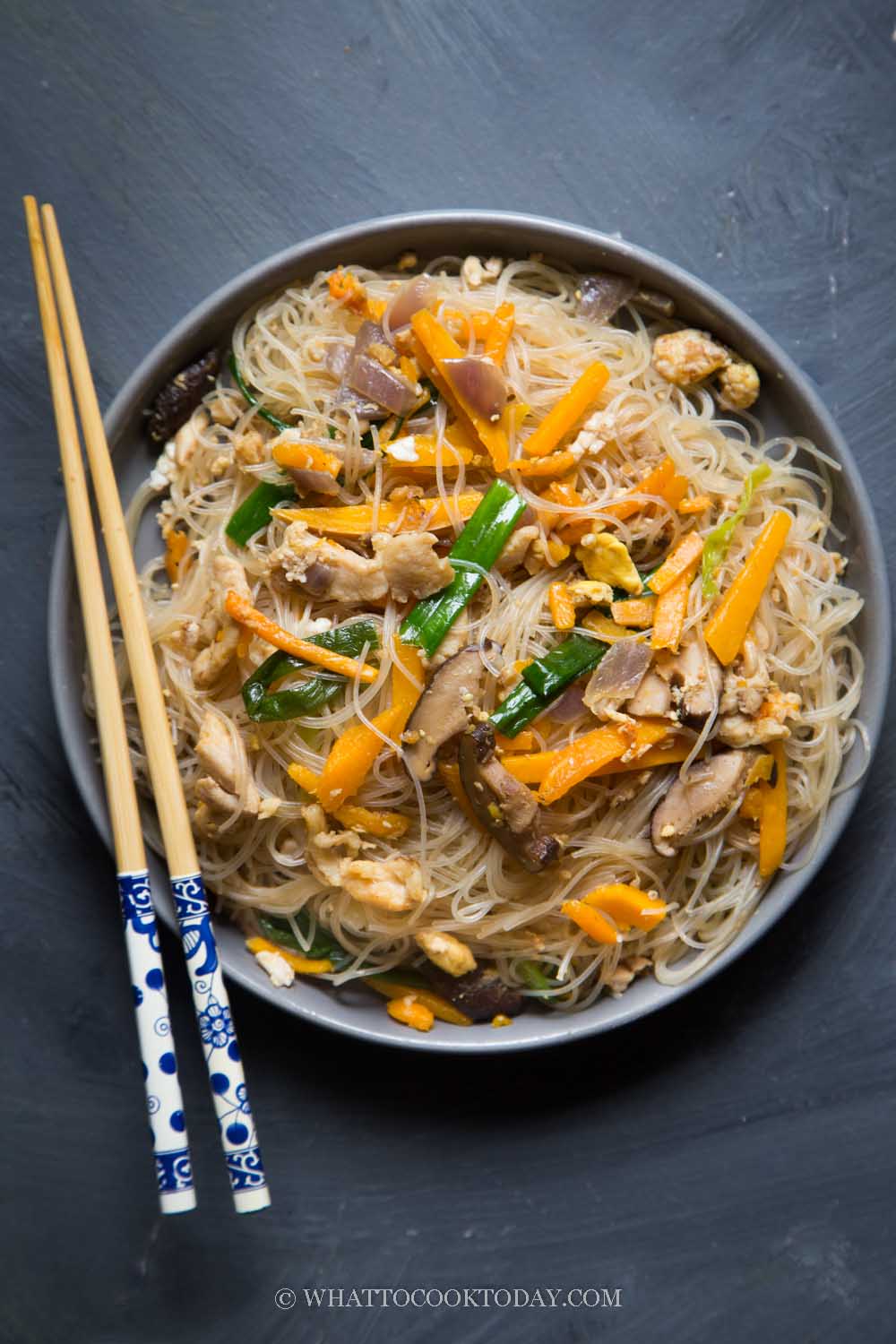 Stir-fried pumpkin with rice vermicelli noodles (pumpkin fried bee hoon) are popular noodle dish in Taiwan. In general, we call this stir-fried mee hoon/bee hoon in Southeast Asia. Fried bee hoon is a popular breakfast item (believe it or not if you are not familiar with Asian culture :)), though we eat this for lunch and dinner too. We use to have Taiwanese neighbors and they make this stir-fried pumpkin rice vermicelli noodles pretty often. If you have never tried it, you should. It may sound weird to stir fry pumpkin with noodles, but it's absolutely delicious. My two kiddos actually enjoy eating them too.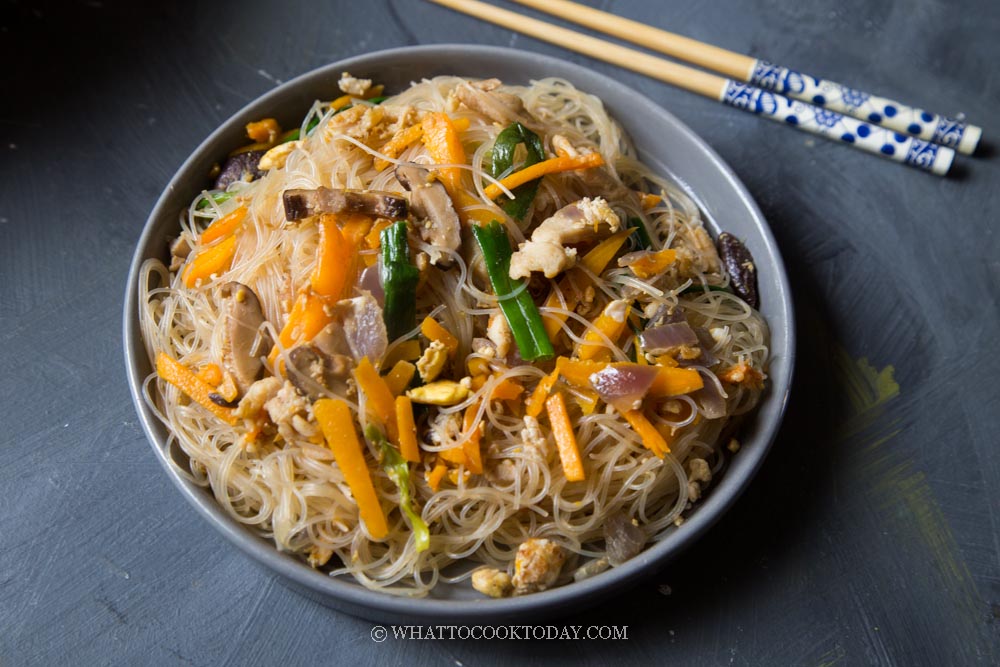 Rice vermicelli noodle (bee hoon) to use
Use a thin rice vermicelli noodles. Any brand of your choice is fine. Preferably the one that doesn't break into pieces when you stir fry them.
How to make stir-fried pumpkin rice vermicelli noodles
1. Preheat wok or skillet until hot. Add 1 Tbsp cooking oil. Add meat (chicken in my case) and let them cook undisturbed for about 1 minute and then saute until they are lightly charred. Remove from the wok and set aside


2. Add the rest of the cooking oil. Add garlic, onion, white parts of green onion and saute for about a minute


3. Add mushrooms and dried shrimp. Saute until fragrant, about 2 minutes


4. Push to the side and crack in two eggs. Let the eggs cook undisturbed for about 10 seconds


5. Then scramble them a bit and wait another 10 seconds


6. Then scramble and mix everything in the wok


7. Add 2 cups of liquid from soaking the mushrooms. Bring to a boil


8. Add the pre-soaked bee hoon (rice vermicelli noodles) followed by the seasonings. Stir to combine. You can use a tong, or two spatulas to help you to move things around so they are evenly combined

9. Add the shredded pumpkin and toss everything to combine


10. Cover with a lid and let them cook for about 2-3 minutes or until the pumpkin are soften but not mushy


11. Then uncover the lid and move things around to combine. Add the green parts of green onion and toss everything to combine. Have a taste test and adjust to your preference as needed

This may look like something you will eat for lunch or dinner, but in Asia, it is very common to have stir-fried noodles, steamed rice, or rice porridge/congee for breakfast.

Variations
1. Meatless
Simply replace chicken with meatless protein such as seitan or extra-firm tofu
2. Vegan
You can omit dried shrimp and eggs and use
3. Gluten-free
Omit dried shrimp and replace soy sauce with tamari or coconut amino
4. Keto version
You can replace rice vermicelli noodles with shirataki noodles and replace sugar with erythritol or sweetener of your choice. I feel like pumpkin is pretty low in carb enough for keto friends, but it's your choice 🙂
Did you make this Taiwan pumpkin rice vermicelli noodle recipe?
I love it when you guys snap a photo and tag to show me what you've made 🙂 Simply tag me @WhatToCookToday #WhatToCookToday on Instagram and I'll be sure to stop by and take a peek for real!

Taiwan Stir-fried Pumpkin Rice Vermicelli Noodles
Ingredients
Instructions
Marinate the meat for 15 minutes while you prepare other things

Preheat wok or skillet until hot. Add 1 Tbsp cooking oil. Add meat (chicken in my case) and let them cook undisturbed for about 1 minute and then saute until they are lightly charred. Remove from the wok and set aside

Add the rest of the cooking oil. Add garlic, onion, white parts of green onion and saute for about a minute. Add mushrooms and dried shrimp. Saute until fragrant, about 2 minutes. Push to the side and crack in two eggs. Let the eggs cook undisturbed for about 10 seconds and then scramble them a bit and wait another 10 seconds and then scramble and mix everything in the wok

Add 2 cups of liquid from soaking the mushrooms. Bring to a boil. Add the pre-soaked bee hoon (rice vermicelli noodles) followed by the seasonings. Stir to combine. You can use a tong to help you to move things around so they are evenly combined. Add the shredded pumpkin and toss everything to combine. Cover with a lid and let them cook for about 2-3 minutes or until the pumpkin are soften but not mushy

Then uncover the lid and move things around to combine. Add the green parts of green onion and toss everything to combine. Have a taste test and adjust to your preference as needed
Recommended products:
Nutrition
Serving:
1
serving
|
Calories:
490
kcal
|
Carbohydrates:
58
g
|
Protein:
19
g
|
Fat:
21
g
|
Saturated Fat:
3
g
|
Polyunsaturated Fat:
6
g
|
Monounsaturated Fat:
11
g
|
Trans Fat:
1
g
|
Cholesterol:
202
mg
|
Sodium:
1273
mg
|
Potassium:
502
mg
|
Fiber:
6
g
|
Sugar:
7
g
|
Vitamin A:
19655
IU
|
Vitamin C:
8
mg
|
Calcium:
103
mg
|
Iron:
4
mg