Now you can enjoy this healthy, low-calorie, low-fat peanut butter by spoonfuls without worrying about the high calories and fat that regular peanut butter has.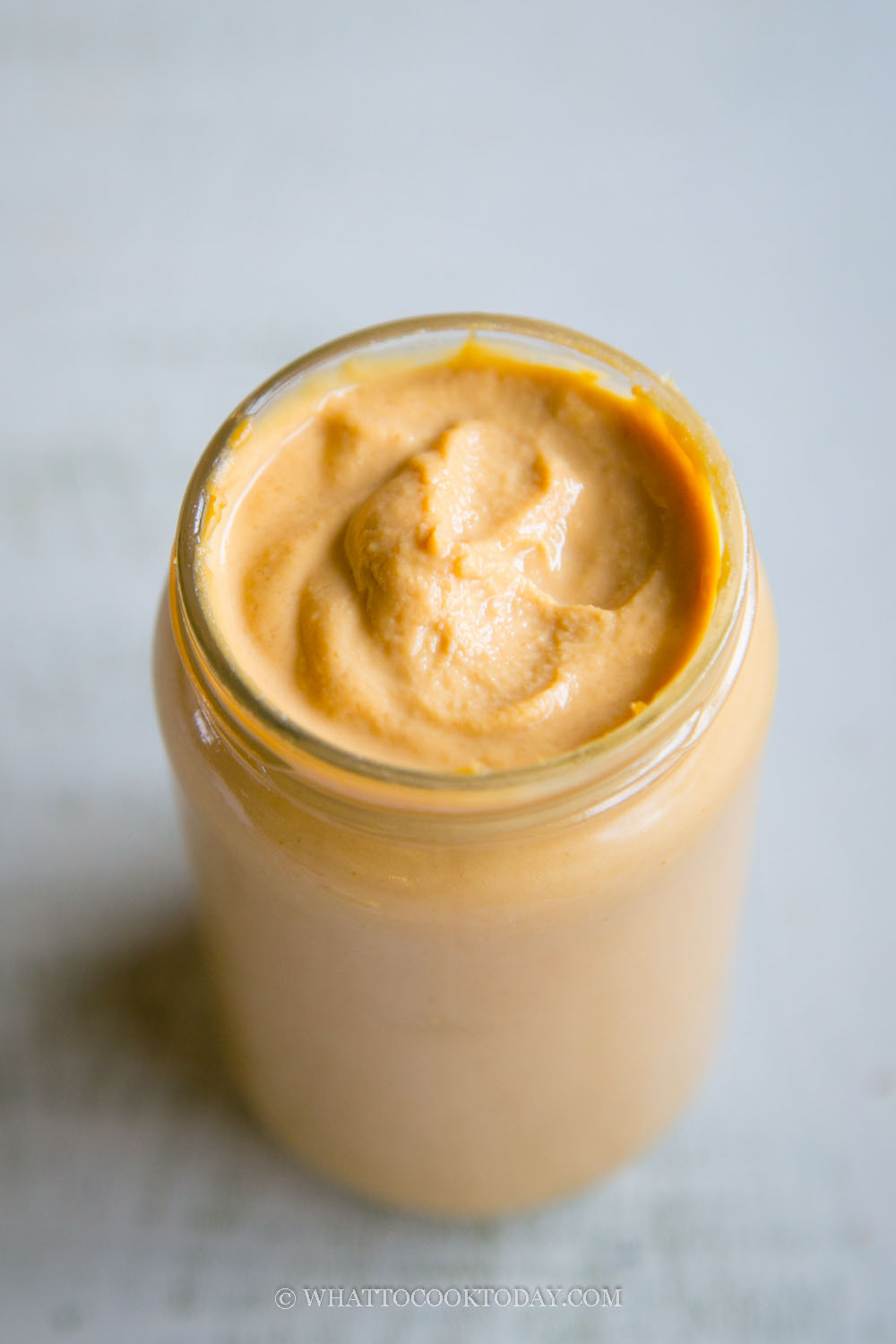 Peanut butter is one of my favorite foods to eat (BY SPOONFULS!!). I love anything made with nuts and tree nuts too. There isn't a day I don't eat peanut butter. Healthy peanut butter contains good fat but is also very high in calories. I feel like half of my calories come from eating peanut butter LOL! So, I decided to make this low-calorie, low-fat peanut butter.
Nutrition comparison
I'm not concerned about carbs, so my focus is only to bring the calorie down.
1 tablespoon of natural creamy peanut butter, in general has about 100 calories, 8 grams of fat, 4 grams of protein, 6 grams of carbs, 2 grams of fiber.
1 tablespoon of this low-calorie, low-fat peanut butter has 25 calories, 1 gram of fat, 2 grams of protein, 3 grams of carbs, 1 gram of fiber
What do I use to make low-calorie, low-fat peanut butter
1. Defatted peanut powder
I have been using this PB2 Peanut Powder for years (not sponsored). I love being able to enjoy the taste of peanut butter with a fraction of the calories. So that's what I use to make this low-calorie, low-fat peanut butter
2. Garbanzo beans
Why in the world would I add garbanzo beans to my peanut butter right? well, let me explain. The beans add volume to this recipe, in a good way. Defatted peanut powder is not cheap and with the rate I'm consuming it, it's gone pretty fast. So, I thought adding beans will stretch it out a bit. Besides, beans are healthy and contain fiber and protein as well.
Do the beans make it tastes weird? The answer might be subjective I think. I don't think it is. There may be a hint of beans there, but I don't mind it that much because the aroma and taste of peanut butter are still there IMHO. For those who don't like beans, you will not like the idea of course!
3. Water
I use water to adjust the consistency. I like it thick but still spreadable. Besides, water doesn't contribute any calories here
4. Erythritol
I use erythritol to sweeten the peanut butter slightly
5. Salt
This is optional. You can add a pinch or suit your taste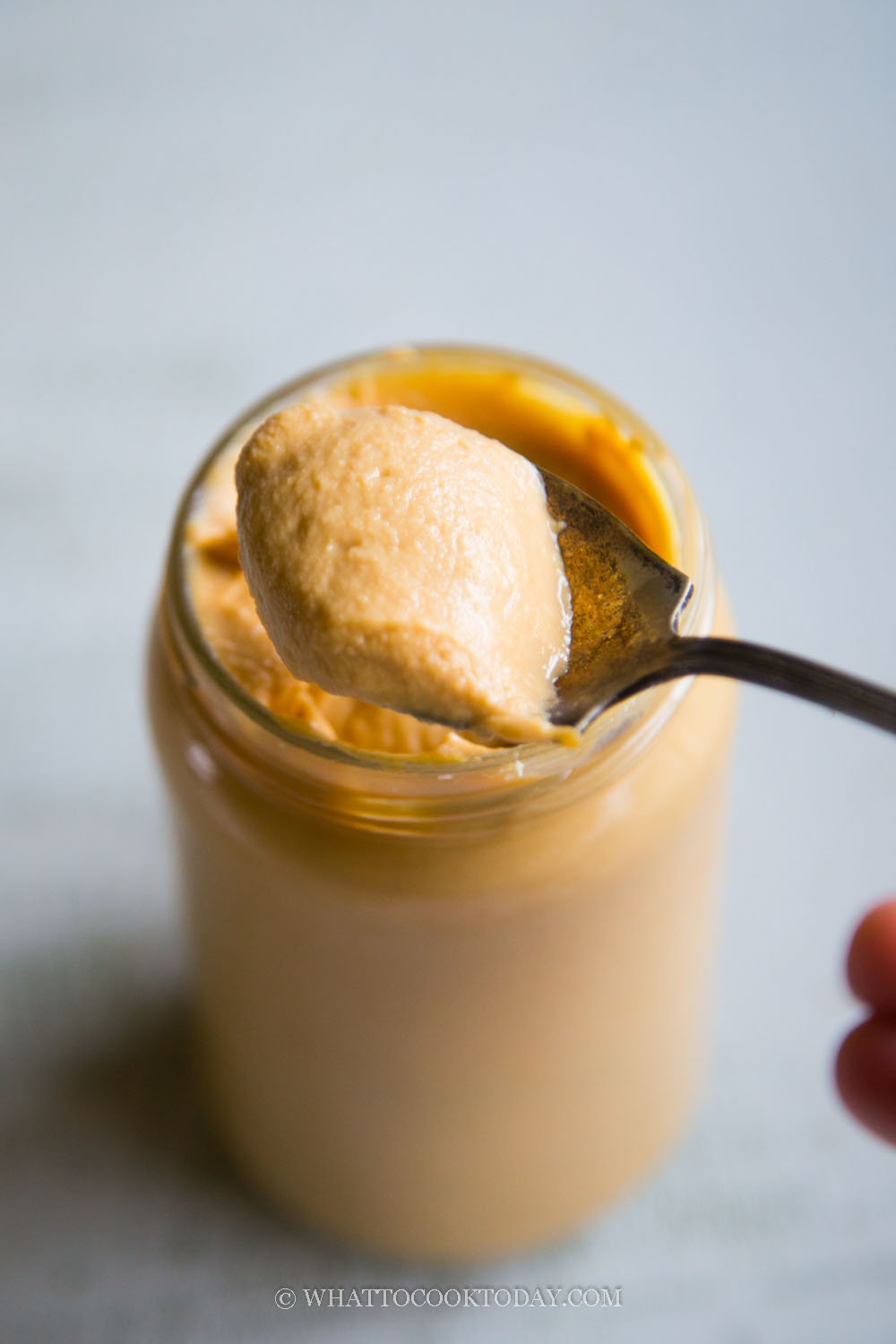 Variations
1. Adjust the ratio of beans to peanut powder
You can really play with the ratio of the beans and peanut powder. I use 1:1 ratio in this recipe. You can use less beans and more peanut powder if you prefer. Of course, that will alter the nutrition facts somewhat if you do that
2. Add-ons
You can also add cocoa powder, or sweetened it with honey. Just keep in mind this will add some calories to the final product too
What other beans to use
Since I'm trying to keep the color as close to real peanut butter as much as possible, I'm sticking with white beans such as navy beans, cannellini beans, and Great Northern beans.
How to store this low-calorie, low-fat peanut butter
Keep it in a clean container with a tight-fitting lid and store it in the fridge for up to about 5 days. I won't recommend making it in a huge batch as the texture may change if you freeze it.
Did you make this low-calorie, low-fat peanut butter recipe?
I love it when you guys snap a photo and tag to show me what you've made 🙂 Simply tag me @WhatToCookToday #WhatToCookToday on Instagram and I'll be sure to stop by and take a peek for real!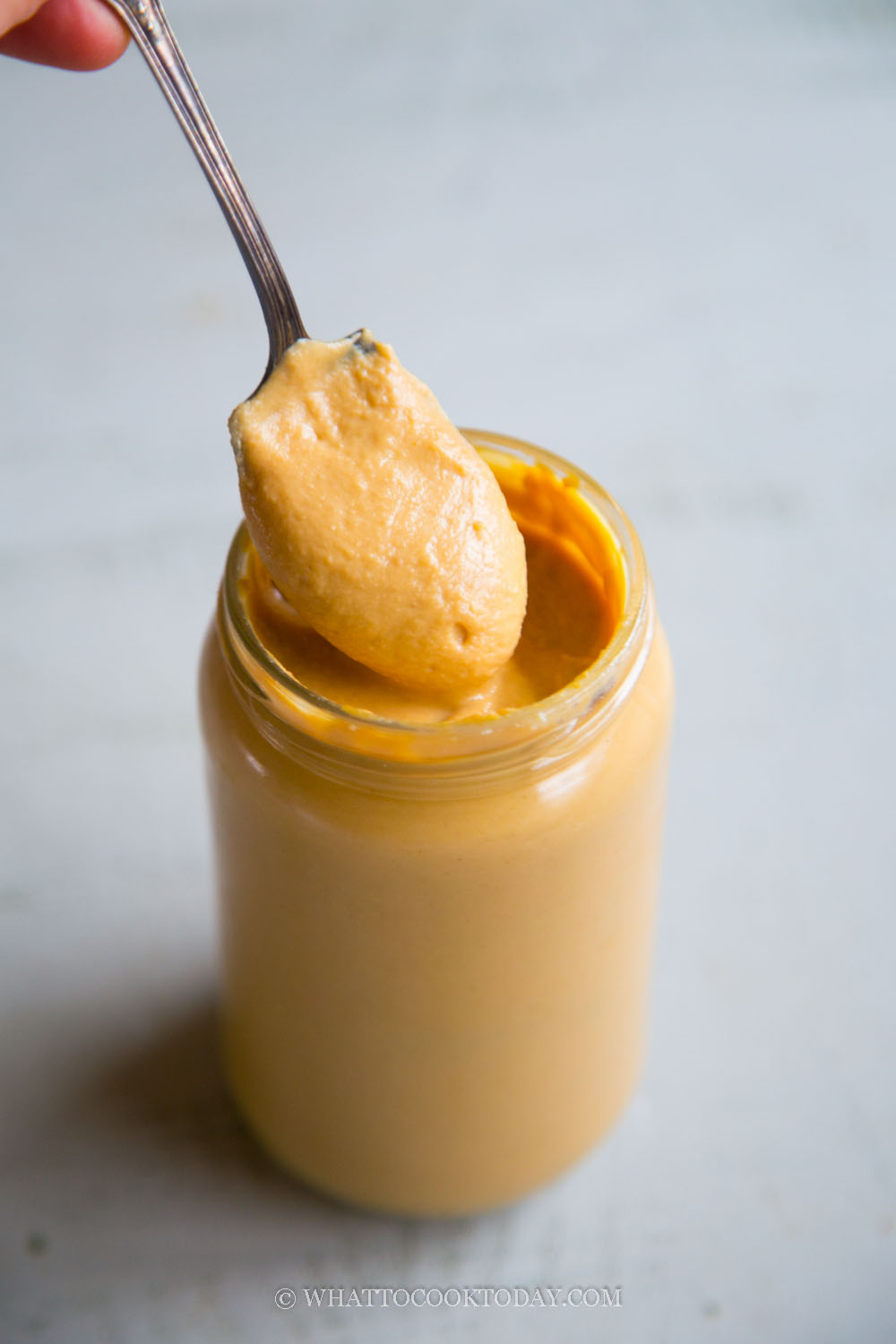 Healthy Low-Calorie, Low-Fat Peanut Butter
Ingredients
Optional:
Sweetener of your choice

I use erythritol to sweeten

Pinch of salt
Instructions
Please note that there are no preservatives of any kind so they won't last as long. So don't make a huge batch

If you use canned garbanzo beans, you can save the liquid (aquafaba) for other use or use it to "thin" the peanut butter. You can also freeze the rest of the garbanzo beans and simply thaw them whenever you want to use them to make this recipe. You can do the same if you cook your own garbanzo beans. That way, it's more practical

Put the garbanzo beans, peanut powder, and water (or aquafaba) in a blender or a food processor. If you want to add sweetener and salt, add them here. Process into a smooth spreadable consistency. Add more water as needed to reach the consistency you like

Transfer to a clean glass jar and it can be kept in the refrigerator for up to about 5 days

Please note that the nutrition facts are just an estimate and are based on using water and without any salt and sugar. I use erythritol, which does not contribute to any nutrition
Recommended products:
Nutrition
Nutrition Facts
Healthy Low-Calorie, Low-Fat Peanut Butter
Serving Size
1 tablespoons
Amount per Serving
% Daily Value*
* Percent Daily Values are based on a 2000 calorie diet.