Japanese pancakes stuffed with sweet bean paste filling will quickly become your favorite. These snack-size pancakes are fun to make and will surely please the crowd. All the tips you need to be able to get that soft, fluffy, smooth and perfect dorayaki pancakes with even browning. You can also use your sourdough discard option to make dorayaki.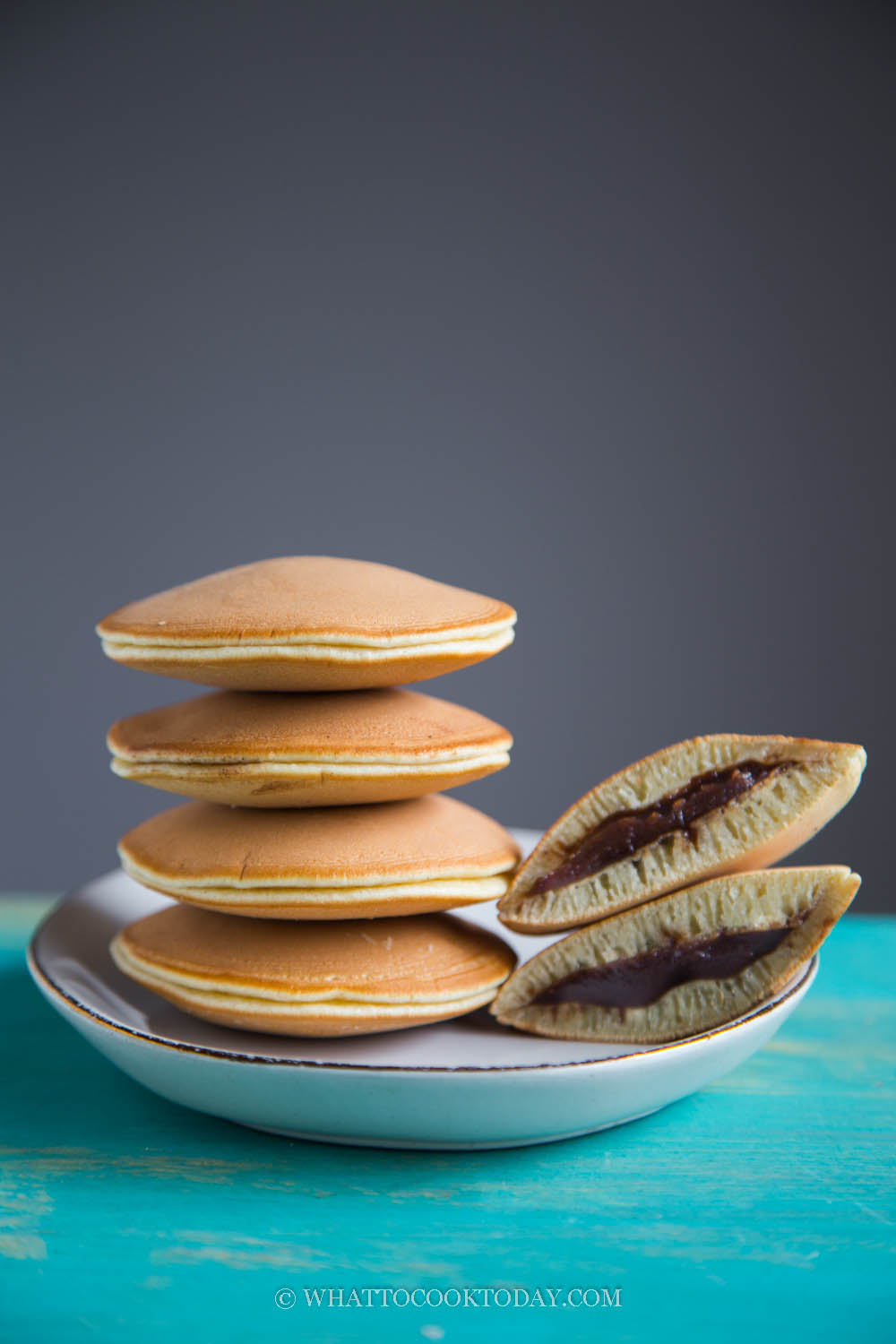 I have so much admiration for Japanese culture and cuisine. They are so carefully prepared, delicate, yet minimal and always beautifully presented. I've been wanting to make dorayaki for the longest time. I often hauled back some dorayaki from the Asian grocery store when I went there. But now knowing that they are actually not difficult to make, I think I would definitely make them myself now.
What is Dorayaki?
The mention of dorayaki is always tied with Doraemon. At least to me. How many of you grew up with Doraemon show ? I certainly can't be the only one, can I ? I love watching this blue cat which came from the 22nd century to aid this Nobita boy! How I wished I was Nobita. Still wish I am him and to have a robotic cat who can grant my wishes. That magic pocket could birth out just about anything he needed. Doraemon's favorite food is this dorayaki. Dorayaki is basically a Japanese-sytle snack with sweet red bean paste (anko) sandwiched in between two soft fluffy pancakes.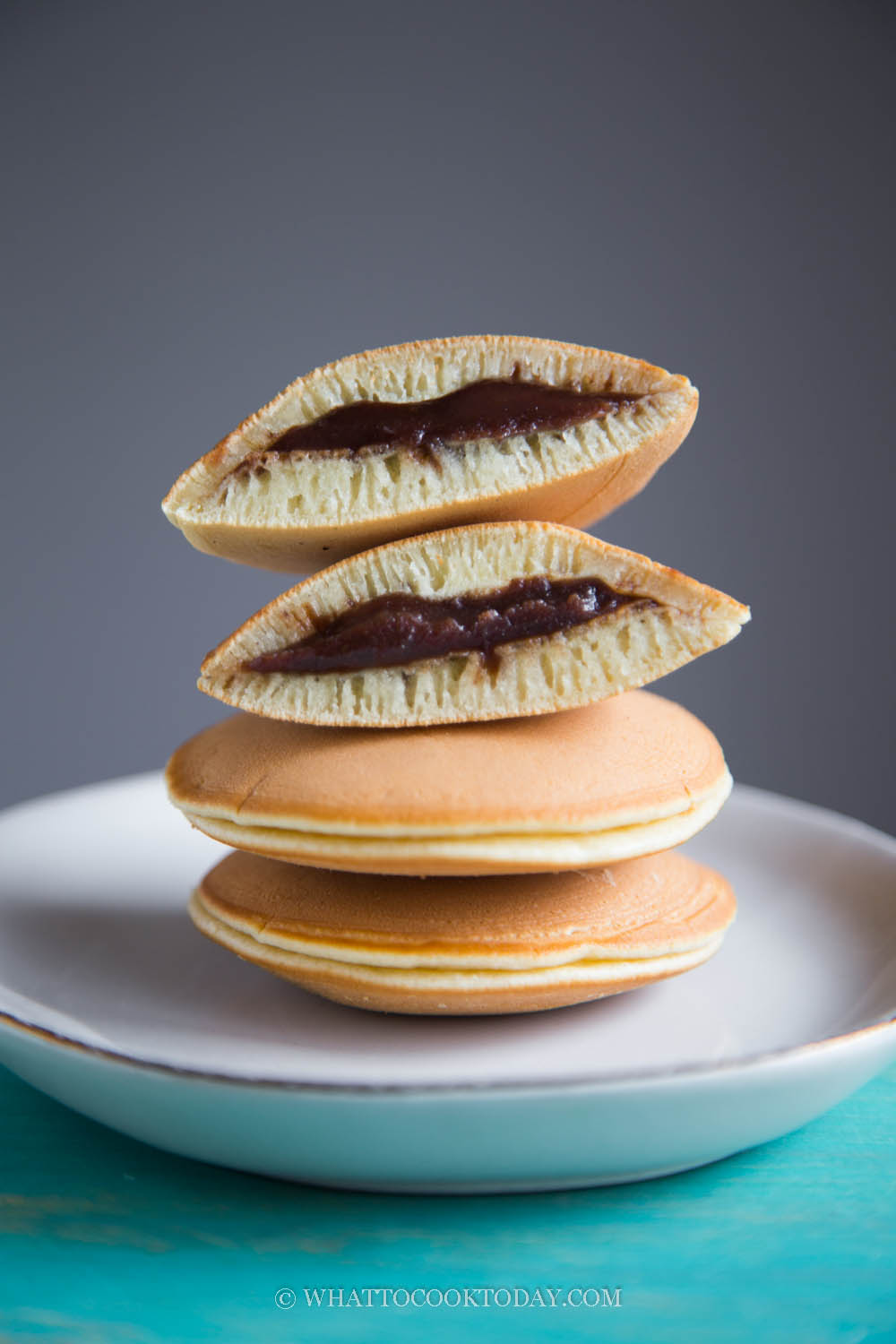 Ingredients
1. Cake flour
I've tried using all-purpose flour before and my family voted for cake flour because the texture is softer and fluffier
2. Baking soda
Baking soda not only promotes the airiness but also helps with the browning of the pancake. I do not recommend switching to baking powder (and please note that baking soda and baking powder are not a 1 to 1 substitution)
3. Sugar
I use granulated sugar. The sugar also promotes caramelization and browning
4. Salt
A small pinch of salt helps to balance the overall taste
5. Honey
Honey adds that nice aroma and so I strongly encourage you not to omit
6. Milk
I use low-fat milk. You can also use non-dairy milk, preferably unsweetened
7. Egg
The egg adds richness and makes the pancakes fluffier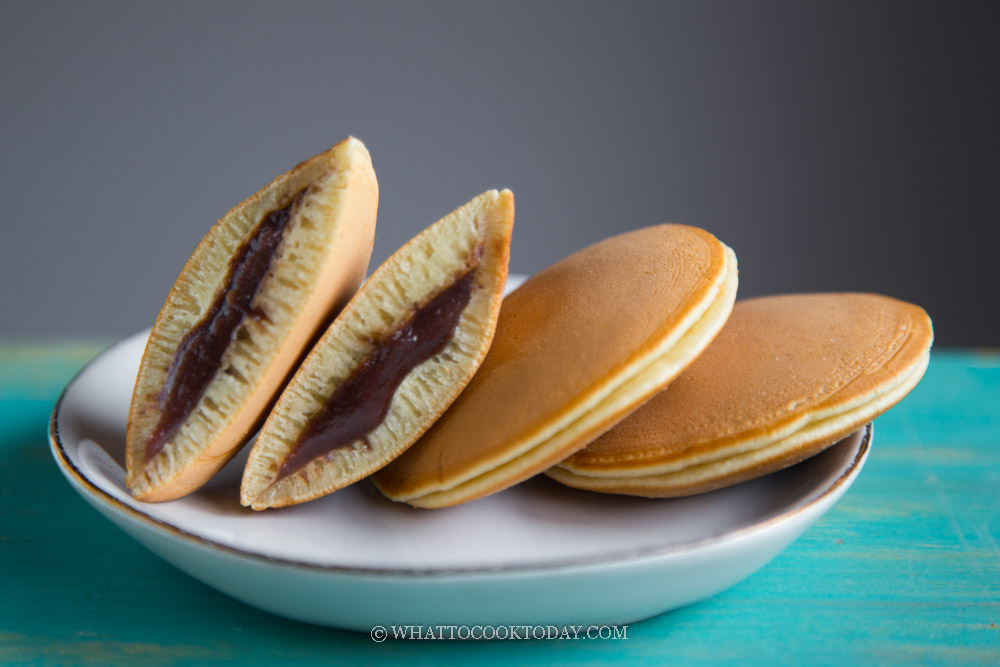 How to make Dorayaki pancake with nice even browning
Dorayaki pancakes have the signature look of perfect even browning on the pancakes. Here's how to achieve that:
1. Place the flour, salt, and baking soda in a bowl. Stir to mix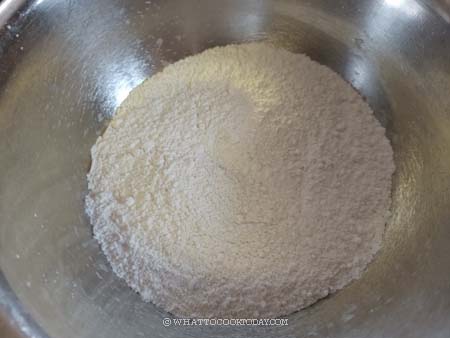 2. Beat the eggs, sugar, and honey until well mixed, add in the milk. Gradually add in the flour mixture and continue to whisk until you get a smooth batter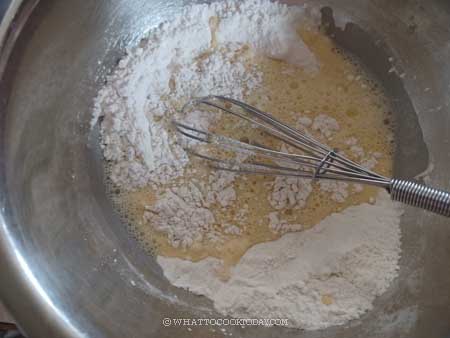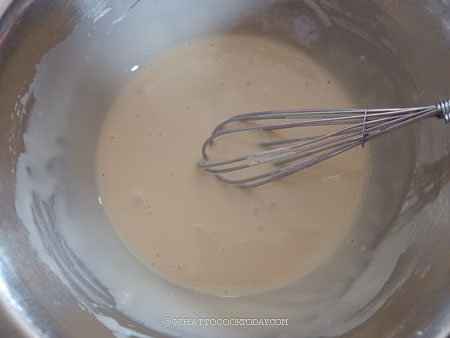 3. Preheat a non-stick pan over medium heat and add a few drops of oil and then use a paper towel to wipe off excess oil. This step is very important in order to get an even browning on the pancakes. Lower the heat to between medium and low (you will have to experiment on your stove). I use the largest burner on my stove and the heat is at level 2 out of 9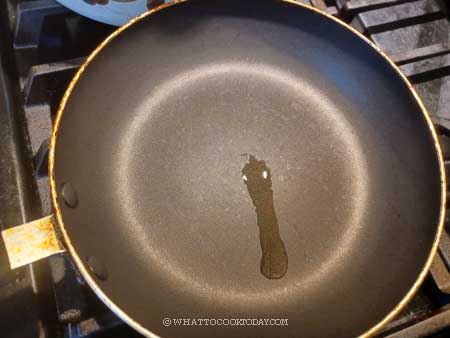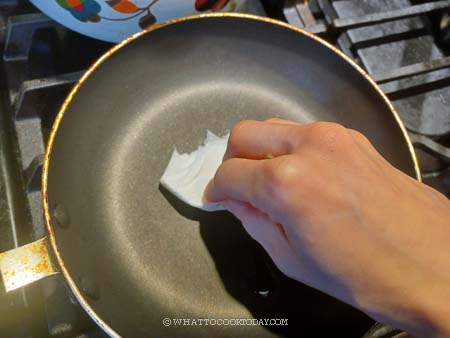 4. Drop about 1 tablespoon of a batter onto the pan and let it cook until you see bubbles on the surface of the pancakes. It will slowly form small bubbles. Don't be tempted to crank up the heat. When the pan is too hot, the pancake won't have even browning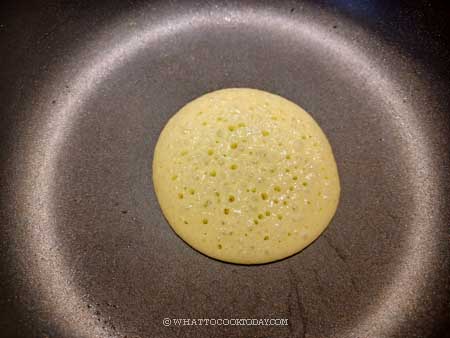 5. Once you see small bubbles appearing all over the pancakes and the edge of the pancake is no longer wet, flip over and cook for another minute. Remove to a plate and cover with a damp clean towel. Repeat with the rest of the pancake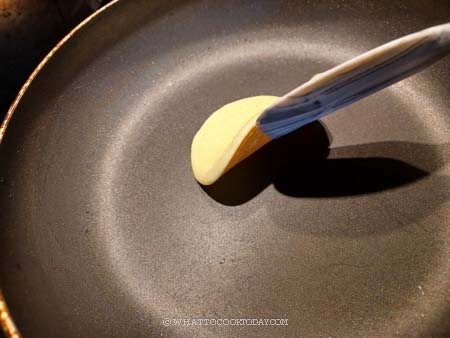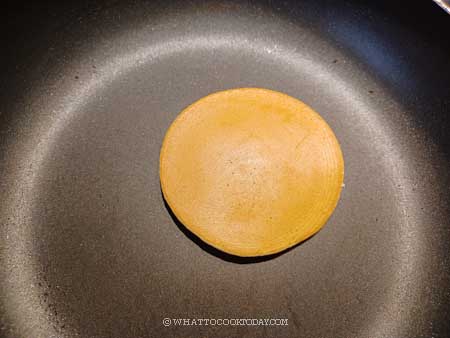 6. Get one pancake and spread with some filling, about 1 teaspoon or so, in the middle of the pancake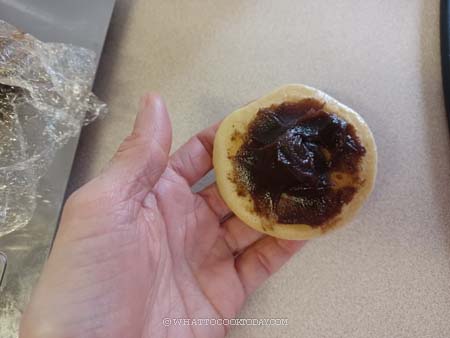 7. Top with another piece of pancake. Wrap with plastic wrap (I didn't do this) and gently press the edges of the pancake together to seal to make a sandwich. Repeat with the rest of the pancakes and fillings

Did you make this dorayaki recipe?
I love it when you guys snap a photo and tag to show me what you've made 🙂 Simply tag me @WhatToCookToday #WhatToCookToday on Instagram and I'll be sure to stop by and take a peek for real!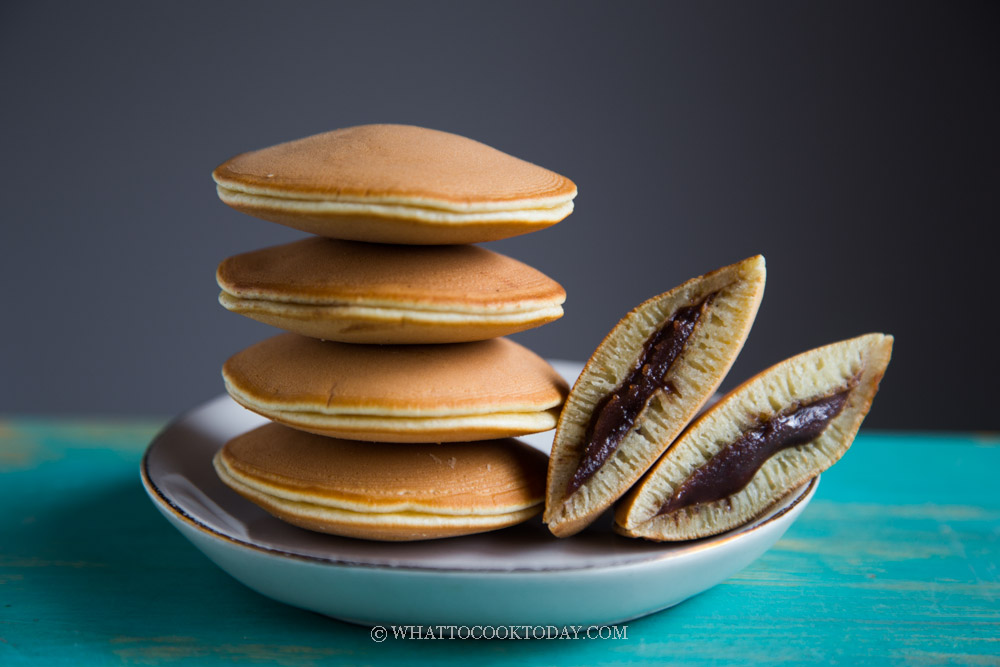 The recipe for the dorayaki pancake is adapted from Japanesecooking101.com with some modifications.
This recipe was originally published in 2016 and has been updated with better process and new photos on May 2, 2022.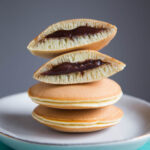 How To Make Perfect Dorayaki Pancakes (with Sourdough Discard Option)
Ingredients
100

gr

cake flour

sifted

⅛

tsp

salt

¼

tsp

baking soda

50

gr

egg (room temperature)

about 1 large egg without the shell

50

gr

sugar

7

gr

honey

90

ml

milk
If using sourdough discard:
85

gr

cake flour

⅛

tsp

salt

100

gr

sourdough discard

unfed

90

ml

milk

50

gr

egg (room temperature)

about 1 large egg without the shell

50

gr

sugar

15

gr

oil

½

tsp

baking soda
Instructions
Preparing the Matcha cream cheese filling:
Cream the softened cream cheese, matcha powder, and powdered sugar until they are smooth. Chilled in the refrigerator
Prepare the batter:
Place the flour, salt, and baking soda in a bowl. Stir to mix

Beat the eggs, sugar, and honey until well mixed, add in the milk. Gradually add in the flour mixture and continue to whisk until you get a smooth batter
Prepare the batter using sourdough discard:
I used my unfed discard that has been in the fridge for about one week. Combine all the ingredients except for the baking soda in a mixing bowl. Stir until well mixed. Cover and keep in the refrigerator to let it rest overnight

The next day, mix 1/2 tsp of baking soda with 1 tsp of water and stir to combine. Add this to the batter and whisk to combine. Proceed to cooking
Cook the pancakes:
Preheat a non-stick pan over medium heat and brush with some oil and then use a paper towel to wipe off excess oil. This step is very important in order to get an even color pancakes. Lower the heat to between medium and low (you will have to experiment on your stove). I use the largest burner on my stove and the heat is at level 2 out of 9

Drop about 1 tablespoon of a batter onto the pan and let it cook until you see bubbles on the surface of the pancakes. It will slowly form small bubbles. Don't be tempted to crank up the heat. When the pan is too hot, the pancake won't have even browning

Once you see small bubbles appearing all over the pancakes and the edge of the pancake is no longer wet, flip over and cook for another minute. Remove to a plate and cover with a damp clean towel. Repeat with the rest of the pancake
Assembling:
Get one pancake and spread with some filling, about 1 teaspoon or so, in the middle of the pancake.

Top with another piece of pancake. Wrap with plastic wrap (I didn't do this) and gently press the edges of the pancake together to seal to make a sandwich. Repeat with the rest of the pancakes and fillings
Serving:
Dorayaki can be served immediately. You can store the leftover in the fridge, well wrapped. Simply heat in the microwave for few seconds until just warm enough. They can be served cold too if you don't mind it. I remember a store I bought this from have the dorayaki individually packed and kept in the fridge. It is meant to be a grab-n-go kind of snack in Asia
Recommended products:
Nutrition
Serving:
1
sandwich with anko filling
|
Calories:
153
kcal
|
Carbohydrates:
25
g
|
Protein:
4
g
|
Fat:
4
g
|
Saturated Fat:
2
g
|
Polyunsaturated Fat:
1
g
|
Monounsaturated Fat:
1
g
|
Trans Fat:
1
g
|
Cholesterol:
31
mg
|
Sodium:
105
mg
|
Potassium:
47
mg
|
Fiber:
1
g
|
Sugar:
15
g
|
Vitamin A:
196
IU
|
Vitamin C:
1
mg
|
Calcium:
29
mg
|
Iron:
1
mg