A classic Chinese soup recipe using pig stomach cooked in lots of white peppercorns. The soup is clean-tasting, savory, and peppery. The soup can be made with Instant Pot pressure cooker or on the stove.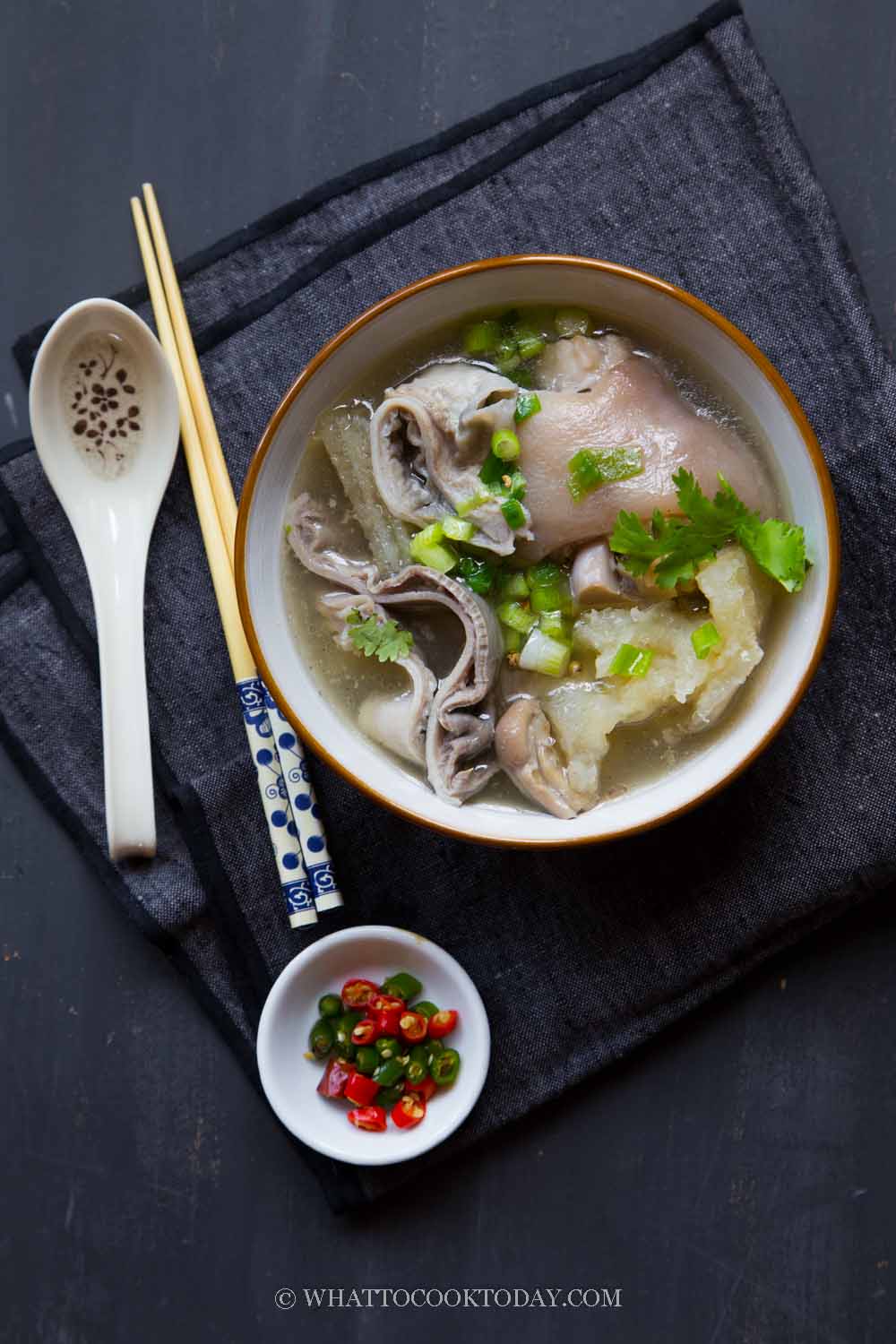 One of my favorite soups that mom made often when we were kids was this pig stomach soup with white peppercorns. I couldn't be happier when mom made this. I love the tender and slightly chewy pig stomach and the kick from the white peppercorns complements the soup so well. This version of pig stomach soup is upgraded by adding some pork hocks and fish maws, which make this soup even more delicious. You can omit the fish maw and pork hocks if you prefer. I have to warn you though that you are taking away lots of flavors 😉
How to cook pig stomach soup with white peppercorns with Instant Pot
1. Follow the instruction on how to clean the pig stomach
2. Put peppercorns inside a spice bag. It's easier to remove them later. When my mom prepares this, she likes to stuff all the peppercorns inside the stomach cavity. She's been doing this forever and that's what she's used to, but it's hard to fish out all the peppercorns later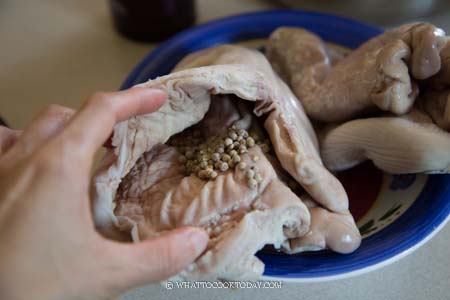 3. Soak fish maw in hot water for 10-15 minutes. Cut into bite-size chunks and set aside
4. Place the garlic, ginger, chicken bouillon, peppercorns inside the spice bag, pork hocks and cleaned stomach in the inner pot of Instant Pot. Fill up with water just enough to cover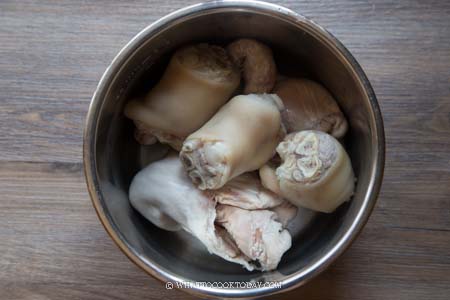 5. Close the lid and turn the pressure release valve to "sealing". Set the timer to 30 minutes and make sure it's on high pressure. When the timer is up, do natural release. Carefully unlock the lid. Add the fish maw pieces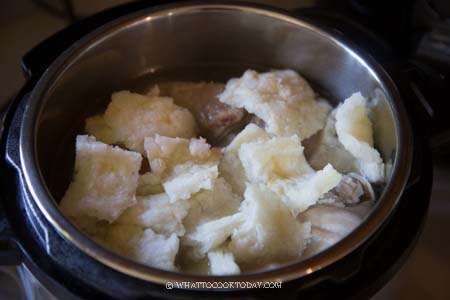 6. Press saute mode and let them cook for about 10 minutes or until they are soft. Have a taste and season the soup with salt and a bit of sugar. Adjust to your taste. The soup should taste savory and peppery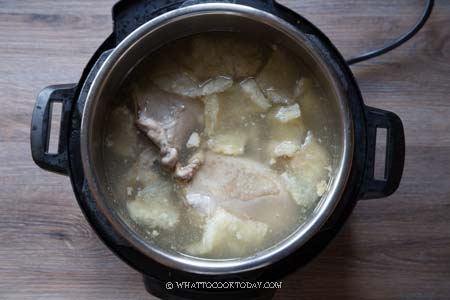 7. Remove the pig stomach from the soup and let it rests on the cutting board for 5 minutes. Then cut into smaller pieces. Add the sliced stomach back into the soup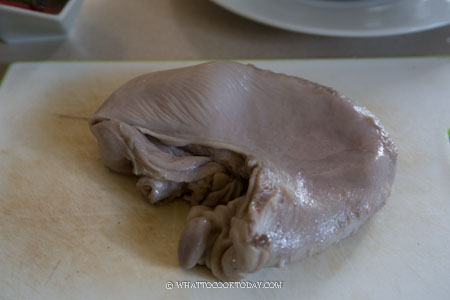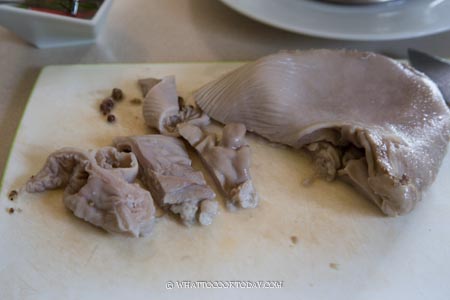 8. Garnish with cilantro leaves and some chopped green onions . Add a few drop of sesame oil if you wish and serve immediately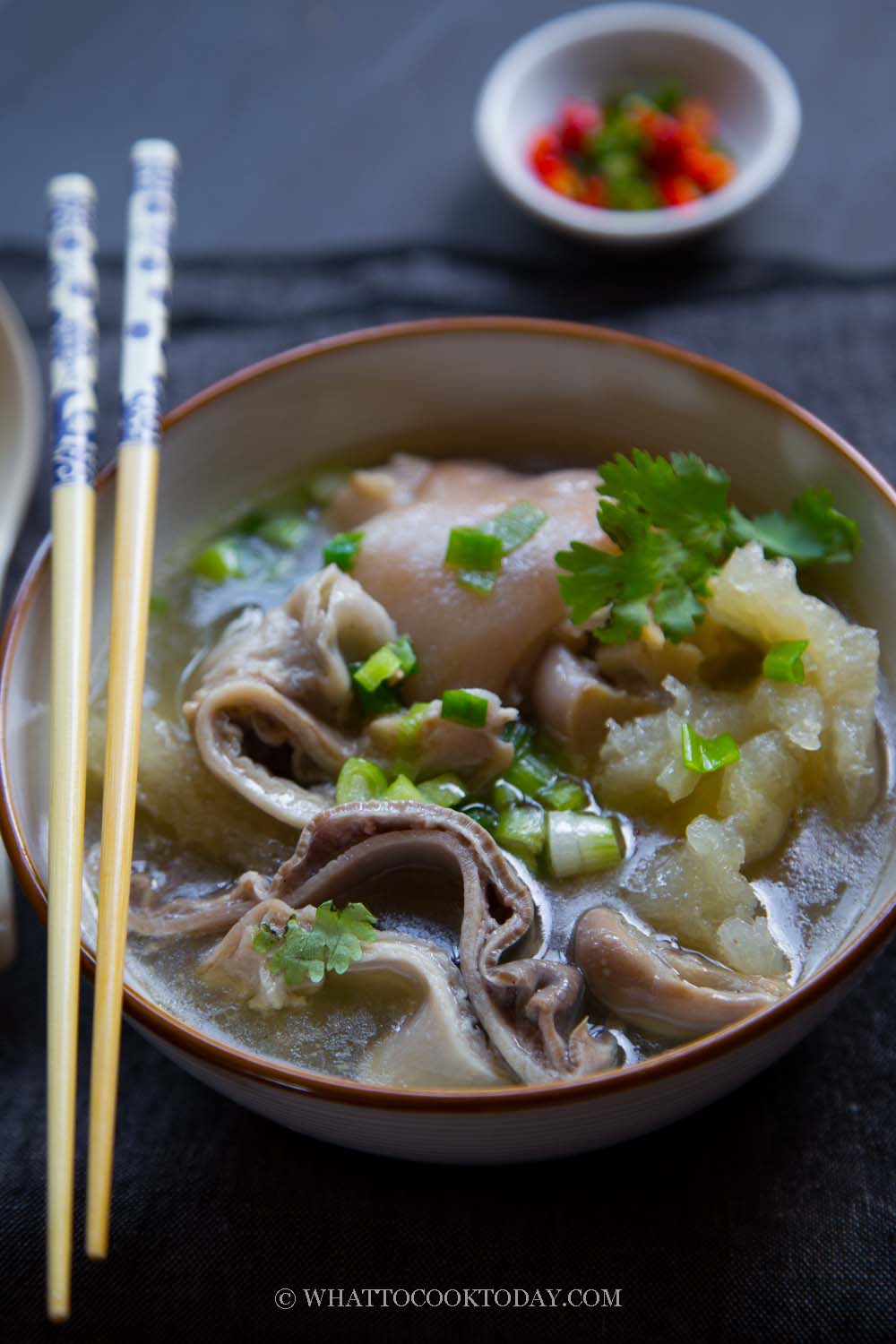 Did you make this pig stomach soup with white peppercorns recipe?
I love it when you guys snap a photo and tag to show me what you've made 🙂 Simply tag me @WhatToCookToday #WhatToCookToday on Instagram and I'll be sure to stop by and take a peek for real!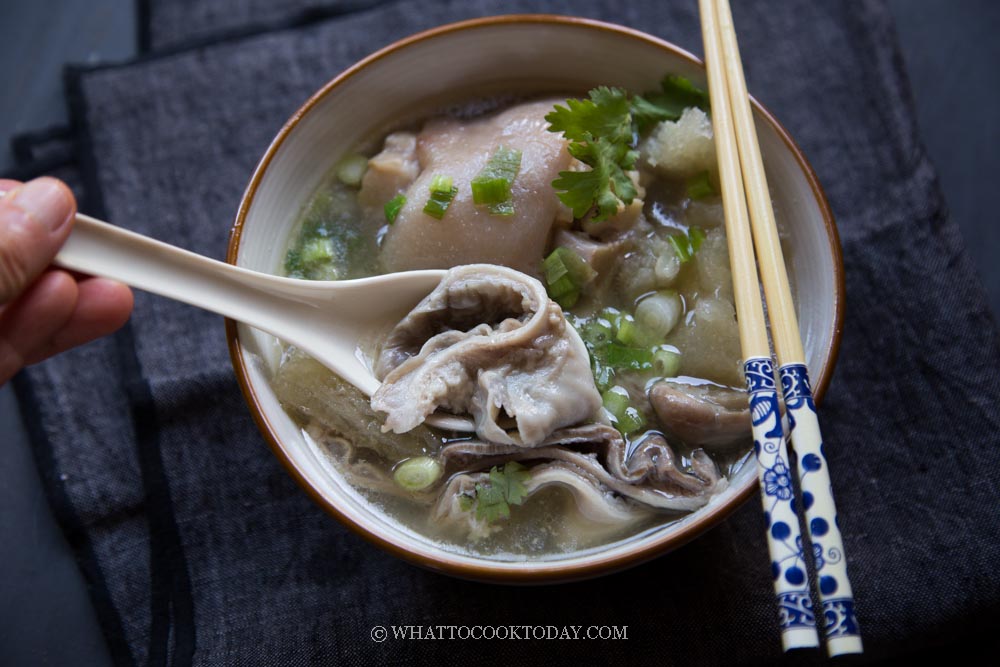 This recipe was last published in 2010 and has been updated and improved with new process and photos on May 3,2022.

Pig Stomach Soup with White Peppercorns (Instant Pot or Stove-top)
Ingredients
800

gr

pig stomach

500

gr

pork hocks

you can also use pork ribs

30

gr

fried fish maws

soaked in hot water for 15-20 minutes until soft

50

gr

white peppercorns

1

bulb

garlic

with the skin on

20

gr

ginger

thinly sliced

1

cube

chicken bouillon

optional

Water

enough to cover

Salt and or/sugar to taste
To add last:
1

stalk

green onion

finely chopped

Cilantro for garnish
Instructions
Put peppercorns inside a spice bag. It's easier to remove them later. When my mom prepares this, she likes to stuff all the peppercorns inside the stomach cavity. She's been doing this forever and that's what she's used to, but it's hard to fish out all the peppercorns later

Soak fish maw in hot water for 10-15 minutes. Cut into large chunks and set aside
For Instant Pot version:
Place the garlic, ginger, chicken bouillon, peppercorns inside the spice bag, pork hocks and cleaned stomach in the inner pot of Instant Pot. Fill up with water just enough to cover

Close the lid and turn the pressure release valve to "sealing". Set the timer to 30 minutes and make sure it's on high pressure. When the timer is up, do natural release. Carefully unlock the lid. Add the fish maw pieces. Press saute mode and let them cook for about 10 minutes or until they are soft. Have a taste and season the soup with salt and a bit of sugar. Adjust to your taste. The soup should taste savory and peppery

Proceed to the serving step
For stove-top version:
Place the garlic, ginger, chicken bouillon, peppercorns inside the spice bag, pork hocks and cleaned stomach into a heavy-bottom large pot with a tight-fitting lid. Fill up with water just enough to cover

Bring to a simmer and then lower the heat to let it gently simmer and cover with a lid. Simmer for about 1 1/2 to 2 hours or until the pork hocks and the stomach are tender

15 minutes before the end of cooking time, add the fish maw and continue cooking

Have a taste and add more salt and/or sugar to your taste. Proceed to the serving step
Serving:
Remove the pig stomach from the soup and let it rests on the cutting board for 5 minutes. Then cut into smaller pieces. Add the sliced stomach back into the soup

Garnish with cilantro leaves and some chopped green onions . Add a few drop of sesame oil if you wish and serve immediately
Recommended products: