Pressure Cooker Lu Rou Fan (Taiwanese Braised Pork Belly Rice)- Pork belly is braised in a savory, rich sauce and smothered on top of rice. This is heaven in a bowl. Both pressure cooker and stove-top recipe included.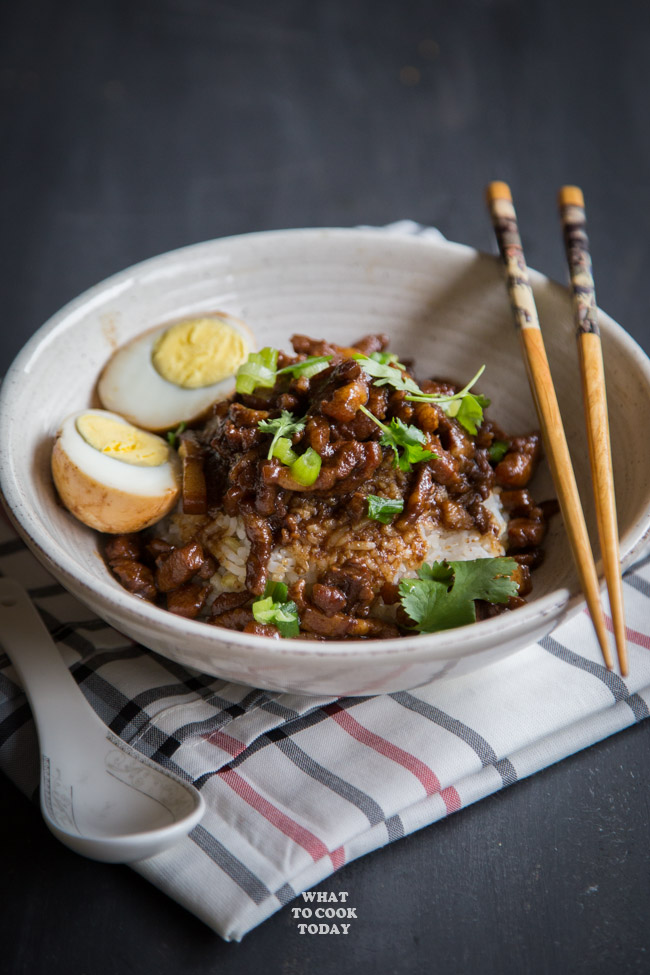 BRAISED PORK BELLY RICE
Lu means braised in Chinese. Rou means meat and Fan means rice. There you have it 😉 The pork is braised in dark soy sauce, fried shallots, garlic and then the sauce is thickened. Smother this on top of the rice and you have yourself an incredibly delicious meal!
The first time I had Taiwanese lu rou fan was in Oklahoma. Yup, from all the places. I've never even been to Taiwan at that time. There were (or perhaps are..I'm pretty sure they are still around) one Taiwanese restaurant and one Taiwanese cafe near campus that served very authentic and affordable Taiwanese food. Yes..imagine me as a 18-year old student. I was beyond thrill when a friend brought me to the restaurant for lunch and the first thing I've ever ordered from them was this lu rou fan. It's very similar to what my mom used to make at home. The meat, the sauce, the hard-boiled egg. Oh my…I was almost in tears thinking about how similar this was to mom's cooking! And guess what for the next 4 years I was in undergraduate school, lu rou fan (and their pork chops) made it very often into my diethood. My sister was also my partner in crime.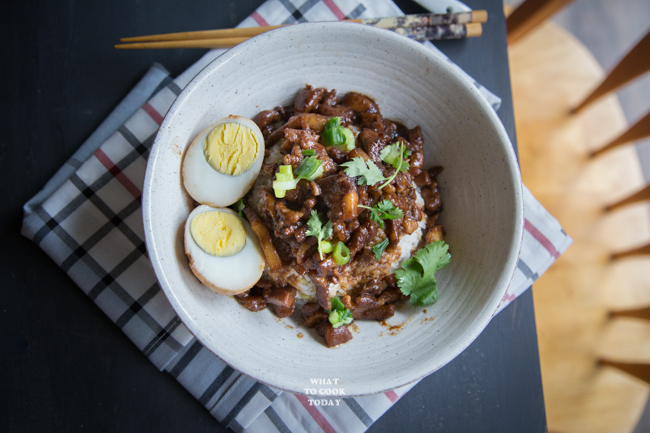 WHAT CUT OF PORK TO USE TO MAKE LU ROU FAN?
The restaurant I ate at made the lu rou fan with mixture ground pork and pork belly. You can make it with just pork belly too. There are times when I made lu rou fan with only ground pork too, but make sure the ground pork has some fat in it or it will be too lean. My kids like it with pork belly 🙂
YOU CAN SUBSTITUTE PORK WITH OTHER MEAT.
You don't have to use pork if you don't want to. Chicken is a good substitute. I recommend using dark meat like boneless skinless thighs so it's more tender.
PRESSURE COOKER LU ROU FAN
While you don't really need a pressure cooker to make lu rou fan, but if you own an electric pressure cooker like Instant Pot, it makes life so much easier. It cooks in one pot and I can just set and forget!
SPECIAL INGREDIENT
The pork belly is obviously good, but to me, lu rou fan needs crispy fried shallots in it to add that depth of flavor IMHO. You can make your own fried crispy shallots, but I use store-bought ones.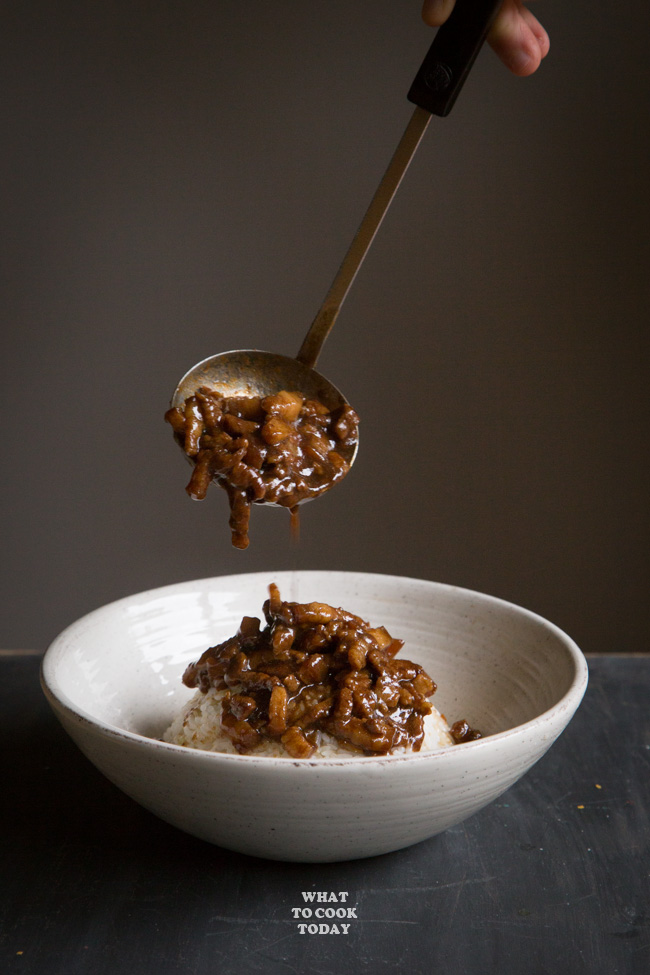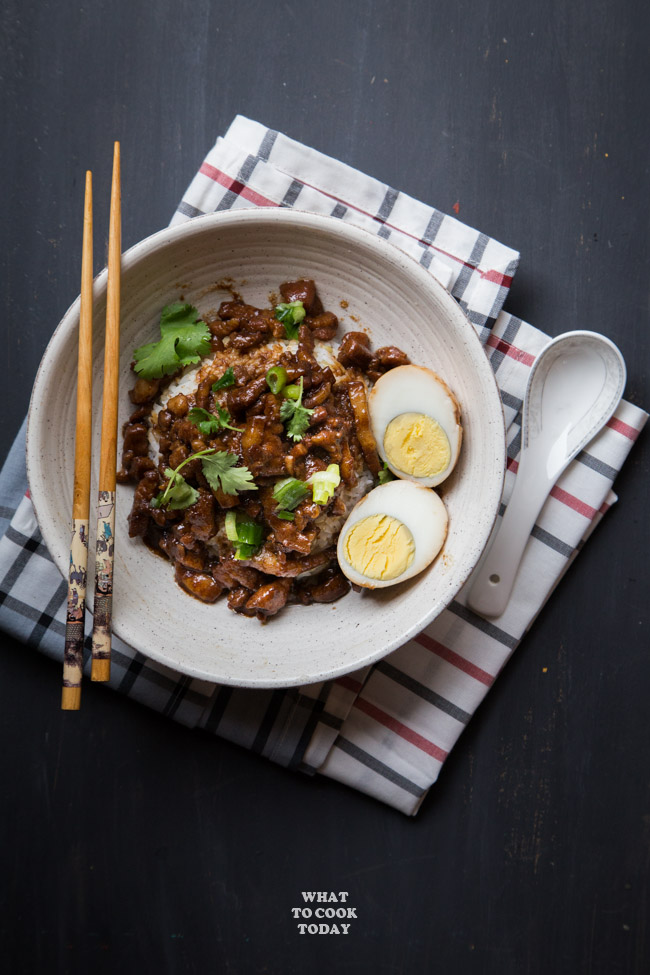 MAKE PRESSURE COOKER LU ROU FAN IN 5 SIMPLE STEPS
1. SAUTE
Saute the pork belly strips for about 5 minutes in Instant pot. Add the seasonings and aromatics
2. HOT BOILING WATER
Mom often reminds me to add hot boiling water so that you don't lower the temperature of what you are cooking. Pour the hot water in and stir to mix
3. ADD HARD-BOILED EGGS
Add the peeled hard-boiled eggs in
4. PRESSURE COOK
Set the timer of the pressure cooker to 20 minutes or 30-40 minutes if you want the pork to be really tender. Release pressure immediately after
5. SKIM OFF EXTRA FAT
Pork belly is needless to say, greasy, you can skim off any extra fat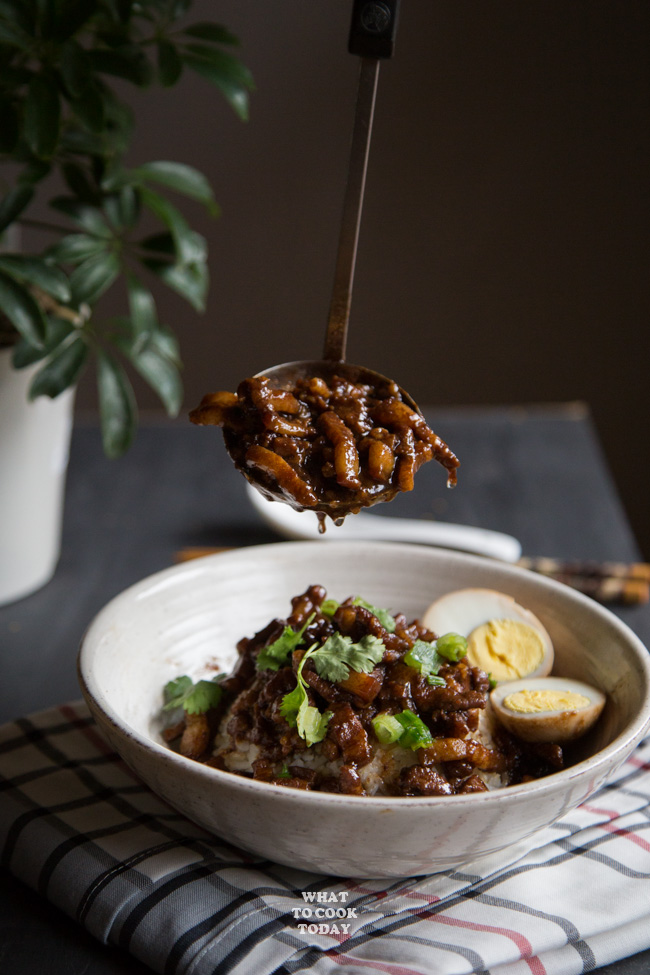 LU ROU FAN IS SUITABLE FOR MEAL PREP
You can cook this dish in a big batch and then freeze them in smaller portions, let's say for 1 serving. Here's how:
1. Cook it according to the recipe
2. Let it cool down completely
3. Portion into freezer-friendly container or bags. They can be stored in the refrigerator for up to 5 days and 1 month in the freezer
4. When ready to serve, you just need to cook rice (if you haven't already), and you can reheat on stove-top without thawing or in the microwave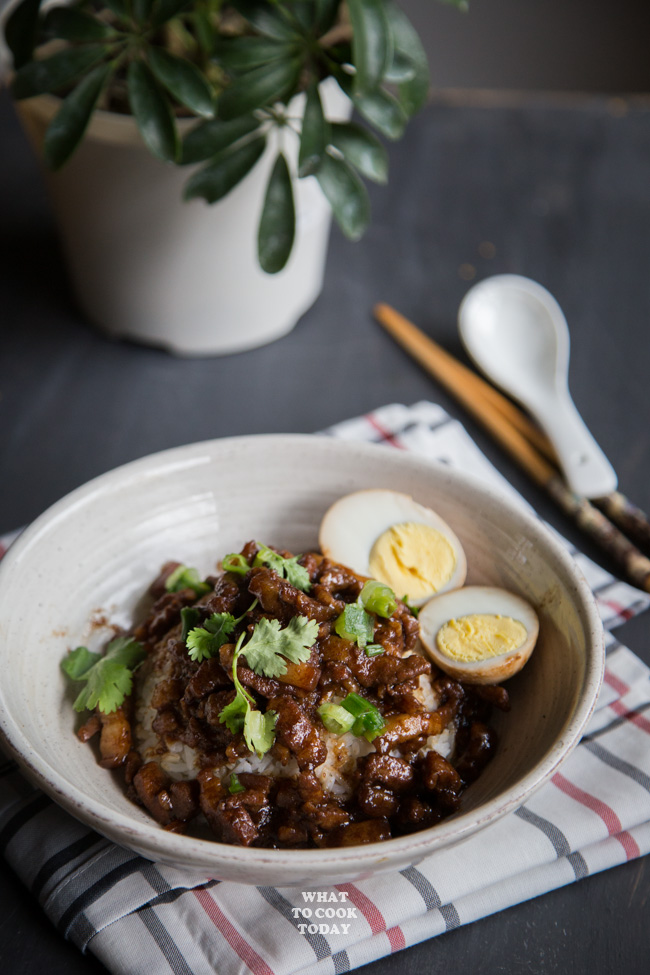 This recipe was first published in 2015 and is now updated with new photos and includes instruction for a pressure cooker.
Pressure Cooker Lu Rou Fan (Taiwanese Braised Pork Belly Rice)
Ingredients
1 ½

lbs

pork belly (with skin on) or ground pork with some fat

cut into thin strips

1

tsp

cooking oil

2

cups

hot water (if cooking on the stove)

½

cup

hot water (if cooking with pressure cooker)

4-6

hard-boiled eggs

peeled
Aromatics:
4

cloves

garlic

finely minced

1

cinnamon

2

slices

ginger

⅓

cup

fried shallots
Thickening agent:
2

Tbsp

corn starch + 3 Tbsp of water
Garnish:
1

stalk

green onions

finely chopped

Cilantro leaves
Instructions
You can prepare the hard-boiled eggs the day before and keep them in the refrigerator until ready to use
Cooking with Instant Pot pressure cooker:
Press saute on instant pot. When it's hot enough, add the aromatics and stir fry until they are fragrant about 1 minute. Add the pork and let it cook until it started to change into opaque color. Add the seasonings. Pour in hot water. Stir to mix everything. Add the hard-boiled eggs in

Cover and lock the lid. Turn the steam release valve to seal. Press "pressure cooker" then "high pressure". Set timer to 20 minutes or 30-40 minutes for really tender pork belly. After the timer beeps, carefully release pressure immediately. Carefully unlock the lid and have a final taste and add more salt to your taste if needed

Turn the saute mode back on and bring to a boil. Give the cornstarch solution a stir and then pour into the pot and stir until the sauce is thickened. Turn off saute mode. Proceed to the serving step
Cooking on stove-top:
Preheat oil in the wok/skillet . When it's hot enough, add the aromatics and stir fry until they are fragrant about 1 minute. Add the pork and let it cook until it started to change into opaque color. Add the seasonings. Stir to mix everything and until the rock sugar started to melt. Get 2 cups of hot water ready for next step

Add 2 cups of the hot water and hard-boiled eggs in. Bring to a boil and then lower the heat to let it gently simmer away. Cover with the lid, leaving slightly ajar. Let it gently braise for the next 1 hour. Have a final taste, add more salt if needed. It should be savory with just a hint of sweetness. Once you are happy with the taste, bring the heat back up. Give the cornstarch solution a stir and pour it in and this will thicken the sauce further
Serving:
Serve by generously topping the white rice with the pork and its sauce. You can serve the hard-boiled egg whole or cut in half. Garnish with some chopped green onions, and cilantro leaves if you like