Traditional Cantonese baked mooncake filled with mixed nuts and dried fruits or sometimes also known as five nuts mooncakes. The mooncake recipe doesn't use golden syrup and with a great tasty result.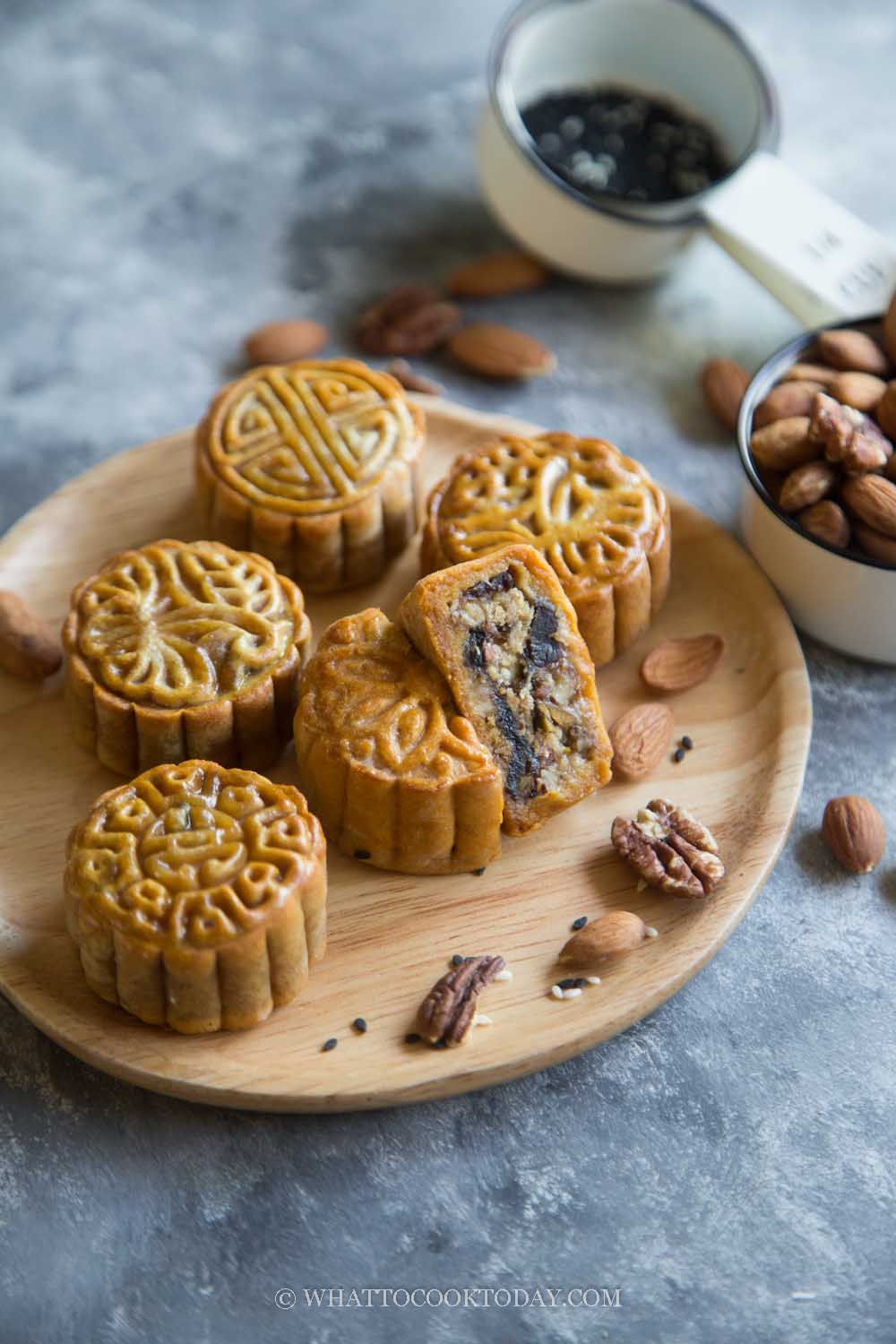 Making a traditional Chinese mooncake can be daunting if you have never done it before. At least that was my case. I've tried it several times in the past and didn't have good result until few years ago I finally nailed it. This year I decided to make this mixed nuts and fruits mooncake. I love nuts and seeds and so this is my favorite mooncake 🙂
Mixed nuts, seeds, and dried fruit filling for the mooncake
Traditional mixed nuts mooncake is made with five different kind of nuts and seeds such as walnuts, almond, Chinese almond, sesame seeds, and pumpkin seeds, and hence the name "Wu Ren Yue Bing". Throughout the years, more seeds and even dried fruits have been added to the mix. Any mixture of nuts, seeds, and dried fruit can be used here, it's up to you. You want to make sure the total weight for the filling remain the same as called for in the recipe.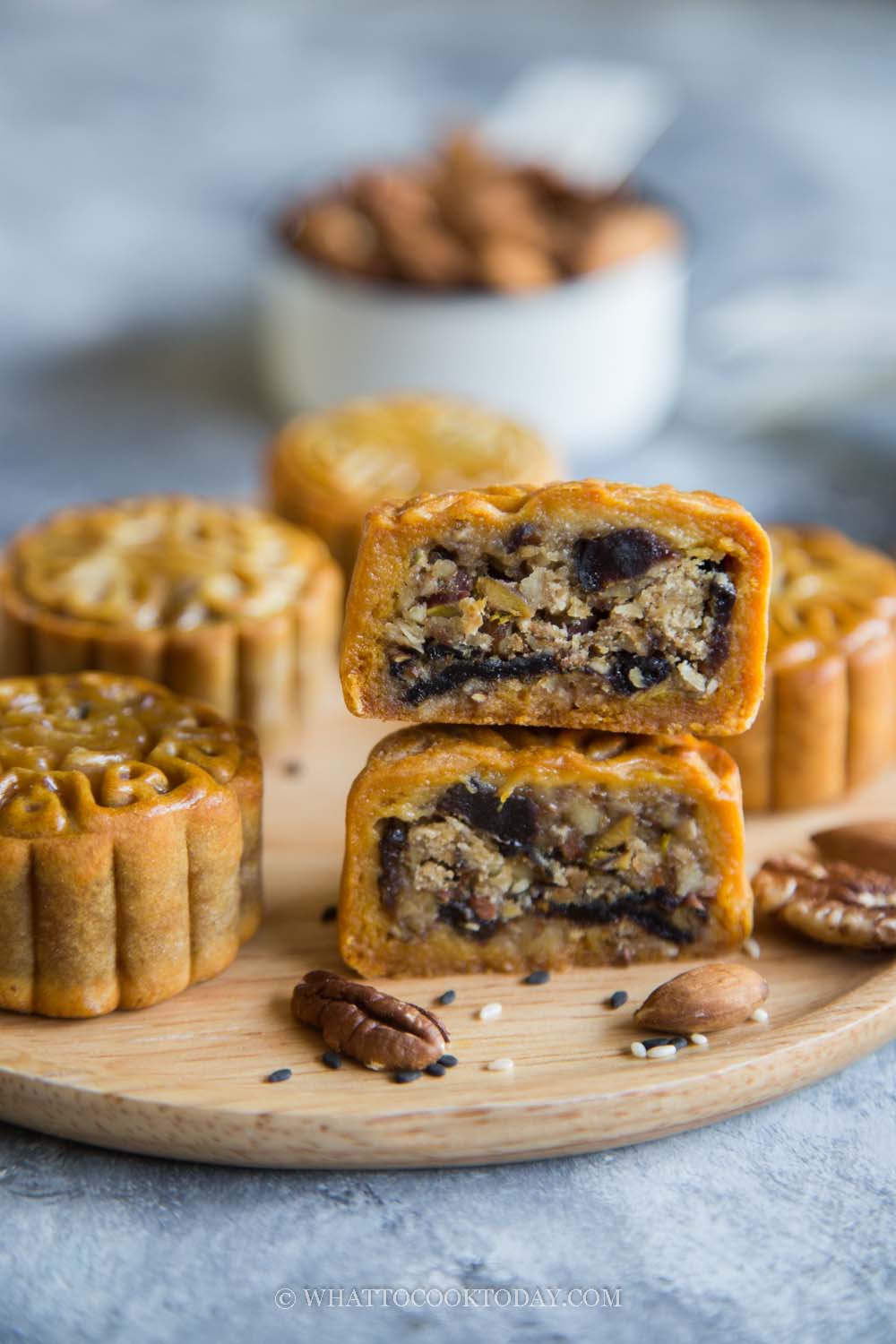 Can I make Chinese mooncake without golden syrup?
That is one of the questions that is often asked. The answer is: Yes, you can. Golden syrup or also known as mooncake syrup is one of the ingredients used to make Chinese mooncake. You can bought it from Amazon or some stores that sells baking goods or you can make your own golden syrup substitute (invert sugar syrup).
But, I have many successes baking mooncakes without golden syrup.
What is the best substitute for golden syrup for Chinese mooncake?
I substitute golden syrup with equal amount of honey. A good-quality raw honey. You want to make sure the honey doesn't crystalize. Crystallized honey can still be consumed, but you don't want to use it to make mooncakes as it won't give good results.
Why I like Chinese mooncake made with honey instead of golden syrup
I'm a convert now. I will bake mooncake with honey from now on. Good quality honey is easily purchased and cost less compared to golden syrup if you were to buy it.
1. I need less alkaline water (lye water)
When you use golden syrup, which is acidic, one of the purposes of using lye water is to neutralize the acidity. With honey, which is not acidic, you don't need as much lye water
2. The color is beautiful
When just finished baking, the color may appear much paler compared to when you use golden syrup, however, after aging for 24 hours and beyond, the color matures and turned out just the right color IMHO. I don't like mooncakes to be too dark golden brown, but that's a personal preference
3. Nice aroma
I love the subtle hint of honey aroma in the mooncakes
4. The mooncakes stay moist too
Despite not using golden syrup, the mooncakes still "return oil" after aging for 24 hours and beyond and it stays moist and with the right amount of sweetness
How to make Cantonese mixed nuts mooncake
1. PREPARE THE DOUGH: Mix honey, alkaline water, and oil until combined.


2. Sift in flour and salt and mix until combined.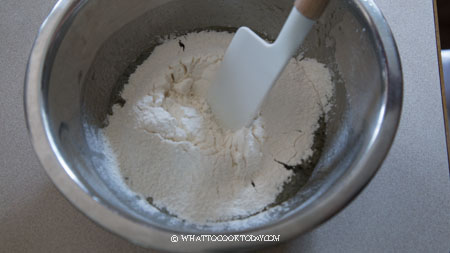 3. Cover and rest the dough for at least 1 hour or up to 3 hours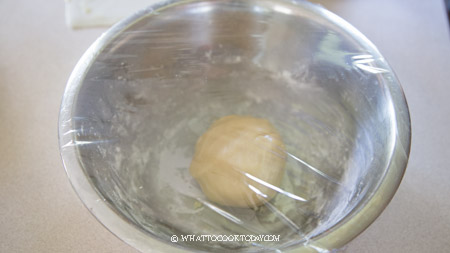 4. PREPARE THE FILLING: Preheat oven at 350 F (180 C). Arrange the nuts and seeds on a large baking sheet and roast them for 15 minutes. Let them cool down completely


5. Chop all the nuts and dried fruits into fine pieces


6. Mix all ingredients for the paste in a large bowl. Add the chopped nuts, dried fruits, and seeds and mix together.


7. If you press the mixture with your palm and it stays in cluster, you are good to go. If it falls apart, you may want to add a bit of water, teaspoon by teaspoon until the mixture can come into a cluster when you press it together without falling apart


8. Portion into 30 grams of mixed nuts balls. Cover and set aside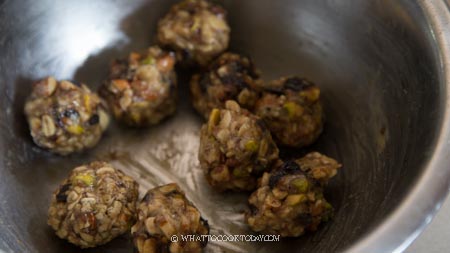 9. I use a 50-gram mooncake mould and I use 20 grams for the dough and 30 grams for filling (20 grams dough + 30 grams mixed nuts filling). Please make sure you weight accurately as the mould can only fit in exactly 50 grams. If you make it bigger than that, the shape will be skewed.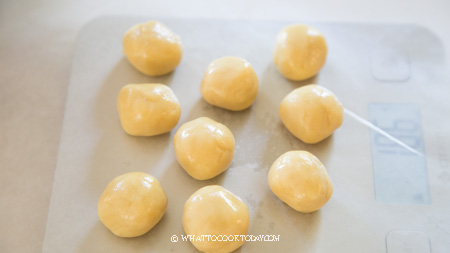 10. This is my favorite way of wrapping. I can get thin skin without much difficulty. Take one dough and divide it into two. Flatten them with your palm. Put the filling on top of one and then cover with another flattened dough (refer to the video for visual). Gently close the gap between the two doughs around the filling and roll into a round smooth ball. Continue with the rest of the dough and filling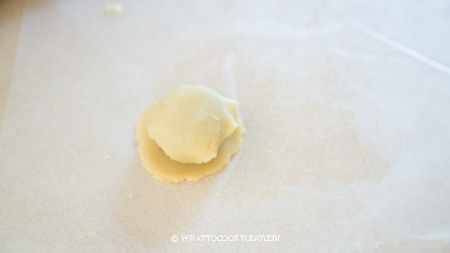 11. Dust the mooncake mould with a thin layer of cake flour and shake off any excess. I also dusted the mooncake dough with thin layer of flour and shake off any excess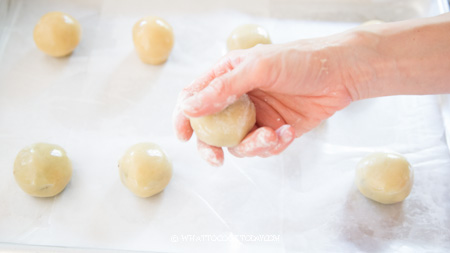 12. Put the dough inside the cavity of the mould and then face it down on a flat surface and gently push down the piston down to imprint the pattern on the dough. Gently push the mooncake out and voila, you have just shaped the dough into a mooncake with imprint on top. Repeat with the rest and dusting with some flour on the mould and the dough each time. Place the shaped dough on a baking sheet lined with a parchment paper


13. Mist the top of the mooncake with some water from about 4-inch distance. You don't want to make the mooncake super wet, just mist it lightly to prevent it from cracking during baking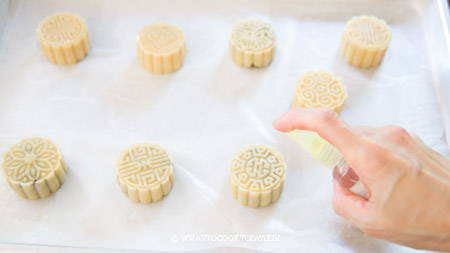 12. Put the baking sheet, in the middle of the oven, 3rd rack from the top for my oven. Bake for 9 minutes. The mooncakes will still be pale at this point. Let them cool down for 15 minutes. Please don't skip this step no matter how tempted you are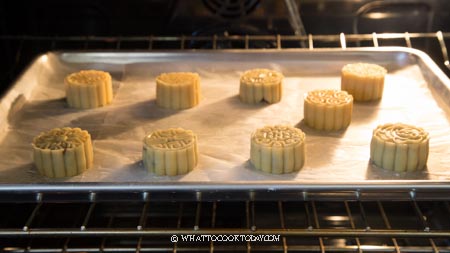 13. Beat the egg yolk with a small pinch of salt and water. Use a brush with soft bristles. Very gently and thinly brush this egg wash on top of the mooncake (don't brush the side, only the surface of the mooncake). If you accidentally brush on too much egg wash, very gently blob it with a paper towel or use a brush to get the extra egg wash off


14. Place the baking sheet back into the oven, the same position, and bake for another 5-8 minutes or until you have a nice golden brown. Check at 5 minutes to see. Keep in mind that the mooncakes will darken further after baking as you age them for few days. Please note that if you use honey, the mooncakes will have lighter golden color compared to using golden syrup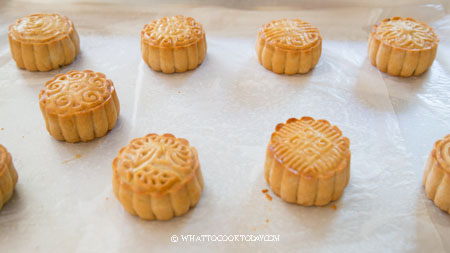 15. Age the mooncake for 3 days for the best result. After cooling down, transfer them to an air-tight container. Don't stack them as they will soften as the oil releases to soften the crust of the mooncake

I actually love the mixed nuts mooncakes more than the traditional one with lotus and egg yolks mooncake. The mixed nuts mooncake doesn't feel as heavy and greasy. Love the mixture of the nuts and some mild sweetness from the candied winter melon and dried cranberries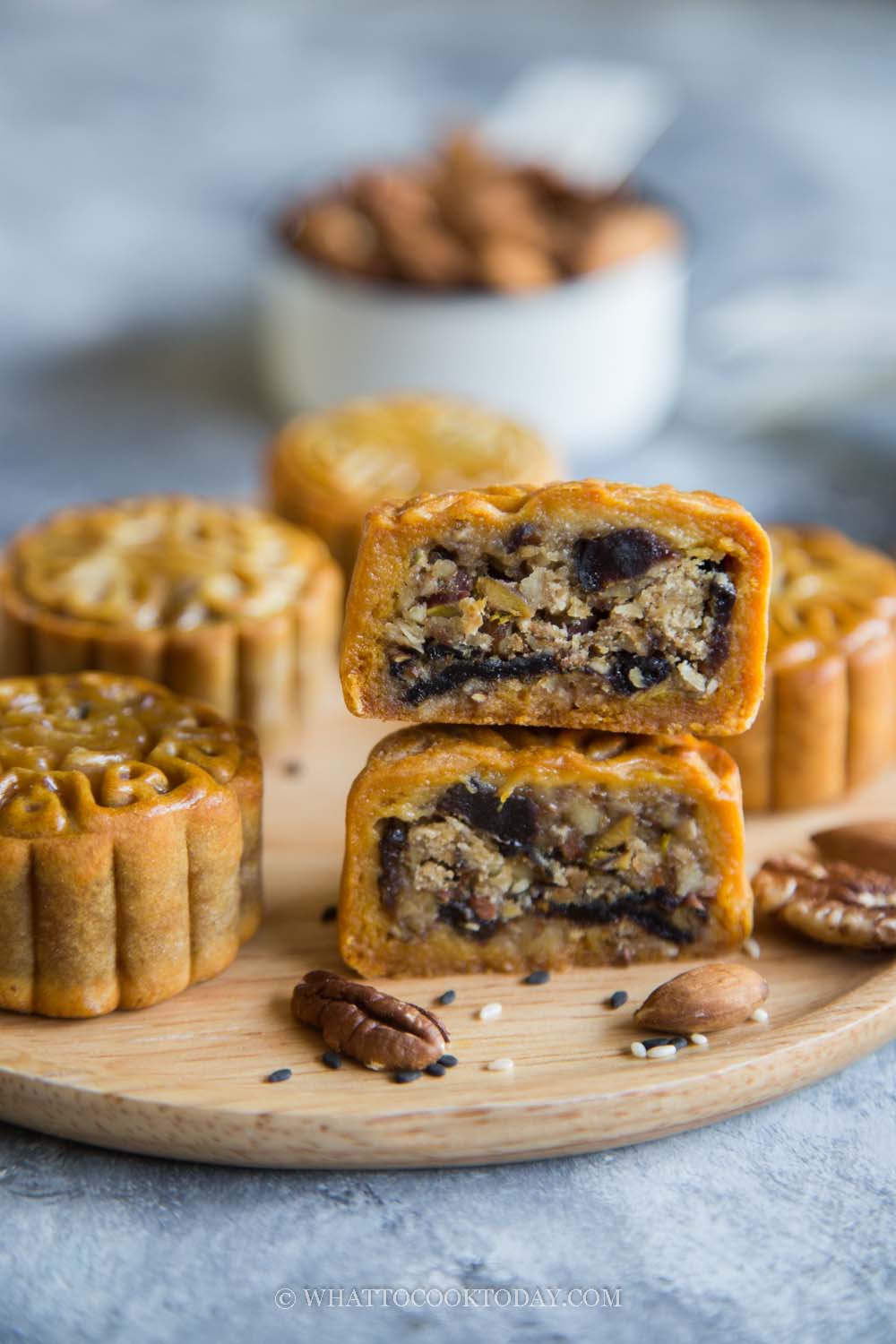 Did you make this mixed nuts mooncake without golden syrup recipe?
I love it when you guys snap a photo and tag to show me what you've made 🙂 Simply tag me @WhatToCookToday #WhatToCookToday on Instagram and I'll be sure to stop by and take a peek for real!

Mixed Nuts and Fruits Mooncake (Wu Ren Yue Bing) - No Golden Syrup
Ingredients
Please weigh ingredients with kitchen scale
Mixed nuts and dried fruits filling (weights of the nuts are without the shells and nuts are unsalted):
Egg wash:
1

egg yolk

1

Tbsp

water

Pinch of salt
Instructions
Prepare the dough:
Mix honey, alkaline water, and oil until combined. Sift in flour and salt and mix until combined. Cover and rest the dough for at least 1 hour or up to 3 hours
Stir fry glutinous rice flour to make gao fen:
Place 30 gr of glutinous rice flour on a dry non-stick pan over medium heat. Stir fry for about 15 minutes or until the flour started to smell slightly nutty/toasted. Let it cool down completely
Roast the nuts and seeds:
Preheat oven at 350 F (180 C). Arrange the nuts and seeds on a large baking sheet and roast them for 15 minutes. Let them cool down completely
Finely chop nuts and dried fruits:
Chop all the nuts and dried fruits into fine pieces
Put the nuts, seeds, dried fruit together, and paste together:
Mix all ingredients for the paste in a large bowl. Add the chopped nuts, dried fruits, and seeds and mix together. If you press the mixture with your palm and it stays in cluster, you are good to go. If it falls apart, you may want to add a bit of water, teaspoon by teaspoon until the mixture can come into a cluster when you press it together without falling apart

I'm using 4:6 dough to filling ratio. So, I will do 20 gram of dough to 30 grams of filling. Portion into 30 grams of mixed nuts balls. Cover and set aside
Fill and shape:
Preheat oven to 350 F (180 C). Divide the dough into 20-gram dough ball. Keep them covered

This is my favorite way of wrapping. I can get thin skin without much difficulty. Take one dough and divide it into two. Flatten them with your palm. Put the filling on top of one and then cover with another flattened dough (refer to the video for visual). Gently close the gap between the two doughs around the filling and roll into a round smooth ball. Continue with the rest of the dough and filling

Dust the mooncake mould with a thin layer of cake flour and shake off any excess. I also dusted the mooncake dough with thin layer of flour and shake off any excess. Put the dough inside the cavity of the mould and then face it down on a flat surface and gently push down the piston down to imprint the pattern on the dough. Gently push the mooncake out and voila, you have just shaped the dough into a mooncake with imprint on top. Repeat with the rest and dusting with some flour on the mould and the dough each time. Place the shaped dough on a baking sheet lined with a parchment paper
Baking:
Mist the top of the mooncake with some water from about 4-inch distance. You don't want to make the mooncake super wet, just mist it lightly to prevent it from cracking during baking

Put the baking sheet, in the middle of the oven, 3rd rack from the top for my oven. Bake for 9 minutes. The mooncakes will still be pale at this point. Let them cool down for 15 minutes. Please don't skip this step no matter how tempted you are

Beat the egg yolk with a small pinch of salt and water. Use a brush with soft bristles. This is very important as we don't want a thick layer of egg wash that will blur the imprint later after baking

Very gently and thinly brush this egg wash on top of the mooncake (don't brush the side, only the surface of the mooncake). If you accidentally brush on too much egg wash, very gently blob it with a paper towel or use a brush to get the extra egg wash off

Place the baking sheet back into the oven, the same position, and bake for another 5-8 minutes or until you have a nice golden brown. Check at 5 minutes to see. Keep in mind that the mooncakes will darken further after baking as you age them for few days

Please note that if you use honey, the mooncakes will have lighter golden color compared to using golden syrup
Cooling:
Remove from the oven and let them cool down on the baking sheet for 5 minutes. Don't attempt to move them to cooling rack yet as they are very soft and you will break them trying to lift them up when they are fresh out from the oven like this

After 5 minutes, very gently transfer them to a cooling rack to let them cool down completely
Age the mooncakes (do not eat them on the same day you bake them):
They won't taste good if you eat them on the same day. They are dry and not soft. The mooncakes need to be aged to release oil and the oil will moisten the mooncake

I recommend aging it for 3 days for the best result. Transfer the completely cooled-down mooncakes into an air-tight container. Try not to stack them because they will soften as they age
How to store mooncakes:
After 3 days, you can consume the mooncakes. This is the best time to consume. Keep the rest in the fridge for up to 2 weeks. Homemade version will not last as long as the commercial one because we do not put any other preservative and additives

For longer storage, after aging them for 3 days, transfer to a freezer and they can be kept for up to 3 months. Simply thaw them at room temperature before serving
Nutrition
Serving:
1
50-gram mooncake
|
Calories:
236
kcal
|
Carbohydrates:
27
g
|
Protein:
5
g
|
Fat:
13
g
|
Saturated Fat:
2
g
|
Polyunsaturated Fat:
5
g
|
Monounsaturated Fat:
6
g
|
Trans Fat:
1
g
|
Sodium:
67
mg
|
Potassium:
134
mg
|
Fiber:
2
g
|
Sugar:
12
g
|
Vitamin A:
16
IU
|
Vitamin C:
1
mg
|
Calcium:
54
mg
|
Iron:
1
mg