Buttery and crispy cookies with a fragrant aroma of Nestum cereal are one of our family's favorite Chinese New Year cookies. They are absolutely easy to put together.
I grew up with Nestum cereal when I was a kid. I particularly love the aroma of it. I'm not sure how to describe it. Nestum cereal is highly popular in Asia countries. Not so popular here in the U.S., if at all. Most people do not know what I'm talking about when I mentioned Nestum cereal.
What is Nestum cereal?
Nestum cereal is multigrain instant cereal for both kids and adults in a flake form, manufactured by Nestle. They have the baby cereal too, but the one we are using here is the Nestum cereal original. They are made with whole wheat, multigrain, rice, corn, and fortified with vitamins and minerals. All you need to do is add hot water and the cereal is ready to go. Nestum is not promoted here in the U.S. however. That's why they aren't popular over here and most people aren't aware of it.
Where to get Nestum cereal in the U.S.?
If you don't live in Asia, it's hard to find Nestum cereal original. I could find something similar to Nestum (a different brand) at the Asian store. So, I suggest trying to find it in Asian grocery store. This Super NutreMill is a Nestum cereal competitor in Asia.


They only come in 3-in-1 packet, which means there are milk solid, creamer, and sugar added besides the cereal flakes.

Ingredients
1. All-purpose flour
I like using all-purpose flour (unbleached if possible) for this crispy Nestum cookies. The unbleached all-purpose flour give it a bit more structure and nicely crisp up when you bake them
2. Icing sugar
Icing sugar will give the cookie a "thinner" texture, which is what we want in this recipe
3. Salt
4. Baking powder
5. Cold butter
You can use salted or unsalted. If you use salted butter, simply ignore the salt in the recipe. The cold butter makes the cookies less greasy after baked
6. Nestum cereal original
Please see my post above for details
7. Egg
I use large egg, about 58 grams with the shell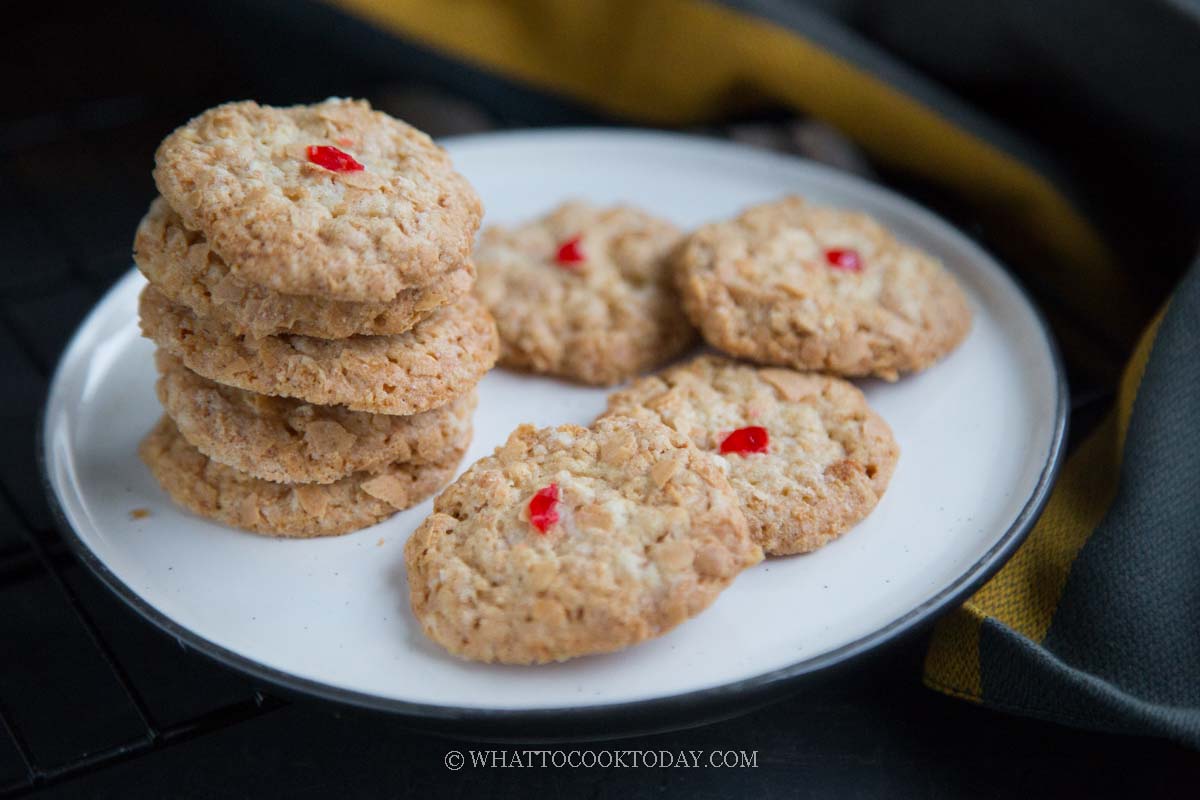 How to make crispy Nestum cereal butter cookies
1. I can only get 3-in-1 instant cereal (similar to Nestum but different brand), which means besides the cereal, sugar, and milk powder are added. So I use a sieve to strain the sugar and milk powder out and use the cereal only. If you use Nestum original (not 3-in-1 version) you don't have to do this


2. Mix flour, sugar, baking powder, and salt in mixing bowl.


3. Cut cold butter into small pieces.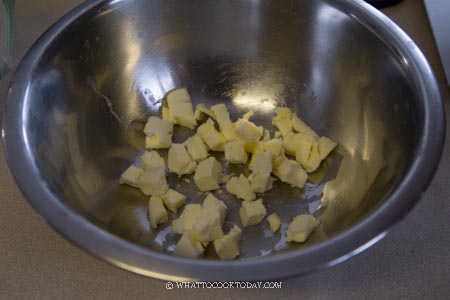 4. Add this to the flour mixture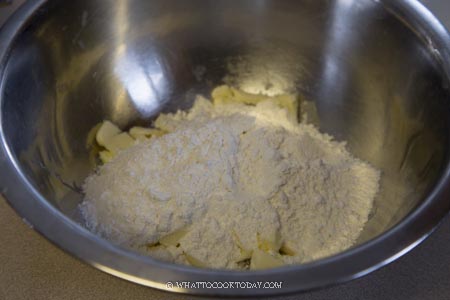 5. Rub the butter with the flour mixture until it resembles coarse crumbs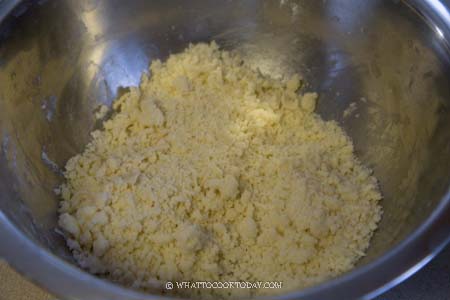 6. Add Nestum cereal follow by the eggs


7. Gently mix to get a sticky dough


8. Drop about 1/2 to 1 tablespoon of the dough in the cereal and coat the sticky dough with the cereal. Once coated, the dough won't be sticky anymore


9. Use your palms to roll into a round ball and then flatten slightly, and repeat with the rest of the dough and cereal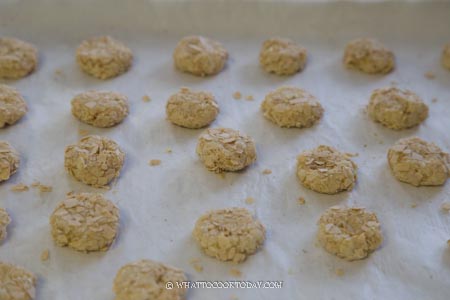 9. Place the cookies on the prepared baking sheet about 1 inch apart, the cookies will spread some, and top with small pieces of cherries


10. Bake in a preheated oven for 20 minutes or until they are golden brown on the edge. Remove from the oven. They will appear still soft


11. Let them cool down on the tray for 5 minutes then transfer to a cooling rack to let them cool down completely. They crisp up even more once they cool down

These cookies are crispy and very flavorful. I love the aroma of butter and Nestum cereal in there.

How to store
Let all the cookies cool down completely on a cooling rack then transfer to a cookie jar or container with a tight-fitting lid and they will last for weeks. They were gone in less than one week at our house!

Did you make this easy Nestum cereal butter cookies recipe?
I love it when you guys snap a photo and tag to show me what you've made 🙂 Simply tag me @WhatToCookToday #WhatToCookToday on Instagram and I'll be sure to stop by and take a peek for real!

Recipe is adapted from MyKitchen101 with some modifications.

Easy Nestum Cereal Butter Cookies
Ingredients
To coat the cookie dough:
To decorate on top of cookies:
Instructions
Things to prepare before you start making the cookie dough:
Preheat oven to 320 F (160 C). Crack one egg and whisk. We are going to need only 1/2 of this. Line a large baking sheet with parchment paper and set aside

Cut maraschino cherries into 4 little pieces. Set aside

I can only get 3-in-1 instant cereal (similar to Nestum but different brand), which means besides the cereal, sugar, and milk powder are added. So I use a sieve to strain the sugar and milk powder out and use the cereal only. If you use Nestum original (not 3-in-1 version) you don't have to do this
Prepare the dough:
Mix flour, sugar, baking powder, and salt in mixing bowl. Cut cold butter into small pieces. Add this to the flour mixture and rub the butter with the flour mixture until it resembles coarse crumbs. Add Nestum cereal follow by the eggs and gently mix to get a sticky dough

Drop about 1/2 to 1 tablespoon of the dough in the cereal and coat the sticky dough with the cereal. Once coated, the dough won't be sticky anymore, use your palms to roll into a round ball and repeat with the rest of the dough and cereal
Baking:
Place the cookies on the prepared baking sheet about 1 inch apart, the cookies will spread some, and top with small pieces of cherries

Bake in a preheated oven for 20 minutes or until they are golden brown on the edge. Remove from the oven. They will appear still soft. Let them cool down on the tray for 5 minutes then transfer to a cooling rack to let them cool down completely. They crisp up even more once they cool down
Storing:
Store in an air-tight container and they can be kept for weeks at room temperature