These Cantonese-style steamed beef meatballs are not your typical meatballs. It has a tender yet bouncy QQ texture that people truly enjoy. Now you can make these authentic popular dim sum beef meatballs at home.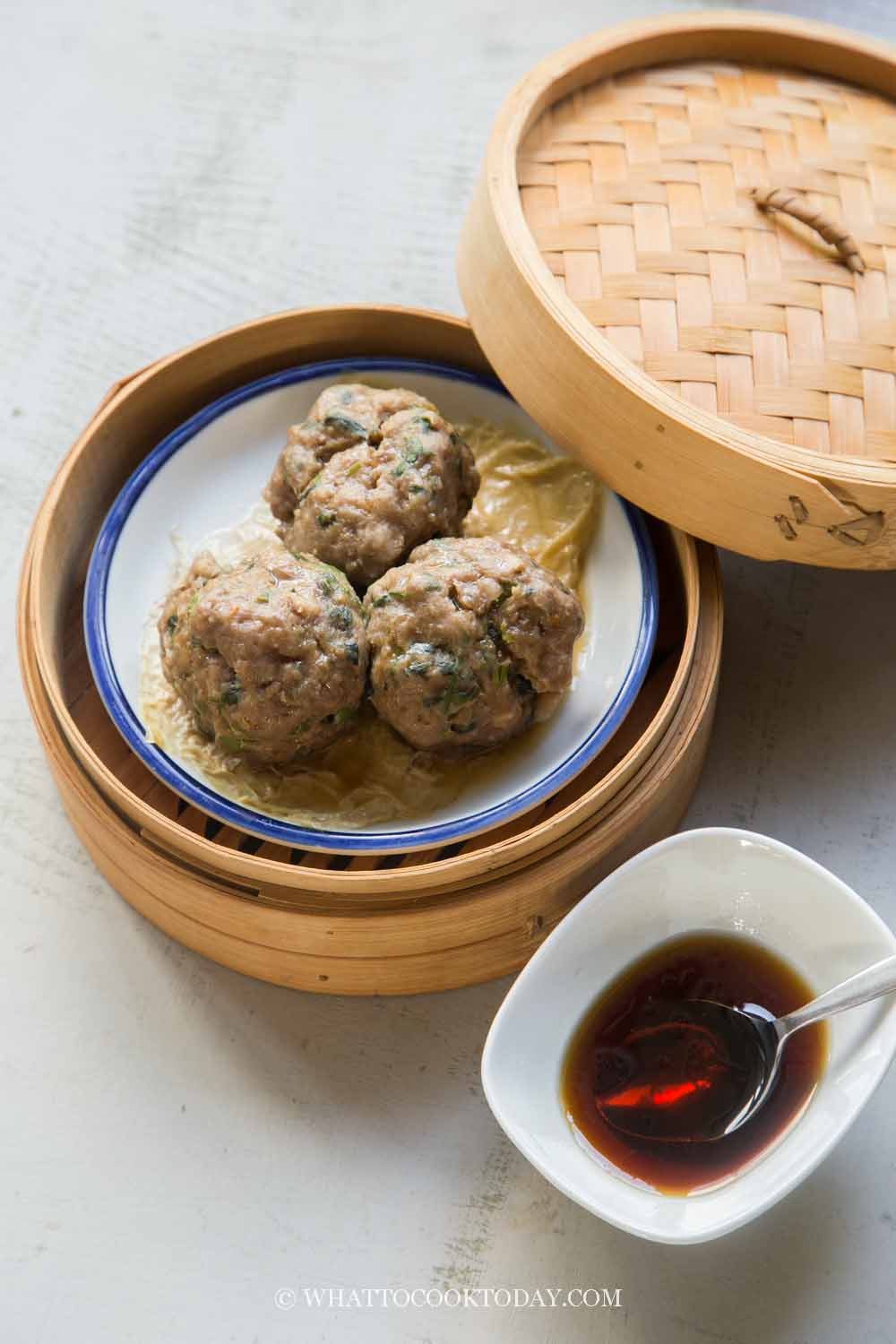 When you go for a dim sum, you will most likely see this beef meatball on the menu (or the pushcart). My favorite beef meatball is the one from Tim Ho Wan. The texture is incredible. It's tender yet bouncy at the same time. There is also watercress mixed in the beef balls, which I really like. The beef balls are steamed on the bed of beancurd. So, with inspiration from the one I had at Tim Ho Wan and also recipe from here, I decided to give it a go. The family loved the beef balls! I believe I have nailed the tender and bouncy texture!!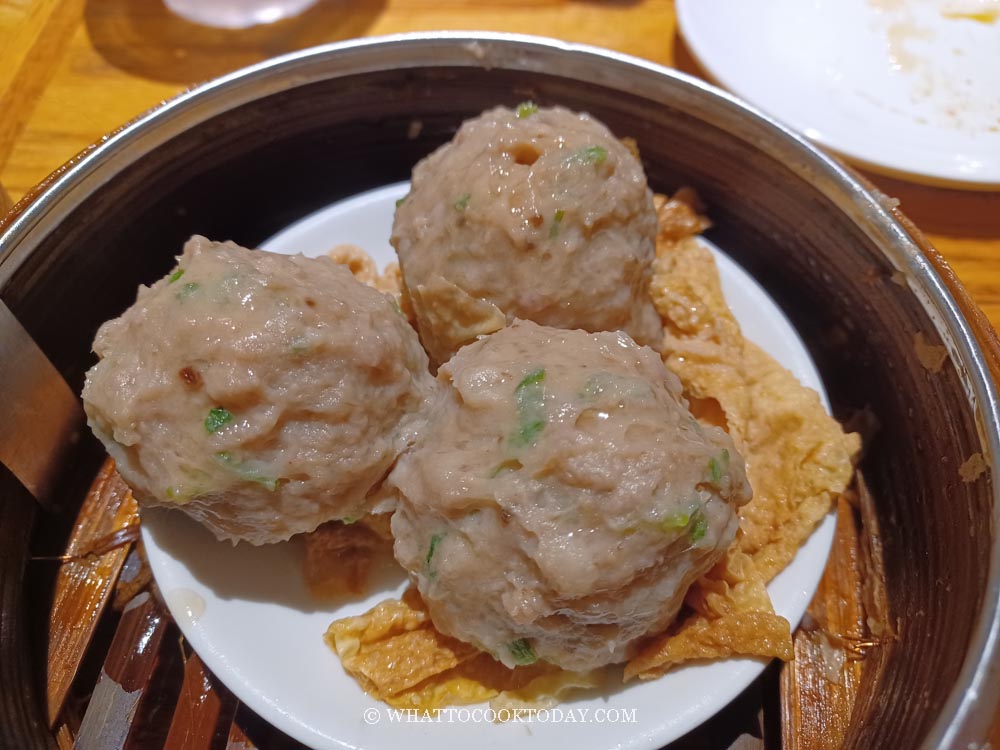 Why you'll like this recipe
1. Less fussy
The traditional way of preparing these dim sum beef balls is A LOT of work just to prep the beef alone. I use 93% lean ground beef from the grocery store instead of chopping and grinding the beef myself. The result is still really good
2. The texture is spot on
Despite the shortcut I use, the beef balls still has tender yet that springy/bouncy texture. The family commented that the texture sure reminded them of the ones we had at Tim Ho Wan and other dim sum restaurants we've eaten before
How to make Cantonese steamed beef balls at home
1. Put the beef and salt in the mixing bowl fitted with a paddle attachment. Beat on speed 4 for about 2 minutes. Combine water and baking soda and add 1/3 at a time and making sure the water is absorbed before pouring the next 1/3 and continue until the water is all poured in. Continue beating for another 5 minutes. If you don't have a mixer, you can stir vigorously in one direction using a chopstick for about 15 minutes or so (lots of elbow grease I know!) Then cover and refrigerate overnight for 8-12 hours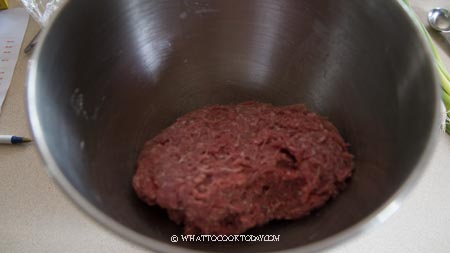 2. Chop the watercress into smaller chunks. Bring a pot of water to a boil. Add the watercress and cook for about 2-3 minutes. Remove from the pot onto a plate. When it's cool enough to handle, squeeze any extra liquid out from the watercress as much as you can. Excess liquid will affect the final texture of the beef balls. Finely chop the watercress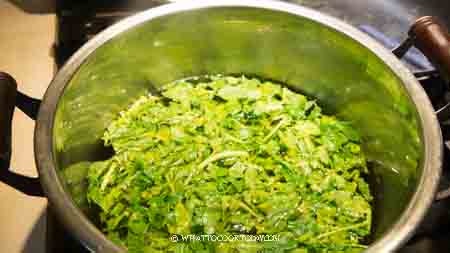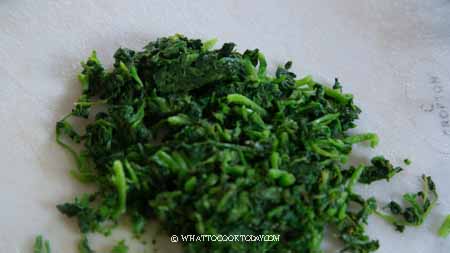 3. Soak the dried Mandarin peel in warm water until it softens. Scrape the white part of the peel and then dice into tiny pieces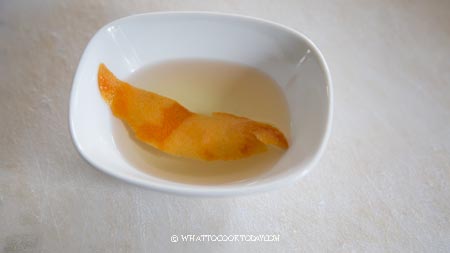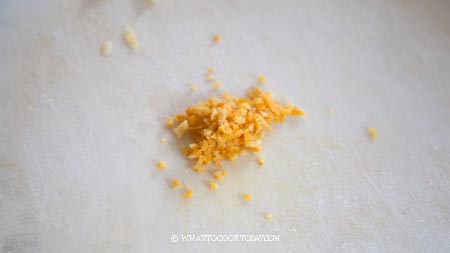 4. Dice the pork fat into tiny pieces. Some grocery store sells pork fat, if you can't find any, you can buy pork belly and trim the fat to be used in this recipe


5. Combine water chestnut flour with 100 ml of water and set aside. Combine the peel, green onion, and diced pork fat with the beef. We are going to use a stand mixer again fitted with a paddle attachment. Beat on medium speed 4 for about 15 minutes. Scrape down the sides of the bowl as needed so all the beef are beaten evenly


6. Add the seasonings and gradually add in the water chestnut flour mixture in 3 additions. Make sure the meat mixture absorbs the liquid before adding the next one. Continue beating for another 10 minutes. Scrape the sides of the bowl halfway as needed. If you don't have a stand mixer, you can use your clean hands, wet them with some water to prevent sticking and pick up the meat paste and slap it on the bowl and keep doing that for 15-20 minutes (don't say I didn't warn you!).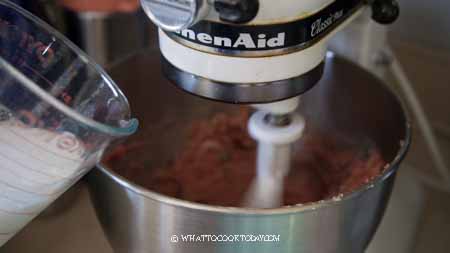 7. It should form a paste-like texture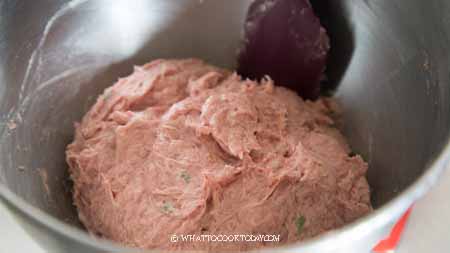 8. Fold the chopped watercress into the beef mixture and use a spatula to fold it in
Cover the bowl and let the beef marinate for at least 2 hours in the fridge. If you can do overnight, that's even better! I did overnight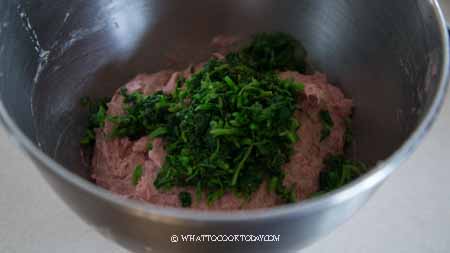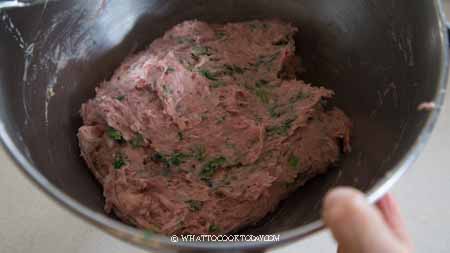 9. Soak dried beancurd in warm water until softened. Drain off water. Line a steaming plate with the beancurd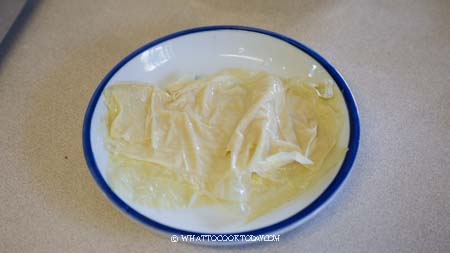 10. Lightly wet your two palms to prevent sticking and then scoop some meat mixture, about 60 grams or so for medium-size beef balls or 100 grams for large ones. Round the meat mixture into a round ball and put it on the plate lined with beancurd. I arranged about 3 beef balls in one small plate. That's the amount they usually serve at dim sum restaurants. You can do several small plates like that or just steam all in one serving plate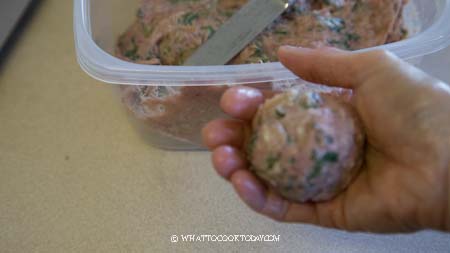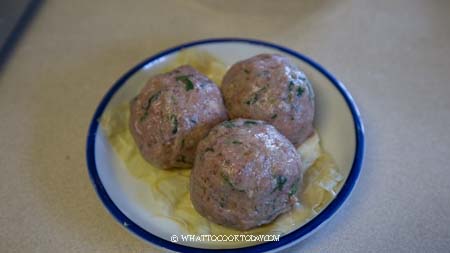 11. Bring some water in a steamer to a boil. Place the plate in the steamer and steam for 12-14 minutes for medium-size beef balls. If you make large ones like I did (about 100 grams each), steam for about 20 minutes or until the beef is no longer pink. The heat is on high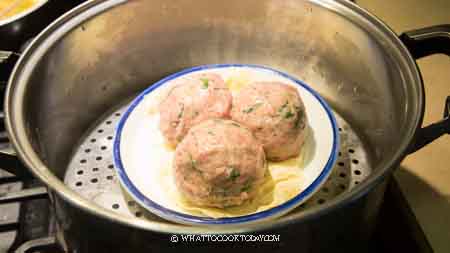 12. Serve them warm as is or with some drizzle of Worcestershire sauce
Did you make this Dim sum beef balls recipe?
I love it when you guys snap a photo and tag to show me what you've made 🙂 Simply tag me @WhatToCookToday #WhatToCookToday on Instagram and I'll be sure to stop by and take a peek for real!

The recipe is adapted from here.
Cantonese Steamed Beef Balls (Ngao Yuk)
Ingredients
To prep the beef:
450

gr

lean ground beef

I use 93% lean ground beef

2

gr

baking soda

130

ml

water
To marinate the beef:
2

gr

dried Mandarin peel

80

gr

pork fat

you can use fat from pork belly

1

stalk

green onion

finely chopped

½

tsp

alkaline water

60

gr

water chestnut flour

100

ml

water
To add last:
200

gr

watercress

weight is after trimming off the stems

Dried beancurd
Instructions
Prep the beef:
Put the beef and salt in the mixing bowl fitted with a paddle attachment. Beat on speed 4 for about 2 minutes. Combine water and baking soda and add 1/3 at a time and making sure the water is absorbed before pouring the next 1/3 and continue until the water is all poured in. Continue beating for another 5 minutes. If you don't have a mixer, you can stir vigorously in one direction using a chopstick for about 15 minutes or so (lots of elbow grease I know!) Then cover and refrigerate overnight for 8-12 hours
Marinate the beef:
Combine the seasonings and set aside

Chop the watercress into smaller chunks. Bring a pot of water to a boil. Add the watercress and cook for about 2-3 minutes. Remove from the pot onto a plate. When it's cool enough to handle, squeeze any extra liquid out from the watercress as much as you can. Excess liquid will affect the final texture of the beef balls. Finely chop the watercress

Soak the dried Mandarin peel in hot water for 20 minutes. Scrape the white part of the peel and then dice it into tiny pieces. Dice the pork fat into tiny pieces. Some grocery store sells pork fat, if you can't find any, you can buy pork belly and trim the fat to be used in this recipe

Combine water chestnut flour with 100 ml of water and set aside

Combine the peel, green onion, and diced pork fat with the beef. We are going to use a stand mixer again fitted with a paddle attachment. Beat on medium speed 4 for about 15 minutes. Scrape down the sides of the bowl as needed so all the beef is beaten evenly

Add the seasonings and gradually add in the water chestnut flour mixture in 3 additions. Make sure the meat mixture absorbs the liquid before adding the next one. Continue beating for another 10 minutes. It should form a paste-like texture. Scrape the sides of the bowl halfway as needed. If you don't have a stand mixer, you can use your clean hands, wet them with some water to prevent sticking and pick up the meat paste and slap it on the bowl and keep doing that for 15-20 minutes (don't say I didn't warn you!).

Fold the chopped watercress into the beef mixture and use a spatula to fold it in

Cover the bowl and let the beef marinate for at least 2 hours in the fridge. If you can do overnight, that's even better! I did overnight
On the day you plan to serve:
Soak dried beancurd in warm water until softened. Drain off water. Line a steaming plate with the beancurd

Lightly wet your two palms to prevent sticking and then scoop some meat mixture, about 60 grams or so for medium-size beef balls or 100 grams for large ones. Round the meat mixture into a round ball and put it on the plate lined with beancurd. I arranged about 3 beef balls in one small plate. That's the amount they usually serve at dim sum restaurants. You can do several small plates like that or just steam all in one serving plate
Steaming:
Bring some water in a steamer to a boil. Place the plate in the steamer and steam for 12-14 minutes for medium-size beef balls. If you make large ones like I did (about 100 grams each), steam for about 20 minutes or until the beef is no longer pink. The heat is on high
Serve:
Serve them warm as is or with some drizzle of Worcestershire sauce
Recommended products:
Nutrition
Serving:
1
large beef ball
|
Calories:
210
kcal
|
Carbohydrates:
1
g
|
Protein:
11
g
|
Fat:
18
g
|
Saturated Fat:
5
g
|
Polyunsaturated Fat:
3
g
|
Monounsaturated Fat:
9
g
|
Trans Fat:
1
g
|
Cholesterol:
38
mg
|
Sodium:
743
mg
|
Potassium:
248
mg
|
Fiber:
1
g
|
Sugar:
1
g
|
Vitamin A:
724
IU
|
Vitamin C:
10
mg
|
Calcium:
36
mg
|
Iron:
1
mg