Learn how to make apam gula merah or known as apam kampung with this very easy method. The cake has very pleasant soft, fluffy, yet chewy with closed crumbs at the same time. The texture is what most people like about kue/kuih apam.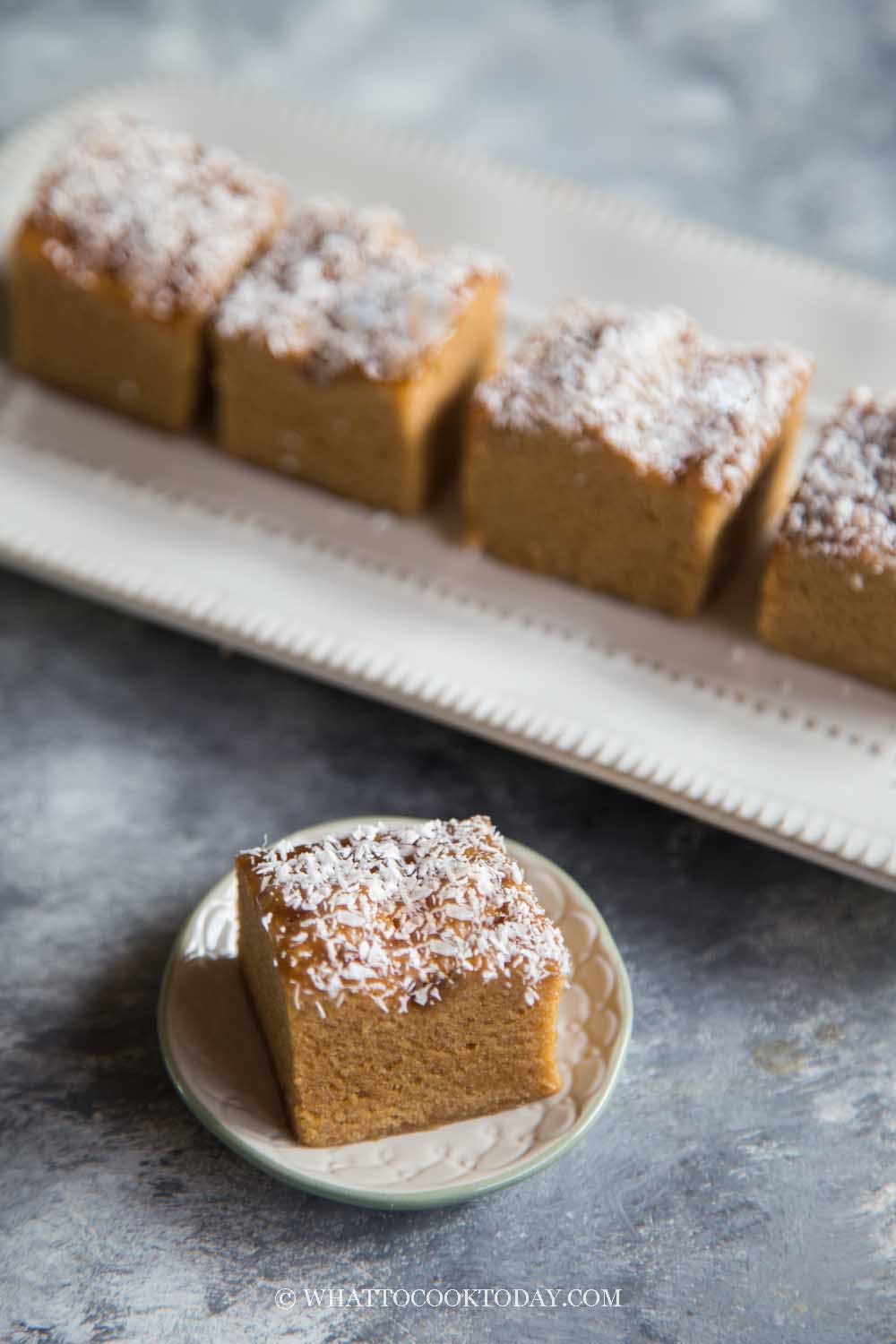 What is apam gula merah ?
Apam in general is a type of pancake or steamed cake. There are many different types of apam. For this context,apam gula merah is steamed cake with gula Merah and the cake is leavened by yeast. The apam is then topped with grated coconut with a slight hint of savoriness.
Why you'll like this recipe
1. Super easy
This recipe requires no special kitchen equipment like mixer to prepare the cake batter. Just stir and wait for it to ferment in about one hour time at a warm place
2. Nice texture
This kue apam has a very unique texture. It feels soft, yet dense and chewy at the same time. It may sound bad when you read the word "dense", but it's dense in a pleasant way. It's hard to describe in words. You'll know what I mean when you eat it
Ingredients
1. Gula Melaka
I used gula Melaka/gula merah that comes in block and cut into smaller pieces. You can substitute with coconut sugar or light/dark brown sugar
2. Sugar
I use granulated sugar. You can use other sugar of your choice
3. All-purpose flour
The flour I use is considered flour with medium gluten content, about 10%. You can also use cake flour if you prefer a softer, cake-like crumbs. I prefer it with all-purpose flour because I like chewier texture
4. Tapioca flour
In some countries, it is called tapioca starch, but it should be the same thing
5. Instant yeast
I used instant yeast, but you can use active dry yeast
6. Pinch of salt
I use fine sea salt
7. Grated coconut
You can use fresh or frozen grated coconut. Desiccated coconut may work in a pinch but won't be as fragrant
8. Pandan leaves
Fresh of frozen pandan leaves can be used. If frozen, thaw it first before using
How to make apam gula merah
1. If gula merah/Melaka comes in a block, cut into smaller pieces so it melts faster. Combine gula Melaka, sugar, and water in a saucepan. Bring to a boil and then cook until sugar melts. Strain the mixture and cool completely before using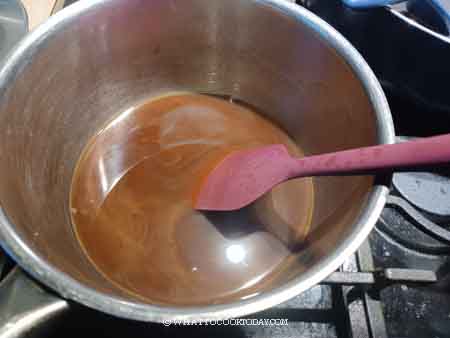 2. Add all the dry ingredients and use a whisk to combine into a smooth batter. The batter is a pourable consistency and slightly thick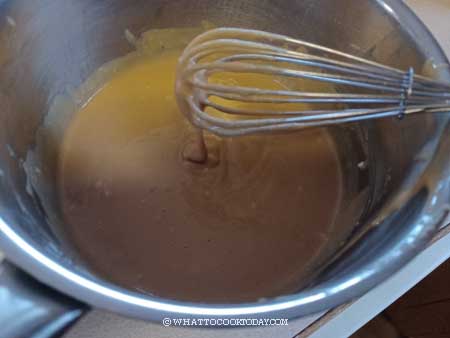 3. Cover and let it proof for about 1 hour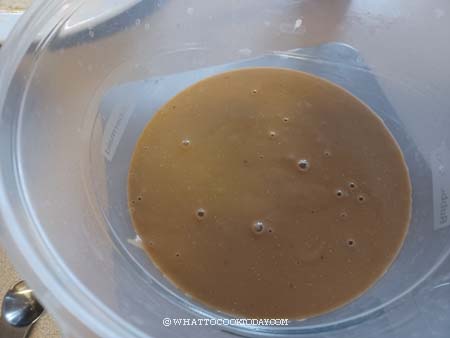 4. The batter will be foamy and double in size.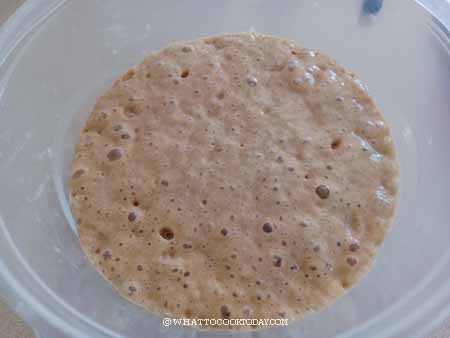 5. Gently stir the batter to combine. This will give you apam with closed crumbs. If you prefer large pores on the crumbs, simply stir it a few times and that's it


6. Pour the batter into the prepared pan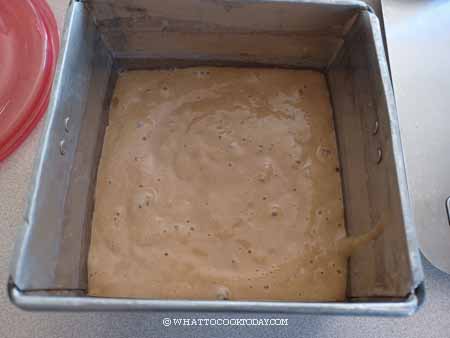 7. Bring the water in the steamer to a boil. Wrap the lid with a cloth to prevent water condensation from dripping on the cake surface creating dense spots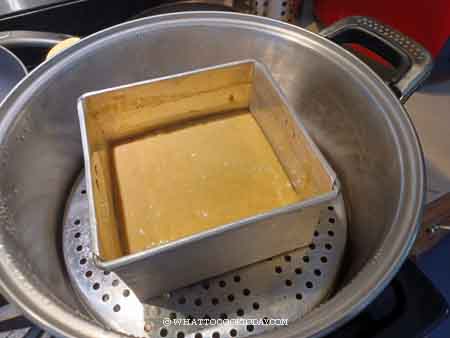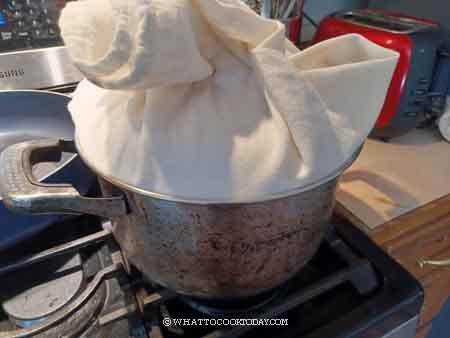 8. Steam the cake over medium heat for 30-35 minutes or until a toothpick inserted come out clean with just a few sticky crumbs but it shouldn't be wet. If it' still wet, steam for another 5 minutes and check again. Don't be alarmed if the surface of the cake is not smooth and a bit bumpy. This is normal


9. Let the apam cools down completely before slicing. Cut into squares and top with grated coconut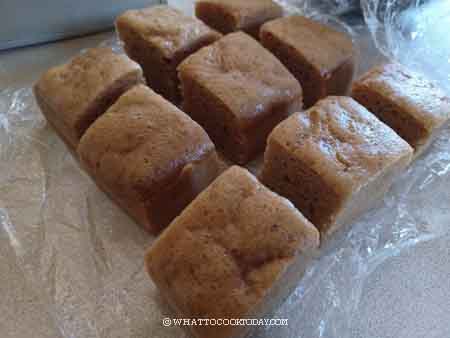 This batch has larger pores because I intentionally just stirred it a bit so the crumbs have more open airy holes. There's no right or wrong here, it depends on your preference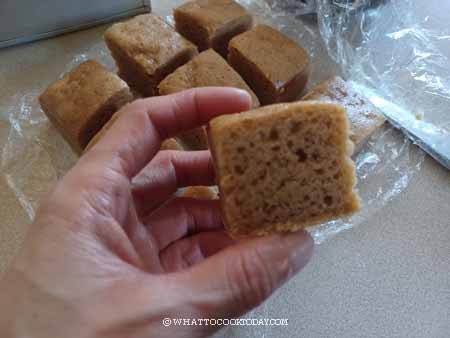 Did you make this apam gula merah recipe?
I love it when you guys snap a photo and tag to show me what you've made 🙂 Simply tag me @WhatToCookToday #WhatToCookToday on Instagram and I'll be sure to stop by and take a peek for real!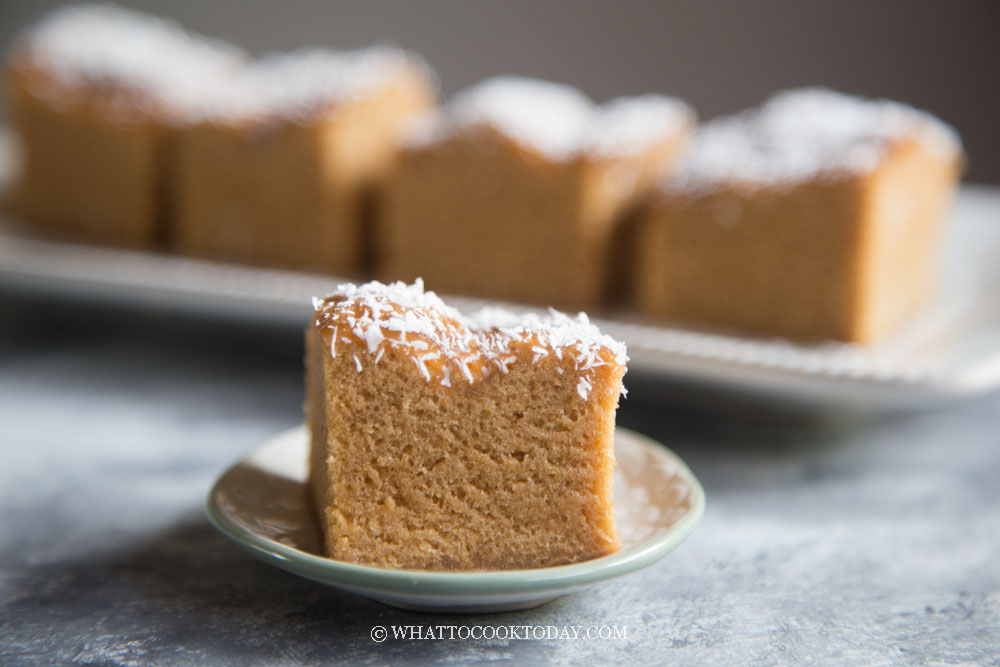 You may also like these different kinds of apam
Apam Gula Merah/Gula Melaka (Palm Sugar Steamed Sponge Cake)
Ingredients
100

gr

gula merah

cut into smaller pieces if comes in a block

75

gr

granulated sugar

300

ml

water
Instructions
Grease the cake pan with neutral-tasting oil or use a non-stick cooking spray

Put the grated coconut, salt, and pandan leaves on a plate and steam for about 10 minutes. Let it cool down completely while you prepare other things
Prepare cake batter:
If gula merah/Melaka comes in a block, cut into smaller pieces so it melts faster. Combine gula Melaka, sugar, and water in a saucepan. Bring to a boil and then cook until sugar melts. Strain the mixture and cool completely before using

Add all the dry ingredients and use a whisk to combine into a smooth batter. The batter is a pourable consistency and slightly thick
Proofing:
Cover and let it proof for about 1 hour. The batter will be foamy and double in size. Whisk the batter to combine everything evenly. This will give you apam with closed crumbs. If you prefer large pores on the crumbs, simply whisk it a few times and that's it . Pour the batter into the prepared pan
Steaming:
Bring the water in the steamer to a boil. Wrap the lid with a cloth to prevent water condensation from dripping on the cake surface creating dense spots

Steam the cake over medium heat for 30-35 minutes or until a toothpick inserted come out clean with just a few sticky crumbs but it shouldn't be wet. If it' still wet, steam for another 5 minutes and check again

Don't be alarmed if the surface of the cake is not smooth and a bit bumpy. This is normal
Serving:
Let the apam cools down completely before slicing. Cut into squares and top with grated coconut
Notes
All-purpose flour will give a chewier texture. If you prefer less chewy, you can use cake flour (low-gluten flour) instead
Nutrition
Serving:
1
serving
|
Calories:
171
kcal
|
Carbohydrates:
27
g
|
Protein:
2
g
|
Fat:
6
g
|
Saturated Fat:
5
g
|
Polyunsaturated Fat:
1
g
|
Monounsaturated Fat:
1
g
|
Sodium:
62
mg
|
Potassium:
77
mg
|
Fiber:
2
g
|
Sugar:
11
g
|
Vitamin A:
1
IU
|
Vitamin C:
1
mg
|
Calcium:
10
mg
|
Iron:
1
mg