Hainanese-style mochi-like kueh filled with coconut, gula Melaka, nuts, sesame seeds, and ginger is so delicious and easier to make than you think. Recipe is for original flavor and pandan flavor.

What is yi bua kueh?
Yi bua (薏粑) is popular Hainanese kueh made with glutinous rice flour dough and filled with mixture of grated coconut, gula Melaka, toasted peanuts, toasted sesame seeds, and grated ginger. The kueh is then wrapped in banana leaf and steamed. The dough has a mochi-like texture, soft and chewy. The filling has a combination of sweet, and nutty, with hint of spicy kick from the ginger. The combination works really well. Yi bua is traditionally made to celebrate events like wedding and baby full-month celebration.
Yi Bua VS Kueh/Kuih Koci
Both yi bua and kueh koci are made with glutinous rice flour dough and has similar mochi-like texture. They both have a very similar filling, which is coconut and gula Melaka. However, yi bua has peanuts, sesame seeds, and ginger added to it, while kueh koci, at least the ones I grew up eating in Indonesia, do not have those in the filling.

Ingredients for the dough
1. Glutinous rice flour
This is also known as mochiko flour or sweet rice flour. Despite the name glutinous, it has no gluten. Glutinous rice flour is different from regular rice flour. Please make sure you use the correct one. There is no substitution for glutinous rice flour
2. Sugar
I use granulated sugar
3. Oil
Any neutral-tasting oil works
4. Salt
A small pinch to bring out the flavor of the overall dish. I usually use fine sea salt
5. Water
Ingredients for the filling
1. Grated coconut
I use freshly grated coconut. You can also use frozen grated coconut, simply thaw them before using
2. Gula Melaka
If you can't find block of gula Melaka, you can use coconut sugar, which is widely available here in North America
3. Peanuts
I use unsalted roasted peanuts
4. Sesame seeds
I use toasted white sesame seeds. Simply toast the sesame seeds on a dry pan for 5 minutes or so for extra flavor if the sesame seeds you have are untoasted. It makes a difference in flavor
5. Ginger
You will need fresh ginger for this recipe. Some people do not like ginger in yi bua, you can omit if you don't want to use it. I presonally like ginger in yi bua filling
6. Salt
I use fine sea salt
7. Water

How to make Hainanese yi bua
1. Prepare the filling (can be done the day before):
Toast the peanuts on a dry pan for about 5 minutes over medium heat. Set aside to cool down completely. Put in a food processor and coarsely ground them and put aside. Put gula Melaka and water in a saucepan over medium-low heat. Cook until the sugar melts. Strain the mixture


2. In a dry pan, stir fry ginger for about 2 minutes over medium heat. Add the grated coconut and stir fry for another 5 minutes. Add about 70 gr melted gula Melaka and stir to combine. Then add the sesame seeds, ground peanuts, and salt and stir fry for another 5 minutes. Have a taste and add more melted gula Melaka if needed according to your taste preference. Transfer to a large bowl or plate and let the filling cool down completely


3. Cut banana leaves into about 20 x 6 cm. Boil them in water for about 3-4 minutes until soft. Wipe dry and set aside


4. Combine glutinous rice flour, sugar, and salt in a large mixing bowl


5. Add the hot boiling water/pandan juice and pandan essence (for pandan flavor) in and use a spatula to stir to combine to make sure the flour is hydrated. The dough will be sticky at this point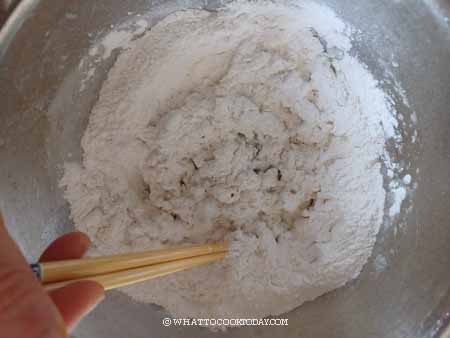 6. Add 2 tbsp oil and then mix with a spatula again, then switch to your clean hand to knead the dough into a smooth dough


7. Divide the dough into 12 equal portions. I did 6 original flavor and 6 pandan flavor. Keep them covered and work with one at a time.


8. Grab one dough and use your thumb to press into the middle of the dough to form a deep indentation for the filling. Scoop about 1-2 Tbsp of filling into the indentation and wrap the dough around the filling to enclose. Roll into a smooth ball


9. Flatten slightly with your palm. Repeat with the rest of the dough and filling


10. Brush the banana leaf with some cooking oil to prevent sticking. Wrap it around the dough


11. Push the extra leaf down and fold the two sides down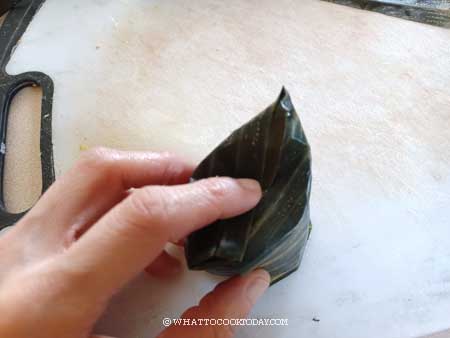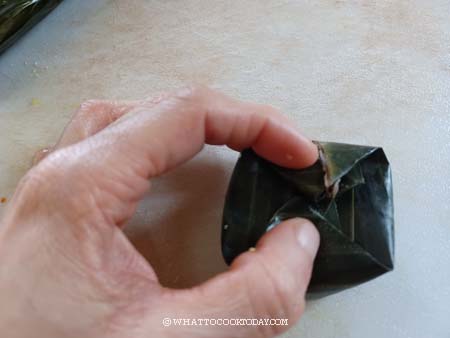 12. For unwrapped version, simply roll into round ball and then do some pleating on top as shown in this photo. The pleating is optional


13. Place the yi bua in the preheated steamer. Steam yi bua over high heat for 8-10 minutes. Wrap the lid with a cloth to prevent water condensation from ruining the top of the kueh


14. Remove from the steamer and let them cool down completely before serving. Dot with some red food coloring on top if you wish.Let yi bua cool down before consuming

Did you make this recipe?
I love it when you guys snap a photo and tag to show me what you've made 🙂 Simply tag me @WhatToCookToday #WhatToCookToday on Instagram and I'll be sure to stop by and take a peek for real!

Hainanese Yi Bua Kueh (Coconut Palm Sugar Steamed Cake)
Ingredients
For the dough:
240

gr

glutinous rice flour

30

gr

sugar

¼

tsp

salt

180

ml

hot water

replace with pandan juice

1

tsp

pandan essence

if making pandan flavor dough

2

Tbsp

oil
For the filling:
125

gr

grated coconut

85

gr

gula Melaka

you will have a bit extra if not needed

70

gr

roasted peanuts

20

gr

White sesame seeds

toasted

15

ml

water

¼

tsp

salt

15

gr

ginger

julienned
Instructions
Prepare the filling (can be done the day before):
Toast the peanuts on a dry pan for about 5 minutes over medium heat. Set aside to cool down completely. Put in a food processor and coarsely ground them and put aside

Put gula Melaka and water in a saucepan over medium-low heat. Cook until the sugar melts. Strain the mixture

In a dry pan, stir fry ginger for about 2 minutes over medium heat. Add the grated coconut and stir fry for another 5 minutes. Add about 70 gr melted gula Melaka and stir to combine. Then add the sesame seeds, ground peanuts, and salt and stir fry for another 5 minutes. Have a taste and add more melted gula Melaka if needed according to your taste preference

Transfer to a large bowl or plate and let the filling cool down completely
Prepare the dough:
Cut banana leaves into about 20 x 6 cm. Boil them in water for about 3-4 minutes until soft. Wipe dry and set aside

Combine glutinous rice flour, sugar, and salt in a large mixing bowl. Add the hot boiling water/pandan juice and pandan essence (for pandan flavor) in and use a spatula to stir to combine to make sure the flour is hydrated. The dough will be sticky at this point. Add 2 tbsp oil and then mix with a spatula again, then switch to your clean hand to knead the dough into a smooth dough

Divide the dough into 12 equal portions. Keep them covered and work with one at a time. Grab one dough and use your thumb to press into the middle of the dough to form a deep indentation for the filling. Scoop about 1-2 Tbsp of filling into the indentation and wrap the dough around the filling to enclose. Roll into a smooth ball and then flatten slightly with your palm. Repeat with the rest of the dough and filling

Brush the banana leaf with some cooking oil to prevent sticking. Wrap it around the dough and then push the extra leaf down and fold (refer to the photo)
Steaming:
Place the yi bua in the preheated steamer. Steam yi bua over high heat for 8-10 minutes. Wrap the lid with a cloth to prevent water condensation from ruining the top of the kueh

Remove from the steamer and let them cool down completely before serving. Dot with some red food coloring on top if you wish
Serving:
Let yi bua cool down before consuming
Nutrition
Serving:
1
piece
|
Calories:
241
kcal
|
Carbohydrates:
29
g
|
Protein:
4
g
|
Fat:
13
g
|
Saturated Fat:
7
g
|
Polyunsaturated Fat:
2
g
|
Monounsaturated Fat:
4
g
|
Trans Fat:
1
g
|
Sodium:
142
mg
|
Potassium:
130
mg
|
Fiber:
3
g
|
Sugar:
8
g
|
Vitamin A:
1
IU
|
Vitamin C:
1
mg
|
Calcium:
27
mg
|
Iron:
1
mg