Pressure Cooker Tendon Beef Stew with Tendon and Daikon – Beef brisket, beef tendon, and daikon are pressured cooked in spices and seasonings. Save so much time by pressure cooking to make this beef stew with tendon.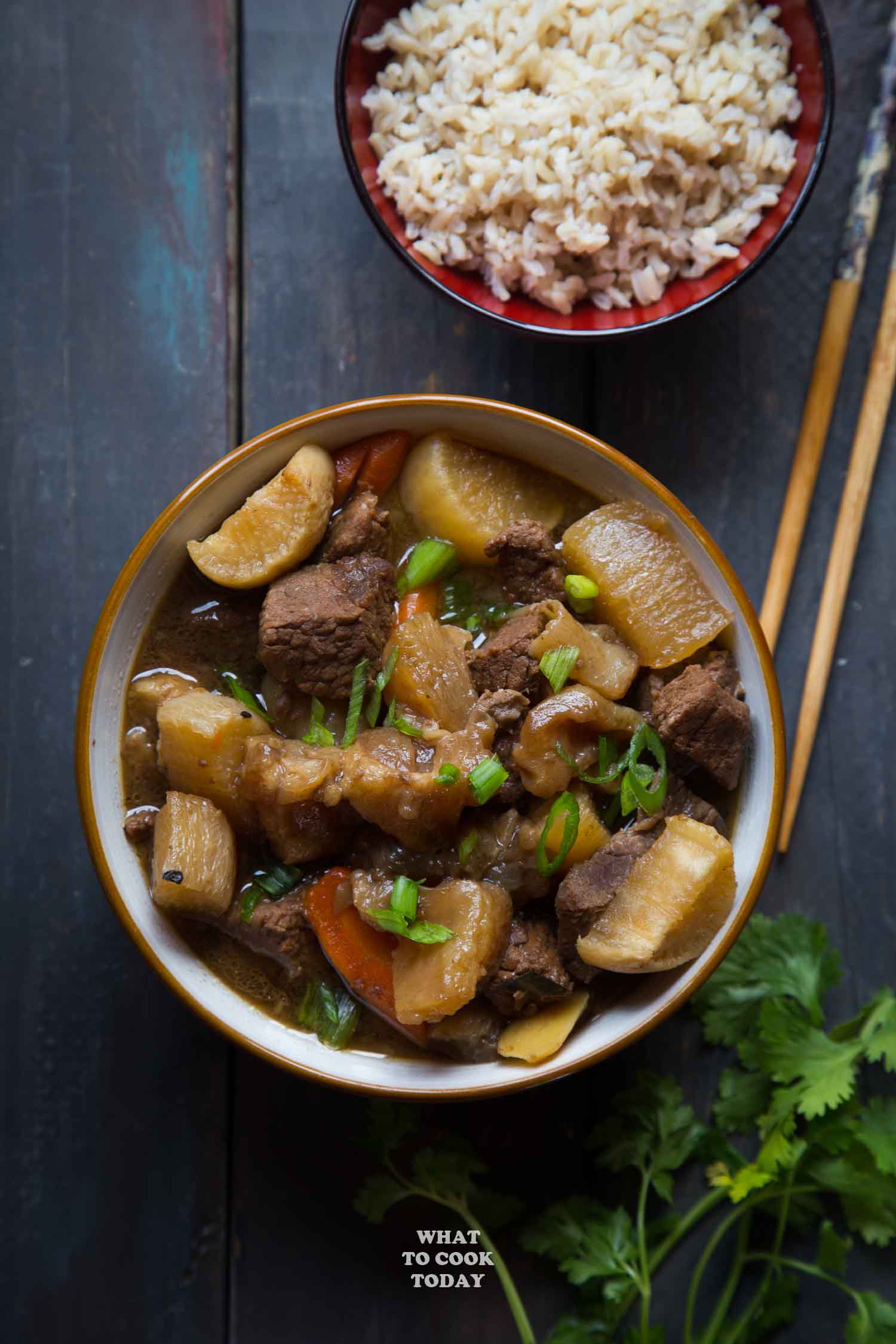 Yes I know, the Asians eat weird stuff ha..ha..! kidney, and offals. We love to order beef tendon and daikon stew when we go for a dim sum. The Cantonese style of beef tendon stew is usually with the soup slightly thickened. This pressure cooker beef stew with tendon and daikon is inspired by that but I didn't thickened the soup so I can serve it with noodles too. It's really up to you!

WHAT IS SO DESIRABLE ABOUT BEEF TENDON?
Just like the tendon in human, beef tendon is also a flexible but inelastic cord of strong fibrous collagen tissue. It doesn't have any taste or flavor of its own. It is perfect for a stew because it picks up whatever flavors it is cooked in. It turns so soft and full of flavor after being cooked.
PRESSURE COOKING SURE SAVES TIME WHEN YOU COOK BEEF TENDON
It takes a long time to cook (unless if you pressure cook them). Cooking on stove-top or on slow cooker can take 4-6 hours. Pressure cooking takes about 60 minutes to cook the tendon. I was never a pressure cooker person probably for the same reason you had, I was terrified by the thought of using pressure cooker and explosion LOL! I know it wasn't that bad, but still! Then Instant pot comes along and now I can't wait to pressure cook everything (not sponsored)
HOW TO MAKE GOOD PRESSURE COOKER BEEF STEW WITH TENDON AND DAIKON IN A NUTSHELL
1. Blanch the beef brisket and tendon in boiling water and then discard water
2. Brown the beef brisket for extra depth of flavor, this step is optional
3. Remove the brisket and add aromatics and stir-fry until fragrant and deglaze with wine
4. Add brisket, tendon, and water and pressure cook on high for 60 minutes and then wait 5 minutes to release pressure
5. Cook the veggies last: Add daikon and carrots and pressure cook for another 5 minutes and then wait 5 minutes to release pressure
6. Garnish with cilantro and green onion

HOW TO STORE AND REHEAT BEEF STEW WITH TENDON AND DAIKON
STORE: They can be stored in the refrigerator for up to 3 days. If you choose to freeze, portion them into smaller portion size in a freezer bag and they can be freeze for up to 1 month
REHEAT: They can be reheated on stove-top (no thawing needed) or in the microwave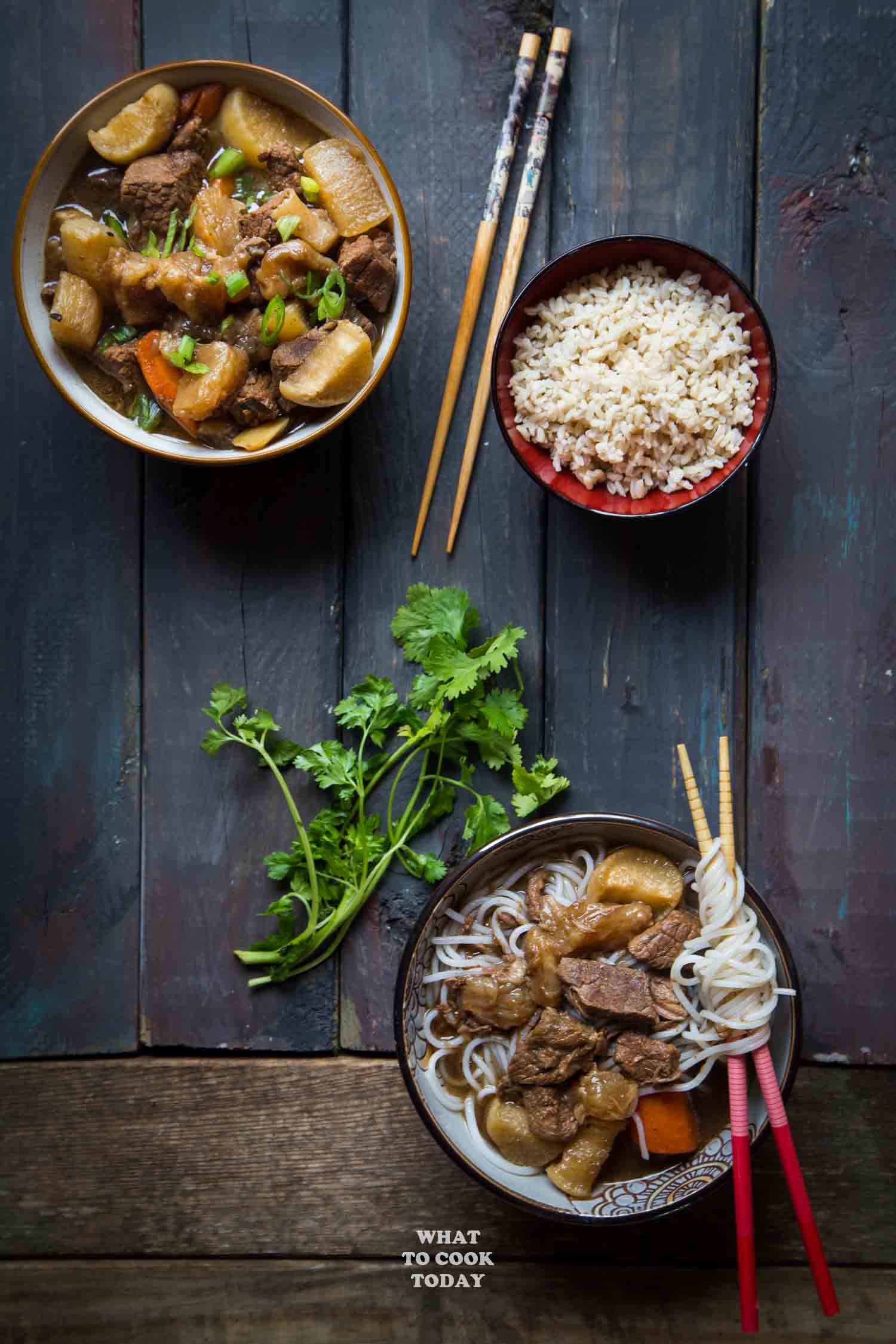 *Recipe is written for 6-quart Instant Pot. Cooking time should remain the same for 8-quart size but will take longer to pressurize. For mini duo (3-quart), I recommend to half the recipe and use the same amount of time to cook*
Pressure Cooker Beef Stew with Tendon and Daikon
Ingredients
3

lbs

beef brisket

cut into 2 -inch cube

1

lb

beef tendon

4

cups

water

3

Tbsp

cooking oil
Vegetables:
1

lb

Chinese daikon (white radish)

peeled and cut into large chunks

3

large

carrots

peeled and cut into large chunks
Aromatics:
2-

inch

piece of ginger

peeled and thinly sliced

2

cloves

garlic

peeled and finely minced

3

stalks

green onion

cut into 3-inch pieces

2

Tbsp

shaoxing wine
Garnishes:
Few sprigs of fresh cilantro leaves

1

stalk

green onion

finely chopped
Instructions
Bring a large pot of water to a boil. Blanch the beef brisket and tendon for about 3 minutes. Drain off water and cut the tendon into about 1 1/2 inch pieces
Using Instant pot:
Press saute on Instant pot. When it says "hot", add 1 Tbsp of cooking oil to the insert of Instant pot. Brown the meat in batches. You may skip the browning if you want. I feel like it adds an extra flavor to the stew. Remove the beef and place on a plate. Add the aromatics and saute for about 30 seconds and deglaze with Shaoxing wine to get all that brown bits that stuck to the pot. Add the brisket and tendon follows by the seasonings

Pour in water. Stir to mix everything. Close the lid. Turn the steam release valve to seal. Press pressure cook and set the timer to 60 minutes

When the timer is up, wait 5 minutes and then release pressure. Add the daikon and carrots and give everything a stir and then close the lid back. Turn the steam release valve back to seal. Press pressure cooker and set timer to 5 minutes. When the timer is up, wait 5 minutes and then release pressure. Carefully open the lid. Have a taste and season with salt to your taste if needed. Press the saute mode and when it comes to a gentle simmer, stir in the cornstarch solution and it will thicken slightly

Garnish with some fresh cilantro leaves and chopped green onion
This blog post contains affiliate links. I earn a small commission when you made purchase at no extra cost to you. Learn more.