Make this easy, quick, and delicious stir-fry with sea cucumber, chicken, and mushroom to celebrate Chinese New Year or for any special day.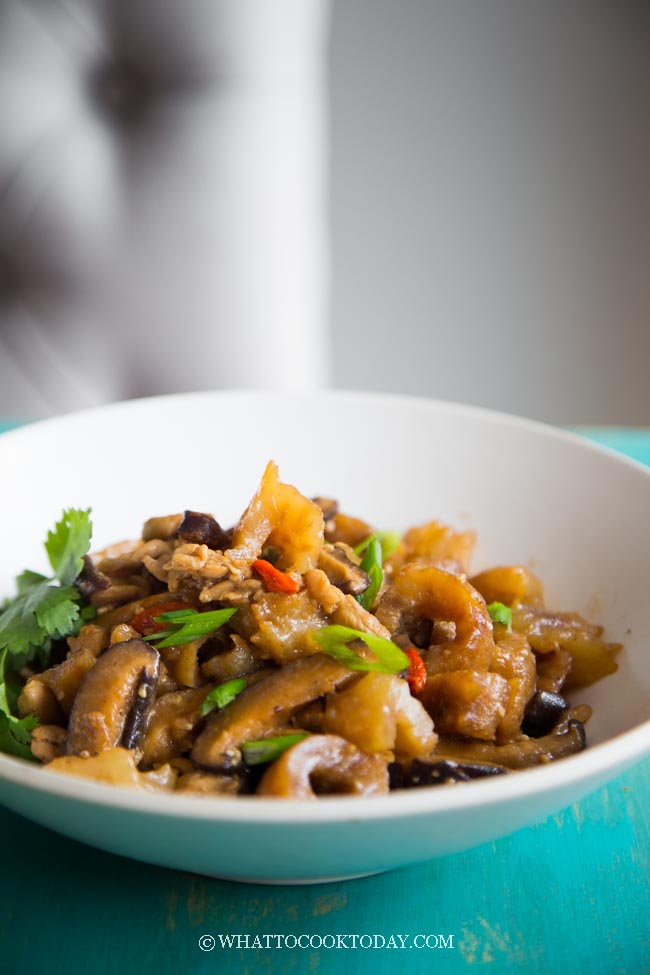 Sea cucumber is considered a gourmet ingredient in Asian culinary. I wrote in more detail about sea cucumber in this how to clean and rehydrate sea cucumber post if you are interested to read about it. My mom usually only prepare dishes with sea cucumber for Chinese New Year eve's dinner. She usually prepares the dried sea cucumbers a month or two before CNY. After they are rehydrated and boiled, they can be kept frozen for months and simply thaw and used them in the recipe as you wish.
HOW TO COOK EASY SEA CUCUMBER STIR-FRY
1. Preheat a wok/skillet over high heat. Add cooking oil and lower the heat to medium. Add garlic and saute until fragrant for about 10 seconds


2. Add the chicken and continue to saute until the meat turns opaque


3. Add mushrooms and stir fry for a minute


4. Add seasonings and carefully pour in hot water


5. Add sea cucumber pieces. Cover with a lid and lower the heat to let it simmer for about 10-15 minutes to let the sea cucumber absorb the taste and seasonings


6. Uncover the lid, add goji berries. Have a taste and adjust by adding more soy sauce and/or sugar as needed. Garnish with chopped green onions and cilantro leaves


7. Thicken the stir-fry with corn starch mix with water


8. Keep stirring until the sauce turns thick and coats everything in the stir-fry. Remove to a serving platter and garnish with chopped green onion and cilantro leaves and serve immediately

VOILA, you've just made yourself a fancy dish without much effort 🙂

POSSIBLE VARIATIONS
1. MEAT CHOICES: you can use pork loin strips, chicken breast, or ground meat
2. MEATLESS VERSION: you can use extra firm tofu (cut into cubes and skip the marinate)
3. ADD VEGGIES: broccoli florets (blanched), bok choy (blanched) and added them when you add the sea cucumber pieces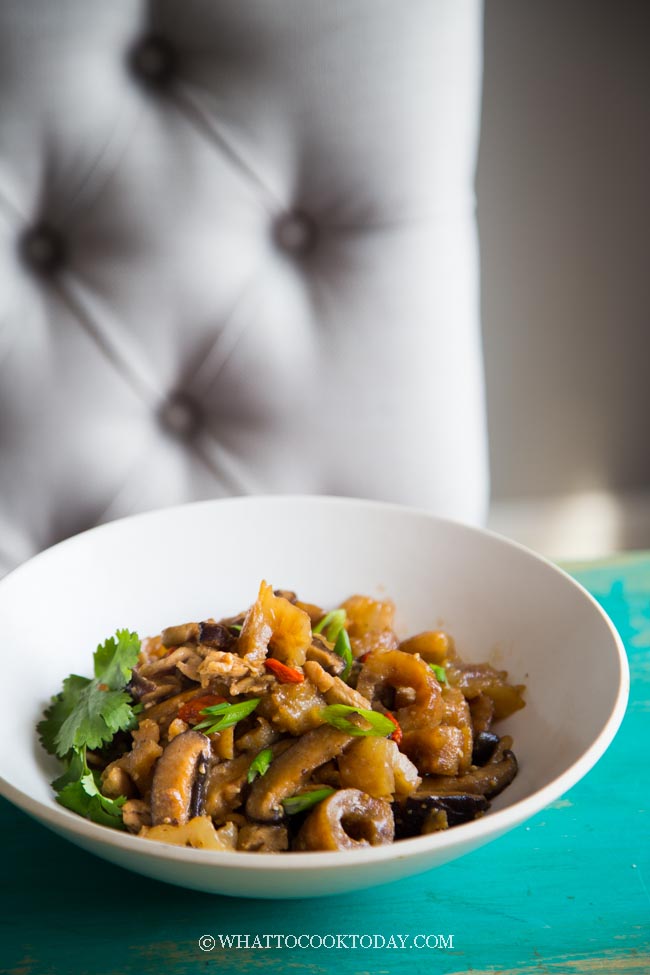 DID YOU MAKE THIS EASY SEA CUCUMBER STIR-FRY RECIPE?
I love it when you guys snap a photo and tag to show me what you've made 🙂 Simply tag me @WhatToCookToday #WhatToCookToday on Instagram and I'll be sure to stop by and take a peek for real!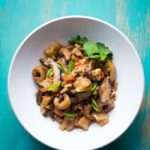 Easy Sea Cucumber, Chicken, Mushroom Stir-fry
Ingredients
Aromatic:
3

cloves

garlic

finely minced
Garnish:
1

stalk

green onion

finely chopped

Few sprigs of fresh cilantro leaves
Instructions
Place the chicken meat and marinade ingredients in a bowl and marinate for 30 minutes. Soak shiitake mushrooms in warm water until soft and then. Mix the seasonings ingredients in a bowl and set aside. Mix cornstarch and water in another bowl to thicken the sauce later

Preheat a wok/skillet over high heat. Add cooking oil and lower the heat to medium. Add garlic and saute until fragrant for about 10 seconds

Add the chicken and continue to saute until the meat turns opaque. Add mushrooms and stir fry for a minute. Add seasonings and stir to mix. Carefully pour in hot water. Add sea cucumber pieces, stir to mi again. Cover with a lid and lower the heat to let it simmer for about 10-15 minutes to let the sea cucumber absorb the taste and seasonings

Uncover the lid, add goji berries. Have a taste and adjust by adding more soy sauce and/or sugar as needed. Give the cornstarch solution a stir and then pour into the stir fry and continue to stir until the sauce thickens. Garnish with chopped green onions and cilantro leaves. Serve as part of multi-course meal
Recommended products:
You may also like this Braised Pork with Sea Cucumber