Braised pork with sea cucumber is a perfect one-pot meal made with pork butt, sea cucumber, bamboo shoots, and quail eggs braised in seasonings and spices. Instant Pot recipe is included.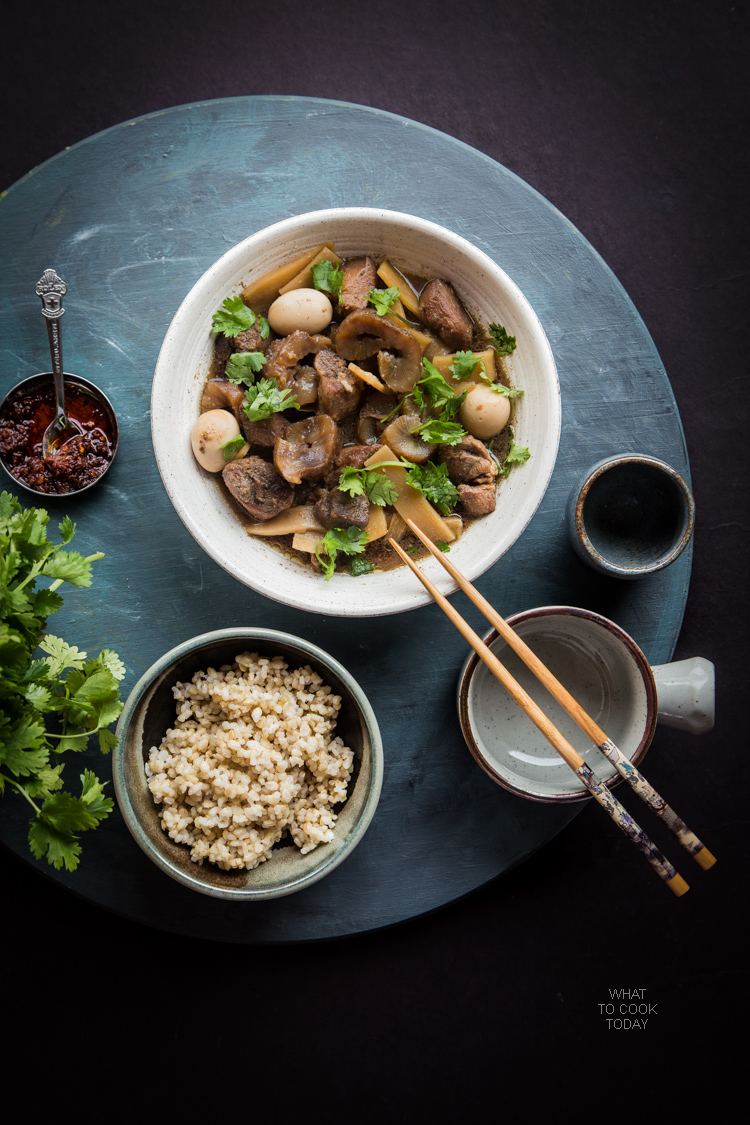 I grew up with my mom's braised pork with sea cucumber. The pork and sea cucumber are braised in savory and slightly sweet liquid. Such a delicious one-pot meat stew if you ask me.
Mom didn't always sea cucumber in this braised pork dish. Sea cucumber is a delicacy and it is expensive. So, during Chinese New Year or some special events, mom will include sea cucumber.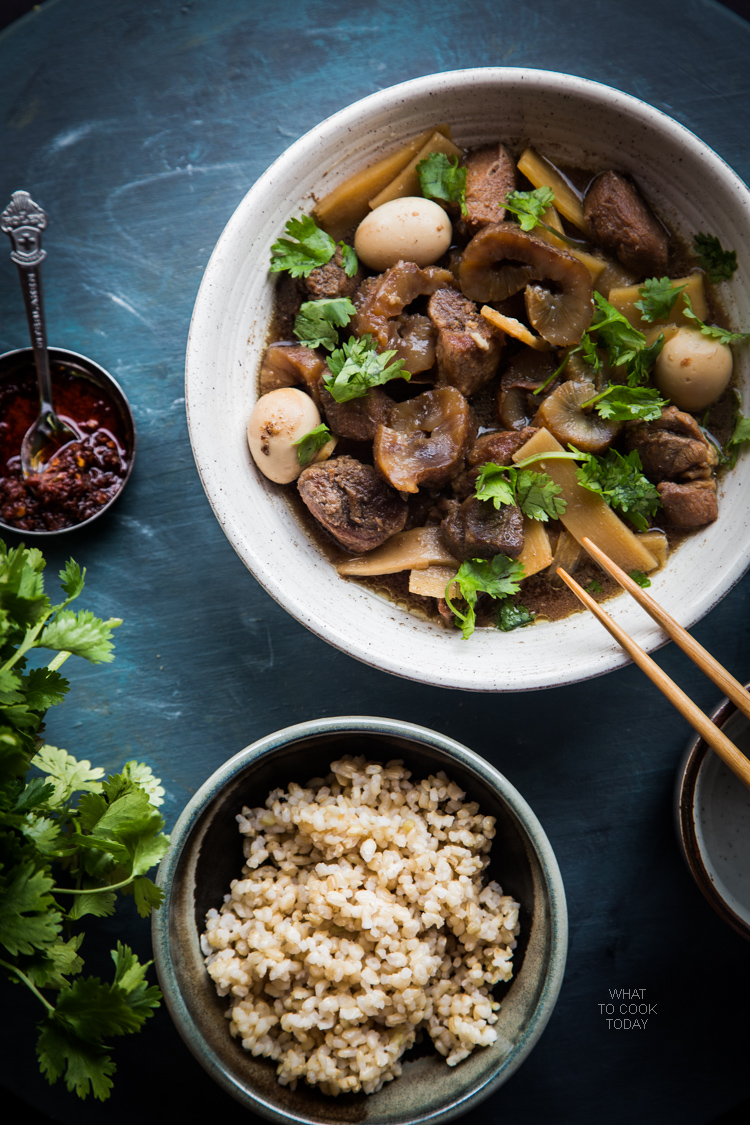 HOW TO MAKE REALLY GOOD BRAISED PORK WITH SEA CUCUMBER
It's really not hard to make this braised pork with sea cucumber. If you are cooking it on stove-top, you just need to cook it longer. I love to use pressure cooker to make this dish.
1. Plan ahead
You really need to plan ahead with this meal. Mainly to prepare the sea cucumber. Sea cucumber needs to be rehydrated if you buy it in dried form
2. Cut meat into large chunks
Braising usually requires at least one hour, generally speaking, and so you want to cut the meat into large chunks so by the time when it's done, it's the perfect tenderness and the meat won't be falling apart in the pot. You want it to fall apart inside your mouth 😉
3. Saute the aromatics
Like I've mentioned probably 100 times, this part helps to intensify the flavor
4. Deglaze with wine
The deglazing part will help to loosen all the aromatics you sauteed earlier from the pot (if any is stuck). This also translates into more flavor to your finished dish later
VARIETIES YOU CAN DO WITH THIS BRAISED PORK WITH SEA CUCUMBER
1. Meatless version
You can omit the pork and use shiitaki mushrooms. Leave them in whole in size.
2. Add vegetables
My mom usually doesn't include any veggies in this braised pork dish because usually we eat multi-course meal, meaning, there is another side dish which usually includes green veggies stir-fry of some sort. But you can include veggie that is good for braising such as napa cabbage. Cut them into large chunks. And of course you can also include potatoes and carrots. Just cut the potatoes into large chunks and add them the last 15 minutes before end of cooking time
Yumm….This is the highlight of the whole dish really 🙂

This blog post contains affiliate links. I earn a small commission when you made purchase at no extra cost to you. Learn more.
Braised Pork with Sea Cucumber
Braised pork with sea cucumber is a perfect one-pot meal made with pork butt, sea cucumber, bamboo shoots, and quail eggs braised in seasonings and spices. Instant Pot recipe is included
Cook Time:
1
hour
30
minutes
Total Time:
1
hour
40
minutes
PIN RECIPE
PRINT RECIPE
Ingredients
800

gr

pork butt

cut into large chunks

1

Tbsp

cooking oil

200

gr

bamboo shoots strips

10-12

quailed eggs

hard boiled

250

gr

rehydrated sea cucumber

cut into large pieces

Water
Aromatics:
1

small onion

peeled and finely chopped

4

cloves

garlic

peeled and finely chopped

5

stalks

green onions

white part only, reserved the greens for other use
Instructions
Cooking on stove-top:
Preheat a large heavy-bottom pot, like Dutch oven. Add cooking oil. Add the aromatics and stir fry until fragrant, about 3 minutes. Deglaze with wine. Scrape the bottom of the pot to make sure you get all the little bits unstuck if any. Add the pork and sea cucumber followed by seasonings. Add water, enough to cover the pork

Bring to a boil and then lower the heat and let it gently braised for the next 1 1/2 hour or so or until the meat is fork tender

15 minutes before the end of cooking time, add bamboo shoots strips, and hard-boiled eggs. Continue to braise for another 1 hour 15 minutes. Have a taste and add more soy sauce as needed to your taste. It should be savory with just hint of sweetness
Cooking with Instant pot pressure cooker:
Press saute on Instant pot. When it's hot, add cooking oil. Add the aromatics and stir fry until fragrant, about 3 minutes. Deglaze with wine. Scrape the bottom of the pot to make sure you get all the little bits unstuck if any. Add the pork, bamboo shoots, and sea cucumber pieces, followed by seasonings. Add water, enough to cover the pork. Turn off saute mode

Cover the lid. Turn steam release valve to seal. Press "pressure cooker", "high pressure". Set timer to "45 minutes". When the timer is up, wait 5 minutes and then release pressure completely

Carefully unlock the lid and stir in the quail eggs. Let them submerge in the braising liquid. Have a taste and adjust the seasonings to your taste
Serving:
Garnish with fresh cilantro leaves and serve with rice