Braised pork with sea cucumber is a perfect one-pot meal made with pork butt, sea cucumber, bamboo shoots, and quail eggs braised in seasonings and spices.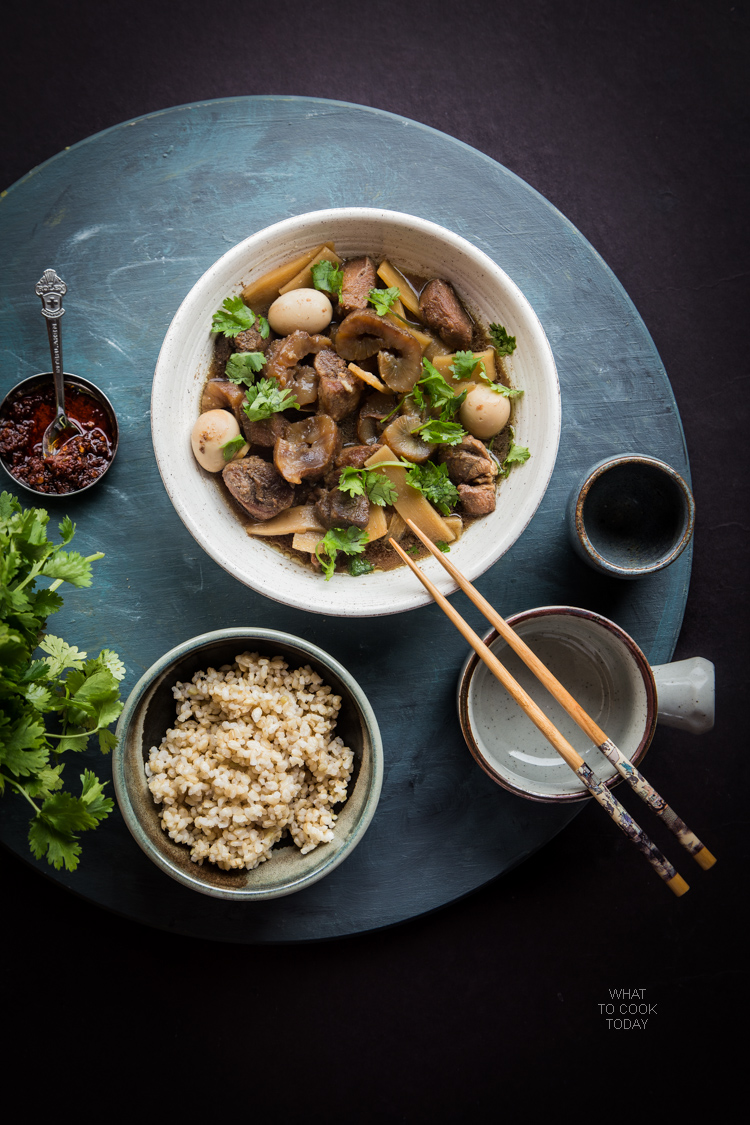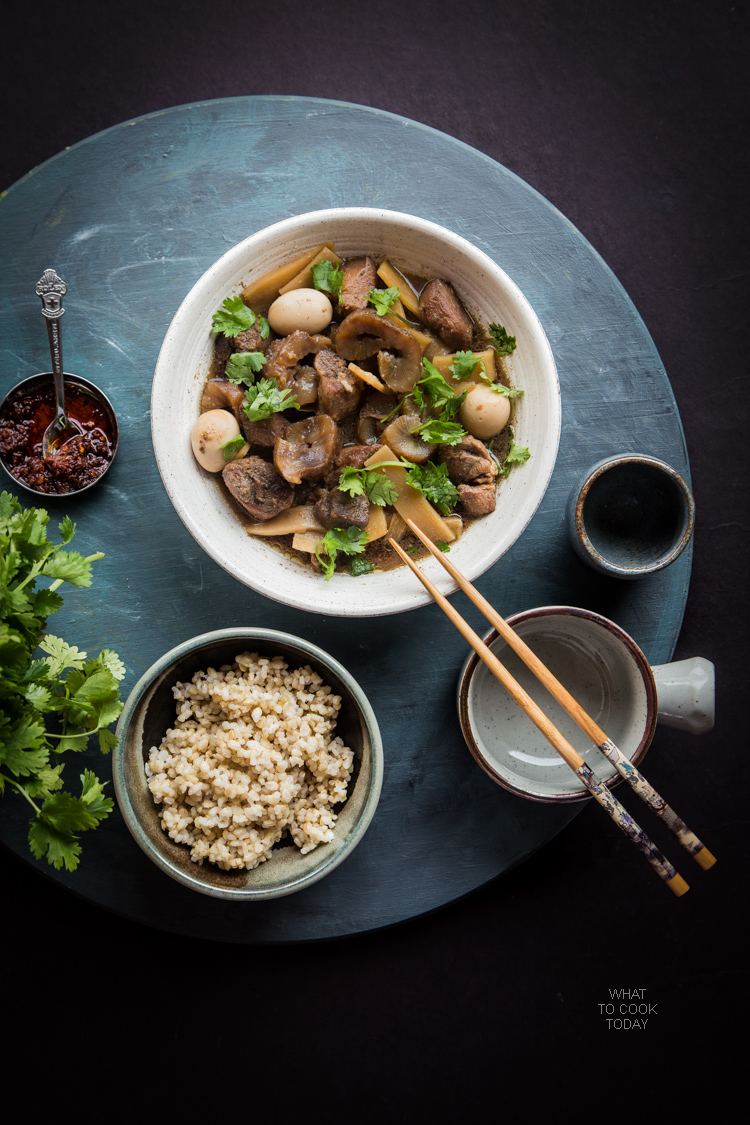 The first question that probably pops up will be "What in the world is sea cucumber?" Sea cucumbers are marine animals with a leathery skin and an elongated body. Sea cucumbers are found on the sea floor worldwide, or they call it trench (I learned that from my kids' Cat's in the head book). They are usually being sold in a dried form and already pre-soaked form in certain Asian grocery shops that carry gourmet ingredients.
Sea cucumber is considered a gourmet ingredient in Asian cuisine. I probably get to eat Sea cucumber once a year during Chinese New Year or if we have any special gathering or family events. They come in different size and quality/grades too.
1 pound (about 500 g) of this "medium grade" (If I can say that) sea cucumber cost around $80.00. And you are thinking "For a rock-looking thing ?" You bet!
The preparation of the sea cucumber itself (if you bought it in a dried form) took me about 1 week. I would not recommend buying the pre-soaked form. They are "cheaper" and "bigger". However, look can be deceiving. They are bigger because they have been pre-treated with certain chemicals to make them bigger. However, when you cook them, they will shrink. So, I would say a No-No for pre-soaked sea cucumber. If you want to eat sea cucumber, sorry, there's no short cut, you just have to soak them yourself, unless someone invites you over for a sea cucumber feast 😉
Once it is soaked, it will soften and be bouncy. The sea cucumber itself does not have any taste. That probably makes you feel even more absurd. The best part is, it will absorb whatever flavor or dish you cook them in.
Braised pork with sea cucumber (6-8 servings)
Print
Ingredients
3

lbs

of pork butt

cut into large chunks

2

Tbsp

cooking oil

1

small onion

peeled and finely chopped

4

cloves

garlic

peeled and finely chopped

5

stalks of green onions

white part only, reserved the greens for other use

Water

15

oz

bamboo shoots strips in water

drained off water

8-10

quailed eggs

hard boiled

8

oz

of sea cucumber - Cut into medium size pieces

you can add more if you want
Instructions
Boil about 1 cup of water. Meanwhile, heat up 2 Tbsp of oil and saute the onion, garlic, and green onions. Add the marinated pork and stir fry briefly until it is fragrant. Add in water enough to cover the pork, followed by all the seasoning ingredients. Lower the heat and let it simmer away for about 45 mins or longer until the pork is fork tender. 15 minutes before end of cooking time, add in bamboo shoots strips and hard-boiled eggs. Have a taste and add more soy sauce as needed to your taste. It should be savory with just hint of sweetness

Add the cut sea cucumber last and bring the cooker back to high and boiling for about 5 minutes so that the sea cucumber can absorb all the wonderful flavor of the juices around. Serve with rice on the side and garnish with fresh cilantro leaves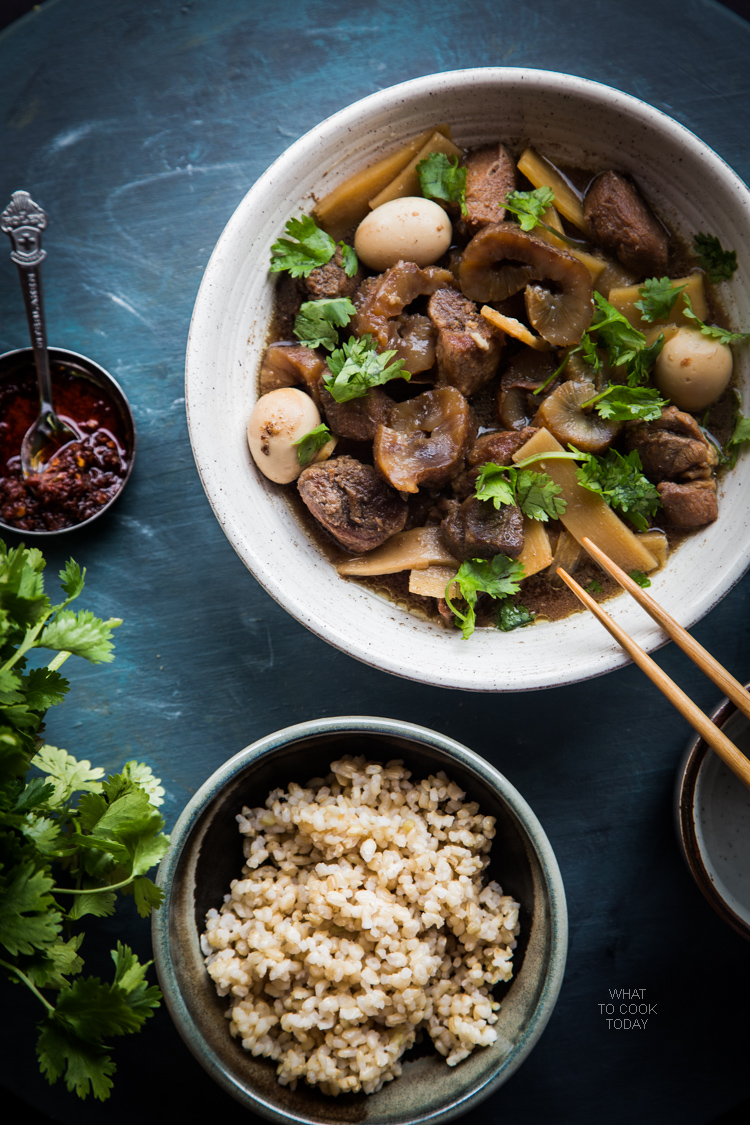 Yumm….This is the highlight of the whole dish really 🙂

PIN IT!

*This post contains affiliate links. You don't pay extra as a consumer if you choose to click on the link and purchase from there. What To Cook Today just receives a small commission from this. That's all. It helps to pay for the cost to have this blog up and running. Thank you so much for your support !