This much healthier version of tiramisu is a super easy dessert to prepare and it's dairy-free, vegan, and gluten-free. The preparation doesn't require any cooking or baking. It makes a nice dessert that is lower in calories compared to the traditional tiramisu.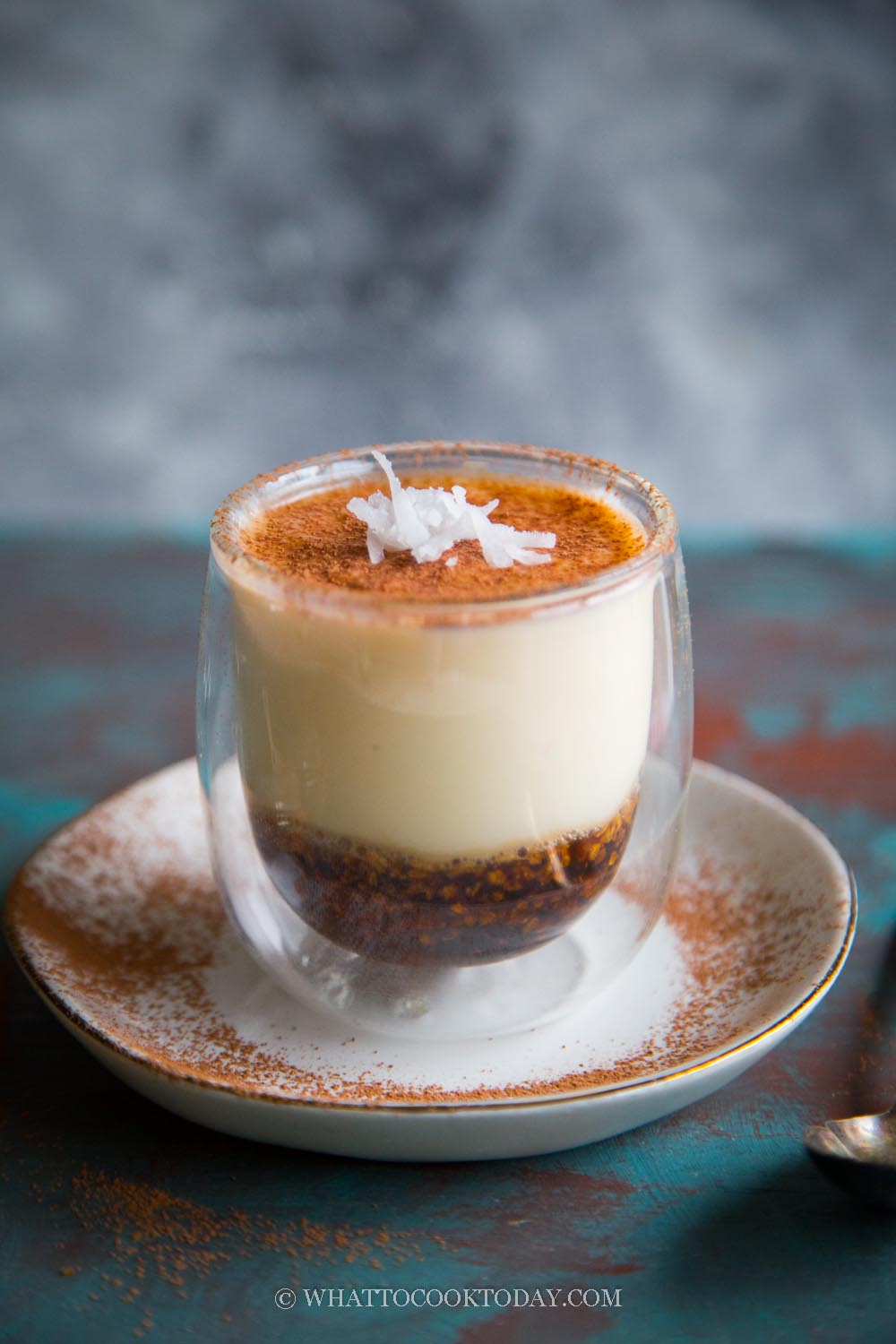 I had few boxes of silken tofu in the fridge that I have forgotten to use and they were about to expire and I stumbled upon this tofu tiramisu recipe on Youtube and decided to give it a try since it seemed so effortless to put together and boy it was effortless!
The recipe rundown
Taste: Sweet with a hint of bitterness from the coffee (which I find complementary)
Texture: Smooth and creamy with some texture from the coffee-soaked oats
Level: Easy. It took me probably 10 minutes or less from the beginning to getting them into the cups
Pros: This is at least half the calorie of the traditional tiramisu
Cons: Tofu tiramisu doesn't freeze as well as traditional tiramisu. The texture turns grainy
Let's talk ingredients
1. Instant Coffee
Instant coffee is best for this recipe, but you can also prepare double shots of espresso
2. Oats
I used old-fashioned oats because that's the kind I like when I eat oatmeal. But it should work with quick-cooking oats too
3. Silken tofu
This is the softest tofu in texture among all the tofu. Silken tofu is not pressed and hence it's very soft, wobbly, and fall apart easily. Soft tofu and other types of tofu has been pressed and more compact in texture. If you substitute with soft tofu or medium-soft tofu, the texture won't be as creamy and actually the texture will be grainier.
4. Sugar
I use granulated sugar, but you can use other sweeteners of your choice too. Coconut sugar, brown sugar, keto-friendly works just as well
5. Vanilla extract
Use high-quality real vanilla extract. If you have vanilla beans, well..hello, put those in 🙂
6. Salt
A small pinch of salt ties everything together
7. Cocoa powder
I used Dutch-processed cocoa powder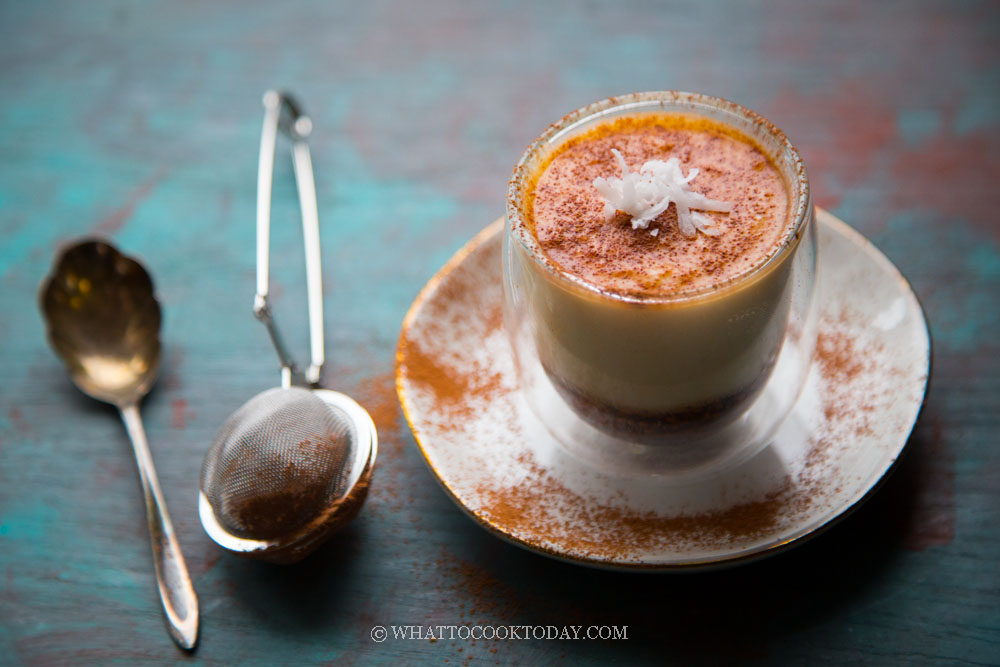 How to make eggless tofu tiramisu
1. Mix instant coffee with hot water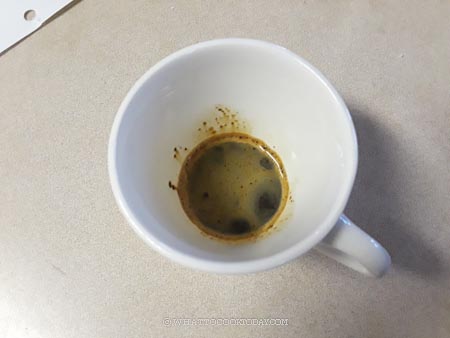 2. Pour this over to the oats and let them soak when you prepare the rest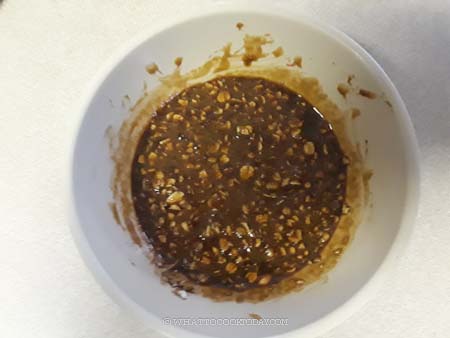 3. Drain off liquid from the tofu if any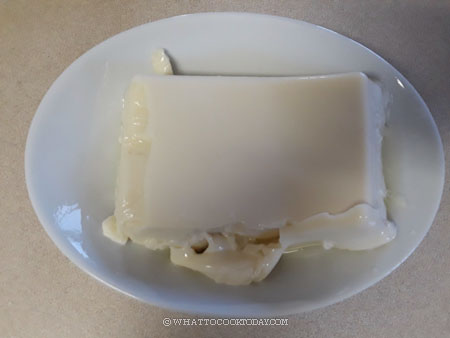 4. Put the tofu and the rest of the ingredients for tofu layer in a blender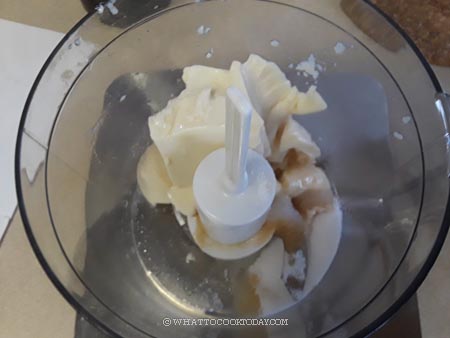 5. Whiz until smooth and creamy. Have a taste to see if the mixture is sweet enough for your taste. You can always add more sugar/sweetener and give it a brief whiz again after adding more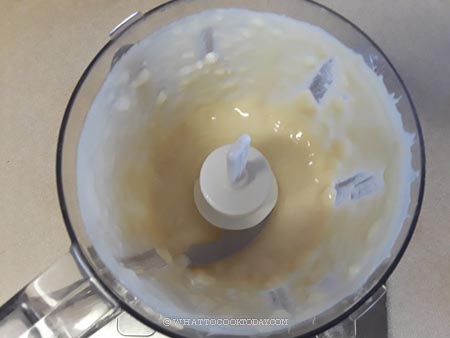 6. Get 4 cups/bowls/ramekins with about 6 oz capacity. Portion out the oats into each one as equally as you can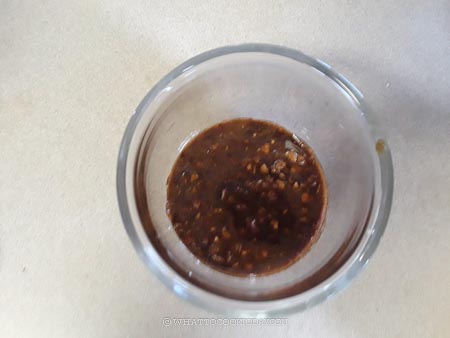 7. Next, portion out the tofu mixture into each one and smooth the top. Let them chill in the fridge uncovered for at least 4 hours (I know, this part sucks. I wish I could eat right away)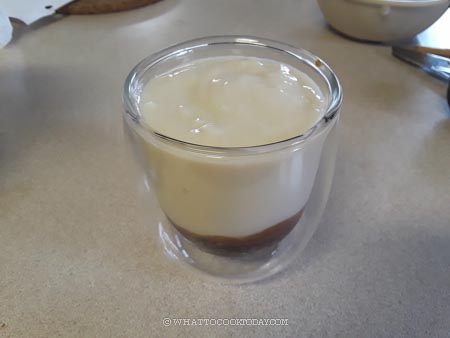 8. When ready to serve, dust with some cocoa powder and top with some coconut flakes or chips if you want. Tuck in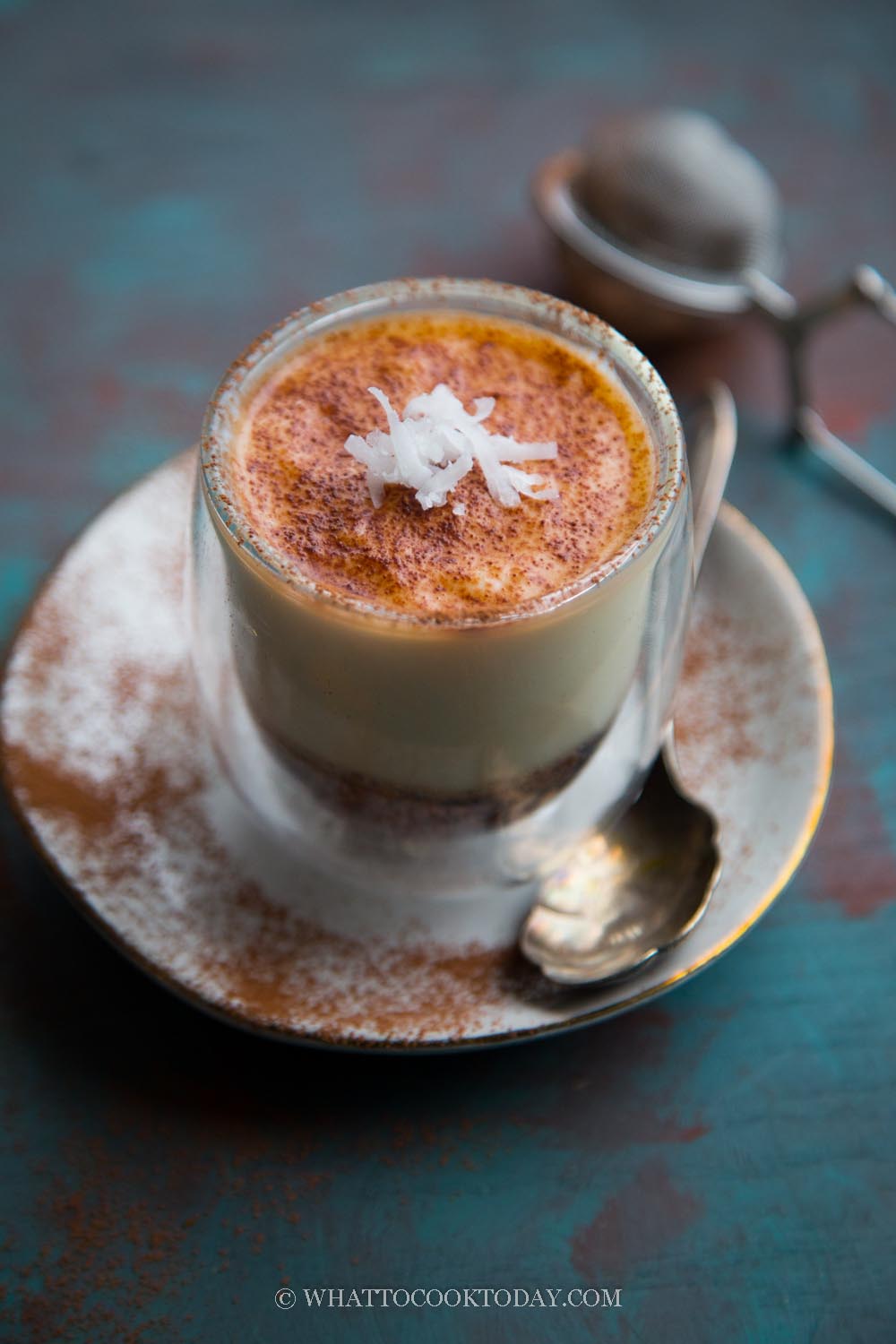 My husband was pretty impressed by this tofu tiramisu. He enjoyed it a lot. It's not cloyingly sweet with a nice coffee aroma, and it's creamy. I can't say that it is 100% exactly like the traditional tiramisu. There are no ladyfinger cookies in there, but the oats soaked in coffee are unique in their own way in this easy tofu tiramisu. The fact that it is so much lesser in calories and fat makes it even more enjoyable 🙂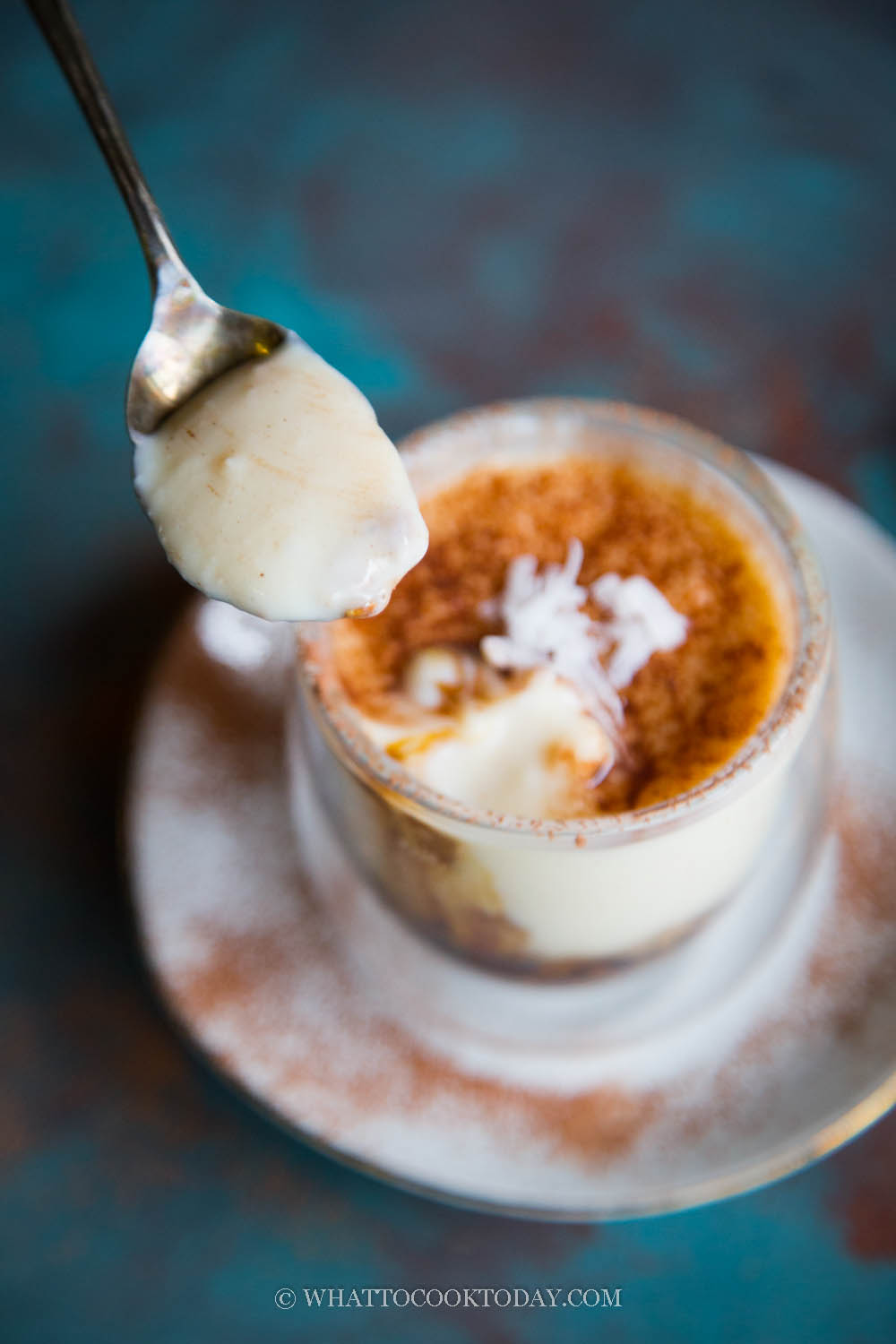 Variations
Base layer: Instead of using oats, you can also use ingredients like puffed quinoa, puffed brown rice. Of course, you can always use ladyfingers too
Tofu layer: Instead of vanilla extract, try pandan extract, ube extract or other extracts of your choice
Topping: I like it with dried goji berries too. I got unsulfured good-quality dried goji berries that you can snack on without rinsing them from Costco (not sponsored). You can also use toasted pepita seeds, chopped roasted almonds, cashews, or other nuts for that contrast of texture if you like
Did you make this easy eggless silken tofu tiramisu recipe?
I love it when you guys snap a photo and tag to show me what you've made 🙂 Simply tag me @WhatToCookToday #WhatToCookToday on Instagram and I'll be sure to stop by and take a peek for real!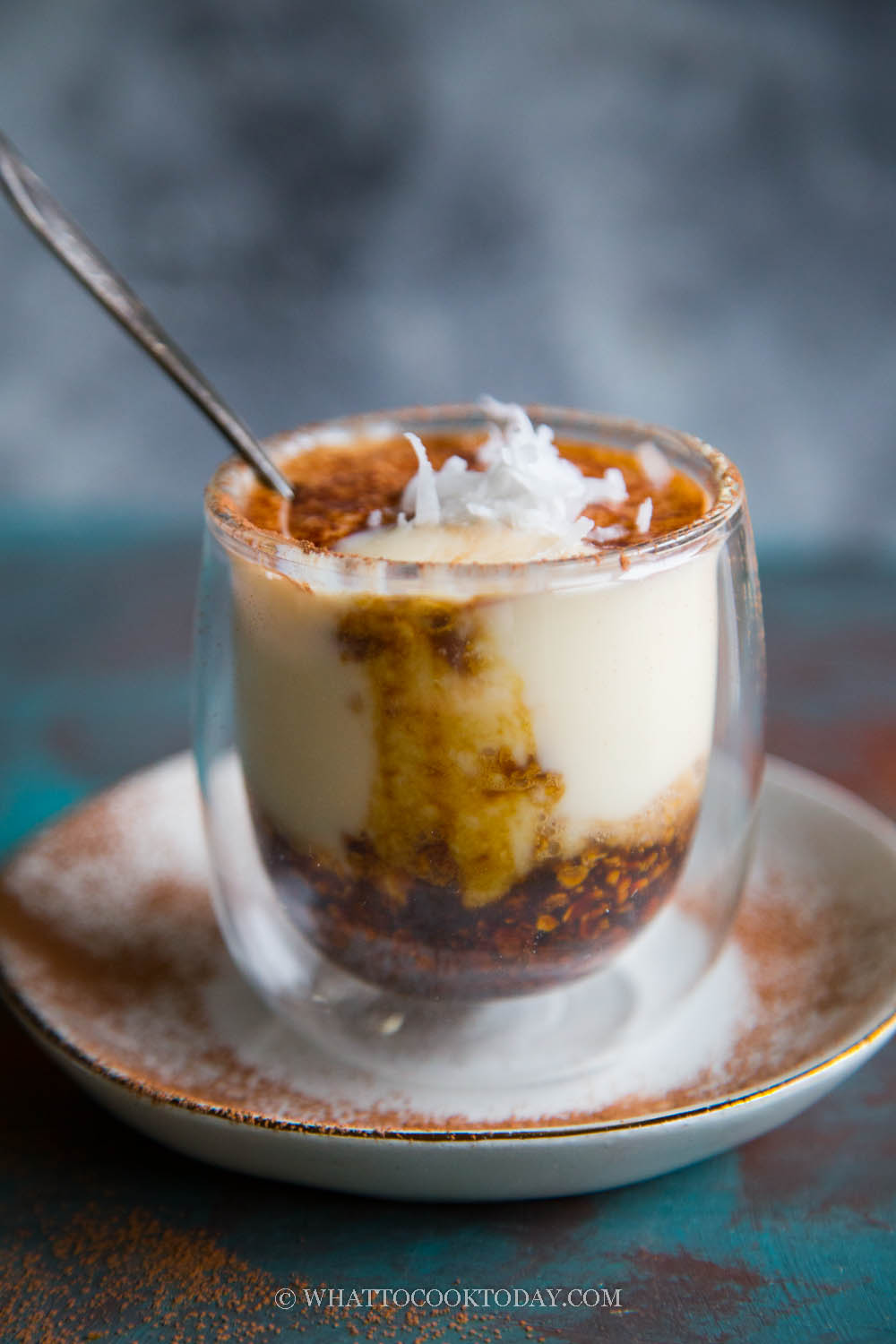 Easy No-Bake Silken Tofu Tiramisu
Ingredients
For the base:
4

tsp

instant coffee

4

Tbsp

hot water

60

gr

oats

old-fashioned or quick-cooking oats
For the silken tofu cream:
600

gr

silken tofu

drain off liquid

80

gr

sugar

you can use keto-friendly sweetener too

2

tsp

vanilla extract

⅛

tsp

salt
Garnish:
Topping (optional):
sweetened or unsweetened coconut flakes or coconut chips
Instructions
Prepare the base layer:
Mix instant coffee with hot water. Pour this over to the oats and let them soak when you prepare the rest
Prepare the tofu layer:
Drain off liquid from the tofu if any. Put the tofu and the rest of the ingredients for tofu layer in a blender and whiz until smooth and creamy. Have a taste to see if the mixture is sweet enough for your taste. You can always add more sugar/sweetener and give it a brief whiz again after adding more
Assembling:
Get 4 cups/bowls/ramekins with about 6 oz capacity. Portion out the oats into each one as equally as you can. Next, portion out the tofu mixture into each one and smooth the top. Let them chill in the fridge uncovered for at least 4 hours (I know, this part sucks. I wish I could eat right away)
Serving:
When ready to serve, dust with some cocoa powder and top with some coconut flakes or chips if you want. Tuck in 🙂
Storing:
This can be kept in the fridge for about 2-3 days. Cover with a cling wrap and keep in the fridge. The longer you keep, the "watery" it will be. I do not recommend freezing as it will change the texture and makes it grainy
Recommended products:
Nutrition
Serving:
6
oz serving
|
Calories:
226
kcal
|
Carbohydrates:
36
g
|
Protein:
9
g
|
Fat:
5
g
|
Saturated Fat:
1
g
|
Sodium:
82
mg
|
Potassium:
363
mg
|
Fiber:
2
g
|
Sugar:
22
g
|
Calcium:
56
mg
|
Iron:
2
mg