A super easy and flavorful Chinese dried seaweed soup is a popular soup among home cooks. The recipe is very flexible and you can add whatever you like. You can cook this soup on the stove or with a pressure cooker.

This Chinese dried seaweed soup is one of the soups mom made often when we were kids. My dad couldn't have his lunch and dinner without soup, which is pretty typical in a Chinese family. So, growing up, we had soup with every meal. I don't make soup with every meal. This family of mine is pretty flexible. They pretty much eat whatever I've experimented at the kitchen, good or bad 🙂 But they do love this easy Chinese dried seaweed and pork soup though. My mom usually cooked the seaweed with egg drops, which is the most common seaweed soup you will see or hear. When my mom was here to help me with my confinement, she made this seaweed soup with pork and other Chinese herbs instead and I really like it. This soup can be consumed by everyone though.
Type of seaweed to use
There are many different types of seaweeds. For this recipe, we need the Chinese dried seaweed or sometimes you will see "dried laver seaweed" written on the package. Don't use seaweed such as kombu or roasted nori seaweed used to wrap sushi or the Korean roasted seaweed that is eaten as a snack.


They usually come in a round shape and you can cut them into smaller pieces to portion them out for your recipe.

How to prepare Chinese dried seaweed
The good news is, there isn't much to prepare. This seaweed will soften as soon as it comes into contact with liquid. So you don't need to rinse them with water or soak them before using them.
How to make easy Chinese dried seaweed soup on the stove or in Instant Pot
This soup doesn't require a long cooking time but I do love the convenience of Instant Pot.


1. Thinly slice the pork and then add the marinade ingredients and marinate for 15 minutes


2. Pour chicken stock into the inner pot of the Instant Pot. Add the pork slices, garlic, ginger, red dates, and seasonings. Give it a stir. Close the lid and turn the steam release valve to sealing. Press "pressure cooker" and make sure it's on "high pressure". Set the timer to 5 minutes and then natural release


3. Stir in the seaweed and goji berries


4. The residual heat will soften them. Have a taste and season accordingly to your preference


5. You can discard the ginger slices just before serving (we usually eat them). Garnish with chopped green onion and some fresh cilantro leaves if you like

Tips for success
1. Choose high-quality seaweed
My mom said some seaweed may be dirty, but this seaweed cannot be washed as it turns into mush if you try to wash it. So make sure you choose a good quality one. I haven't had an issue with dirty or sandy seaweed so far
2. Marinate the meat with cornstarch
This helps to "tenderize" the meat
3. Stir in the seaweed and goji berries last
Goji berries can turn sour if you cook them for too long. The seaweed softens instantly when it comes into contact with a liquid so, you don't want to put them in and overcook them
Variations
Animal protein: you can use thinly sliced beef, chicken, or Asian-style beef balls or pork balls
Meatless protein: you can use tofu and eggs

Did you make this recipe?
I love it when you guys snap a photo and tag to show me what you've made 🙂 Simply tag me @WhatToCookToday #WhatToCookToday on Instagram and I'll be sure to stop by and take a peek for real!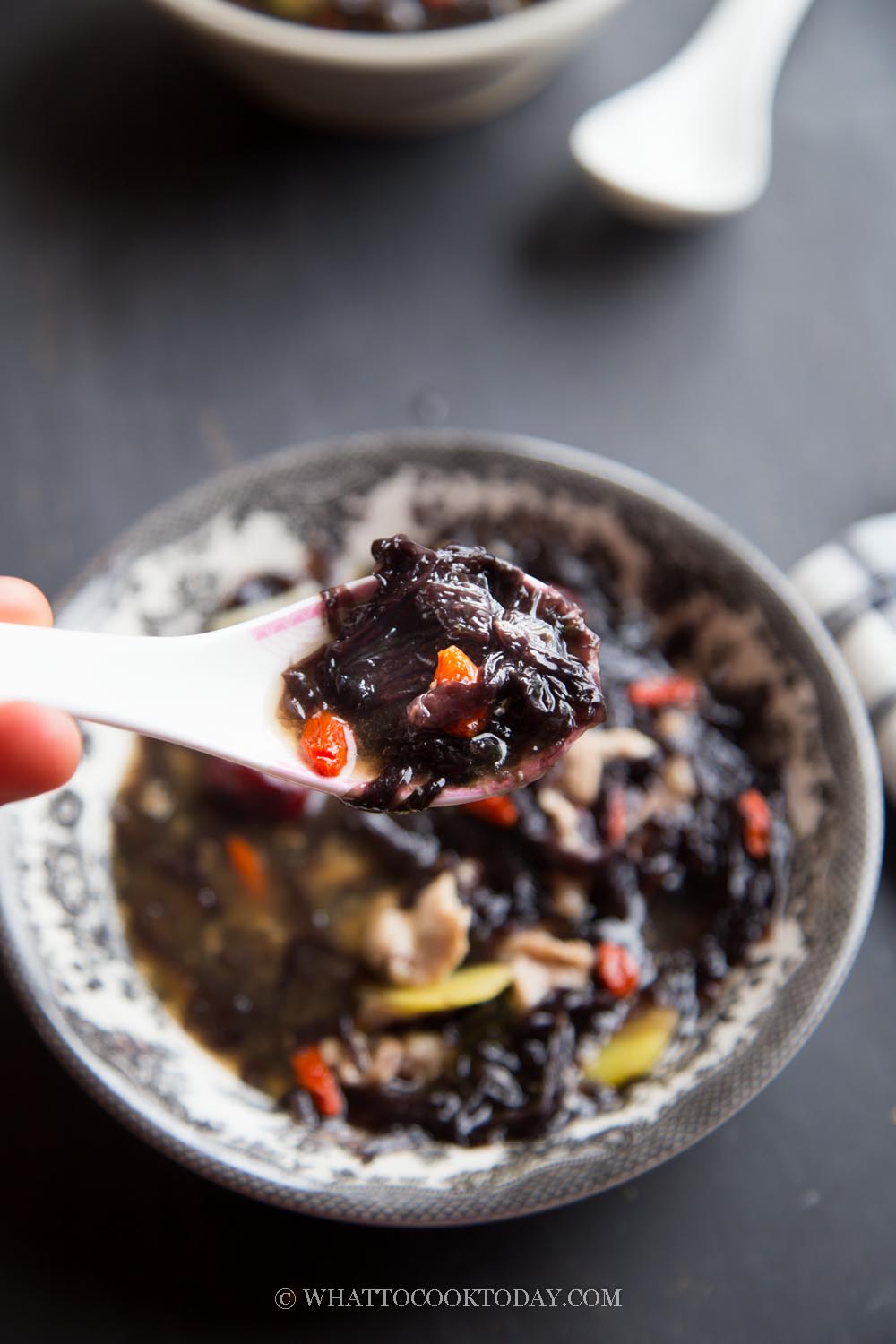 Easy Chinese Dried Seaweed and Pork Soup
Ingredients
Aromatics:
3

cloves

garlic

smashed

3

slices

ginger

thinly sliced
Seasonings:
1

Tbsp

rice wine

1

tsp

sesame oil

⅛

tsp

sugar

Salt

to taste
Instructions
Marinate the pork:
Thinly slice the pork and then add the marinade ingredients and marinate for 15 minutes
Cooking on the stove:
Bring the chicken stock to a boil and then add pork slices and other ingredients, except for goji berries. Let them simmer for about 10 minutes over medium-low heat. Then add dried seaweed and goji berries and cook until the seaweed are softened, it shouldn't take long. Have a taste and add more salt and/or sugar as needed
Cooking with Instant Pot pressure cooker:
Pour in chicken stock into the inner pot of the Instant Pot. Add the pork slices, garlic, ginger, red dates, and seasonings. Give it a stir. Close the lid and turn the steam release valve to sealing. Press "pressure cooker" and make sure it's on "high pressure". Set the timer to 5 minutes and then natural release

Stir in the seaweed and goji berries. The residual heat will soften them. Have a taste and season accordingly to your preference
Serving:
You can discard the ginger slices just before serving (we usually eat them). Garnish with chopped green onion and some fresh cilantro leaves if you like
Recommended products: