Soto Ayam Bening (Indonesian Clear Chicken Noodle Soup) – One of the delicious Indonesian soto (soup) made with chicken and aromatic spices and herbs and characterized by its clear soup, without coconut milk like other types of soto. Also known as Soto Ayam Lamongan. Can be made on stove-top or pressure cooker.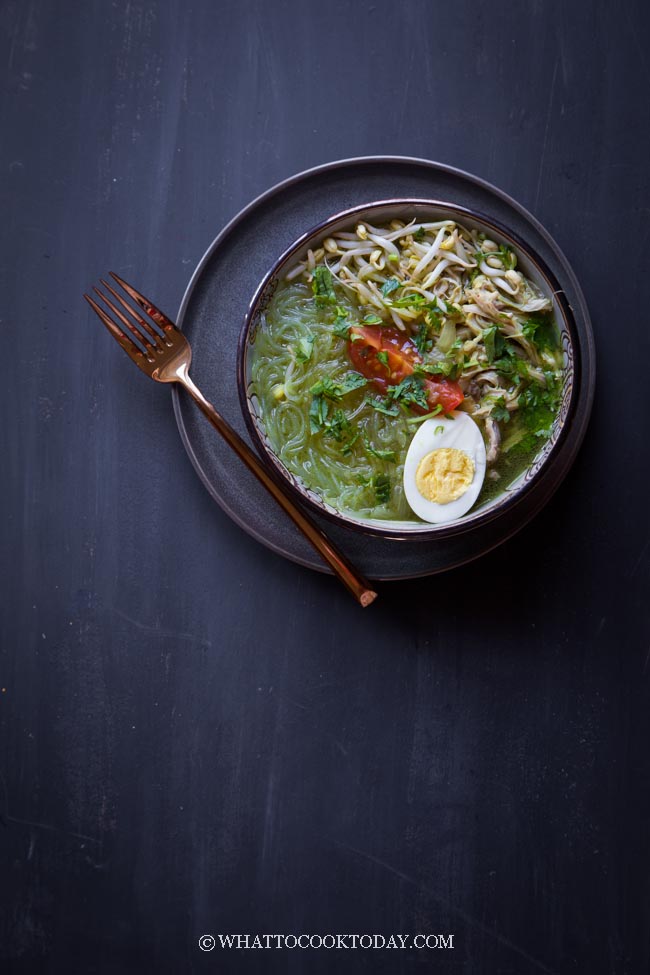 Chicken soup is probably one of the soup that every country has its own version. Soto is Indonesian version of soup, not necessarily chicken soup, but just soup in general. Soto can be made with meat, commonly beef and chicken in Indonesia. There are so many different types of soto throughout Indonesia. Spices and herbs used may not be drastically different. You will see some similarity in terms of spices and herbs used, but each has a certain thing that makes it special.
WHAT IS SOTO AYAM BENING?
Soto means soup, ayam means chicken, and bening means clear. So, now you see where I got the English translation 🙂 It's pretty straightforward. No coconut milk is added to the soup to make it creamy and that's why it was named as such. One of my favorite soto made with coconut milk is Soto Ayam Medan, from the hometown I was born and grew up.
Despite the name soto ayam bening, the soup has a yellowish tinge to it because of turmeric.
WHY YOU WILL LIKE THIS SOTO AYAM BENING RECIPE
1. It's undeniably, a great comfort food, whether you are from Indonesia or not, whether you know soto or not. Seriously, you can still relate to this chicken soup
2. It's Instant Pot and stove-top friendly recipe. If you have Instant pot, definitely use it. I love the convenience of it. Everything can be cooked in one pot like you would if cooking on the stove
3. Simplified without sacrificing taste. I know the recipe does call for a long list of ingredients (like typical Indonesian recipes in general), but they are not difficult to find and I used some powdered spices like turmeric and galangal, which still over same great taste to the overall dish
YOU CAN CUSTOMIZE YOUR SOTO AYAM BENING
Soto ayam bening is typically served with mung bean thread noodles with some toppings you see in the recipe card or my photos here. But you can really customize it to your liking. It won't be the traditional soto ayam bening, but hey…nobody will punish you for that. For example:
1. Add cabbage to the soup when you cook the chicken
2. Leave bean sprouts out if you don't like them
3. You can use other types of noodles such as spaghetti, angel hair pasta, even macaroni (my kids like it with this soup)
4. You can even serve this with rice. In Indonesia, people tend to eat "double" carbs in one meal, in this case, they eat both the noodles and the rice. You can leave the noodles out and eat with rice.
HOW TO STORE AND REHEAT LEFTOVER
Storing:
Leftover of soup and chicken can be kept in the refrigerator for up to 5 days. If you have plenty of leftover of soup, you can freeze them in individual jars or freezer-friendly containers for up to 3 months.
Only shred the amount of chicken meat you think you will serve. Leave the rest whole, so when you store them in the refrigerator or freeze them, they won't dry up too much. They can be freeze in freezer bag for up to 3 months too.
Reheating:
Reheat the soup on stove until hot. You can put the chicken pieces in the soup briefly just to warm it up and then serve.
For frozen chicken and soup, let the frozen chicken meat and soup thaw in the refrigerator and then heat the soup until boiling and shred them into a hot soup to reheat.
This blog post contains affiliate links. I earn a small commission when you made purchase at no extra cost to you. Learn more.
*Recipe is written for 6-quart Instant Pot. Cooking time should remain the same for 8-quart size but will take longer to pressurize. For mini duo (3-quart), I suggest to half the recipe and use the same amount of time to cook*
Soto Ayam Bening (Indonesian Clear Chicken Noodle Soup)
Ingredients
300

gr

bean thread noodles (soun)

2

Tbsp

cooking oil

2

large

tomatoes

quartered
Soup:
3

lbs

skinless bone-in chicken thighs or drumsticks

8

cups

water
Ground ingredients:
6

shallots

peeled

6

cloves

garlic

peeled

1

inch

ginger
Serve with:
Fresh mung bean sprouts

Hard-boiled eggs or soft-boiled eggs

Juice from fresh lime

Celery leaves

Finely chopped
Instructions
Prepare noodles and veggies:
Bring a large pot of water to a boil. Turn off the heat and place the dried bean thread noodles inside the pot and let it soak for 10 minutes or until the noodles are soft and no longer tough when you try it. Drain off the water and rinse the noodles with cold water to stop the cooking process. Cut into shorter pieces if necessary. Set aside

Soak the mung bean sprouts in hot water for 5 minutes and then discard water. Set aside
Cooking with Instant Pot:
Press saute. Add cooking oil. When it says "hot". Add the ground ingredients and spices. Stir fry for about 3 minutes. Add the chicken pieces, herbs, and pour in the water, and seasonings. Stir to mix everything

Close the lid. Turn the steam release valve to seal. Press pressure cooker, high pressure, and set timer to 25 minutes. When the timer is up, release pressure immediately and then carefully unlock the lid

Carefully remove chicken pieces from the pot and set aside. Discard the lemongrass stalks and other leaves. Have a taste of the soup, season with more salt to your taste if needed. Place the tomatoes inside the pot. Close the lid back. The residual heat will soften the tomatoes without cooking them into a mush
Cooking on the stove:
Preheat a large pot with cooking oil. Add the ground ingredients and spices. Stir fry for about 3 minutes. Add the chicken pieces, herbs, and pour in the water, and seasonings. Stir to mix everything. Bring to a boil and then lower the heat to simmer for the next 30 minutes or until the chicken pieces are cooked through

Remove from the heat and carefully remove chicken pieces from the pot and set aside. Discard the lemongrass stalks and other leaves. Have a taste of the soup, season with more salt to your taste if needed. Place the tomatoes inside the pot and close the lid. The residual heat will soften the tomatoes without cooking them into a mush
Serving:
If you feel like it, you can pan fry the chicken briefly until it forms some layer of skin and then shred the meat. This is totally optional. Otherwise, when the chicken is cool enough to handle, shred the meat.

Portion noodles into an individual serving bowl. Top with some shredded chicken meat, bean sprouts and generously ladle with hot soup. Top with halved of hard-boiled egg. Garnish with celery leaves, squirt some lime juice, and garnish with crispy fried shallots