Squid ink seafood paella – A traditional paella with a twist by using squid ink. Squid ink adds a depth of flavor to the rice and while the color may not be appetizing, it is delish.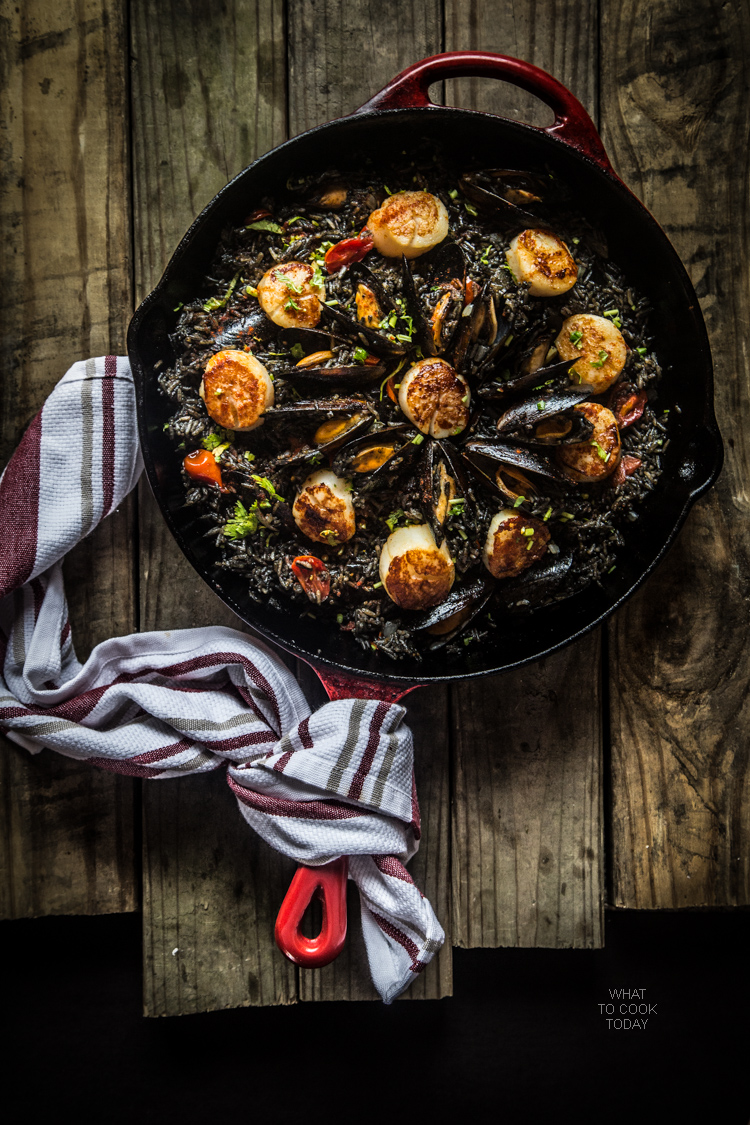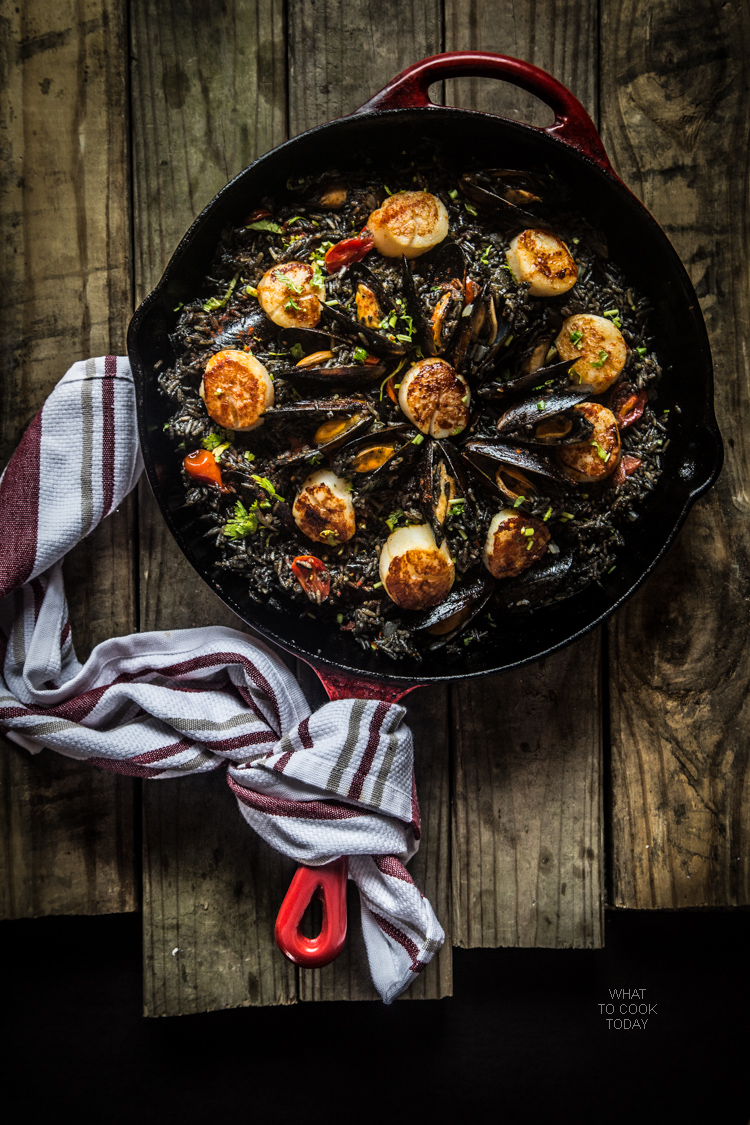 A small jar of squid ink that my husband brought home few months ago sure had been put into good use. I've made squid-ink pasta and squid ink risotto (will post recipe soon) with them and they were both so delicious. Now this is another dish that we love so much, squid ink seafood paella. Now, I know an authentic seafood paella uses the expensive Saffron threads
 and not squid ink
😉 Please forgive me my Spanish friends, I love paella with saffron threads trust me on this one. I was just so tempted to try it with squid ink. I didn't alter much of other authentic elements of paella besides adding squid ink (okay..I know..major color change). I still use sofrito as a base for this paella, which I think is absolutely necessary. I could have added saffron too, but I really don't want so much flavors to get lost in one pan. I really want the squid ink to shine and so decided not to add in saffron.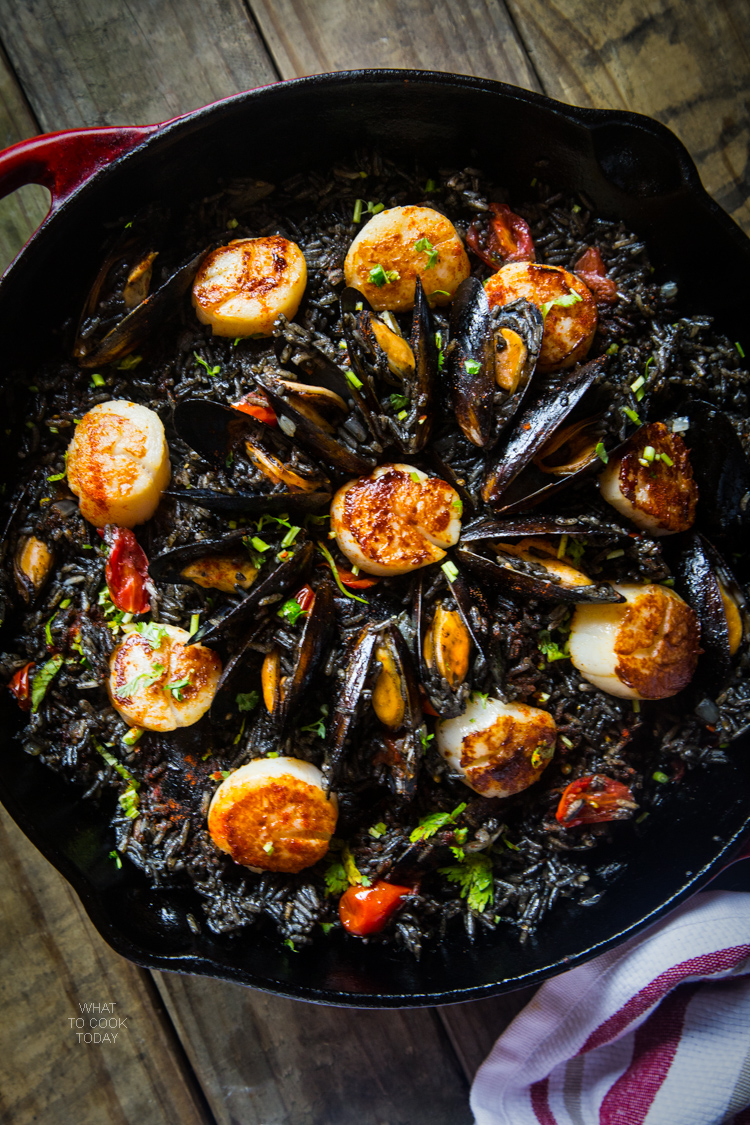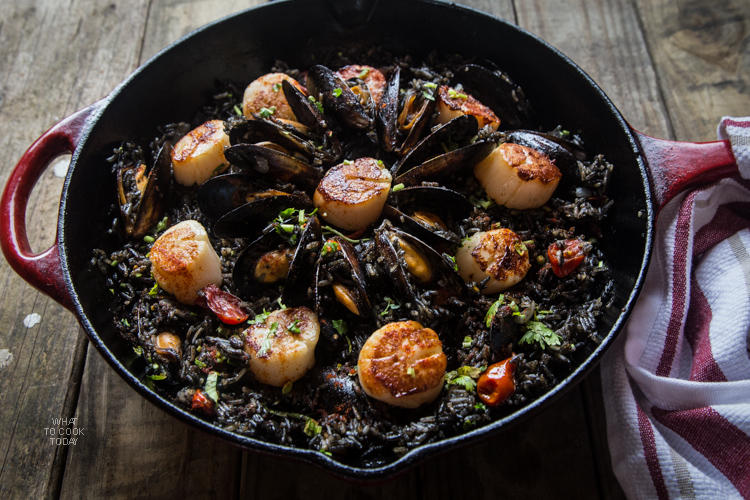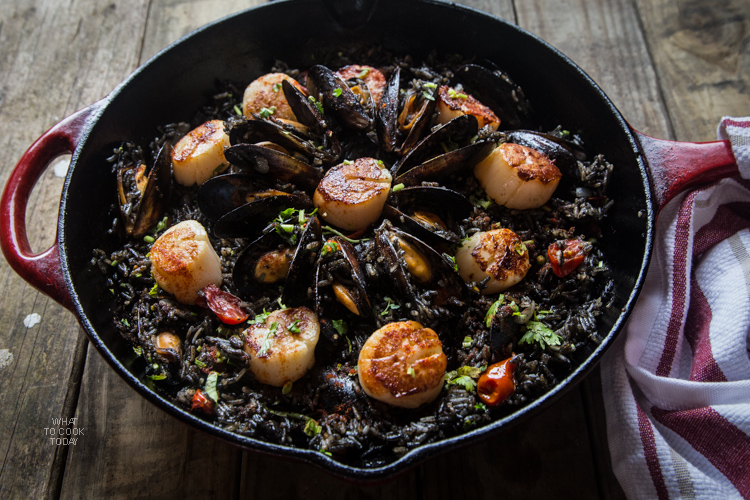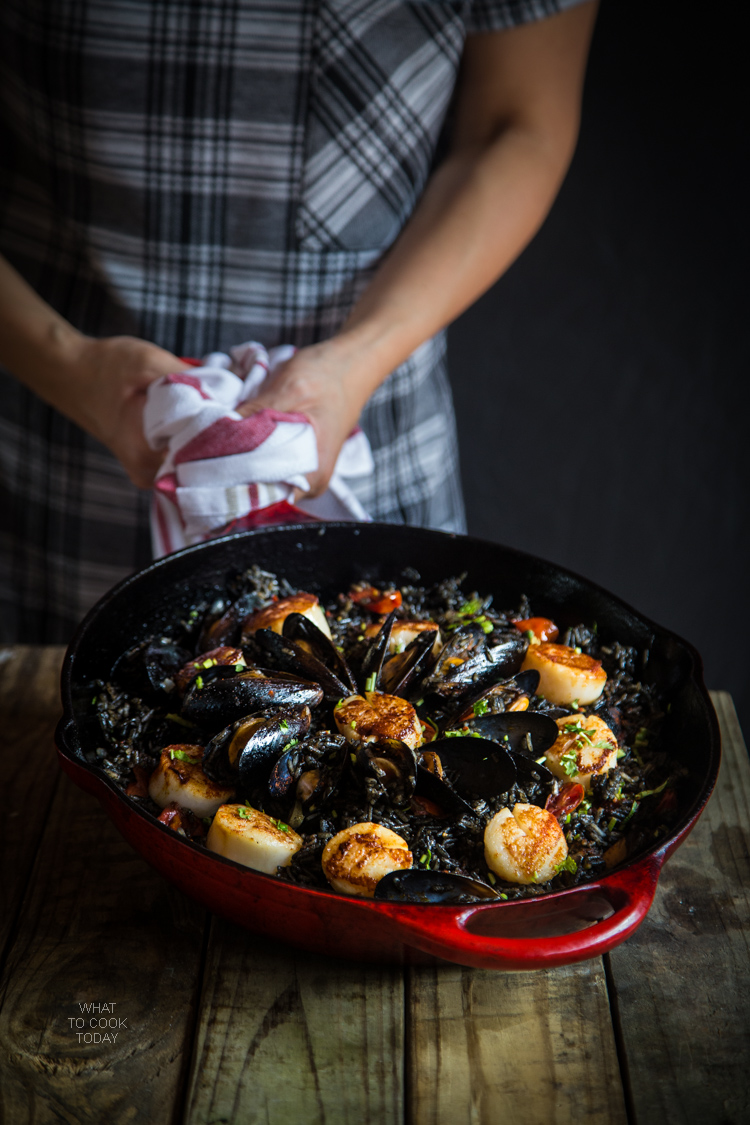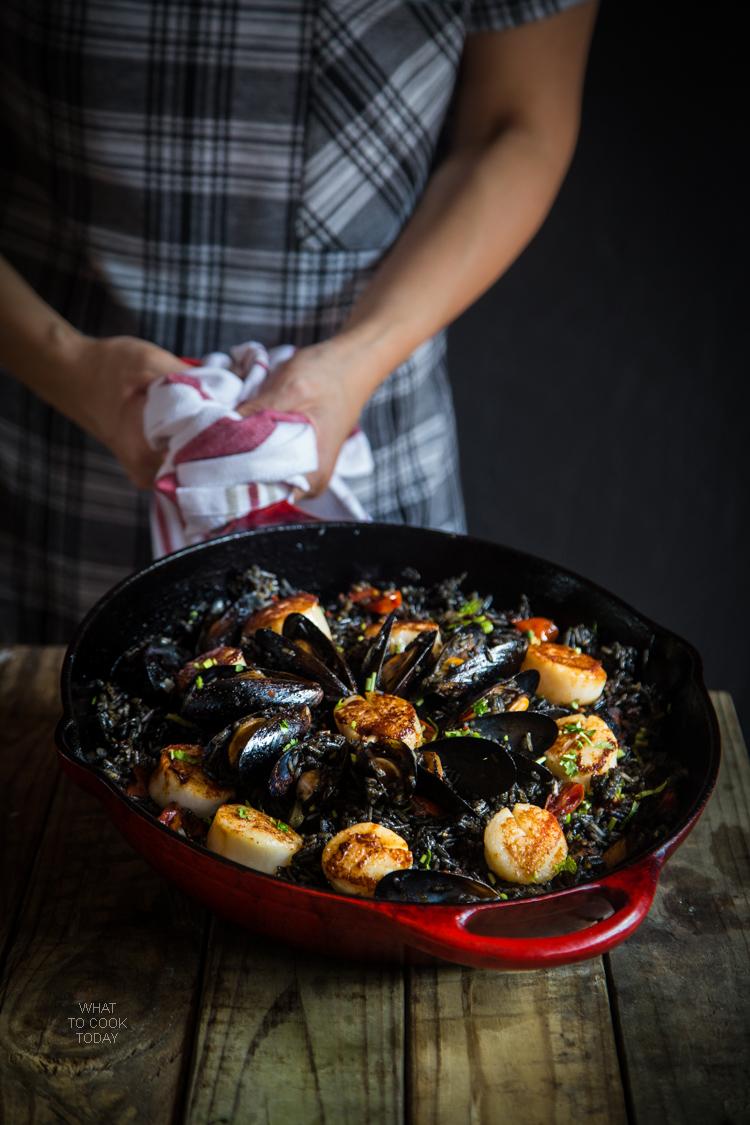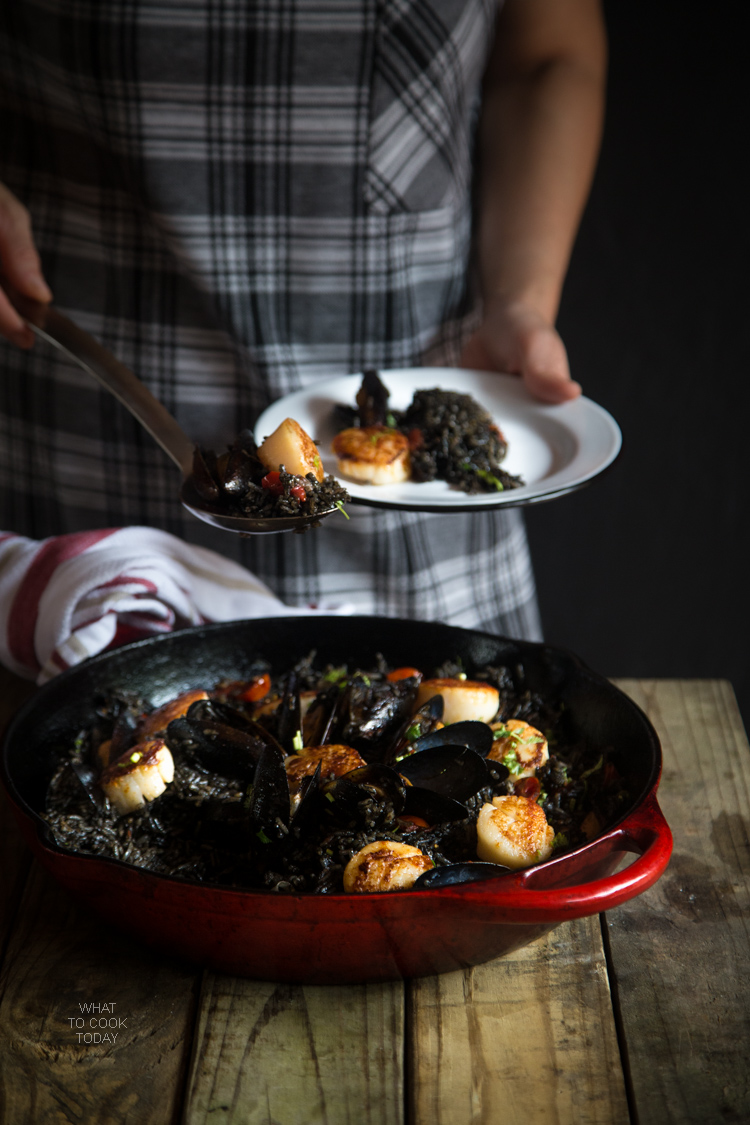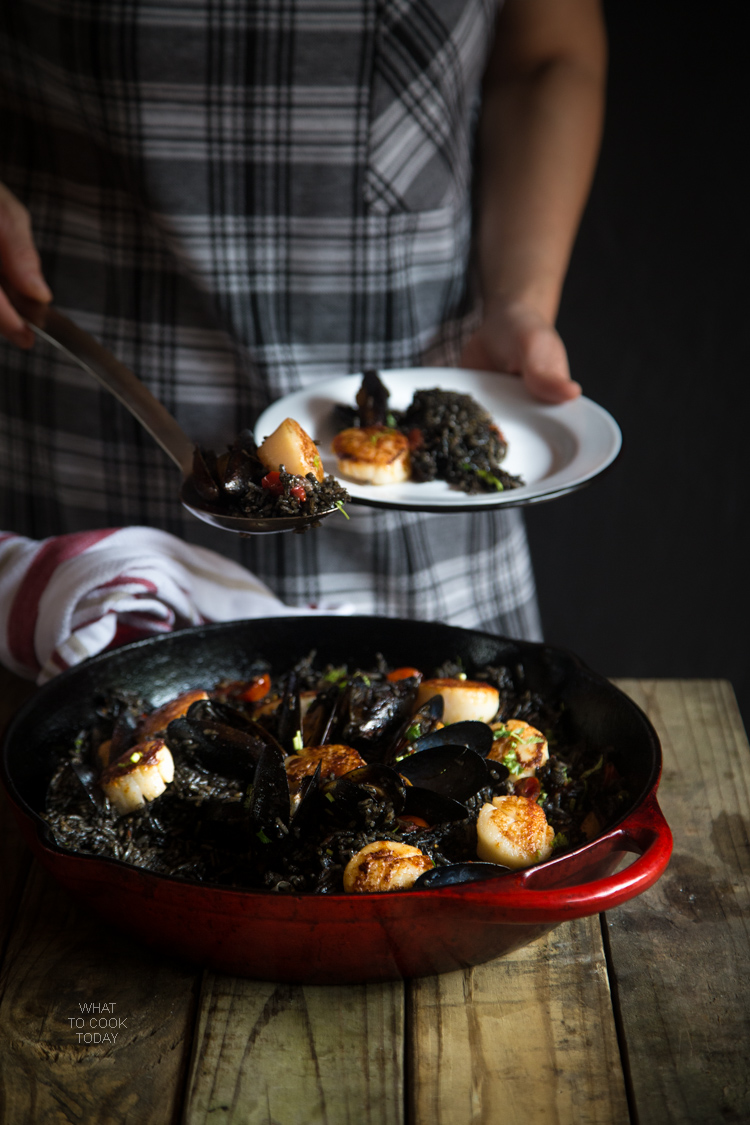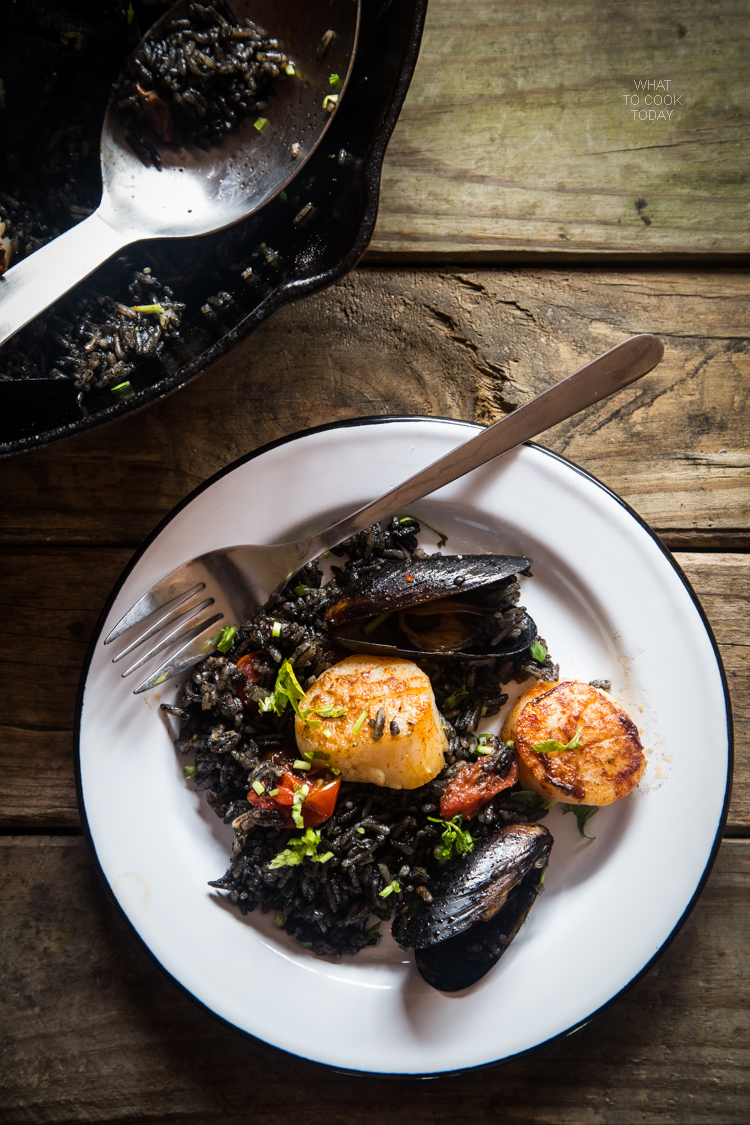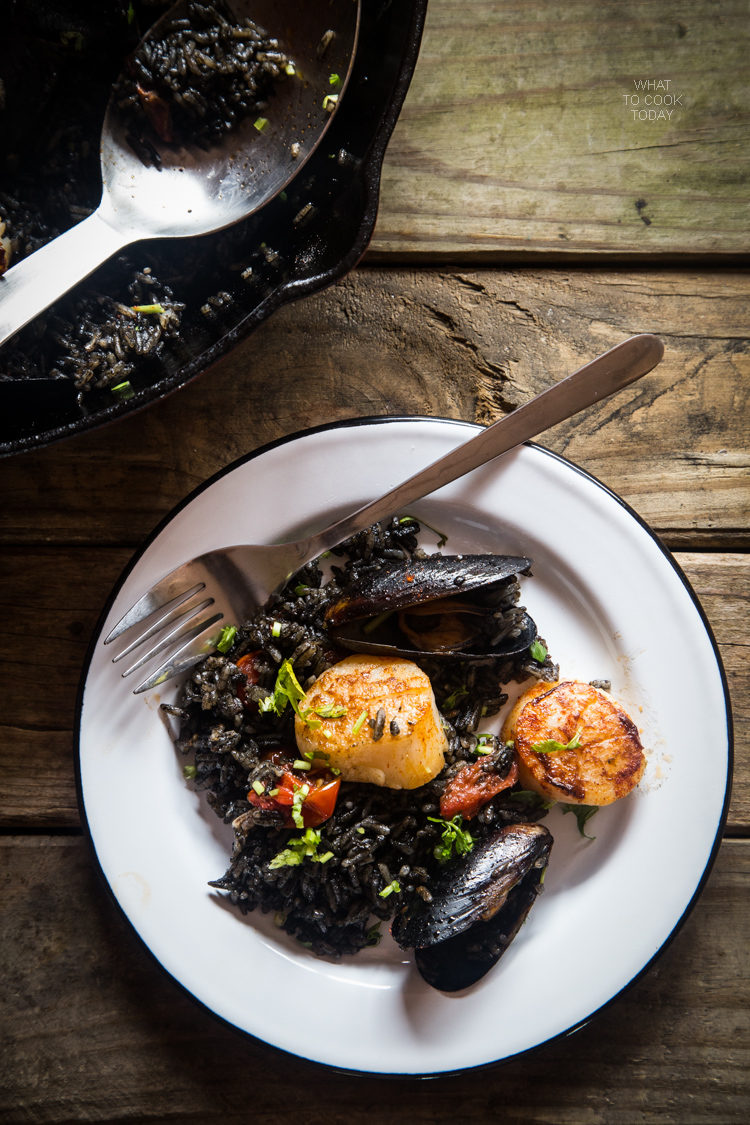 *This post contains affiliate links from Amazon. Thank you for your support.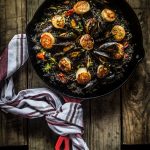 Squid ink seafood paella (4-6 servings)
Ingredients
1

cup

bottle clam juice

2

Tbsp

squid ink

1

cup

water

¼

cup

cooking oil

½

tsp

sweet smoked paprika

Pinch of salt

1

lb

mussels

rinsed well

1 ¾

cups

Spanish rice or short-grain rice

1

Tbsp

cooking oil

to sear the scallops

12

large scallops

pat dry

1

large lemon
Sofrito:
1

small

onion

peeled

1

large

tomato

8

cloves

garlic

peeled

1

large

red bell pepper

seeded

1

bunch

cilantro leaves
Garnishes (optional):
Fresh cilantro leaves

Tomato

seeded and diced
Instructions
Place the clam juice, water and squid ink in a small sauce pan. Bring to a gentle boil and then lower the heat to let it cook for another 1 minute. Remove from the heat and set aside

Place the ingredient for sofrito in a food processor and process until smooth. Preheat a large paella pan or if you don't have one like me, I just use cast-iron skillet. Add in cooking oil. Add in the sofrito and cook for about 5 minutes. Add in the smoked paprika, pinch of salt. Add in the rice and stir to combine. Add in the clam and squid ink broth into the pan. Spread the rice evenly on the surface of the pan. Bring the broth to a boil and then lower the heat to maintain a gentle steady simmer. The rice will gradually absorbs the broth and try not to disturb the rice while cooking, this will take about 10 minutes or so. Arrange the mussels pieces on top of the rice and let them cook again for another 5 minutes. If the rice is cooked but the mussels are still not cooked through, cover the pan with aluminum foil and lower the heat and let it continue to cook until the mussels are cooked through. The cooked mussels will open up and discard the ones that aren't.

While the paella is cooking, preheat another non-stick pan with 1 Tbsp of oil. When the pan is hot enough, gently place the scallops about 1 inch apart, season with a bit of salt and let them sear about 2-3 minutes on each sides. Remove from the pan and arrange on top of the cooked paella. At this point, the rice should be cooked through and the rice at the bottom of the pan should have some short of caramelization or stickiness to the pan. Remove from the heat and cover with the aluminum foil for 5 minutes before serving. Add some fresh cilantro leaves and fresh diced tomatoes for color contrast. Serve with lemon wedges
Notes
Since the whole presentation of the dish is "dark" in color, I like to add fresh bright colors like cilantro leaves and fresh diced tomatoes for that color contrast and It helps to see the black rice better too, I think 😉
Nutrition
Nutrition Facts
Squid ink seafood paella (4-6 servings)
Amount per Serving
% Daily Value*
* Percent Daily Values are based on a 2000 calorie diet.