Soft and bouncy cake in texture with its translucent appearance and crunchy bits of water chestnut on the inside is one of the popular Hong Kong desserts served in Dim Sum restaurants.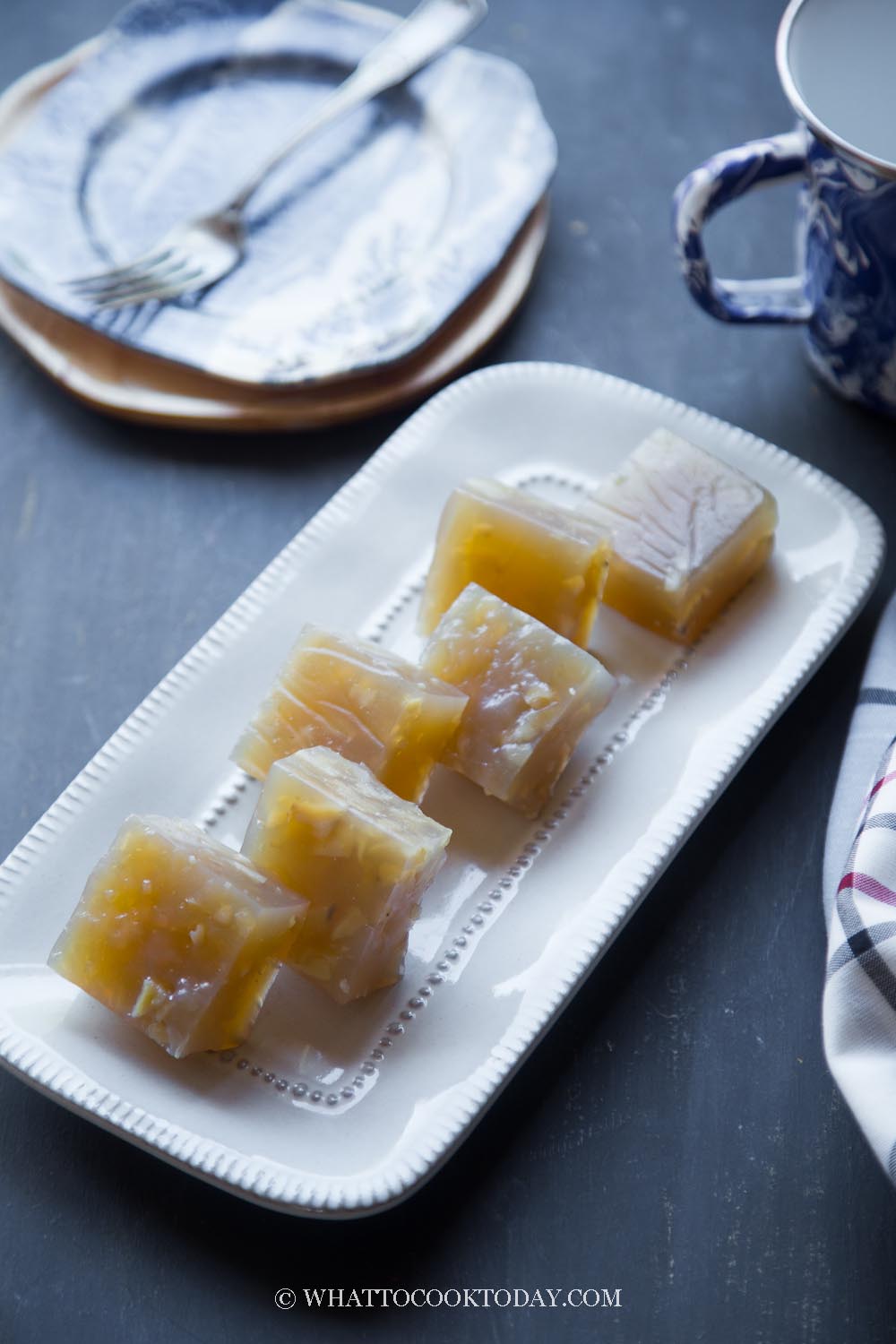 What is Hong Kong water chestnut cake?
Water chestnut cake or also known as 馬蹄糕 (Mǎtí gāo) is a Cantonese steamed cake made with chestnut flour, lightly sweetened with brown sugar, and crunchy water chestnuts on the inside. The contrasting texture of the soft bouncy cake with the crunchy water chestnuts is so wonderful. The cake itself is almost like a jelly with a nice bouncy texture and very flexible. This is not a very sweet cake, which is typical of Asian desserts or cake.
In Hong Kong, to usher in the Chinese New Year, many people will prepare water chestnut cake, lo bak go (Chinese radish/turnip cake), and nian gao.
What is water chestnut flour?
Hong Kong water chestnut cake is made with water chestnut flour. Water chestnut flour is made by grinding water chestnuts, which mainly consist of starch. So, it's more of starch if you ask me. Water chestnut is often used as a thickening agent, frying batter, or in dessert or cake like this. It is a common flour/starch used across Asia. This is the recommended brand for water chestnut flour. I haven't tried other brand because this is the only brand I can get here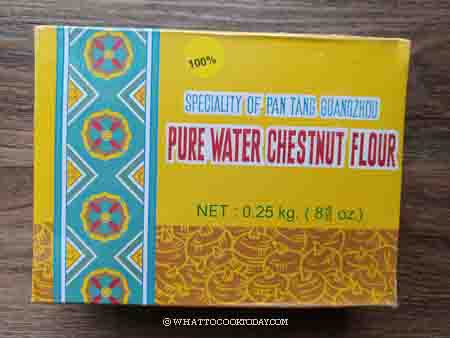 It is made with 100% water chestnut flour and nothing else (according to the ingredient list)


The flour is not smooth fine flour. I thought I got a bad batch, but when I got a few more boxes later on, they are the same way too. I've seen others with the same coarse texture, so I assume this is the way it supposed to be


There is NO substitution to water chestnut flour in this recipe I'm afraid. The water chestnut flour gives the cake that translucent appearance and its bouncy texture. At first I thought this would be difficult to find, but I have been able to find it at 5 different Asian grocery stores I've gone to so far.
How to make Hong Kong water chestnut cake
1. Combine water chestnut flour with water. Whisk to combine and then strain to smooth out any lumps. Use the back of the spoon to help you pass the large granules of the water chestnut flour through the sieve


2. Combine both sugar and water in a saucepan and cook over medium heat until sugar dissolves. Turn off the heat


3. Give the water chestnut flour mixture a stir and then while one hand is still stirring, pour the water chestnut flour mixture into the syrup and keep stirring until they are combined before you turn the heat back on


4. Turn the heat back over to low heat and keep stirring until the mixture starts to thicken. Add the water chestnut pieces and keep stirring until the mixture becomes a thick batter and smooth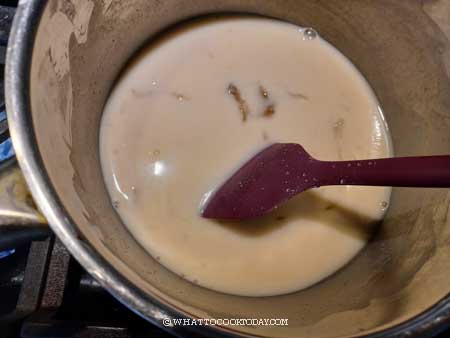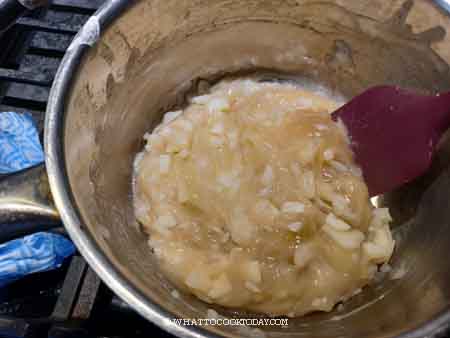 5. Transfer the batter into the prepared pan. Use a flexible silicon spatula or the back of a wet spoon to smooth the surface evenly


6. Steam over medium-high heat for 30 minutes. The cake will be jiggly but it shouldn't be wet and firm to touch. Let the cake cool down completely in the pan before unmoulding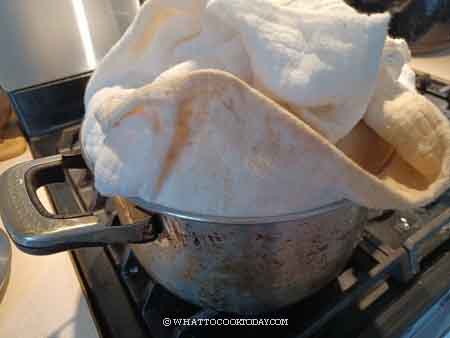 7. Remove the cake from the pan onto a cutting board. Use a plastic knife or an oiled knife to cut the cake into serving size. You can serve as is or pan fry with a bit of oil until it develops a bit of crust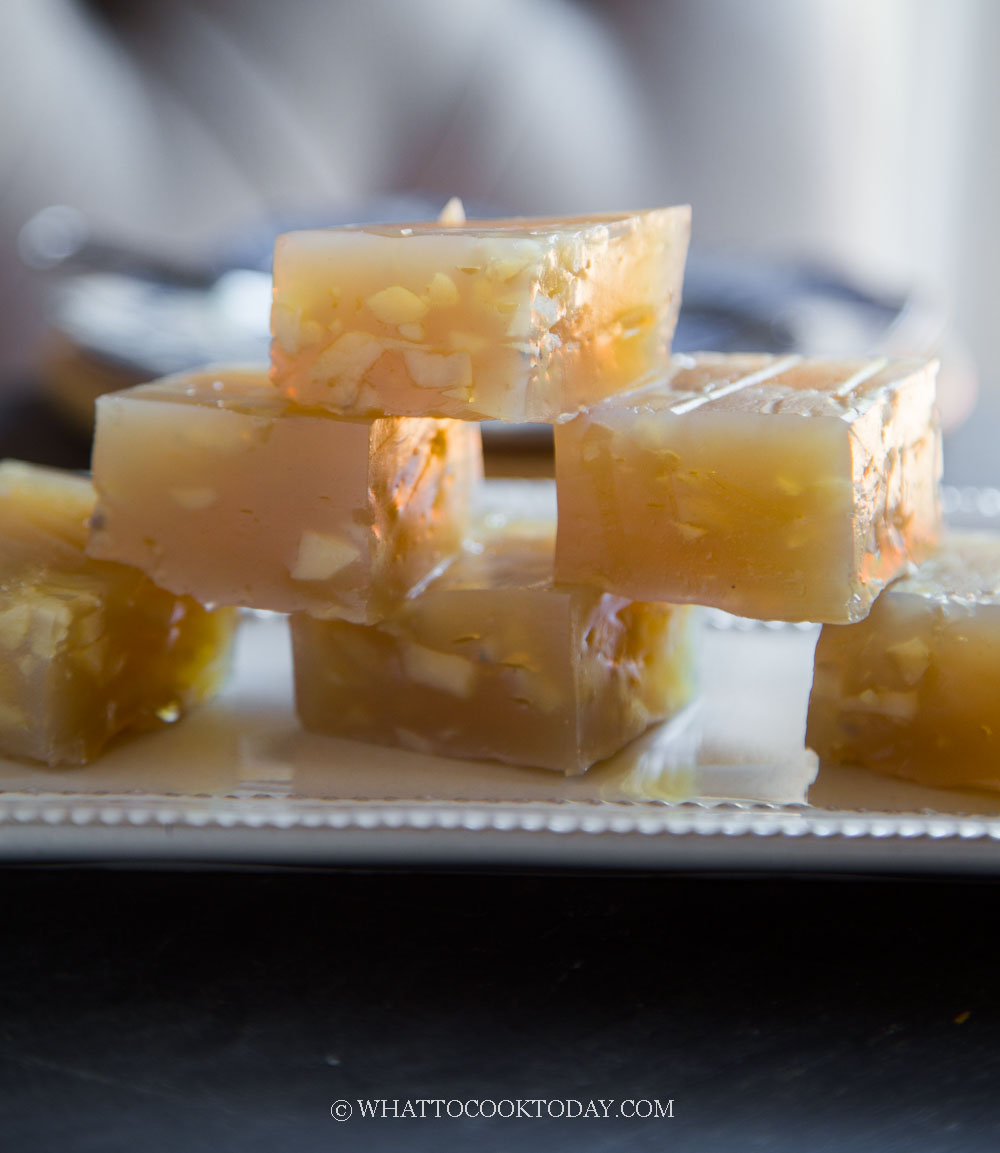 How to store
Keep leftover covered in an air-tight container and store in the fridge for about 5 days or o. They can be served warm or chilled.
Did you make this Hong Kong water chestnut cake recipe?
I love it when you guys snap a photo and tag to show me what you've made 🙂 Simply tag me @WhatToCookToday #WhatToCookToday on Instagram and I'll be sure to stop by and take a peek for real!

Hong Kong Water Chestnut Cake
Ingredients
Cake batter:
250

gr

water chestnut flour

600

gr

water

150

gr

water chestnut
Sugar syrup:
100

gr

brown sugar slab

150

gr

sugar

600

ml

water
Instructions
Apply a thin layer of oil on 8 x 8 inch square pan. Set aside

Fill up the steamer with water. Bring water to a boil and then lower to let it simmer while you prepare the cake batter. Wrap the lid of the steamer with a cloth to prevent condensation from dripping on the cake surface
Prepare the flour batter:
Combine water chestnut flour with water. Whisk to combine and then strain to smooth out any lumps. Use the back of the spoon to help you pass the large granules of the water chestnut flor through the sieve
Prepare the sugar syrup:
Combine both sugar and water in a saucepan and cook over medium heat until sugar dissolves. Turn off the heat
Combine the flour batter and syrup:
Give the water chestnut flour mixture a stir and then while one hand is still stirring, pour the water chestnut flour mixture into the syrup and keep stirring until they are combined before you turn the heat back on

Turn the heat back over to low heat and keep stirring until the mixture starts to thicken. Add the water chestnut pieces and keep stirring until the mixture becomes a thick batter and smooth
Steaming:
Transfer the batter into the prepared pan. Use a flexible silicon spatula or the back of a wet spoon to smooth the surface evenly

Steam over medium-high heat for 30 minutes. The cake will be jiggly but it shouldn't be wet and firm to touch. Let the cake cool down completely in the pan before unmoulding
Serve:
Remove the cake from the pan onto a cutting board. Use a plastic knife or an oiled knife to cut the cake into serving size. You can serve as is or pan fry with a bit of oil until it develops a bit of crust