Yin Yang Vegetable dumplings-Colorful vegetables and shreds of omelets are stuffed inside these dumplings served with soy-vinegar dipping sauce. Yin dumplings are steamed and the Yan dumplings are shallow-fried. These are seriously so good!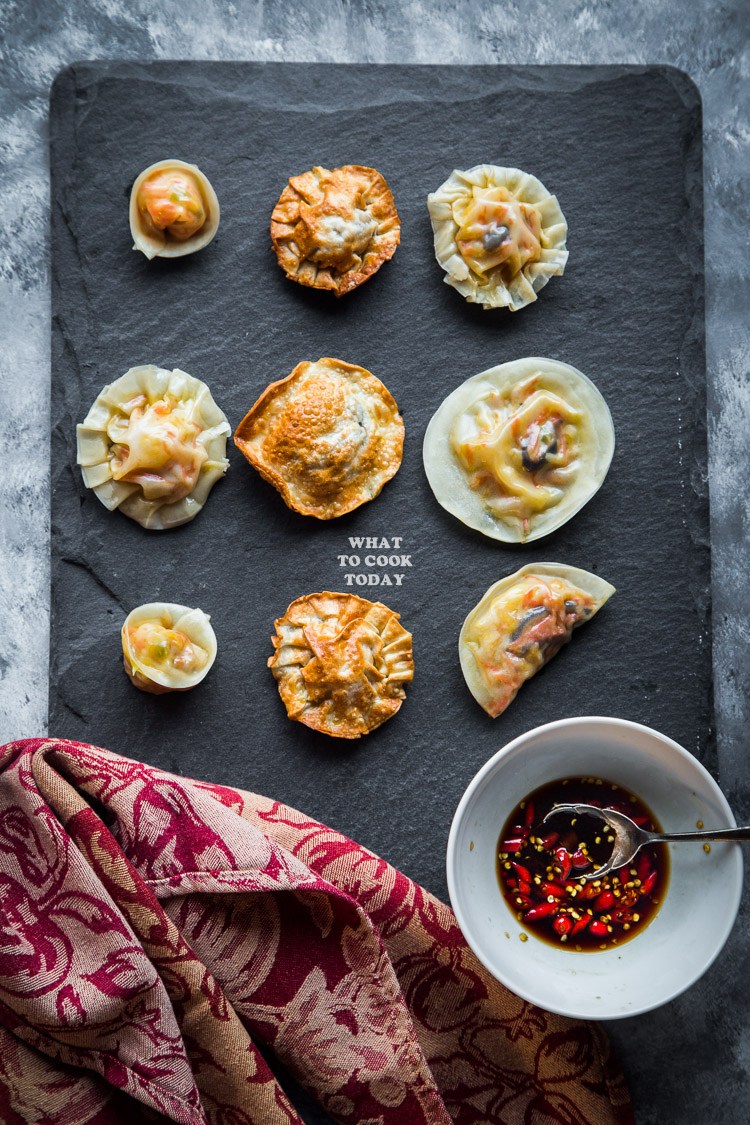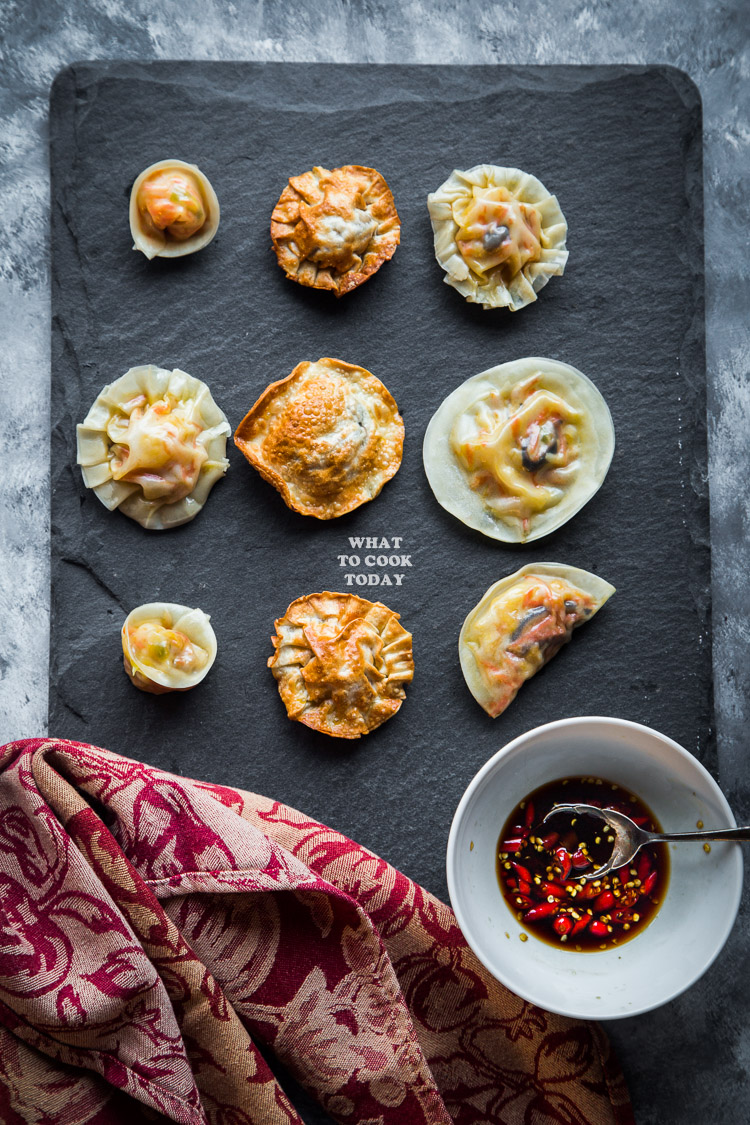 I grew up watching Martin Yan's show Yan Can Cook. I've adored him even before I was old enough to be in the kitchen, cooking. He is a legend to me. I learned how to make this Yin Yang Vegetable pockets/dumplings, as he named it, from him. In Chinese culture, the name of the dish is as important as the taste of the food itself. These Yin Yang vegetable dumplings represent the creation of pocket of balance.
THE IDEA BEHIND YIN YANG DUMPLINGS
Quoting from his cookbook, in Chinese Philosophy, the universe operates as two opposing but complementary principles. Yang, meaning fire, light, and dominance and Yin, meaning air, water, and submission. When balanced, these principles coexist productively: Yang creates ideas and yin produces material forms. The dominance of one over the other creates an imbalance. This dish represents the principles of yin and yang. The textural differences provide a balance of crisp and delicate, crunchy and soft, pan-fried and steamed. I love the dumplings from this recipe and the dipping sauce is really good too. I like the sourness from the vinegar, the hint of spiciness from the chili, the flavor from soy sauce…. try them and you'll know what I mean 🙂
This blog post contains affiliate links. I earn a small commission when you made purchase at no extra cost to you. Learn more.
Yin Yang Vegetable dumplings
Ingredients
Fillings:
1

Tbsp

cooking oil

1

tsp

minced garlic

½

cup

shredded carrots

¼

head of cabbage

thinly sliced. Don't use the hard stems

3

dried shiitake mushrooms

soaked with warm water until soft and then thinly sliced
Other ingredients:
2

cups

cooking oil

for shallow fry the yan dumplings

3

large

eggs

beaten

20

-25 round pot sticker wraps
Aromatics:
½

cup

chives

2

shallots

peeled and thinly sliced
Dipping sauce:
¼

cup

soy sauce

1

Tbsp

minced garlic

⅛

cup

rice vinegar

1

stalk

green onion

finely chopped

1

-2 bird's eye chili

optional
Instructions
Prepare the veggie filling:
Place a wok or skillet over high heat. Add 1 Tbsp of oil, swirling to coat the sides, Add the garlic and shallots and saute until fragrant for about 10 seconds. Add the cabbage, carrot, chives and mushrooms and stir-fry until the vegetables are tender-crisp for about 2 minutes. Add seasonings and toss to coat. Set aside to let cool before wrapping
Prepare the omelette strips:
Place a medium nonstick pan over medium-high heat. Add about 1 tsp of oil and swirl around to coat sides. Pour the eggs into the pan, tilting the pan so the egg coats the bottom, and cook until the bottom of the omelet is set, about 30 seconds. Season with salt and pepper. Turn the omelet and cook until the second side is set, another 10 seconds. Slide the omelet onto a cutting board and cut into thin shreds. Mix with the cabbage mixture and set aside until cool

Wrapping and shaping:
Place 1 pot sticker wrapper on a clean, flat surface, keeping the remaining wrappers covered with a damp kitchen towel to prevent drying out. Place about 2 heaping Tbsp of filling in the center of the wrapper. Moisten the edges with the water. Top with the second wrapper and secure the edge by pinching them together. You can stop here to get the circle shape without pleats at the edge

For flower pleats, starting from one end of the wrapper, slightly fold over the edge (like a pie crust) and continue folding around the dumpling. Repeat this process with the remaining wrappers and filling.

For half-circle, place the filling in the center of the wrapper, moisten the edge with water and fold over to the other side and you get a half circle

For gold shape, form a half circle, you made above bring the two ends together, moisten with a bit of water and pinch to seal

Cover the dumplings with a damp kitchen towel to prevent drying out
Cooking Yin dumplings:
For the Yin dumplings, heat 2 Tbsp of oil in a large nonstick pan over medium-high heat. Add half of the filled dumplings, flat side down, and cook, without turning, until golden brown, about 1 minute

Add about 1/4 cup water. Reduce the heat to medium, cover, and steam until the dumplings are tender, about 3 minutes
Cooking Yang dumplings:
For the Yang dumplings, heat the remaining 2 cups of oil in a wok or pan over medium-high heat until hot. Working with a few at a time, add the remaining uncooked dumplings and shallow-fry, turning once, until golden brown and crisp, about 2 minutes per side. Lift the dumplings out with a slotted spoon and drain on paper towels
Serving:
Transfer the dumplings to the serving platter and serve with the dipping sauce on the side