Zoodles served with super easy and delicious gochujang chicken is one of the meals that you probably want to keep in your recipe box. Not a fan of zoodles? How about real noodles? This is super delish on rice too!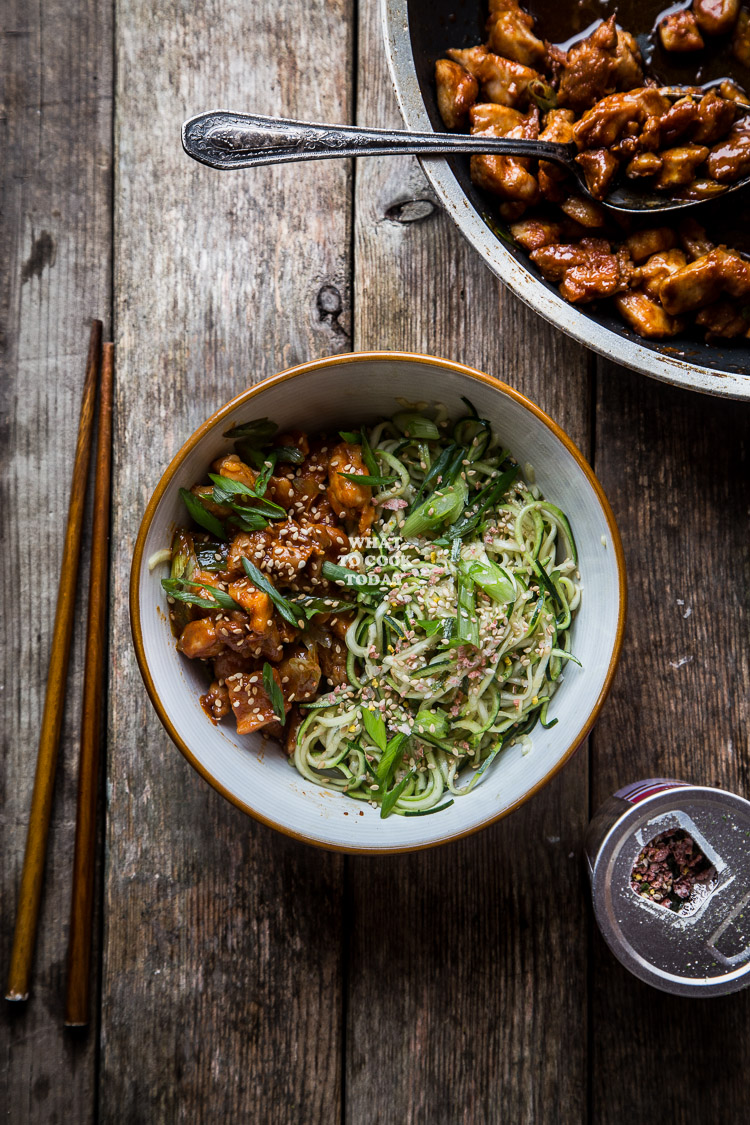 I think I've told you guys before that I got a spiralizer last year and went a bit crazy with spiralizing vegetables, especially zucchini. I never really follow any food trend out there simply because I'm pretty bad at keeping up with trends! I could never keep up with the national day of this and that. I'm too unorganized for that unfortunately!
But….zoodles…I can so do zoodles! Zoodles is everywhere on the web these days.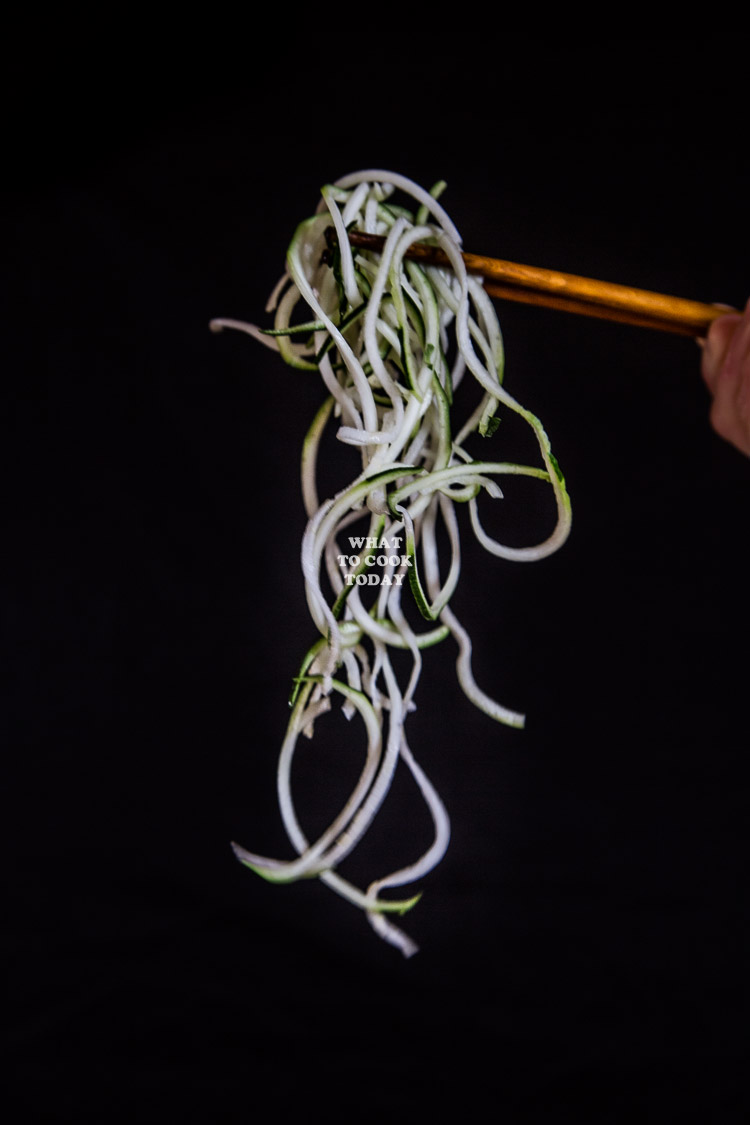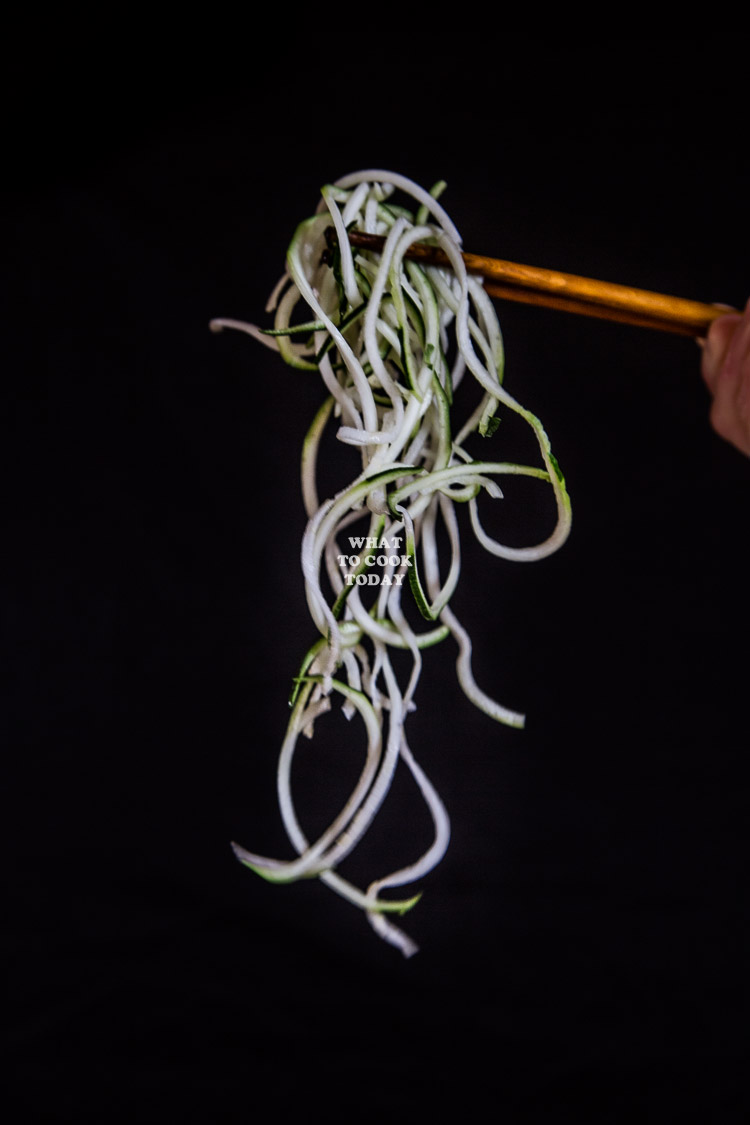 Truth to be told, I kinda get hooked with zoodles too. It's like eating noodles (though taste nothing like noodles!). Kinda refreshing and crunchy! And the real reason is probably not because I love zoodles THAT much! I do, I really do like zoodles. But…I like to spiralize them more! My kids like to watch me spiralize them even more! There you go!
Gochujang is another thing that I've kept in my fridge consistently ever since I discovered them probably 5 or 6 years ago? It's like the Chinese fermented bean sauce. It's highly versatile! Put the chicken (or any meat really!) and gochujang together and you have yourself a meal in no time! Easy peasy!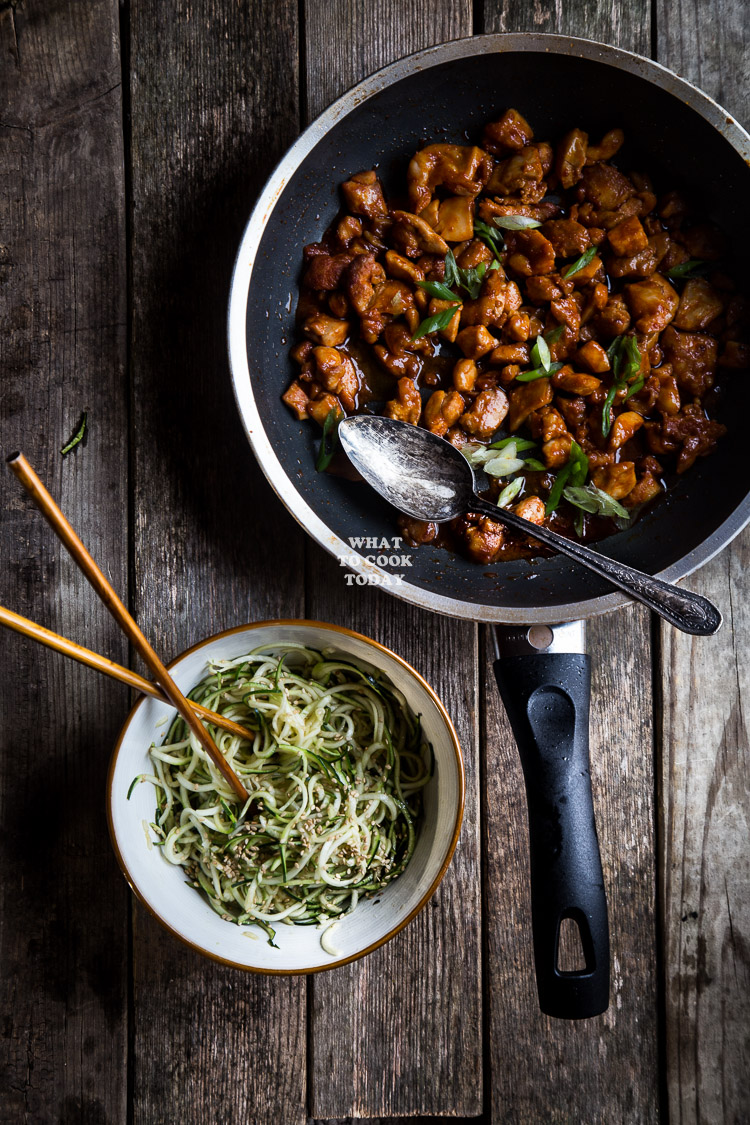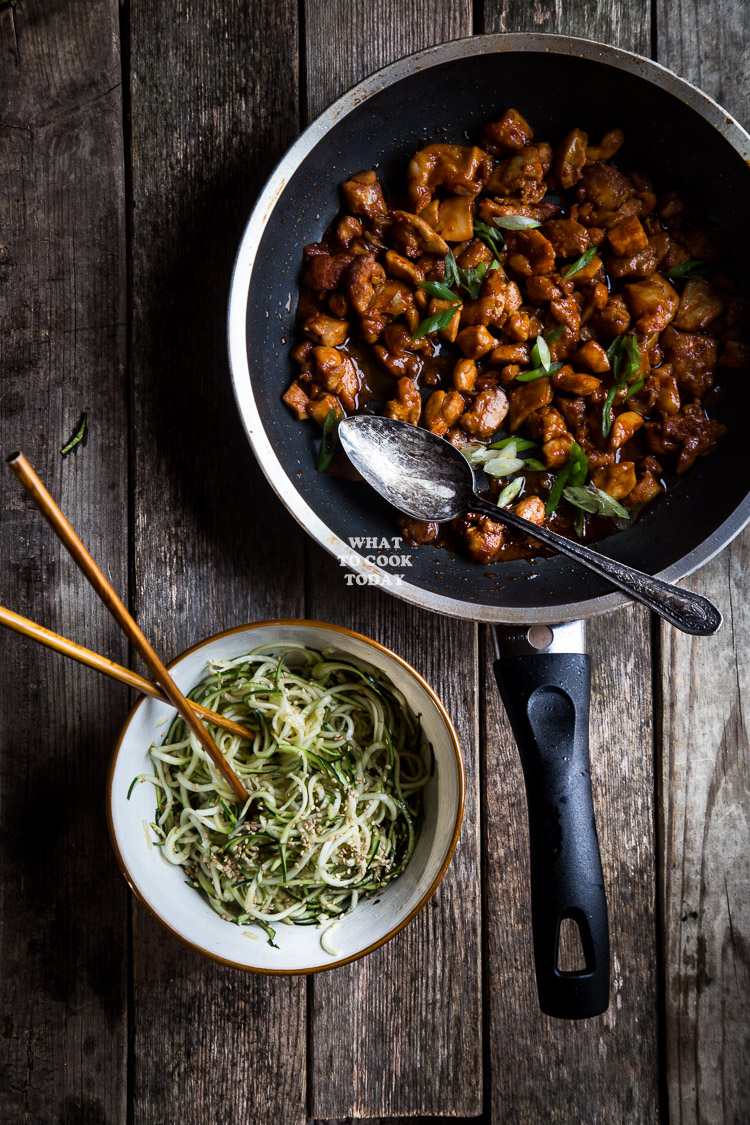 Gochujang Chicken Zoodles
Ingredients
3

large zucchini

trim off both edges.

1 ½

lb

boneless skinless chicken thighs (or breast)

1

Tbsp

cooking oil

1

small onion

peeled and cubed

3

Tbsp

Korean gochujang

pinch of sugar

Salt to taste
Seasonings:
2

Tbsp

Korean anchovy sauce (or to your taste)

or use soy sauce if you can't find any

2

Tbsp

sesame oil
Garnishes:
2

stalks

scallion

finely chopped

White sesame seeds

Furikake

optional
Instructions
Blanch the zoodles:
You can peel or not peel the zucchini, it's up to you. Place the zucchini in the spiralizer (I used the thin one) and spiralize the zucchini into zoodles. You may need to cut into shorter strands if it seems to be endless strands. Set aside while preparing the rest

Bring a large pot of water to a boil. Season with a bit of salt if you want. Add the zoodles and quickly blanch for about 1 minute and then remove

In a large mixing bowl, add in the seasonings followed by the blanched zoodles. Toss to coat the zoodles with sauce. The amount is just approximate. Add more to your taste. Set aside
Cooking:
Cut the chicken into bite-size, about 1-inch cube or thin strips (it's up to you)

Preheat a wok or large skillet with cooking oil on medium to high heat. Add in the chicken and cook until the meat turns opaque and slightly brown. About 3 minutes or so. Add in the onion and continue to cook for another 2 minutes. Add in the gochujang sauce followed by a pinch of sugar. Stir to mix everything. Have a taste and season with some salt to your taste. Garnish with chopped scallion

Portion the zoodles out and then scoop a generous serving of gochujang chicken on the side or on top of the zoodles. Sprinkle with sesame seeds and furikake. Alternatively, you can always let everyone help themselves with the zoodles and gochujang chicken
Notes
I recommend to toss the zoodles with seasonings just right before serving, so it won't be "wet".  You can spiralize the zoodles 3-4 days ahead and they keep well in the refrigerator and just toss in seasonings whenever you ready to serve them.
Recommended products:
And whoever that came up with the name zoodles…just brilliant!
*This post contains affiliate links. You don't pay extra as a consumer if you choose to click on the link and purchase from there. What To Cook Today just receives a small commission from this. That's all. It helps to pay for some of the cost to have this blog up and running. Thank you so much for your support !