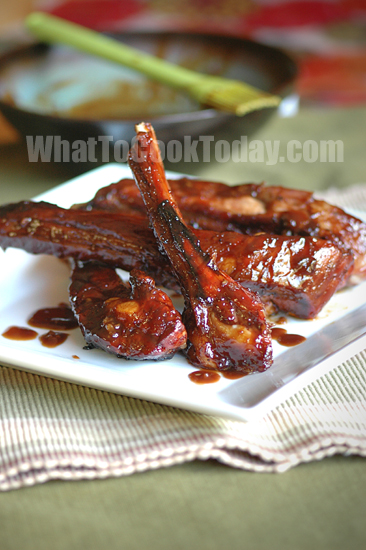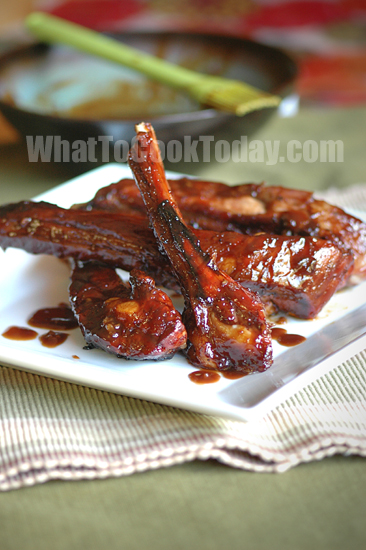 The way through a man's heart is through his stomach. Cliche but so true. Hubby was super impressed when I made this Baby Back Ribs with Espresso BBQ sauce. This is my first time making BBQ sauce from scratch. I got this amazing recipe from Michael Chiarello's Casual Cooking cookbook. I often watched Michael Chiarello's when he was on the food network show in the morning.
That BBQ sauce is truly out of this world I must say. Not to exaggerate or anything, but hubby polished the BBQ sauce off the bowl and we both couldn't stop licking those fingers. The Tangy-ness (if there's such word) from the Balsamic Vinegar is so amazing. What is so special about this BBQ sauce is also the espresso. Insomnia ? what is insomnia. It's worth every bite of it, even if that means the caffeine will keep you awake at night.
I think enough said. You get the idea. This Baby Back Ribs with Espresso BBQ sauce is superb. Just try it and make sure you have lots of napkins ready to wipe that extra sauce off your mouth, or you can lick it off too. It's up to you. It's time to impress !!! 😉 It's restaurant food right at the comfort of your own home. So gourmet and so easy to make!
BABY BACK RIBS WITH ESPRESSO BBQ SAUCE (6 servings)
3 racks baby back ribs, about 6 lbs total
Sea salt and freshly ground black pepper
BARBECUE SAUCE:
2 Tbsp extra-virgin olive oil
2 Tbsp minced garlic
1 cup ketchup
1 cup honey
1/2 cup balsamic vinegar
1/4 cup soy sauce
1/4 cup brewed espresso
COOKING METHOD:

1. Preheat oven to 325 F. Cut each rack of ribs in half crosswise (between 2 ribs). Season with salt and pepper. Cover a baking sheet with heavy-duty aluminium foil. Set 3 of the half-racks side by side on the prepared baking sheet and top each other with another slab
2. Bake the ribs, rotating the slabs top to bottom every 30 minutes, until tender, about 2 1/2 hours. Remove the ribs from the oven and cover with a foil tent to keep them moist until you are ready to grill them
3. Prepare the BBQ sauce: Heat the olive oil in a saucepan over moderately low heat. Add the garlic and saute until it is golden. Remove from the heat and let the garlic cool in the oil. Whisk in the ketchup, honey, vinegar, soy sauce, and espresso. simmer gently for 15 minutes to blend the flavors. Remove from the heat
4. Brush the ribs generously with the BBQ sauce when you are ready to grill them
5. IF USING CHARCOAL GRILL
Prepare a fire in a charcoal grill, arrange the hot coals in a ring around the perimeter of the grill so that the ribs can cook in the center over indirect heat; if cooked directly over the coals, they would burn badly
IF USING GAS GRILL
Preheat a gas grill, adjust the flame so that the ribs cook over indirect heat. Grill the ribs in a covered grill with the vents open
IF USING OVEN
Preheat an oven to 425 F. Bake uncovered in the oven
6. Baste occasionally with additional sauce until the ribs are lightly caramelized. Transfer the rib racks to a cutting board and cut into individual riblets. Serve immediately