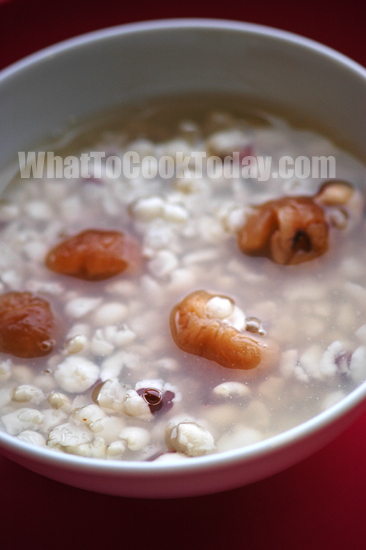 I've always liked Barley and Longan. My mom introduced me to Qian Shi ( 芡实) or what they called Euryale Seed or often called the Fox Nut. So I thought I used Qian Shi and Longan soup with the Barley soup.
Euryale seeds are used in traditional Chinese medicine, where they are often cooked in soups along with other ingredients. The Qian Shi itself doesn't have any taste and hence used with other ingredients in cooking. It is believed to "retard" aging. This seed can be found at Chinese Medicine Hall in Asia. I haven't been able to find it here however.
Euryale Seed

Barley

For baking/ kueh making: I highly encourage to weigh ingredients with a digital kitchen scale instead of using measuring cups as they are not very accurate especially when it comes to recipe that requires precision.
GRAMS TO CUPS CONVERSION (UNSIFTED)
INGREDIENTS
1/2

cup

of Barley

1/4

cup

Qian Shi

4-5

dried longan

8

cups

of water

1/2

cup

rock sugar -

more if you like

1/2 - 1

cup

of sugar

-

adjust to your liking
INSTRUCTIONS
Rinse the Barley and Qian Shi with water and discard the water. In a big pot, add in 8 cups of water and soak the Barley and Qian Shi overnight

The next day, cook the Barley and Qian Shi with the soaking water until the Barley and Qian Shi swollen and soft. Some people like their Barley really really soft - to the extent of mushy, then you need to cook it longer. I like mine soft but not mushy

Add in the dried longan, rock sugar and water. Continue to cook until the longan plumps up. Turn off the heat. It can be served hot or cold