Inspired by the traditional German black forest gateau/cake, this soft and airy chocolate sponge cake is filled with luscious cream, cherries, and decorated with dark chocolate shards.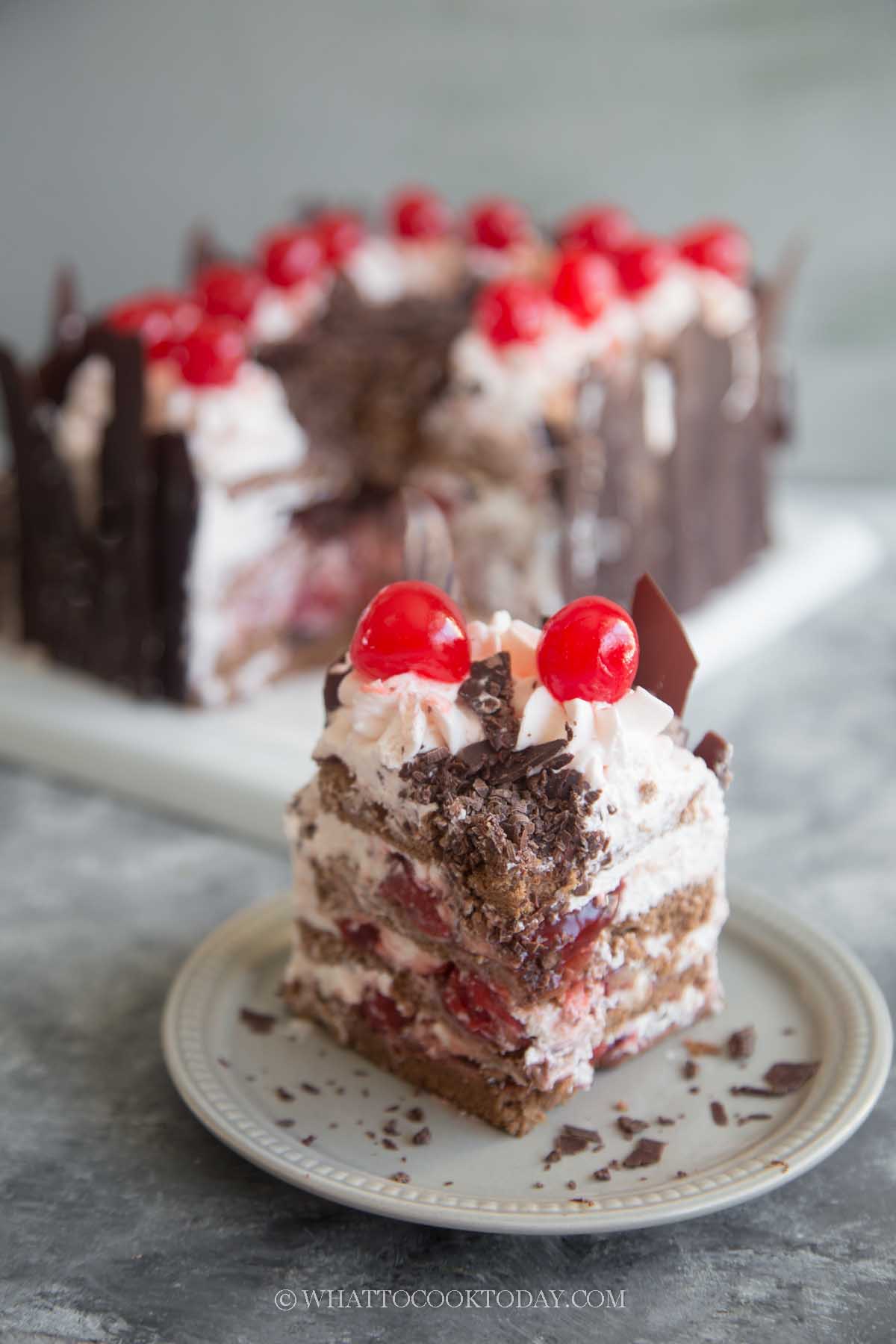 Black forest cake brings back lots of childhood memories for me. Outside of Germany, black forest cake is highly popular in Indonesia too. As a kid, black forest cake was often seen at kids' birthday parties. Why? I'm not exactly sure. Perhaps because it's a chocolate cake and it's hard to find anyone who doesn't like chocolate. Black forest cake was also on the expensive side. So to have black forest cake for birthday, was a big deal 🙂
What is Black Forest cake?
Black forest cake is of German origin. It is not named after the Black Forest (Schwarzwald) mountain range in southwestern Germany. Itis named as such because of the specialty liquor known as Schwarzwälder Kirsch(wasser) or known as Kirsch for short, distilled from tart cherries. So the cake is made with a combination of layers of chocolate cakes, cream, kirsch, tart cherries, and more chocolate.
This version of Black Forest cake
I will not claim that this is the authentic German Black Forest cake, because it's not. It is inspired by the traditional with some tweaks but it is still a very delicious Black Forest cake. I didn't use any Kirschwasser in this recipe because I can't find any and just have to do some substitution, but it certainly doesn't ruin the experience.
Why you'll like this recipe
1. You only need one pan
I bake the cake in one sheet pan and then cut it into several pieces to form a layer cake
2. I use the chiffon method and so the cake is soft and airy, but sturdy enough for layering
3. You don't need Kirschwasser
I would use this if I could get one, but I didn't have any. But the substitution still make a delicious Black Forest cake
4. It tastes light
Despite its luscious appearance, this cake actually tastes light, not overly sweet and pairs well with the dark chocolate shards decoration
Ingredients
1. Cake flour
I definitely recommend using cake flour for that soft fluffy texture
2. Cocoa powder
You can use either natural or Dutch-process cocoa powder. I use natural cocoa powder because that's what I have and this recipe doesn't use any leavening agent (baking powder or baking soda), so it's save to use either one
3. Salt
A small pinch of salt brings out the flavor in pretty much anything you bake or cook. I usually use fine sea salt
4. Sugar
I usually use granulated sugar, because it's the most common here. Caster sugar can be used too
5. Oil
I usually use any neutral-tasting oil such as grapeseeds oil, avocado oil, etc.
6. Milk
I use whole milk. You can also use non-dairy milk
7. Eggs
I use large eggs about 50 grams in weight without the shell
8. Heavy cream
We call this heavy cream in the U.S., but in other countries, it may be called double cream/Devon cream. Though, the latter is richer
Do not substitute with half and half
9. Powdered sugar/icing sugar
This is added to the heavy cream to lightly sweetened it and also to stabilize the whip cream a little bit as powdered sugar usually has some cornstarch in it
10. Cherry pie filling
You can prepare your own cherry sauce, but I use canned cherries that are usually used to prepare cherry pie here in the U.S.
11. Dark chocolate
I use 60% dark chocolate for decoration. You can use any of your favorite dark or semi-sweet chocolate
12. Fresh tart/dark cherries or Maraschino cherries
Cherries are not in season at this time of the year so, I use Maraschino cherries for decoration, but you can use fresh tart/dark cherries.

How to make cotton soft Black Forest Cake
In these step-by-step photo instructions, I'm showing you the rough outline. Please refer to the recipe card for all the little details.
1. Preheat oven to 350 F (180 C). In a large mixing bowl, whisk egg yolks, oil, sugar, and milk until combined.


2. Sift in the cake flour, salt, and cocoa powder. Whisk to mix until combined and no lumps


3. Make sure the egg whites are at room temperature. Place egg whites in a mixing bowl of a stand mixer fitted with a whisk attachment. Whisk until foamy on medium speed and then add cream of tartar or lemon juice/vinegar and whip again for another minute then and 1/3 of the sugar and continue to add sugar until you use it all up. Whip until the egg white develops a stiff peak but with a slight bent on the tip


4. Fold about 1/3 of the meringue into the egg yolk batter using a whisk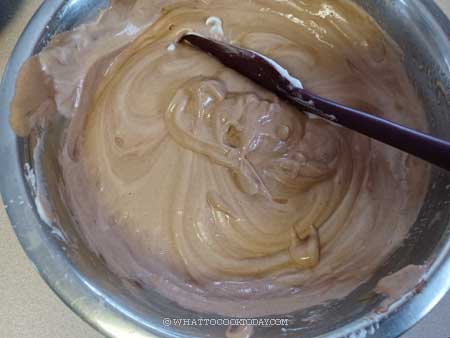 The switch to rubber spatula to fold to make sure everything is well-combined. Make sure you scrape the bottom of the bowl and fold over


5. Pour the batter into the pan and use a rubber spatula to help to spread evenly. You can use a dough scraper to help you even out the surface too if necessary. Gently tap the baking sheet on your working surface several times to pop any air bubbles. Bake in a preheated oven at 350 F (180 C) for 30 minutes and then switch to convection mode (fan mode) and bake for another 3-4 minutes or until the top is golden brown and dry to touch. If you don't have convection mode, bake another 5 minutes and check to make sure the top is golden brown and dry to touch


6. While the cake is baking, chill the bowl and whisk in the fridge. Make sure the heavy cream is really cold too. Put the heavy cream, icing sugar, and cherry syrup in the bowl Whip on medium speed until the cream holds a medium peak. DO NOT whip until stiff. If you overbeat, the cream will turn grainy and dull. Keep it chilled in the fridge


7. Remove the cake from the oven and then lift it out from the pan immediately to a cooling rack and peel off the parchment paper from 4 sides. This helps to prevent wrinkles on the surface. Let it cools down completely


8. Place a new piece of parchment paper, larger than the cake, on top of the cake and flip over to the other side. Peel off the parchment paper.Use a serrated knife to trim about 1/4-inch of the 4 edges.


9. Then cut the cake into 2 pieces.


10. Each piece is about 1 inch thick, so I cut each into half horizontally. So now I have 4 layers of about 1/2-inch thick chocolate cake. Make sure the cake is no longer warm when you spread on the whipped cream


11. Smear a bit of the whipped cream on a cake stand or a serving platter. Put the first piece of cake on top. Brush the surface of the cake with syrup from the Maraschino cherry.


12. If you use canned cherry pie filling, pipe the whipped cream on the edge of the cake as a border. Spread some cherry pie filling inside the border and then cover with some heavy cream and stack on the second layer, brush with syrup and repeat the same process until you top the cake with the last cake piece


13. Cover the sides and top of the cake with the remaining whipped cream. Chill the cake in the fridge for 30 minutes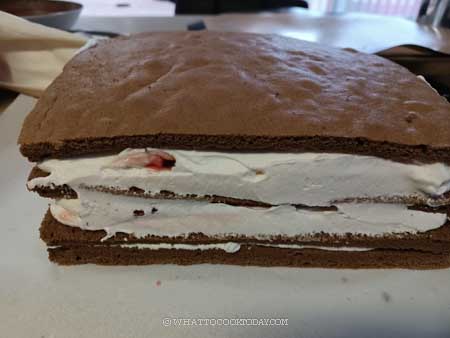 14. Put the chocolate in a heat-proof bowl and put this bowl over a gentle simmering pot of water. Water shouldn't touch the bottom of the bowl. Stir until chocolate melts, shiny, and smooth.


15. Spread this melted chocolate on a piece of parchment paper on a baking sheet, about 2 mm in thickness. Use the back of the spoon or a spatula to spread the chocolate to about 1-inch above the cake. Put this in the fridge for about 15-20 minutes to let it set


16. I recommend wearing gloves as this minimize the heat transfer from our hands to the chocolate. The chocolate won't melt easily this way. Then gently break into long pieces to cover the sides of the cake (as shown in the photos)


17. Then spread the remaining melted chocolate on a marble or metal surface, about 2 mm thick. Let it set and harden. Use a dough scraper to scrape the chocolate to create the "shaved" chocolate. Alternatively you can also use a grater to shave the chocolate. I recommend wearing gloves so the chocolate won't melt


18. Use the pieces of chocolate shards you made earlier to cover all four sides of the cake to create that rustic feel and look to the cake. Pipe the remaining whipped cream on the top edges of the cake. Put Maraschino chrerry on top. Fill the center with shaved/grated chocolate. This is just how I decorated it. You can decorate it however you want it. Chill in the fridge for at least 4 hours before serving

The family loves this Black Forest Cake. It doesn't weigh you down despite all the cream and chocolate you see covering the cake. Lightly sweetened, bitter-sweet from the dark chocolate, some tartness from the cherries, just perfect!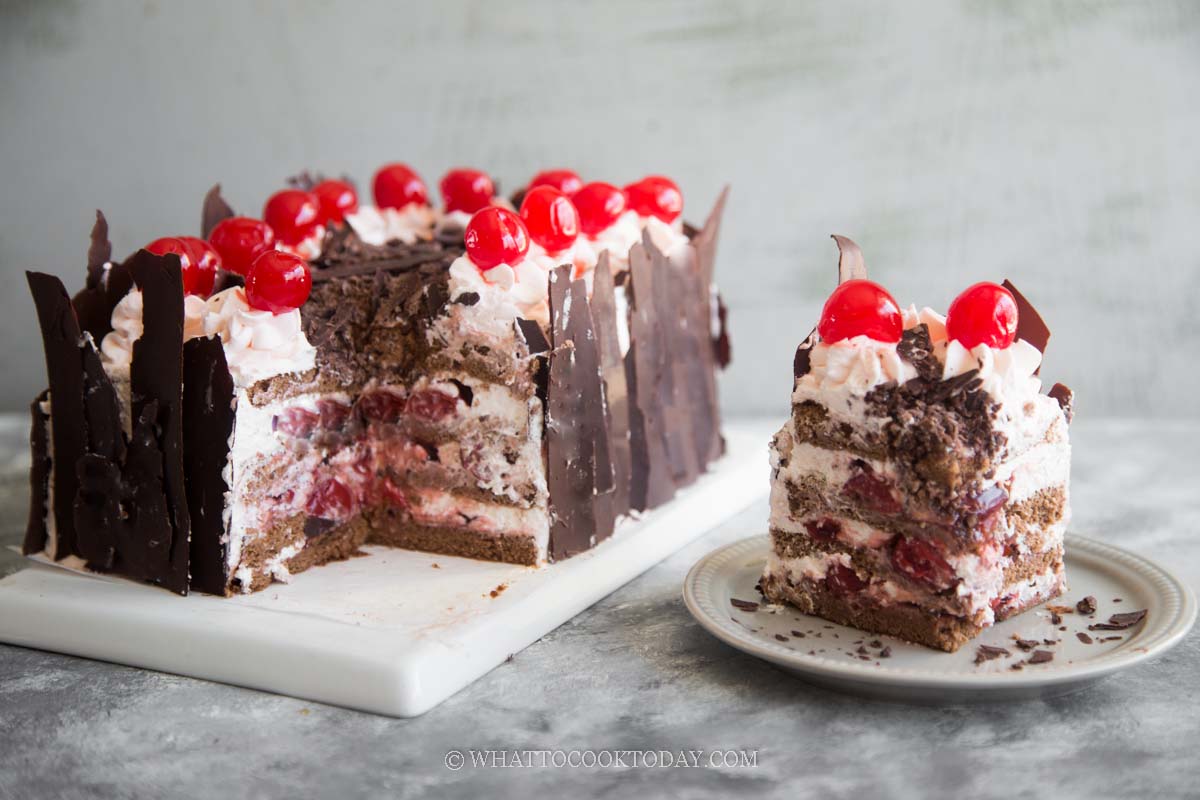 Did you make this recipe?
I love it when you guys snap a photo and tag to show me what you've made 🙂 Simply tag me @WhatToCookToday #WhatToCookToday on Instagram and I'll be sure to stop by and take a peek for real!

Cotton Soft German Black Forest Cake
Ingredients
Chocolate sponge cake:
3

yolks

50

gr

sugar

50

gr

oil

60

ml

whole milk

75

gr

cake flour

15

gr

cocoa powder

¼

tsp

salt

3

whites

50

gr

sugar

½

tsp

lemon juice
Whipped cream:
400

gr

heavy cream

30

gr

icing sugar

2

Tbsp

syrup from Maraschino cherries

optional
To brush the cake:
Syrup from Maraschino cherries
For filling : (use either one)
200

gr

pitted fresh cherries

cut in half

400

gr

cherry pie filling
Chocolate shards:
100

gr

60-70% dark chocolate
For decoration (use either one):
15

Maraschino cherries with/without stems

15

Fresh cherries with/without stems
Instructions
Prepare the cake: (can be done the day before)
Spray the baking pan, 9 x 13 x 1 inch, with non-stick cooking spray or brush some oil and then line with parchment paper on the bottom and the side

Preheat oven to 350 F (180 C). In a large mixing bowl, whisk egg yolks, oil, sugar, and milk until combined. Sift in the cake flour, salt, and cocoa powder. Whisk to mix until combined and no lumps

Make sure the egg whites are at room temperature. Place egg whites in a mixing bowl of a stand mixer fitted with a whisk attachment. Whisk until foamy on medium speed and then add cream of tartar or lemon juice/vinegar and whip again for another minute then and 1/3 of the sugar and continue to add sugar until you use it all up. Whip until the egg white develops a stiff peak but with a slight bent on the tip

Fold about 1/3 of the meringue into the egg yolk batter and use a rubber spatula or whisk to fold or whisk until mix and continue to fold in the next 1/3 until you use up all the meringue and the batter is smooth

Pour the batter into the pan and use a rubber spatula to help to spread evenly. You can use a dough scraper to help you even out the surface too if necessary

Gently tap the baking sheet on your working surface several times to pop any air bubbles. Bake in a preheated oven at 350 F (180 C) for 30 minutes and then switch to convection mode (fan mode) and bake for another 3-4 minutes or until the top is golden brown and dry to touch. If you don't have convection mode, bake another 5 minutes and check to make sure the top is golden brown and dry to touch
Prepare whipped cream:
While the cake is baking, chill the bowl and whisk in the fridge. Make sure the heavy cream is really cold too. Put the heavy cream, icing sugar, and cherry syrup in the bowl Whip on medium speed until the cream holds a medium peak. DO NOT whip until stiff. If you overbeat, the cream will turn grainy and dull. Keep it chilled in the fridge
Back to the cake:
Remove the cake from the oven and then lift it out from the pan immediately to a cooling rack and peel off the parchment paper from 4 sides. This helps to prevent wrinkles on the surface. Let the cake cools down and no longer warm

Place a new piece of parchment paper, larger than the cake, on top of the cake and flip over to the other side. Peel off the parchment paper

Use a serrated knife to trim about 1/4-inch of the 4 edges. Then cut the cake into 2 pieces. Each piece is about 1 inch thick, so I cut each into half horizontally. So now I have 4 layers of about 1/2-inch thick chocolate cake. Make sure the cake is no longer warm when you spread on the whipped cream

Transfer half of the cream to a piping bag without any nozzle
Assembling:
Smear a bit of the whipped cream on a cake stand or a serving platter. Put the first piece of cake on top. Brush the surface of the cake with syrup from the Maraschino cherry. If you use canned cherry pie filling, pipe the whipped cream on the edge of the cake as a border. Spread some cherry pie filling inside the border and then cover with some heavy cream and stack on the second layer, brush with syrup and repeat the same process until you top the cake with the last cake piece

Cover the sides of the cake with the remaining whipped cream. Chill the cake in the fridge for 30 minutes
Prepare the chocolate shards:
Put the chocolate in a heat-proof bowl and put this bowl over a gentle simmering pot of water. Water shouldn't touch the bottom of the bowl. Stir until chocolate melts, shiny, and smooth.

Spread this melted chocolate on a piece of parchment paper on a baking sheet, about 2 mm in thickness. Use the back of the spoon or a spatula to spread the chocolate to about 1-inch above the cake. Put this in the fridge for about 15-20 minutes to let it set

I recommend wearing gloves as this minimize the heat transfer from our hands to the chocolate. The chocolate won't melt easily this way. Then gently break into long pieces to cover the sides of the cake (as shown in the photos)

Then spread the remaining melted chocolate on a marble or metal surface, about 2 mm thick. Let it set and harden. Use a dough scraper to scrape the chocolate to create the "shaved" chocolate. Alternatively you can also use a grater to shave the chocolate. I recommend wearing gloves so the chocolate won't melt
Decorate:
Use the pieces of chocolate shards you made earlier to cover all four sides of the cake to create that rustic feel and look to the cake

Pipe the remaining whipped cream on the top edges of the cake. Put Maraschino chrerry on top. Fill the center with shaved/grated chocolate. This is just how I decorated it. You can decorate it however you want it. Chill in the fridge for at least 4 hours before serving
Nutrition
Serving:
1
serving
|
Calories:
425
kcal
|
Carbohydrates:
47
g
|
Protein:
5
g
|
Fat:
26
g
|
Saturated Fat:
13
g
|
Polyunsaturated Fat:
2
g
|
Monounsaturated Fat:
10
g
|
Trans Fat:
1
g
|
Cholesterol:
114
mg
|
Sodium:
103
mg
|
Potassium:
205
mg
|
Fiber:
3
g
|
Sugar:
25
g
|
Vitamin A:
783
IU
|
Vitamin C:
4
mg
|
Calcium:
58
mg
|
Iron:
1
mg