Soft and chewy snow skin mooncake is filled with sweet and nutty black sesame seeds and peanut paste.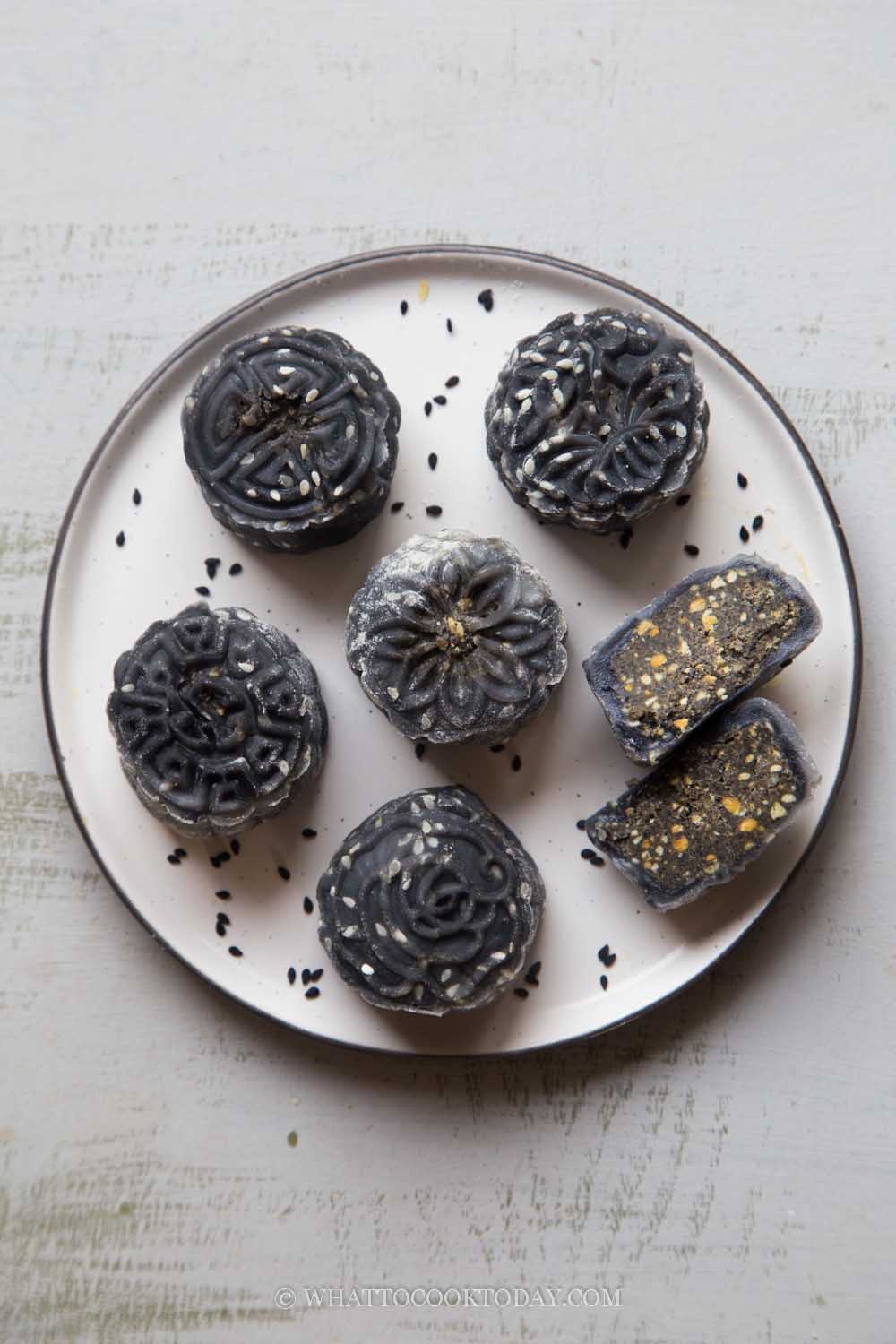 Are you ready for another snow skin mooncake? *wink*. This time it's sweet black sesame with peanuts paste wrapped in an easy snow skin dough. I LOVE black sesame seeds and to pair with peanuts is even tastier. I actually want to do it with roasted walnuts, but I don't have any at the time I made this so I just use regular roasted peanuts and no regrets there.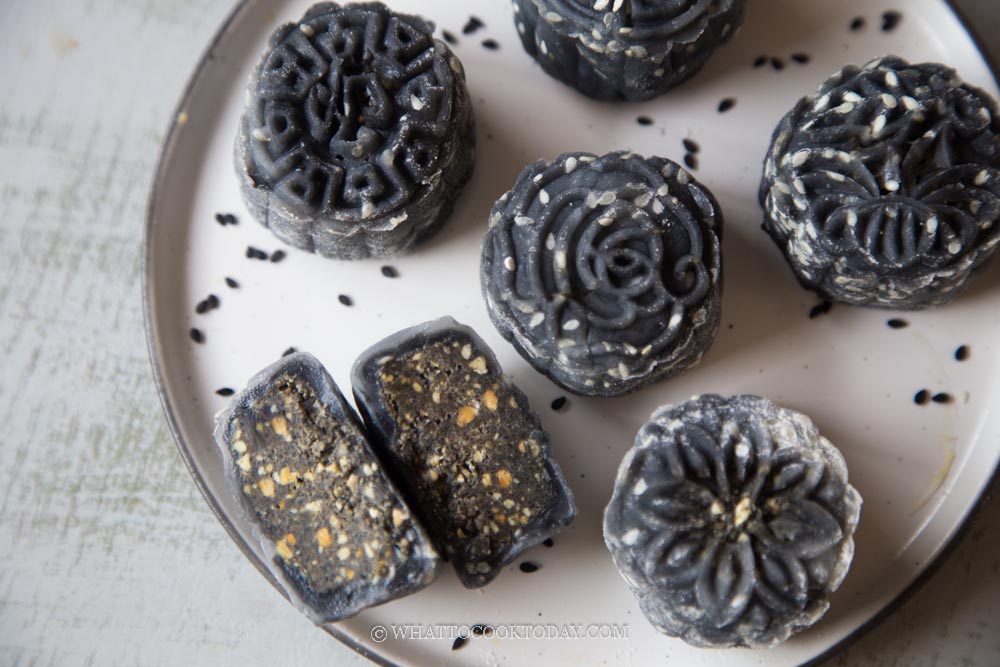 How to make black sesame peanuts snow skin mooncake
1. Toast the black sesame on a dry pan over medium-low heat until they are fragrant, about 5 minutes. If the nuts are not roasted, you can toast them on a dry pan over medium-low heat for 2-3 minutes. Roughly chop half of the peanuts for texture


2. Blend the black sesame , half of the peanuts and sugar into a fine texture


3. Add the softened butter and roughly chop peanuts and combine into a paste. Cover and chill in the fridge for at least 1 hour


4. After 1 hour, they are easier to handle. Lightly oiled your palms and portion into 25 grams balls. Keep them in the fridge until you are ready to use them


5. Place 30 gr of glutinous rice flour on a dry non-stick pan over medium heat. Stir fry for about 15 minutes or until the flour started to smell slightly nutty/toasted. Let it cool down completely. Store in an air-tight container at room temperature and they can be kept for weeks or even months


6. Combine all the ingredients in a heat-proof mixing bowl. Strain the batter if necessary to get rid of any lumps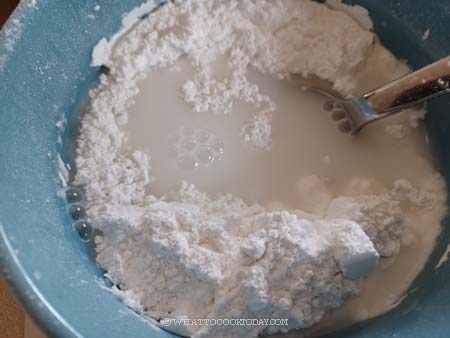 7. Place this batter in the steamer and steam over high heat for 15 minutes. Wrap the lid of the steamer with a cloth to prevent condensation drips onto the dough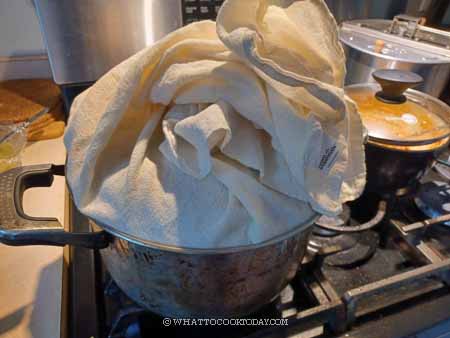 8. If you stick a knife in the middle of the dough, it will come out clean, though the top of the dough may appear a bit watery at first. Use a spoon to stir the steamed mochi while it's still hot to form a large mass of dough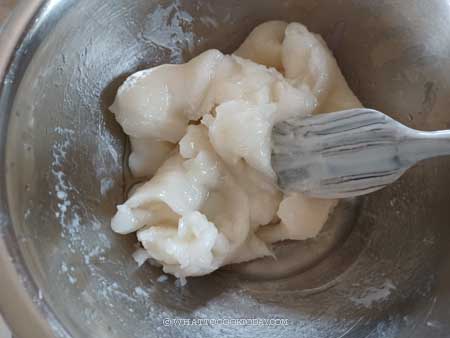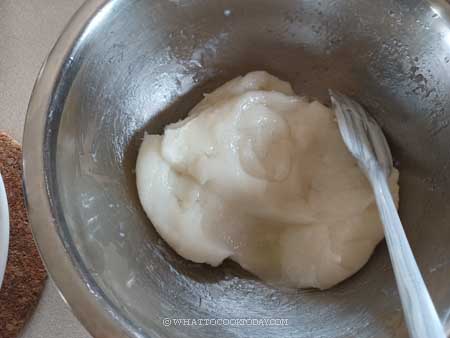 9. Cover with a cloth for about 10-15 minutes so it's not too hot for your hands to knead. Don't use a plastic wrap as condensation will form and drip into the dough, making it wet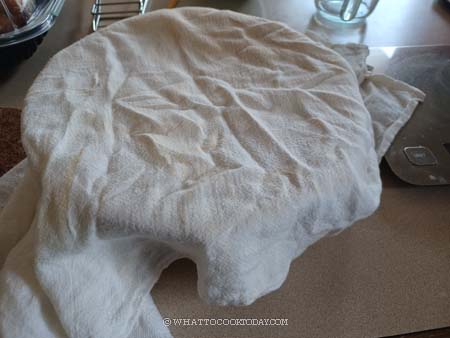 10. When it's cool enough to handle, oil your palm lightly and knead the dough a few times to form a smooth non-sticky dough. The dough is very elastic and stretchy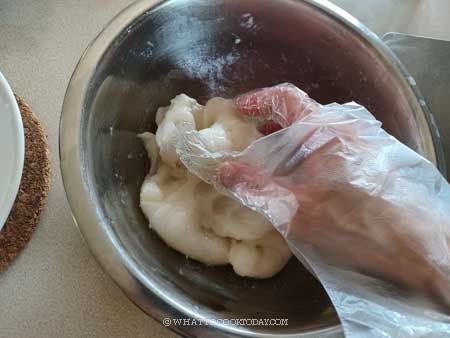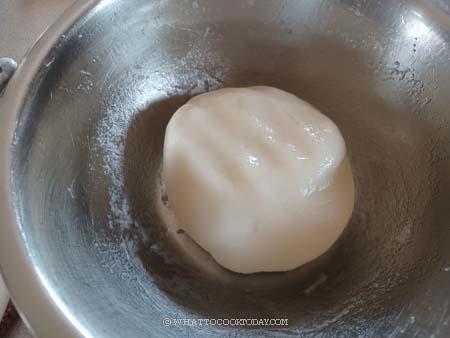 11. I pinch of about 1/4 of the dough and add 1/4 tsp of the black sesame powder. This is optional. I want to create a "marble" effect but I think I added too much and it ends up more black than white


12. Combine both the black and white dough

13. Since I used 50-gram mould, I portioned the dough into a 25-gram piece. Roll each ball in white sesame seeds. Keep them covered and work with one dough at a time.


14. Flatten the dough and roll out into about 4 inches round


15. Place the filling in the middle and wrap around it


16. Dust the dough with cooked glutinous flour you prepared earlier. Dust off excess flour


17. Place this into the mould cavity


18. Press to imprint the pattern on the dough. Repeat with the rest of the dough and filling


19. Transfer the mooncake to an air-tight container and keep in the fridge until ready to be served. Try to consume in 3-4 days for the best result, though they can go as long as 1 week. The longer you keep, the drier the skin will get

Did you make this black sesame peanuts snow skin mooncake recipe?
I love it when you guys snap a photo and tag to show me what you've made 🙂 Simply tag me @WhatToCookToday #WhatToCookToday on Instagram and I'll be sure to stop by and take a peek for real!

Black Sesame Snow Skin Mooncake
Ingredients
Instructions
Prepare black sesame filling:
Toast the black sesame on a dry pan over medium-low heat until they are fragrant, about 5 minutes. If the nuts are not roasted, you can toast them on a dry pan over medium-low heat for 2-3 minutes

Roughly chop half of the peanuts for texture. Blend the black sesame , half of the peanuts and sugar into a fine texture.

Add the softened butter and roughly chop peanuts and combine into a paste. Have a taste and adjust the sweetness to your preference. Cover and chill in the fridge for at least 1 hour

After 1 hour, they are easier to handle. Lightly oiled your palms and portion into 25 grams balls. Keep them in the fridge until you are ready to use them
Prepare the snow skin dough:
Place 30 gr of glutinous rice flour on a dry non-stick pan over medium heat. Stir fry for about 15 minutes or until the flour started to smell slightly nutty/toasted. Let it cool down completely. Store in an air-tight container at room temperature and they can be kept for weeks or even months

Combine all the ingredients in a heat-proof mixing bowl. Strain the batter if necessary to get rid of any lumps

Place this batter in the steamer and steam over high heat for 15 minutes. Wrap the lid of the steamer with a cloth to prevent condensation drips onto the dough. If you stick a knife in the middle of the dough, it will come out clean, though the top of the dough may appear a bit watery at first. Use a spoon to stir the steamed mochi while it's still hot to form a large mass of dough

Cover with a cloth for about 10-15 minutes so it's not too hot for your hands to knead. Don't use a plastic wrap as condensation will form and drip into the dough, making it wet

When it's cool enough to handle, oil your palm lightly and knead the dough a few times to form a smooth non-sticky dough. The dough is very elastic and stretchy

You can also use your stand mixer with a dough hook attachment to knead the dough until it's smooth and elastic

I pinch of about 1/4 of the dough and add 1/4 tsp of the black sesame powder. This is optional. I want to create a "marble" effect but I think I added too much and it ends up more black than white 🙂 Combine both the black and white dough
Shaping and moulding:
Since I used 50-gram mould, I portioned the dough into a 25-gram piece. Roll each ball in white sesame seeds. Keep them covered and work with one dough at a time. Flatten the dough and roll out into about 4 inches round. Place the filling in the middle and wrap around it

Dust the dough with cooked glutinous flour you prepared earlier. Dust off excess flour. Place this into the mould cavity and press to imprint the pattern on the dough. Repeat with the rest of the dough and filling
How to store:
Transfer the snow skin mooncakes to an air-tight container and keep chill in the refrigerator for 3-4 days for the best result, though they can go as long as 1 week. The longer you keep, the drier and tougher the snow skin will get

Snow skin mooncake freezes well. I put them on a baking tray lined with wax of parchment paper, not touching each other and then put it in the freezer for about one hour. They won't harden completely, but won't stick to each other. Transfer to a freezer bag or container. They can be kept this way for up to 2 months. When ready to serve, thaw at room temperature and they are ready to be served
Recommended products:
Nutrition
Serving:
1
50-gram mooncake
|
Calories:
222
kcal
|
Carbohydrates:
23
g
|
Protein:
4
g
|
Fat:
13
g
|
Saturated Fat:
4
g
|
Polyunsaturated Fat:
3
g
|
Monounsaturated Fat:
5
g
|
Trans Fat:
1
g
|
Cholesterol:
13
mg
|
Sodium:
80
mg
|
Potassium:
116
mg
|
Fiber:
2
g
|
Sugar:
9
g
|
Vitamin A:
150
IU
|
Vitamin C:
1
mg
|
Calcium:
62
mg
|
Iron:
1
mg