Learn how to make authentic Vietnamese Thit Bo Luc Lac at home. So delicious and easy to make (even if you can't shake the wok)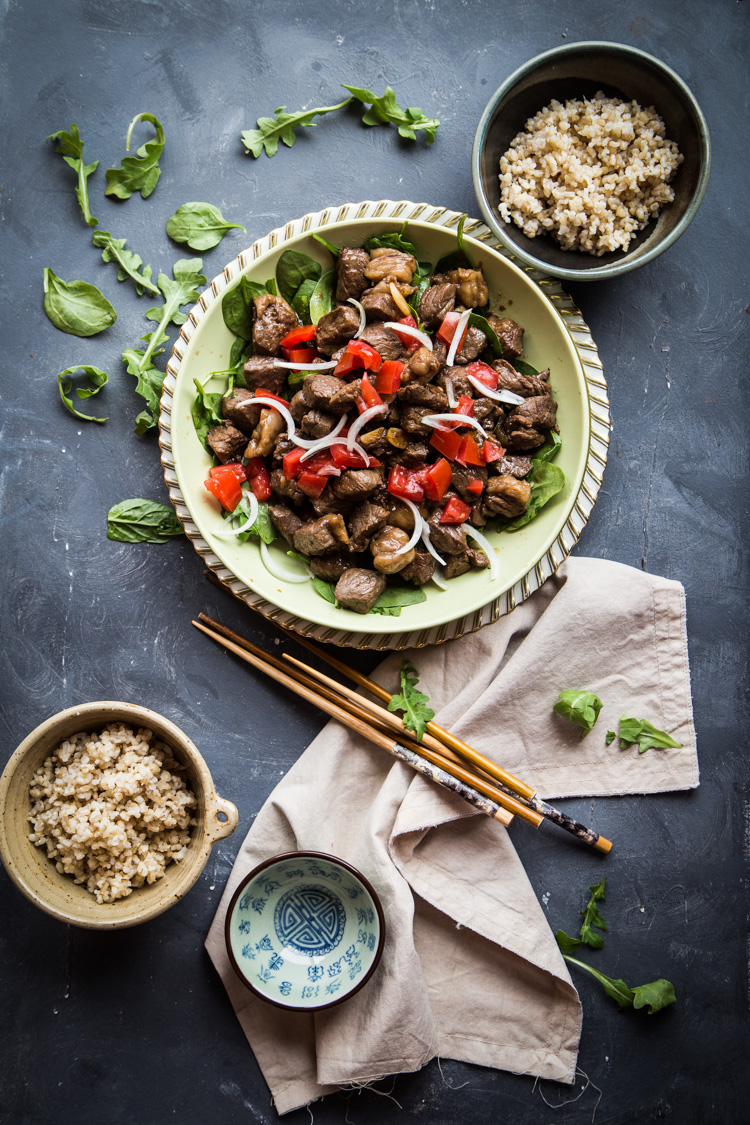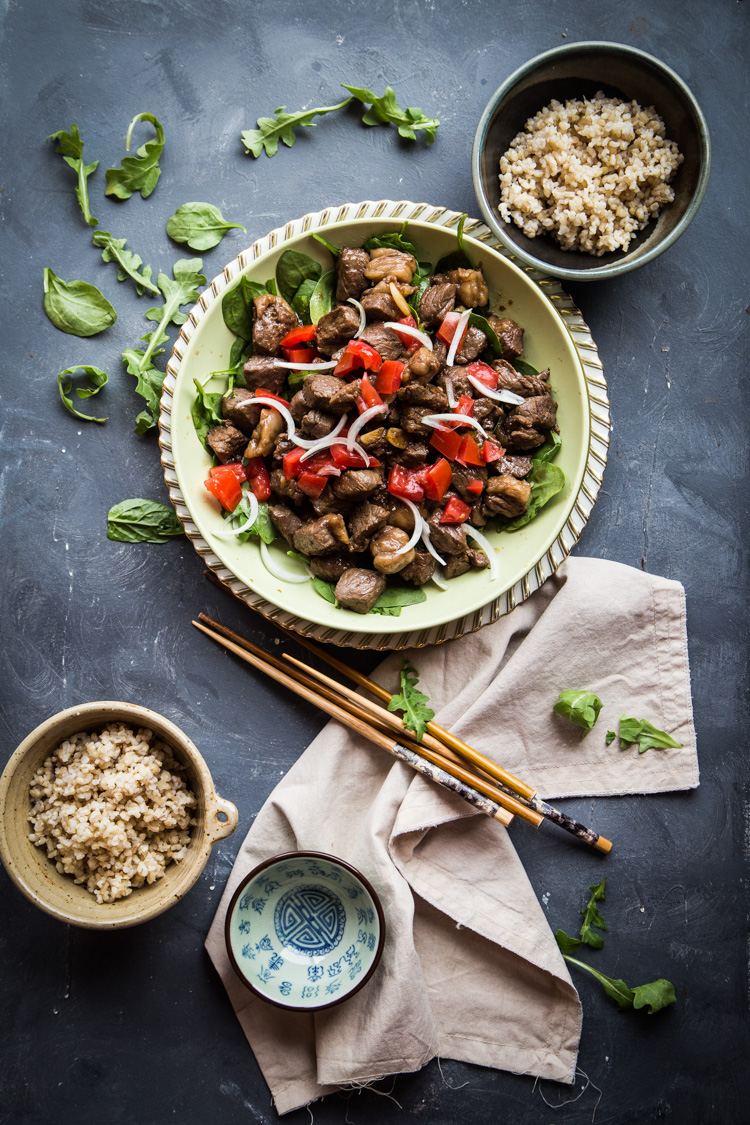 I'm always amazed when I saw a chef cooking with a large black wok and with one hand they can shake the wok and whatever that they are cooking in the wok will dance and flip over. That's how they do "saute or stir-fry" and never really need a spatula. If I can do that with our Le Creuset Wok, my arms will probably have muscle definition 😉 This shaking beef with garlic sauce got its name from exactly that. The beef is cooked in high heat by shaking the wok to flip the beef over. Of course if you don't really know how to shake the wok (like I am), you can still do this dish with a spatula 🙂
This beef lok lak with garlic sauce is very delicious and couldn't be easier to prepare. It pairs so well with the salad. This is definitely a keeper for us.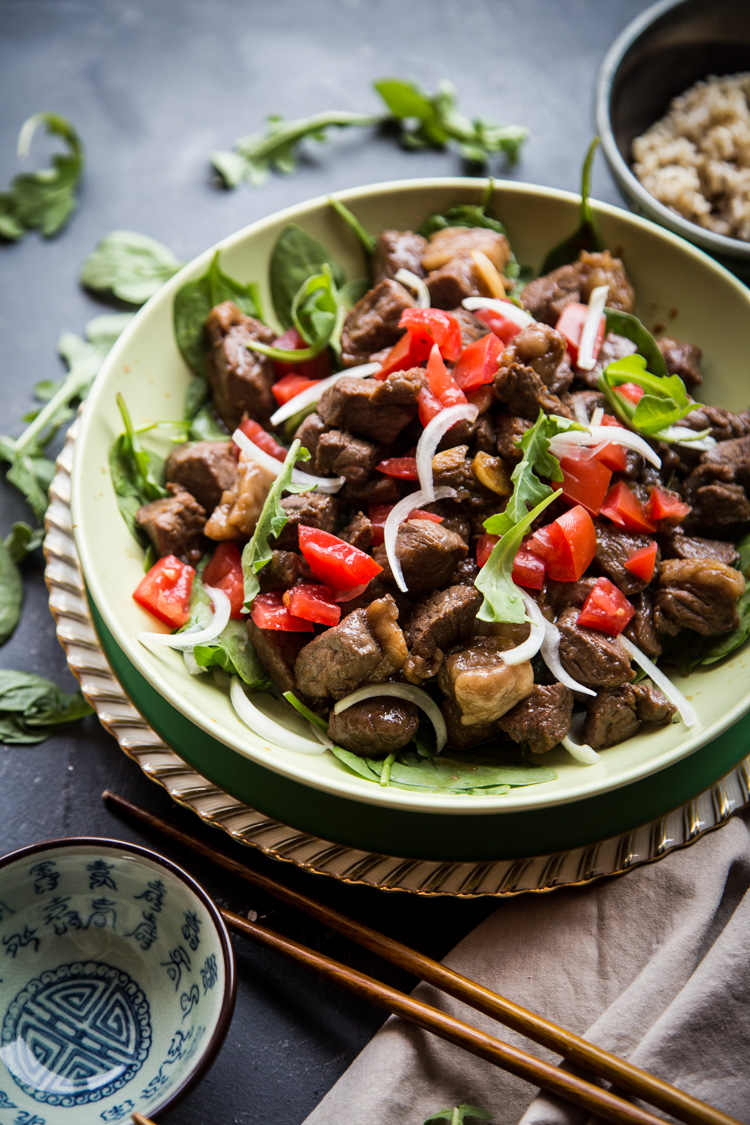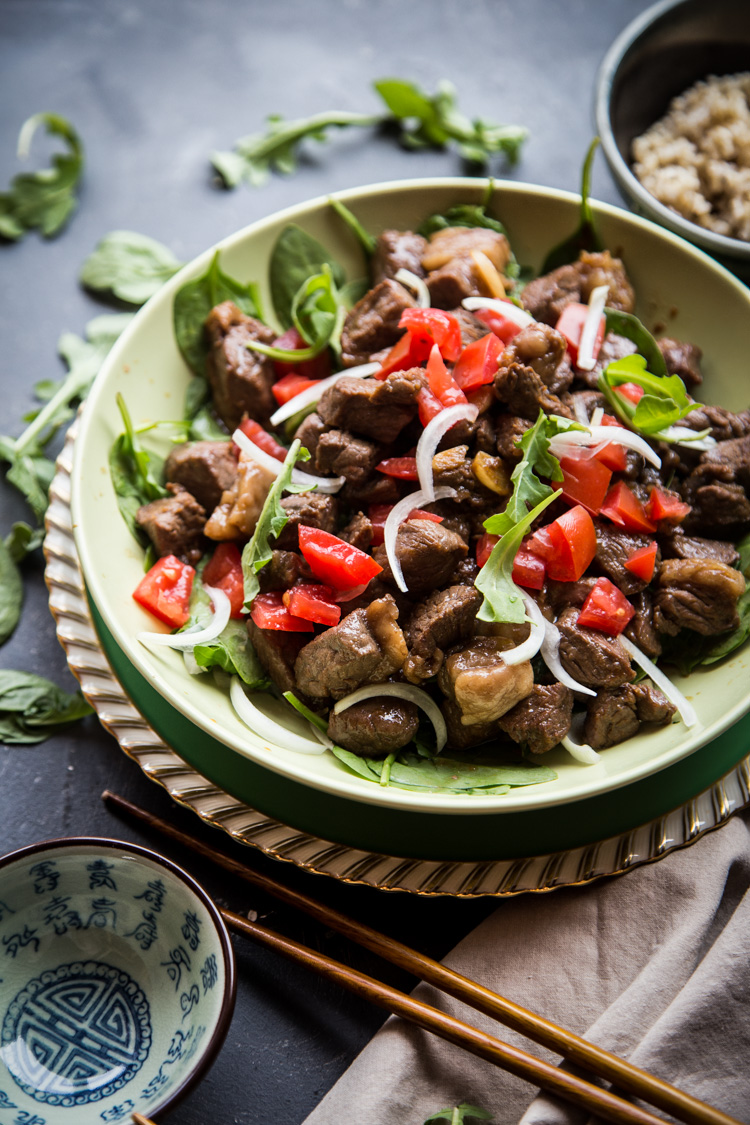 Easy One-Pan Thit Bo Luc Lac (Vietnamese Shaking Beef)
Ingredients
1

lb

beef sirloin

cut into 1-inch cubes

3

Tbsp

of cooking oil
Salad:
1

small bunch of watercress of baby spinach

I use mixture of both + arugula

1

red onion

peeled and thinly sliced

1

red chili -optional

seeded and finely chopped

1 ½

tsp

white vinegar
Instructions
Place the beef in a mixing bowl. Add in the minced garlic, fish sauce, soy sauce, dark soy sauce, sugar, and salt and let it marinade for about 30 minutes in the refrigerator

While waiting for the beef to marinade, prepare the salad. Toss the sliced onions and chili (if using) with vinegar. Portion the salad on a serving platter. Set aside
Cooking the beef:
Preheat the wok or skillet over very high heat. Add in oil. Tip in the beef in single layer and let it seared for a minute undisturbed to create that nice brown. Do this in batches if necessary, so the beef brown nicely. Shake the wok or skillet to flip the beef over if you can (or flip it over with spatula) and let is sear for another 30 seconds. Then shake the wok or skillet again if you can and let cook until they are about medium rare or to the doneness you like. I like medium rare
Serving:
Toss the salad with the onion you prepared earlier. Arrange the beef and sauce on top of the salad and serve immediately
This blog post contains affiliate links. I earn a small commission when you made purchase at no extra cost to you. Learn more.