Jamie Oliver's California Sprout Salad – Learn how to make this nutritious Sprout salad tossed with crispy chorizo and vinegar olive-oil based dressing. Another recipe from Jamie Oliver's cookbook that does not disappoint.
I'm amazed by the choices for food we have these days. Yes, I do agree that the more choices we have, the more "a headache" it causes sometimes. Standing there trying to figure out what's good and what's to avoid can be a pain. It's cool though to see how much more educated we are as consumers these days of what we want to put on or inside our bodies.
I like to go to grocery stores or specialty stores just to walk around and see what's "new" and always walk out learning something. Seller is preaching about nutritional benefits more and more these days. Food is simply not just for filling up that tummy anymore. I think we want more out of our food. This California sprout salad fits into this category.
As shared by Jamie Oliver in his Jamie's America cookbook, In California it's really common for people to talk about the health benefits and nutritional value of the food they sell. Sprouts have all sorts of things going for them. They are nutrition powerhouse. Packed with vitamins, minerals, and protein. The content of these wonderful nutrition keeps on growing even after you harvest them. Wow…can we ask for more? Then the watercress or Arugula, whichever you use are also packed with good stuff!!!
The dressing of this salad is one of the highlights of the sprout salad. Made from chorizo that you crisp up, really taste heavenly together with the salad. And you know what? If you have tortilla or flatbread, you can use this sprout salad as the filling. Perfect!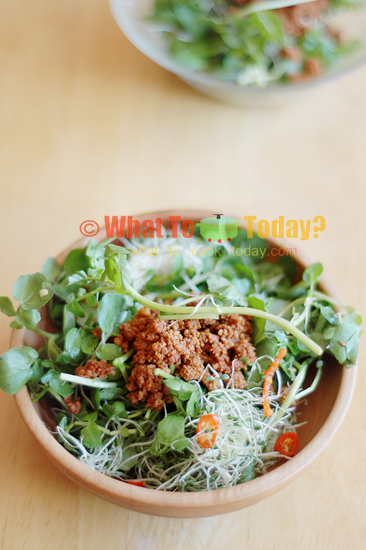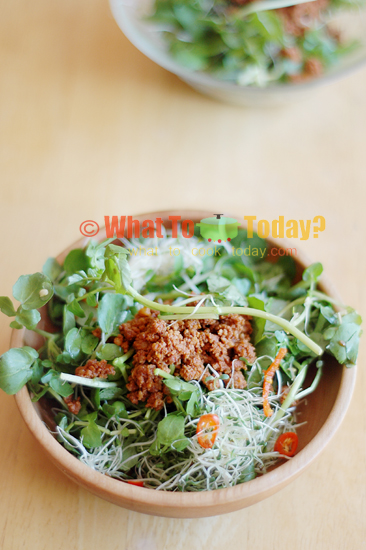 This blog post contains affiliate links. I earn a small commission when you made purchase at no extra cost to you. Learn more.
Jamie Oliver's California Sprout Salad
Ingredients
¾

lb

mixed shoots and sprouts

(try alfalfa, mung beans, sunflower, pea shoots, onion seeds, to name but a few)

1 ¼

cup

freshly shelled peas

1

fresh red chili

, seeded and minced

A small handful of fresh mint leaves

4

handful of watercress or arugula
Dressing:
1

Tbsp

cooking oil

6

oz

chorizo sausage

, finely chopped

2

cloves

garlic

, peeled

¼

cups

balsamic vinegar

¼

cup

extra virgin olive oil

Sea salt and freshly ground black pepper
Instructions
Start by making your dressing. Add cooking oil into a frying pan and put in on a medium heat. Add your chopped chorizo and fry for 3 to 4 minutes until dark, golden and crispy. Remove the pan from the heat and using a perforated spoon transfer the meat to a plate lined with paper towel

Finely grate your garlic into the hot chorizo oil left behind in the pan, give the pan a good shake, then add your balsamic vinegar, extra virgin olive oil, and a good pinch of salt and pepper. Mix it up quickly, angling the pan in different ways as you go so you collect all the awesome flavors from the chorizo. This will give you the most fantastic warm dressing

Once you've got a nice mixture, have a taste and add more vinegar or salt if needed until it is absolutely delicious. Put the pan to one side and let the dressing cool a bit. Reserve some of the crispy sausage, garlic and chili, and mint leaves to fling over the top to make it look prettier

I suggest to dress the salad only when you are ready to serve them. Toss all the salad ingredient together in a big bowl, then transfer it to a nice serving platter and serve the dressing on the side so people can drizzle their own dressing.