Learn how to make Cambodian lort cha (stir-fried short rice noodles) with delicious stir-fry techniques and simple steps you need to know.
I thought I was in heaven when I learned about this one stretch of street here in Minnesota that is populated with some Southeast Asian restaurants (but no Indonesian restaurants, dang it!). Lots of Vietnamese, Laos, Thai, and Cambodian restaurants. Our kids love this Cambodian lort cha that we ordered at the Cambodian restaurants.
CAMBODIAN STIR-FRIED SHORT RICE NOODLE
There are several different writings that I saw for lort cha. The restaurant we went to call it lot cha. Some wrote it as lod cha and loht chha. They are the same things. I suspect the "cha" or "chha" may mean "stir fry". Just my guess because that's what it means in the Hokkien dialect "char" 🙂
Lort cha is basically Cambodian-style stir-fried short rice noodles (rice pin noodles). Similar to the Vietnamese Banh Bot Loc rice pin noodles (which was what I used in this recipe) and also the stir-fried mee tai mak that is more popular in Singapore and Malaysia. Both use the short rice noodles.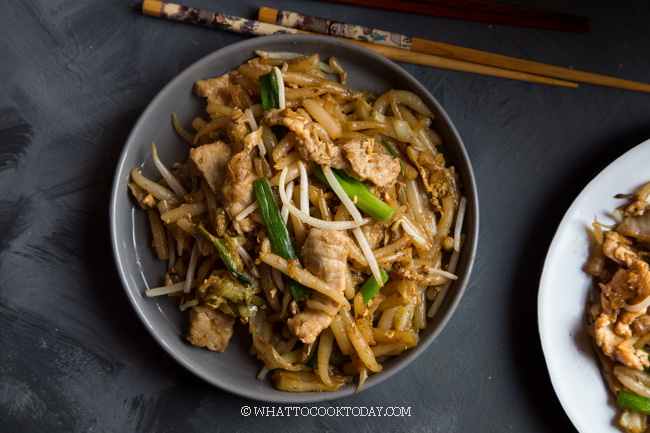 INGREDIENTS YOU NEED TO MAKE LORT CHA
Let's talk ingredients shall we? Lort cha is simple stir-fried noodles to make. Ingredients for the protein and vegetables can be swapped as you wish too. Nothing fancy really!
1. SHORT RICE NOODLES
You can easily find this in most Asian grocery store. I got the Vietnamese Banh Bot Loc (Rice pin noodles). Some people may blanch the noodles briefly in hot water. I don't feel like it's necessary to do so.
2. SEASONINGS
Oyster sauce, fish sauce, dark soy sauce, and a bit of sugar. This combination of seasonings adds amazing savory, sweet, and umami to the finished dish
3. CORNSTARCH
I often use a bit of cornstarch to marinate meat (most Asians do). It helps to tenderize the meat
4. AROMATICS
Garlic and green onion. The green onion is separated into green and white stalks. The white stalks are firmer and can withstand heat and that's why we stir fry this part first with the garlic. The green part is more for "garnish"
5. PROTEIN
I use sliced pork tenderloin and eggs. Feel free to use beef or chicken if you like. If you prefer meatless, you can just use eggs or fried eggs.
6. VEGETABLES
I use sliced cabbage and fresh mung bean sprouts. The mung bean sprouts add nice contrast of texture to the dish. You can use fresh greens like Chinese broccoli, yu choy, broccolini, bok choy. Just to mention a few.
HOW TO COOK CAMBODIAN LORT CHA IN 4 SIMPLE STEPS
STEP ONE: MARINATE AND COOK THE PORK FIRST
1. Thinly slice the pork tenderloin and then marinade for 15 minutes at room temperature
2. Preheat your wok/skillet until really stonking hot and then add cooking oil and cook the pork slices and then remove from the wok/skillet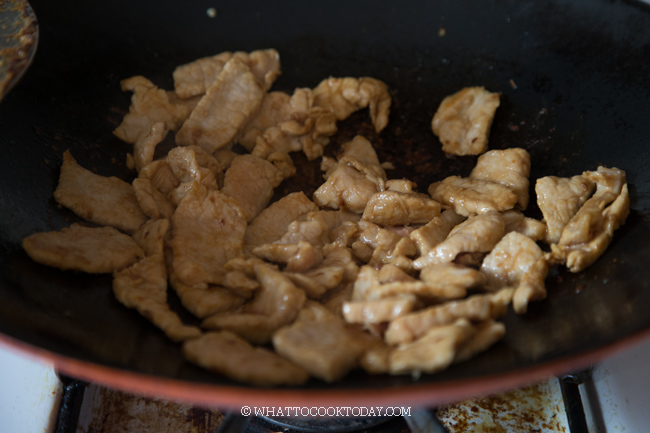 STEP TWO: COOK THE VEGGIE AND EGGS NEXT
1. Wipe the wok/skillet clean if needed. Add cooking oil and bring it back to hot. Stir-fry aromatics until really fragrant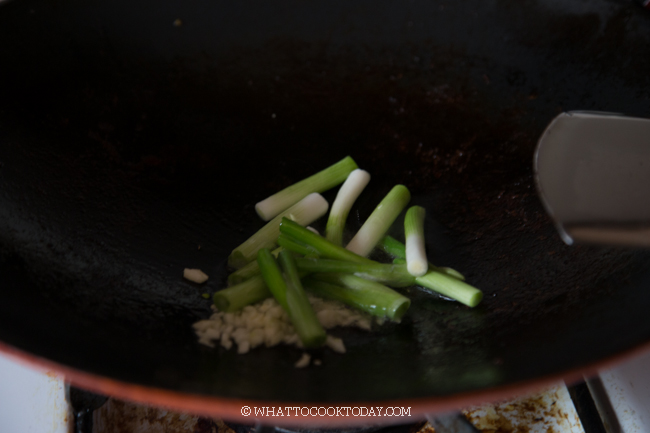 2. Add the cabbage slices. Stir fry briefly and then add some hot water and cover the wok/skillet with the lid. This will stirfry-steam the veggie to help soften it a bit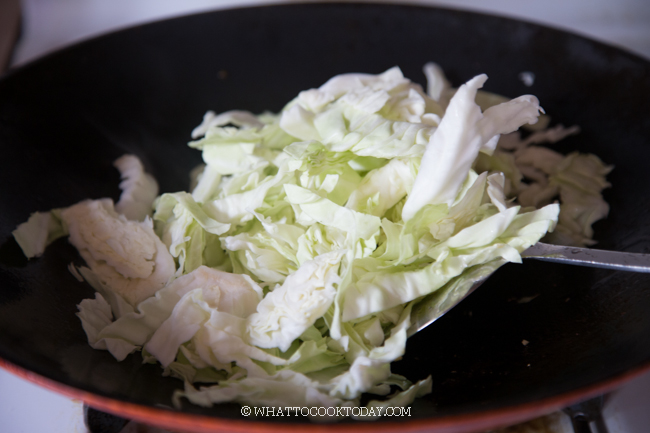 3. Uncover the lid and cook until all liquid has evaporated. Push the cabbage to the side of the wok and then crack in two eggs. Let them cook undisturbed and then scramble the yolks and start stir frying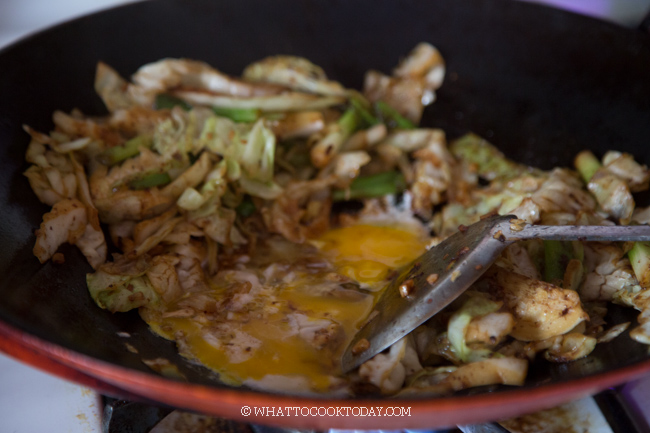 STEP THREE: COOK THE NOODLES
1. Add the rice pin noodles. Use your hands to gently separate the noodles. They will be in chunks. Don't worry. There's no need to pre-cook the noodle first
2. Add seasonings and then stir fry to mix the seasonings with the noodles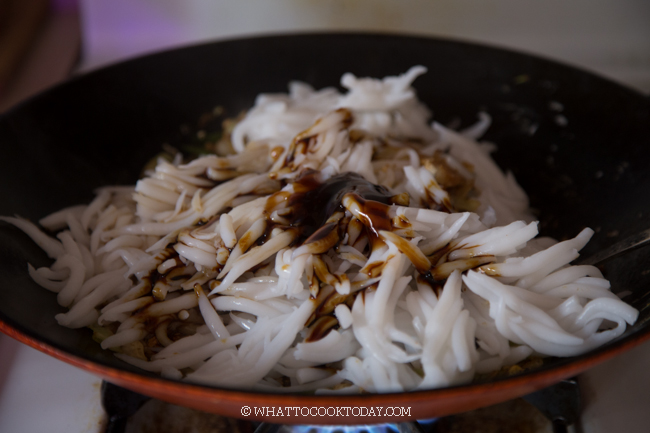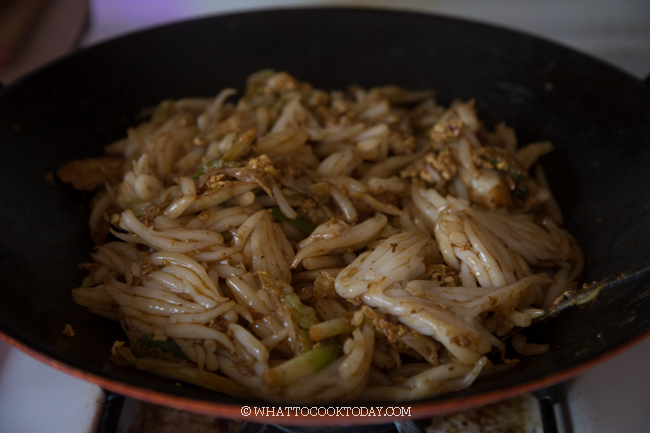 3. Add a bit of hot water and then cover with the lid to let the noodles soften, about 1 minute


STEP FOUR: COOK WITH RESIDUAL HEAT
3. Uncover the lid, add pork slices back along with the mung bean sprouts and green onion. Turn off the heat and continue to stir until the green part of the green onion soften slightly and the bean sprouts are cooked but still crunchy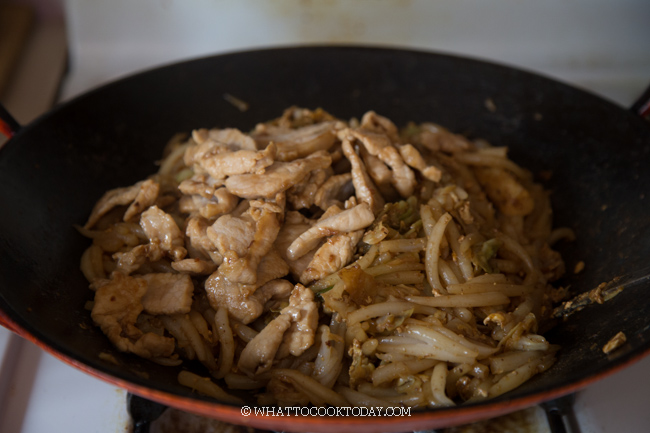 And here you are, Lort Cha is ready to be served!!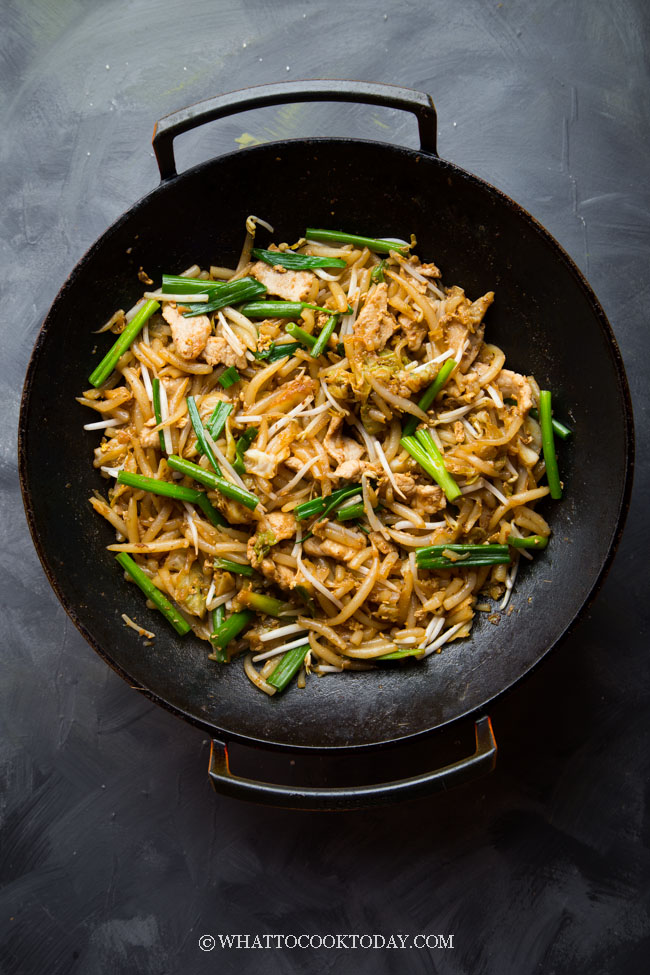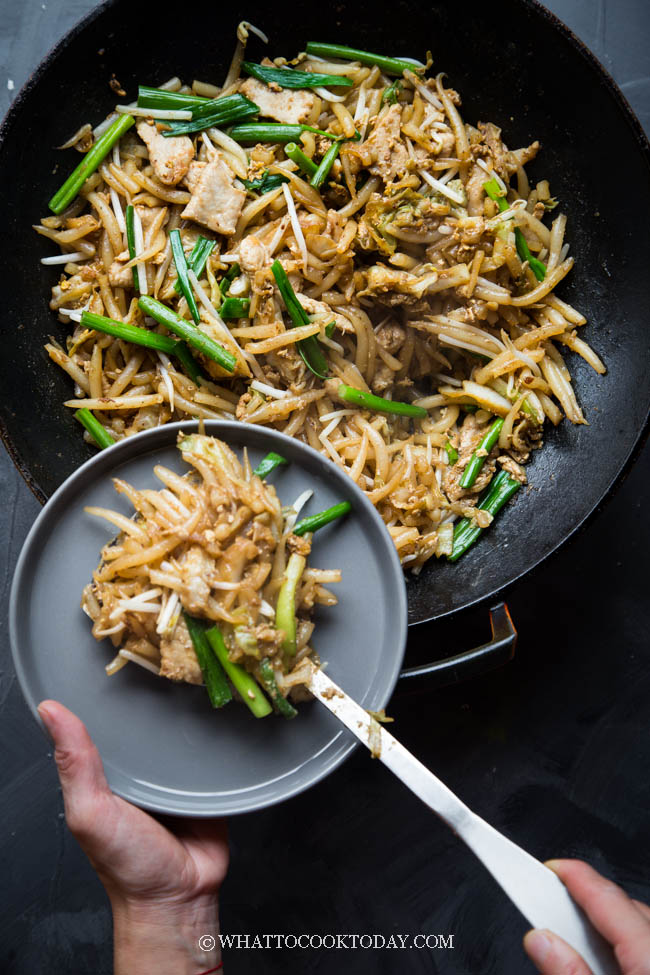 HELPFUL KITCHEN GADGETS OR TOOLS TO MAKE LORT CHA
1. Wok/Skillet with a lid
I like to use wok/skillet that has lid because in this case it helps to stir-fry and "steam" at the same time. It keeps the recipe simple and everything can be cooked with only one wok/skillet. We don't have to precook the rice noodles and veggies. I use Le Creuset wok with a lid but feel free to use whatever suits you.
2. Metal Turner
I simply can't do any stir-fry without a metal turner 🙂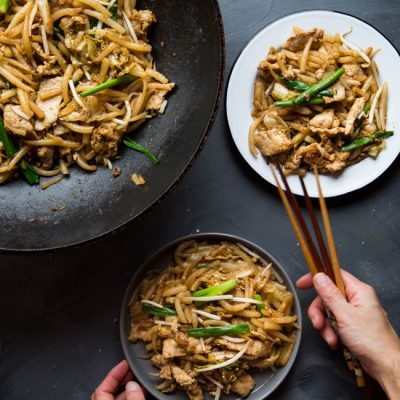 Learn how to make Cambodian lort cha (stir-fried short rice noodles) in simple steps and learn some delicious stir-fry techniques you need to know.
For baking/ kueh making: I highly encourage to weigh ingredients with a digital kitchen scale instead of using measuring cups as they are not very accurate especially when it comes to recipe that requires precision.
GRAMS TO CUPS CONVERSION (UNSIFTED)
INGREDIENTS
800

gr

short rice noodle (banh bot loc)

-

or known as rice pin noodles

8

oz

pork tenderloin

-

thinly sliced

2/3

cups

hot water

-

divided

2

large

eggs

3

Tbsp

cooking oil
Aromatics:
2

cloves

garlic

-

finely minced

4

stalks

green onion

-

separate the white and green part
Vegetables:
2

cups

sliced cabbage

2

cups

fresh bean sprouts
INSTRUCTIONS
Marinate pork and get things ready:
Place the pork slices in a mixing bowl. Add the marinade ingredients and mix with your clean hands. Cover and marinate at room temperature for about 15 minutes while you prepare other things

Mix all the seasonings ingredients together in a bowl and set aside. Preheat a large wok or skillet that has a lid over high heat.

Separate the green onions into green and white part. Cut them into 3-inch pieces. Set aside
Cook the pork first:
When the wok/skillet is really hot. Add 1 Tbsp of cooking oil. Swirl the wok/skillet to make sure it covers the sides of the wok/skillet. Add the pork slices and let them cook undisturbed for about 1 minute and then flip to the other side and let them cook for another minute. Cook until you no longer see pink color and the pork is cooked through. Dish out to a plate
Cook the veggies next:
Scrape the bottom of the wok/skillet to remove anything that got stuck on the wok/skillet. Add another 1 Tbsp of oil. Add the garlic and the white part of green onion and stir fry for about 30 seconds

Add the cabbage and stir fry to mix everything. Add about 1/3 cup of hot water. It will sizzle. Close the lid. We are going to steam the cabbage for a bit to soften them. Uncover after about 1 minute. Continue to stir fry until most liquid has evaporated

Push the cabbage to the sides of the wok/skillet. Crack 2 eggs on the middle of the wok/skillet. Let them cook undisturbed for about 30 seconds and then scramble the yolks and continue to stir fry
Add noodles:
Add the short rice noodles followed by seasonings. Stir to make sure the sauce coats the noodles. The noodles may still hard and stick together, no worries. Once the noodles has started to pick up the color from the seasonings, drizzle in another 1/3 cup hot water. Cover with the lid for about 1 minute. This will soften the noodles

Uncover the lid. Add the pork slices back followed by bean sprouts and green parts of the green onion. Turn off the heat and continue to stir fry to mix everything over residual heat. The bean sprouts are still crunchy but don't taste raw anymore.