Easy stir-fried and fun to eat loh shi fun/ mee tai mak noodles are stir-fried with simple seasonings yet they are so delicious. They can be made with store-bought or homemade loh shi fun noodles.
This noodle is known by many names. Some call it silver pin noodles, rice pin noodles, rat's tail noodles, loh shi fun, lau shu fun, mee tai mak, or bee tai mak. My first exposure to the term Mee Tai Mak was when I lived in Singapore. The mee tai mak can be purchased fresh from the wet market or pretty much any grocery store in Singapore. I love stir-frying this during the weekend for breakfast. My kids love these rice pin noodles too and love how food just brings back all the sweet memories.
I'm so happy to find these rice pin noodles in the Asian grocery store and it is the Vietnamese version called Banh Bot Lot. The noodles are made with rice flour and other gluten-free starches. You can easily make loh sih fun from scratch too.
How to make stir-fried loh shi fun
1. Prepare the noodles if needed
The noodles are hard when it is cold or refrigerated but will soften when heated. Briefly blanch the noodles in a boiling water for about 30 seconds or you can just microwave them for 30 seconds or so. Then toss with a bit of soy sauce and dark soy sauce and set aside


2. Heat up the wok/skillet with oil. Add shrimp and cook until they just started to turn pink


3. Push to the side of the wok


4. Crack the eggs in and let them cook undisturbed for about 30 seconds


5. Scramble them into large chunks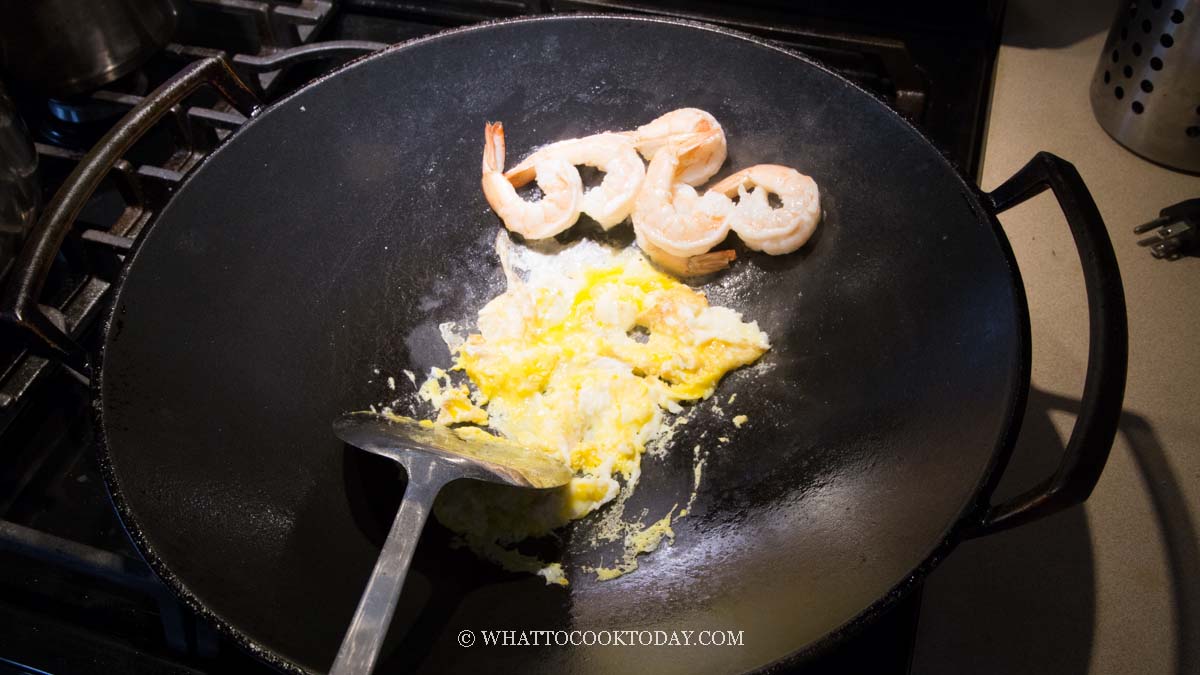 6. Push to the side of the wok to avoid overcooking


7. Add more oil and add garlic and stir fry for 10 seconds


8. Add veggies and stir fry for few seconds


9. Then stir to mix with everything else


10. Add the noodles followed by seasonings and stir to mix everything to make sure the seasonings coat the noodles and everything else


11. Turn off the heat and add bean sprouts (if using) and green onion. Stir to mix everything. The residual heat will soften the bean sprouts but they are still crunchy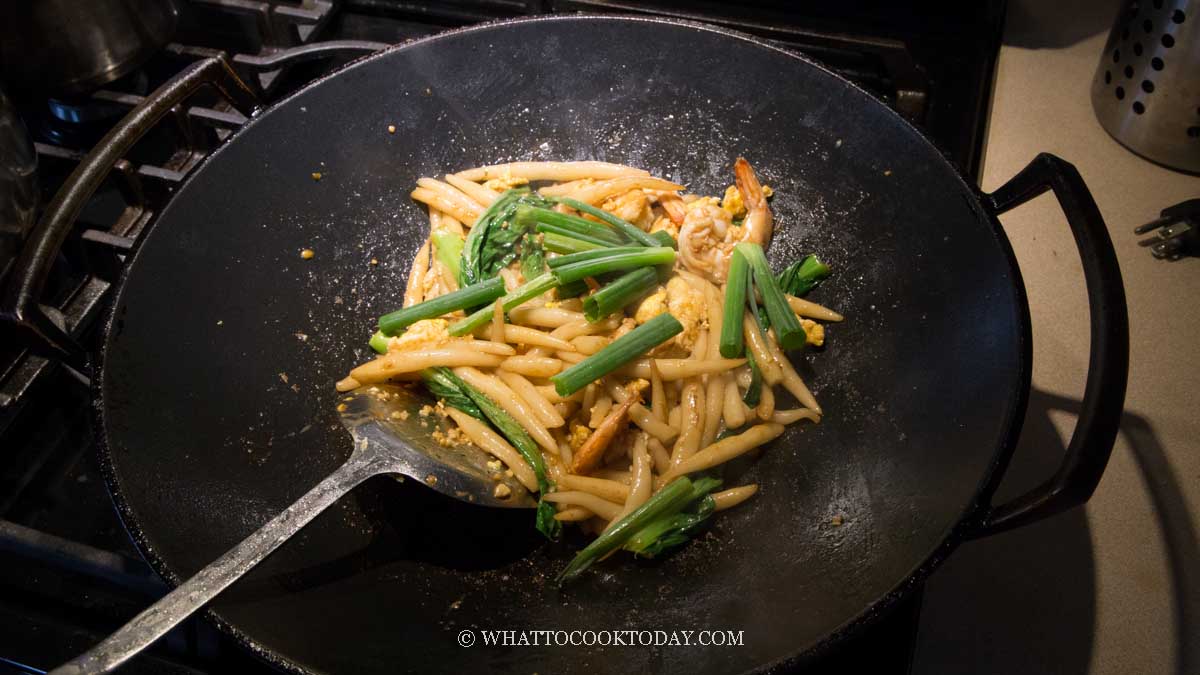 12. Serve immediately
Did you make this stir-fried loh shi fun/mee tai mak recipe?
I love it when you guys snap a photo and tag to show me what you've made 🙂 Simply tag me @WhatToCookToday #WhatToCookToday on Instagram and I'll be sure to stop by and take a peek for real!

You may also like these
Stir-fried Mee Tai Mak / Bee Tai Mak / Loh Shi Fun (Rice Pin Noodles)
Ingredients
1

lb

rice pin noodles

homemade or store-bought

3

Tbsp

cooking oil

8

oz

large shrimp

peeled and deveined

2

oz

minced pork

marinade with 1 Tbsp of soy sauce, pinch of sugar

2

eggs

3

cloves

garlic

peeled and finely chopped

3

to 4 small bunches of yu choy/A choy/Choy Sum

trim large stalks into smaller pieces
Garnishes
1

stalk

green onion

finely chopped

Fried shallots crisp

optional
Instructions
The noodles are hard when it is cold or refrigerated but will soften when heated. Briefly blanch the noodles in a boiling water for about 1 minute or you can just microwave them for 30 seconds or so. Set aside

Heat up the wok/skillet with oil. Add shrimp and cook until they turn pink and cooked through. Dish out. Add garlic and stir fry for 10 seconds. Add the minced pork and stir fry and kinda break them apart and cook until they just turn color, about 2 minutes. Push the meat to the side and break in two eggs and let them cook for about 1 minute before breaking them up lightly with a spatula

Add the vegetables and stir fry until they are started to wilt but still has that fresh green colors

Add the rice pin noodles and seasonings and continue to stir-fry for another minute or so until the noodles pick up the dark brown color from the seasonings. Add the shrimp back in and stir everything to mix

Have a taste and add soy sauce if needed. Turn off heat. Garnish with some chopped green onion and fried shallots crisp and served immediately
Recommended products: