Short thick round rice noodle resembles a rat's tail or some call it rice pin noodles or silver needles noodles is served with delicious minced meat smothered on top is a specialty of Hakka noodle you need to try.
Breakfast is an important meal of the day they say. I am truly grateful for my parents who never failed to feed us like kings in the morning. Breakfast in Asia rarely involved cow's milk, pancakes, and waffle. Not back in my childhood at least. Noodles and rice are staples for breakfast. Dad would walk into the house with food he brought home from shops that have opened early in the morning. Lau shu fun was one of my very favorite breakfasts he brought home often.
WHAT IS LAU SHU FUN (老鼠粉)?
Lau Shu means rat and Fun usually refer to noodle made with starches. Lau Shu Fun is made with rice flour and has a round and short shape like a tail (I guess you know where they get the name now!)
DIFFERENT NAMES FOR LAU SHU FUN
Lau shu fun is also known as silver pin noodle, bee tai bak, loh see fun, lo cu pan in different dialects, Banh Bot Loc in Vietnamese, but they all mean the same thing.
My dad often told me that lau shu fun was Hakka's specialty. My mom is a Teo Chew and dad was a Hokkian, but they both love Hakka's cooking 🙂 I love all of them, to be honest!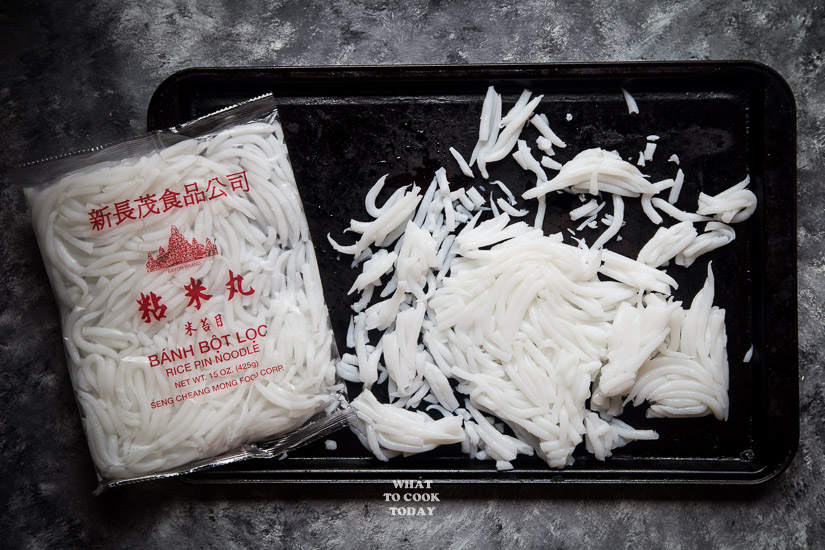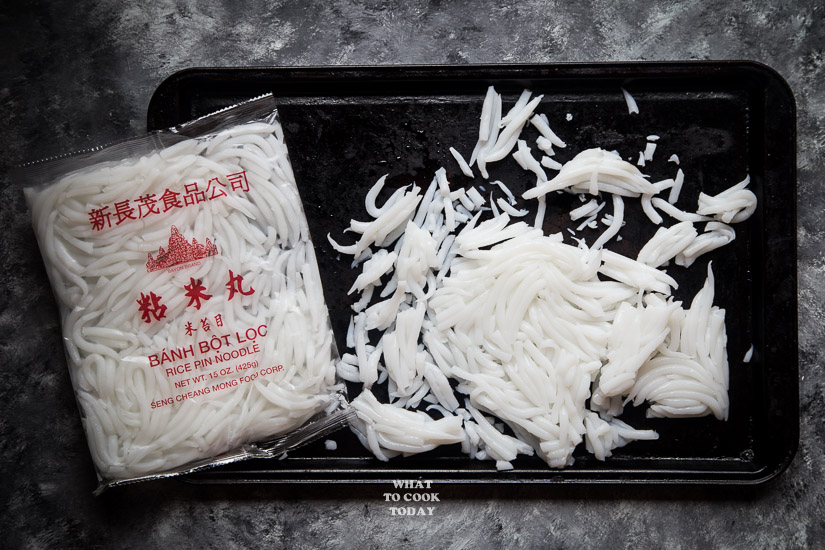 There are so many versions of how people cook lau shu fun. In Medan where I grew up, lau shu fun is not stir-fried like in Singapore and Malaysia, which is called bee tai bak/mee tai mak. It is usually served with braised ground meat, sometimes hard-boiled eggs and soup on the side. The lau shu fun my dad bought though, If I remember it correctly, the meat has a much pale color. It didn't seem like it's been braised in soy sauce. The version I made here is much darker because I braised them in soy sauce. But nevertheless, it brought back a memory of my late dad 🙂
I love slurping in this smooth, yet short noodles!

Did you make this Hakka minced meat lau shu fun recipe?
I love it when you guys snap a photo and tag to show me what you've made 🙂 Simply tag me @WhatToCookToday #WhatToCookToday on Instagram and I'll be sure to stop by and take a peek for real!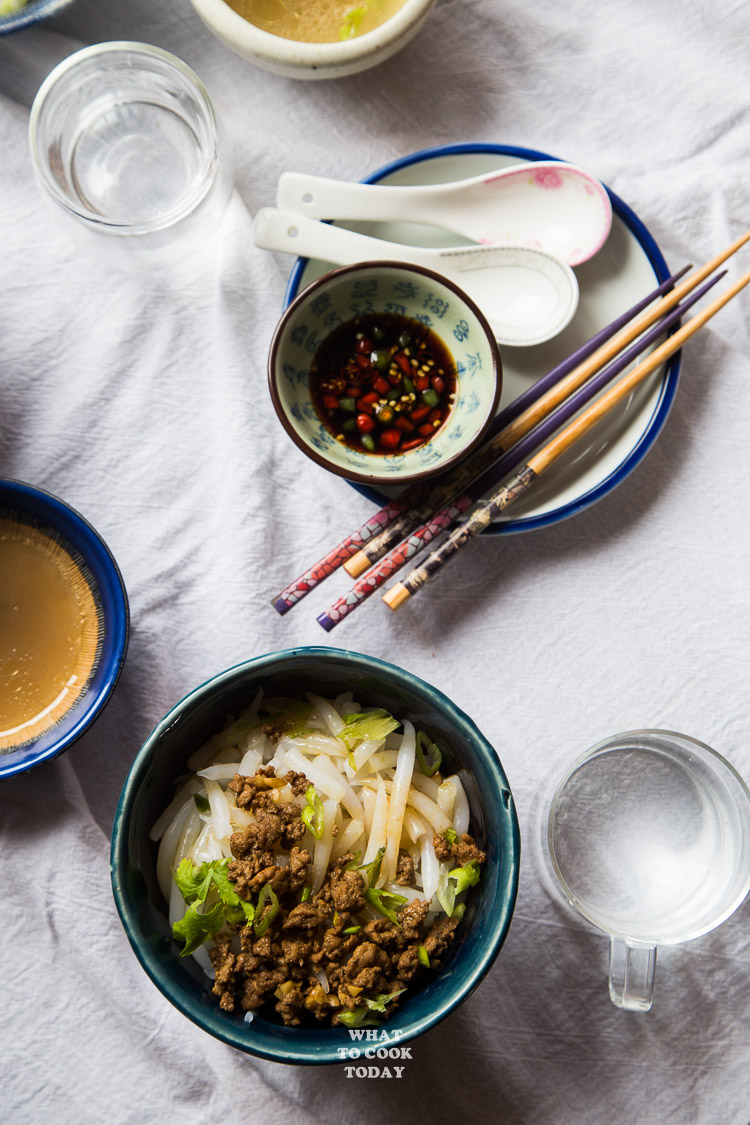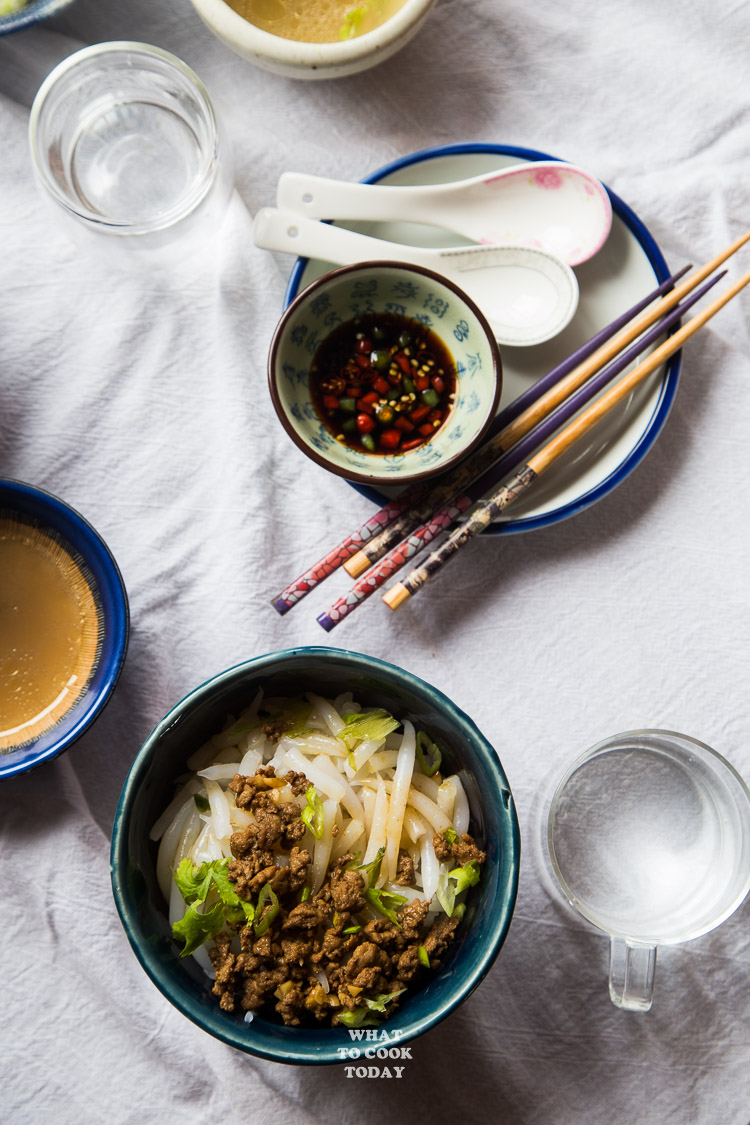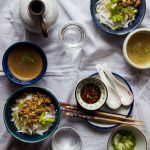 Hakka Minced Meat Lau Shu Fun / Loh Shi Fun
Ingredients
1

lb

Lau shu fun noodle

2

Tbsp

cooking oil

3

cloves

garlic

(peeled and finely minced)
Simple soup:
4

cups

chicken stock

Salt to taste

Pinch of sugar
Garnishes:
1

stalk

green onion

(finely chopped)

Small bunch of cilantro leaves

Crispy fried shallots
Instructions
Marinate the meat for 15 minutes while you prepare other things. Put ingredients for the simple soup in a saucepan and bring to a boil. Have a taste and season to your preference

Bring a large pot of water to a boil. Blanch the Lau Shu Fun noodle in a boiling hot noodle briefly until it turns soft and lightly translucent. Refresh with cold water. Remove and portion them into the bowls

Preheat oil in a wok/skillet. Saute garlic until fragrant. Add the pork and break the clumps as you stir fry. Cook until the pork starts to turn color. Add seasonings and let the meat braise for about 10 minutes or until the liquid slightly reduced and thickened

Portion the meat mixture with some gravy over the noodle. Garnish with green onions and crispy shallots. Serve with the soup on the side and sprinkle some green onions on the soup