Learn how to make soft and slightly chewy steamed cassava cake made into skewers. Ongol ubi kayu/singkong is popular kueh or street food (jajanan pasar) in Indonesia, Malaysia, and Singapore.
Ongol ubi/ Kueh ubi kayu
Ongol ubi is also known as ongol singkong, literally spells childhood for me. My sister and I loved to eat kueh ubi kayu as kids. They are sold everywhere at the market. We call this type of snack as jajanan pasar (literally translated into "market buy"). Despite being a sweet snack, we don't categorize this as dessert, but as a snack.
Kueh ubi kayu is made by steaming mixture of grated cassava, coconut milk, sugar, agar agar until cooked and then rolled in grated coconut. The cake is then cut into bite-size. This is similar to what we called Cenil in Indonesia and usually, the bite-size kueh is threaded in the skewers. Kueh ubi kayu tastes almost like Bingka Ubi Kayu.
HOW TO MAKE SOFT AND SLIGHTLY CHEWY ONGOL ONGOL UBI
STEP ONE: PREPARE THE BATTER
1. Steam the grated coconut for rolling the cake with a bit of salt and then set aside
2. Mix grated cassava, coconut milk, sugar and agar agar in a mixing bowl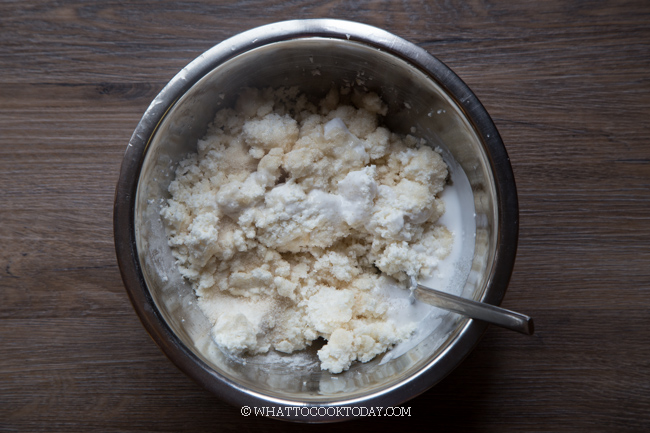 3. If you want to make different colors, separate the batter and then add few drops of food coloring of your choice and mix until the batter picks up the color


3. Transfer the colored batter to a 10×10 cm square pan or loaf pan. You can pack in all three colors in the pan and steam at the same time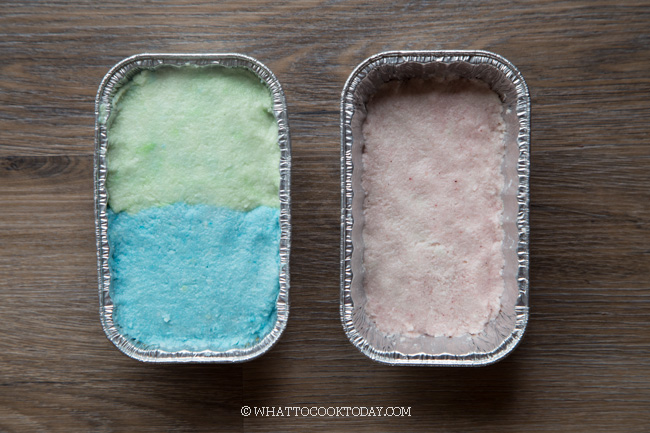 STEP TWO: STEAM THE CAKE
Bring water in the steamer to a boil. Place the pan in and steam for about 30 minutes or until the cassava cake is cooked through. Remove and let them cool down completely before cutting
STEP THREE: CUT INTO BITE SIZE
1. Once they cool down, you can easily remove the cake from the pan. The cake is pretty resilient. Just run a knife through the edge of the cake to loosen
2. Cut the cake into bite-size square pieces. Roll them in the grated coconut and skewered into bambo skewers, about 3,4,or 5 pieces per skewers. It's up to you

Of course you don't have to make them into skewers if you don't want to. They can be served as is.

I literally couldn't stop eating this humble little cake!

Kueh Ubi Kayu (Ongol Ubi) - Steamed Cassava Cake
Ingredients
450

gr

grated cassava

thaw if use frozen grated cassava

200

ml

coconut milk

125

gr

sugar

7

gr

agar agar powder

250

gr

unsweetened grated coconut

¼

tsp

salt

Food coloring of your choice
Natural food coloring I use:
1

Tbsp

pandan extract

1

Tbsp

bunga telang extract

½

tsp

red yeast rice powder + 1 tsp water
Instructions
Prepare bunga telang extract:
I made a pretty concentrated one. Scoop about 2 Tbsp dried bunga telang and mix with 1 Tbsp hot water. Let them steep for about 10 minutes. Use the back of the spoon to press the flower. Squeeze out liquid from the flower and discard the flower, now you can use the extract to color the cenil

Steam the grated coconut:
Place the unsweetened grated coconut in a bowl with salt. Stir to mix. Steam for 5 minutes over high heat . Remove and let it cool down
Prepare the cake batter:
Mix the cassava, coconut milk, sugar, and agar agar powder in the mixing bowl. Stir to mix

If you want to make different colors, separate the thick batter into different balls, in my case 3 large balls for 3 different colors. Mix the natural food color with each batter or if you use artificial food coloring, add few drops of food coloring in each one and stir to mix in the color

Transfer the colored batter to a 10x10 cm square pan or loaf pan. You can pack in all three colors in the pan and steam at the same time
Steam the cake:
Bring water in the steamer to a boil. Place the pan in and steam for about 30 minutes or until the cassava cake is cooked through. Remove and let them cool down completely before cutting
Thread into skewers: (optional)
Once they cooldown, you can easily remove the cake from the pan. The cake is pretty resilient. Just run a knife through the edge of the cake to loosen

Cut the cake into bite-size square pieces. Roll them in the grated coconut and skewered into bambo skewers, about 3,4,or 5 pieces per skewers. It's up to you