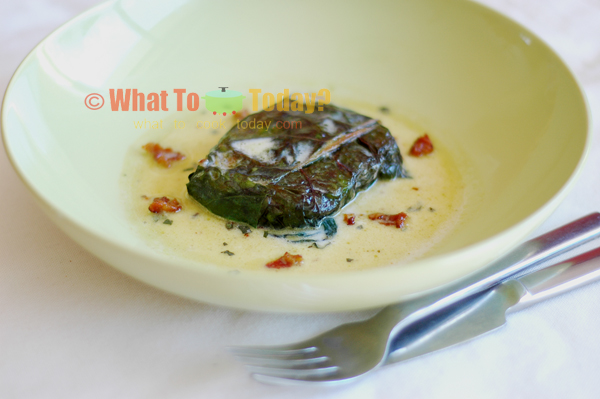 Capuns is a traditional Swiss dish from Graubunden canton in Switzerland. As described in the title it is pretty much a meat incorporated in a spatzli batter (type of soft egg noodles found in Switzerland and other parts of Europe) wrapped in Swiss chard leaves and then cooked in butter and gently simmered in cream and stock. Sounds pretty yummy isn't it ? It is yummy. It's like eating your noodles with meat wrapped in vegetables and then that crispy bacon gives it a nice contrast in texture. If I need to sound off any complaint at all, it will be working with the chard leaves. Well, it wasn't difficult. I'm not a very gentle kind to be honest, so, some got torn. Other than that, it is pretty straight forward. Another recipe from A Taste Of Switzerland by Sue Style.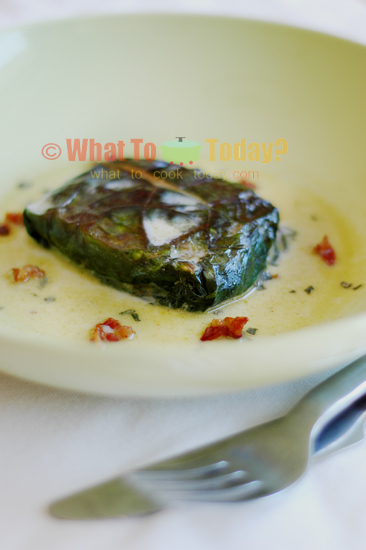 **The recipe is written in Metric and sometimes I include U.S. Measurements**
Please weigh ingredients with a digital kitchen scale instead of using measuring cups as they are not very accurate especially when it comes to recipe that requires precision.
INGREDIENTS
1 1/2

cups

flour

Salt and pepper

2

eggs

3 1/2

fl oz milk

Plenty of chives

-

parsley and basil

1

shallot

3 1/2

oz

salsiz or salami

About 20 chard leaves

2

Tbsp

butter

5

fl oz stock

5

fl oz cream

2

oz

bacon

-

cubed

Grated parmesan cheese
INSTRUCTIONS
Mix together to a smooth batter the flour, 1/2 tsp salt, the eggs and milk. Rest the batter for about 30 minutes

Chop the herbs and shallot finely and add them to the batter. Finely dice the sausage and add also. Blanch the chard in boiling sated water until limp. Drain and lay them on a tea-towel

Divide the sausage mixture between the leaves and roll up carefully. Toss the packages in hot butter in a large frying pan, turning several times. Pour over the stock and cream, season to taste, cover and simmer gently for about 15 minutes

Toss the bacon cubes in a heavy pan until golden brown. Lift out, sprinkle them over the capuns and serve with grated cheese