Chicken with Paprika-sour cream sauce or Paprikahuhner is a national dish of German. This famous dish came to Germany via Hungary and Austria.
The specialty of this dish is on its sauce which is basically build on sour cream, sweet paprika, onion, flour and what else if it's not butter 🙂 Can you already imagine the creaminess ?
Another great chicken recipe to add to my archive here. Chicken is so commonly used and sometimes it may get boring. With a little different sauce, it totally transforms this dish, not to mention how easy and quickly you can whip up this dish. This is definitely a keeper for us. Another great recipe from The German Cookbook by Mimi Sheraton. This is the last recipe I tried from Germany, but I'll be back for more…if I can find those brains and tongues lol!!
CHICKEN WITH PAPRIKA-SOUR CREAM SAUCE/PAPRIKAHUHNER (4 – 6 servings)
2 chickens, broilers or fryers
Salt
1/2 cup butter
1 large onion, minced
1 Tbsp sweet paprika
2 cups chicken broth
1 Tbsp flour
1 cup sour cream
COOKING METHOD:
1. Cut chickens into serving pieces and dry thoroughly with a paper towel. Sprinkle lightly on all sides with salt
2. Heat butter in a large, deep skillet that has a cover. When butter is hot and bubbling, add onion and saute slowly until very soft but just pale yellow in color. DO NOT LET THE ONION BROWN or it will ruin the delicate flavor of sauce. If they do brown, throw them out and start over
3. Add chicken pieces and saute slowly, turning frequently so they become bright yellow on all sides. Do not let them brown. Sprinkle with paprika and stir through onions and chicken until all pieces are coated. Saute 3 or 4 minutes more. Add broth, bring to a boil, and cover, reduce heat and simmer until chicken is done, about 30 to 35 minutes
4. Check during cooking to see if more stock is needed in pan. When chicken is done, remove to a heated patter. Blend flour into sour cream and stir into sauce until smoothly thickened. Return chicken to pan, bring sauce to boil and reduce to slow simmer 5 to 10 minutes. Check for seasoning and serve with cooked noodles or Spatzle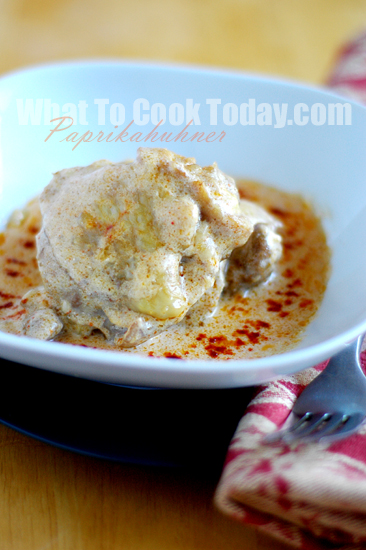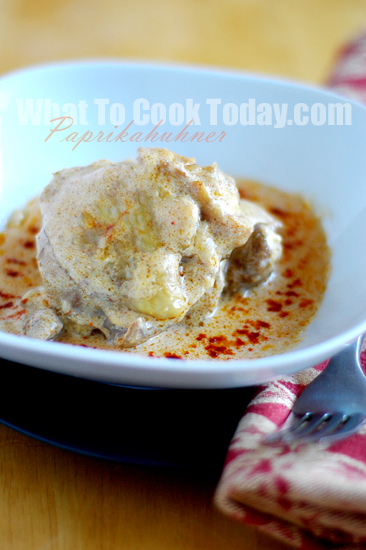 I have leftover on the sauce and I whipped up another dish- Spaghetti With Paprika-Sour Cream Sauce and Crispy Fish, using that sauce and it was impressive 🙂