This tutorial is to show you how to make Chinese potato starch noodles from scratch with only 2 ingredients. The noodles are naturally gluten-free.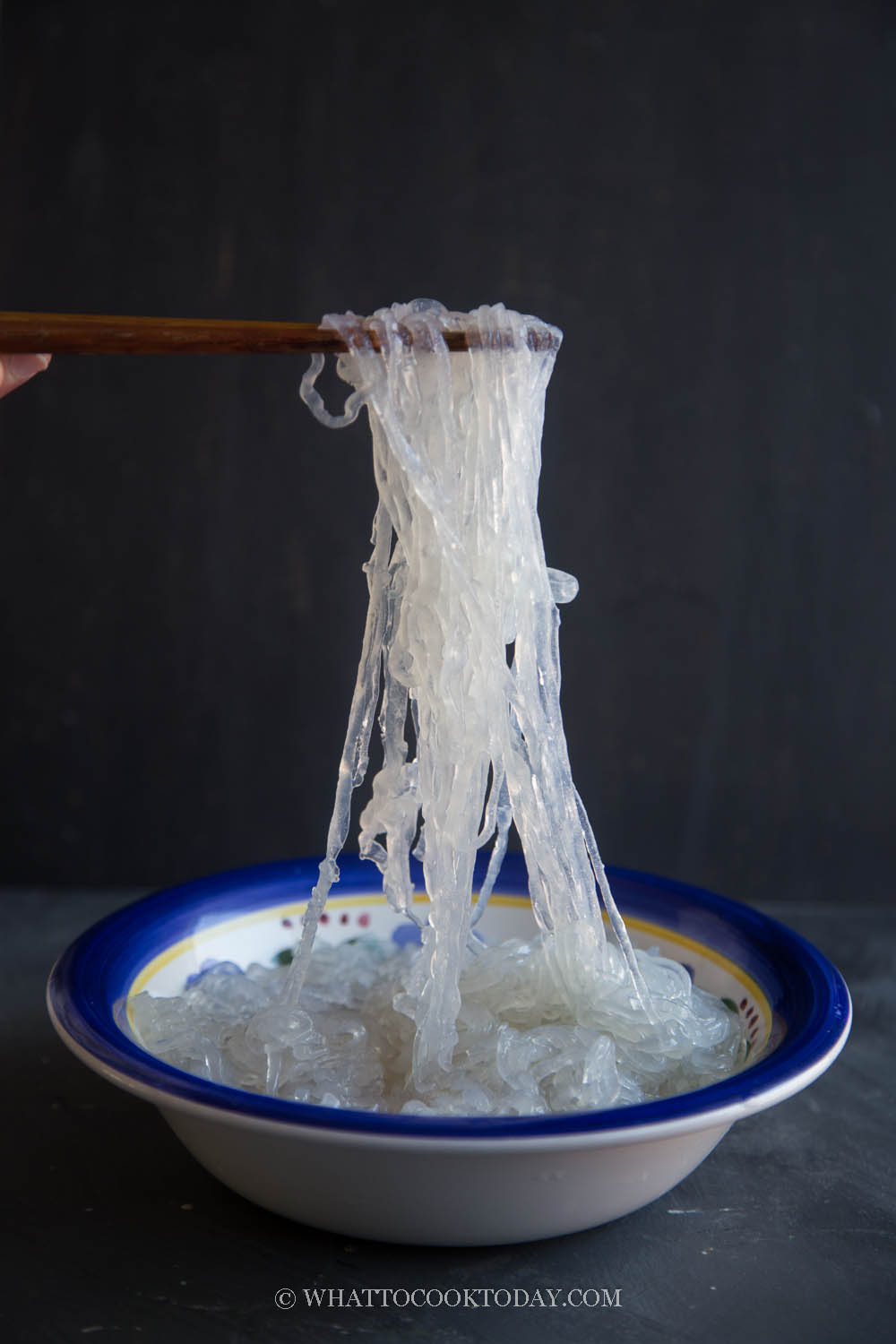 Chinese potato or sweet potato starch noodles are incredibly easy to make with only 2 ingredients. They are one of the popular noodles in the Chinese kitchen. The noodles are naturally gluten-free and has a chewy and bouncy texture.
Ingredients to make suan la fen noodles from scratch
You only need two ingredients to make the noodles from scratch and it's naturally gluten-free too.
1. Potato starch
I use potato starch (NOT potato flour) for this recipe. You will see some recipes using sweet potato starch, also known as di gua fen (地瓜粉). It works too but the texture is different. I prefer the one made with potato starch
Another substitute you can use is cornstarch, this will be my last resort. You can see from the photo below that noodles made with cornstarch (on the left) aren't as translucent. The texture comes out a bit more starchy too. The ones made with potato starch are translucent and has a nice chewy and bouncy texture.
2. Water
You will need hot boiling water and room-temperature water for this recipe
How to make Chinese potato/sweet potato noodles from scratch
1. Bring a large pot of water to a boil. Mix the 100 gr of potato starch with 100 ml of water. It's kinda difficult to stir the start at first, but it will happen. Use a whisk may work better too.


2. Then pour in 100 ml of hot boiling water (make sure it's really hot boiling). This is to help gelatinize the starch, making it flexible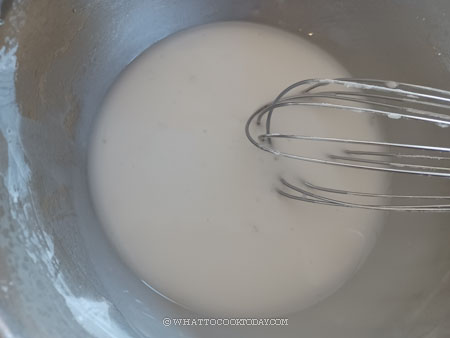 3. Add in the rest of 120 gr of potato starch and whisk to combine.


4. You will get a thick gooey paste consistency. It shouldn't be too thick that you can't pipe the batter in one continuous motion, but not too runny that the noodles will disintegrate when you boil it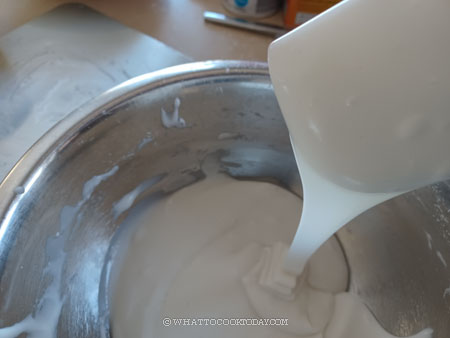 5. Add the rest of the potato starch and stir to combine


6. Transfer this into a very sturdy large piping bag or double bag a plastic bag and snip off the tip to create a hole about probably 2 mm in diameter.  When the water is boiling, lower the heat to medium and start piping the noodles in one continuous circular motion. You don't want the water to boil vigorously as it may break the noodles.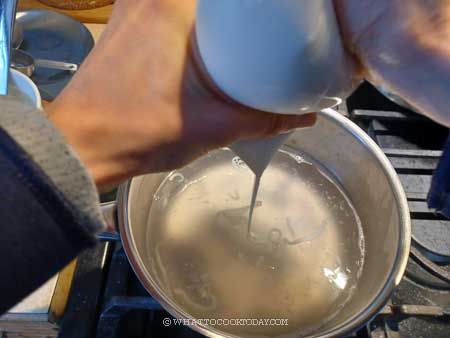 7. Cook for about 30 seconds or until it floats. Then transfer to a bowl of cold water and swish it a bit to rinse the excess starch off then drain off the water and set the noodles aside and they are ready to be used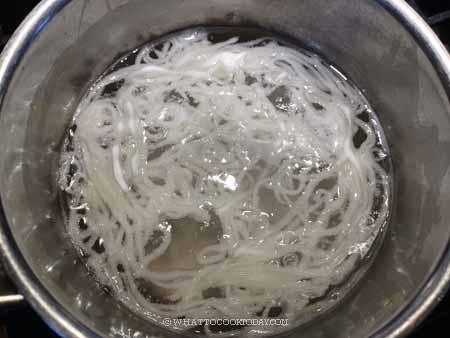 8. Then transfer to a bowl of cold water and then drain off the water and set the noodles aside

What to use potato starch noodles for
They can be used for noodle soups such as suan la fen tang, stir-fry such as this Korean japchae, noodle salad such as this Din Tai Fung seaweed beancurd salad, or just tossed with sauce of your choice.
How to store cooked potato starch noodles
1. The cooked noodles can be kept in the fridge for about 2-3 days in an air-tight container
2. When ready to serve, simply pour a hot broth over the suan la sauce and then pour this over the noodles. The heat from the soup will warm up the noodles
Did you make this potato starch noodles recipe?
I love it when you guys snap a photo and tag to show me what you've made 🙂 Simply tag me @WhatToCookToday #WhatToCookToday on Instagram and I'll be sure to stop by and take a peek for real!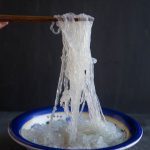 How To Make Chinese Potato/Sweet Potato Starch Noodles
Instructions
Bring a large pot of water to a boil to cook the noodles later. Mix the 100 gr of potato starch with 100 ml of water. It's kinda difficult to stir at first, but it will happen. Use a whisk may work better too. Then pour in 100 ml of hot boiling water (make sure it's really hot boiling). This is to help gelatinize the starch, making it flexible. Add in the rest of 120 gr of potato starch and whisk to combine. You will get a thick gooey paste consistency. When you lift the batter up with a spatula, it will flow down slowly and steadily. It shouldn't be too thick that you can't pipe the batter in one continuous motion, but not too runny that the noodles will disintegrate when you boil it

Transfer this into a very sturdy large piping bag or double bag a plastic bag and snip off the tip to create a hole about probably 2 mm in diameter.  When the water is boiling, lower the heat to medium and start piping the noodles in one continuous circular motion. You don't want the water to boil vigorously as it may break the noodles.

Bring a large bowl of cold water near you. This is to rinse the noodles after cooking to get rid of excess starch. When the water is boiling, lower the heat to medium and start piping the noodles in one continuous circular motion. You don't want the water to boil vigorously as it may break the noodles. Cook for about 30 seconds or until it floats. Then transfer to a bowl of cold water and swish it a bit to rinse the excess starch off then drain off the water and set the noodles aside and they are ready to be used
How to store:
You can keep the noodles in an air-tight container for up to 2 or 3 days maximum. They start to get watery after that. You can't freeze the noodles as it changes the texture. So don't make a big batch
Recommended products: