Super easy and refreshing appetizer inspired by Din Tai Fung restaurant also known as Oriental salad. Glass noodles, seaweed, bean curd, and beansprouts are tossed in Chinese-style vinegar dressing.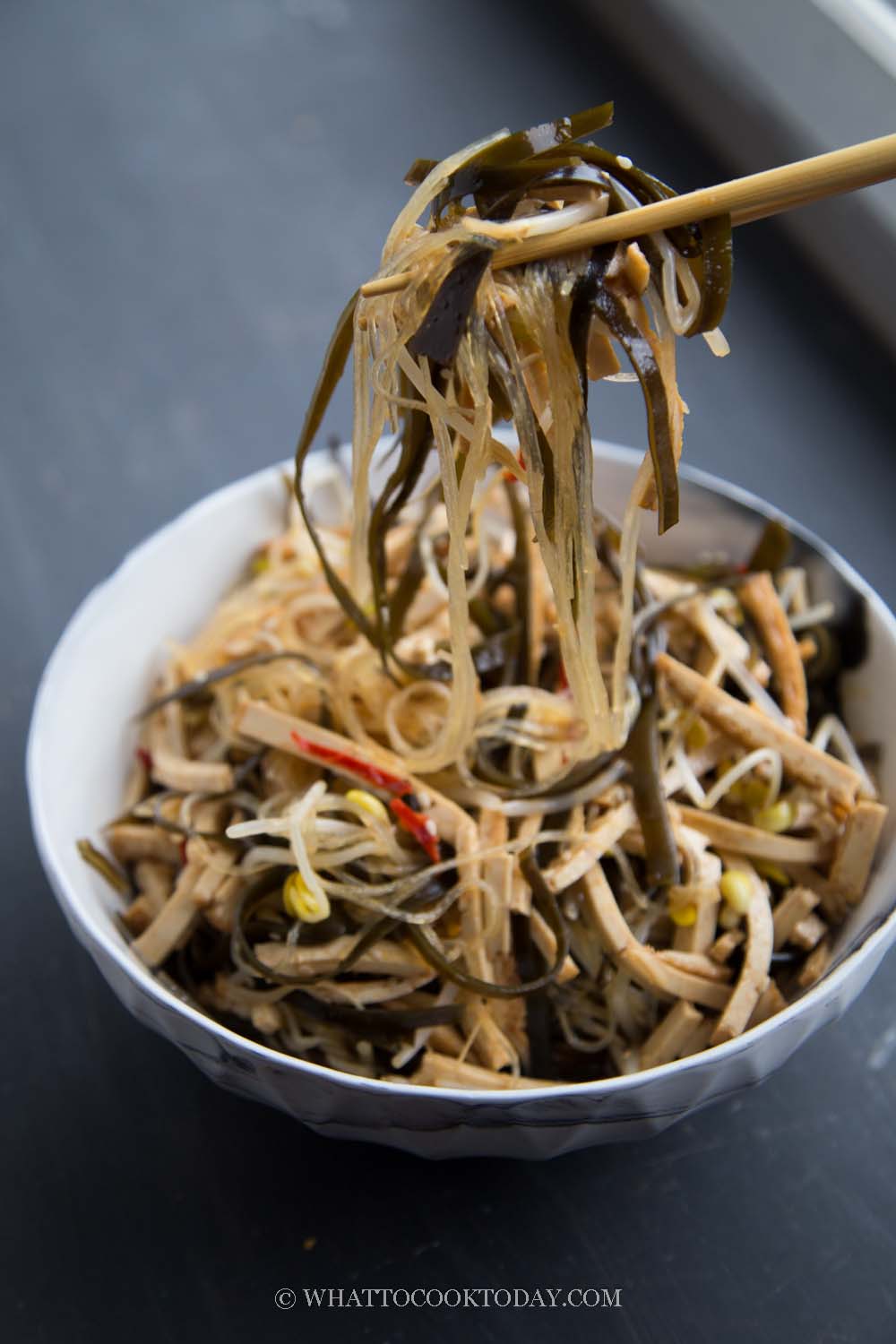 This is one of my favorite summer time salad. Well, I don't make it only in the summer, but as the weather heats up, I found this seaweed and bean curd salad very refreshing when you chilled it in the fridge before serving. Some of you may have heard of Din Tai Fung restaurant. This Taiwanese-based restaurant has branches world-wide and known for its many iconic dishes. They are very well-known for its paper-thin xiao long bao (soup dumplings). I've only made two so far 🙂 This and the Din Tai Fung Shrimp and Egg Fried Rice. I have attempted xiao long bao several times, but still need lots of work of improvements lol!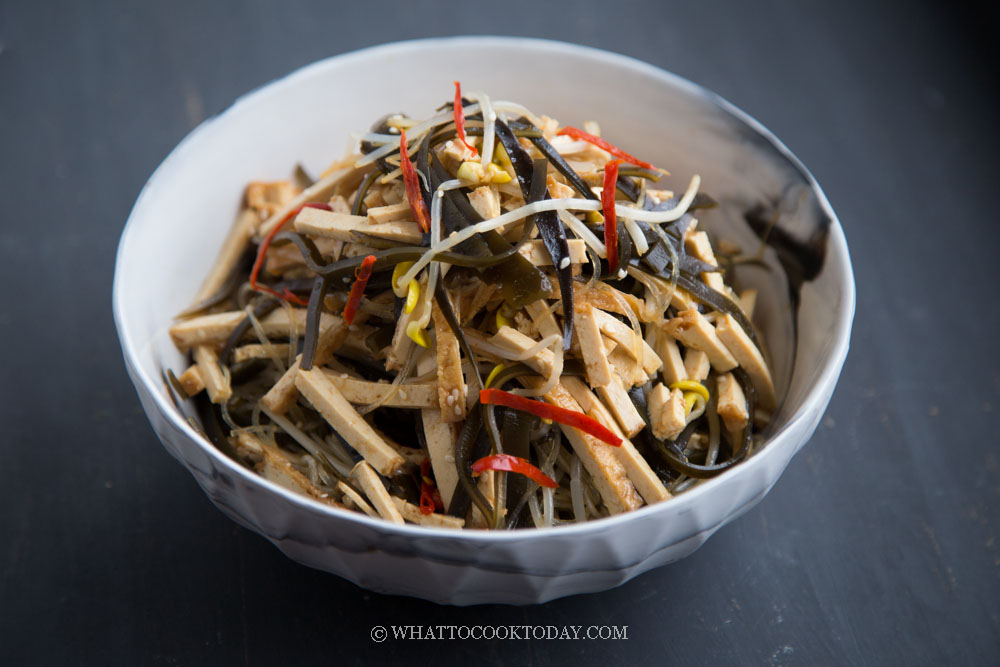 This salad is easy to put together and you can found the ingredients at any Asian grocery stores.
1. Dried kombu (kelp)
This can be found at any Japanese grocery store or any Asian stores in general. It is similar to what the Chinese calls Haidai
2. Spiced bean curd
I used store-bought tofu cutlet, which is very similar to spiced bean curd. You can use fried tofu puff too
3. Mung bean thread noodles (glass noodles)
Don't be mistaken with rice vermicelli noodles, which is made with rice flour. Mung bean thread noodles, as its name suggests, are made with mung beans
4. Soy bean sprouts
Use fresh bean sprouts. There are canned bean sprouts or pickled bean sprouts, but I won't suggest using that as they won't give the same crunch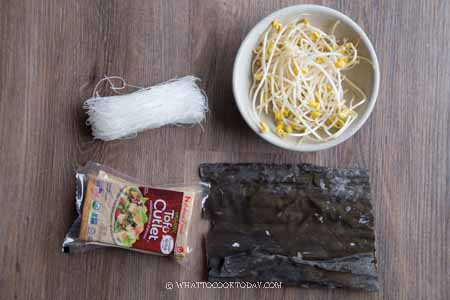 How to easily make Din Tai Fung oriental salad
1. Soak the mung bean thread noodles in water for 5 minutes or until softened. Cut the spiced bean curds into thin strips
Bring a medium pot of water to a boil. Add mung bean thread noodles and blanch for about half to 1 minute and then remove and refresh with cold water. Blanch the beansprouts for about 30 seconds or so and then remove and refresh with cold water. Do the same thing with the bean curd strips. Blanch in boiling water for half a minute. Remove and refresh with cold water. Put them all in a large mixing bowl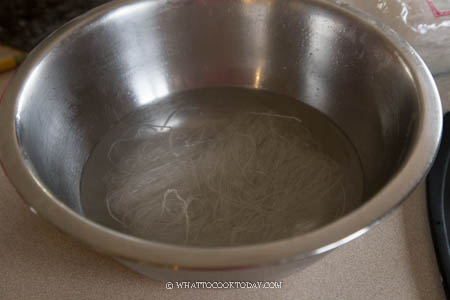 2. Dump out the blanching water and give the pot a quick rinse. Place kombu in the pot. Cover with water and bring to boil and then lower the heat to simmer for about 10-15 minutes or until kombu is soft but not mushy. Remove and refresh with cold water and cut into thin strips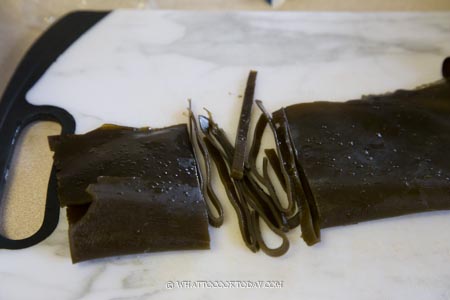 3. Add the kombu strips into the bowl.


4. Prepare the dressing by combining all the dressing ingredients and whisk to mix. Have a taste and adjust to your preference. It should be savory, tangy, and slightly spicy


5. Pour this dressing over the salad and give it a toss to make sure all ingredients are coated with the dressing. Cover and keep it chilled in the fridge for 20-30 minutes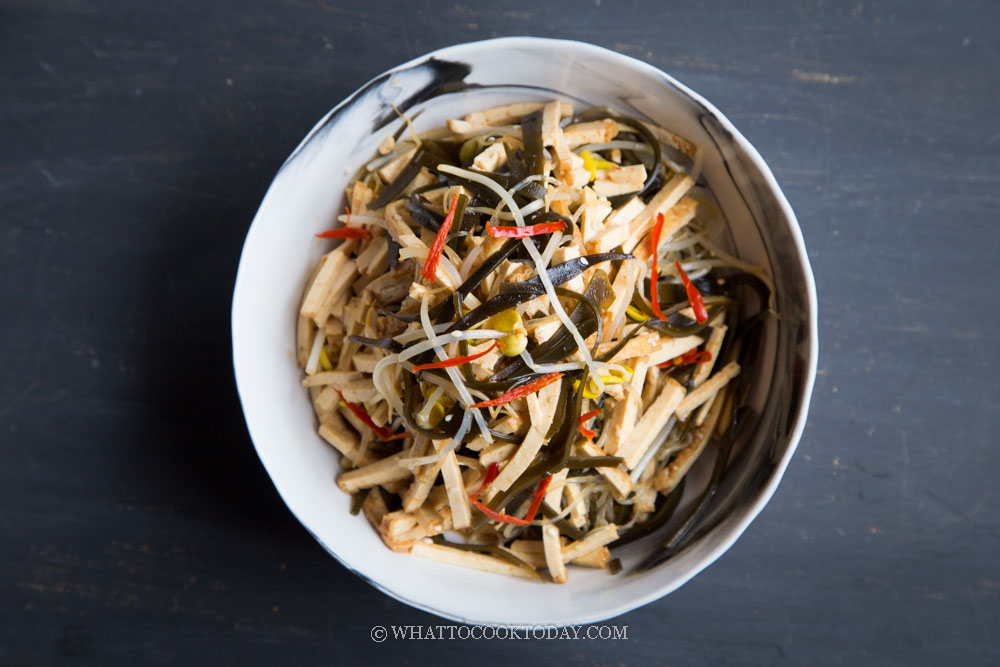 How to store leftover
Leftover can be kept in the refrigerator for about 3 days
Did you make this Din Tai Fung Seaweed and Bean Curd Salad recipe?
I love it when you guys snap a photo and tag to show me what you've made 🙂 Simply tag me @WhatToCookToday #WhatToCookToday on Instagram and I'll be sure to stop by and take a peek for real!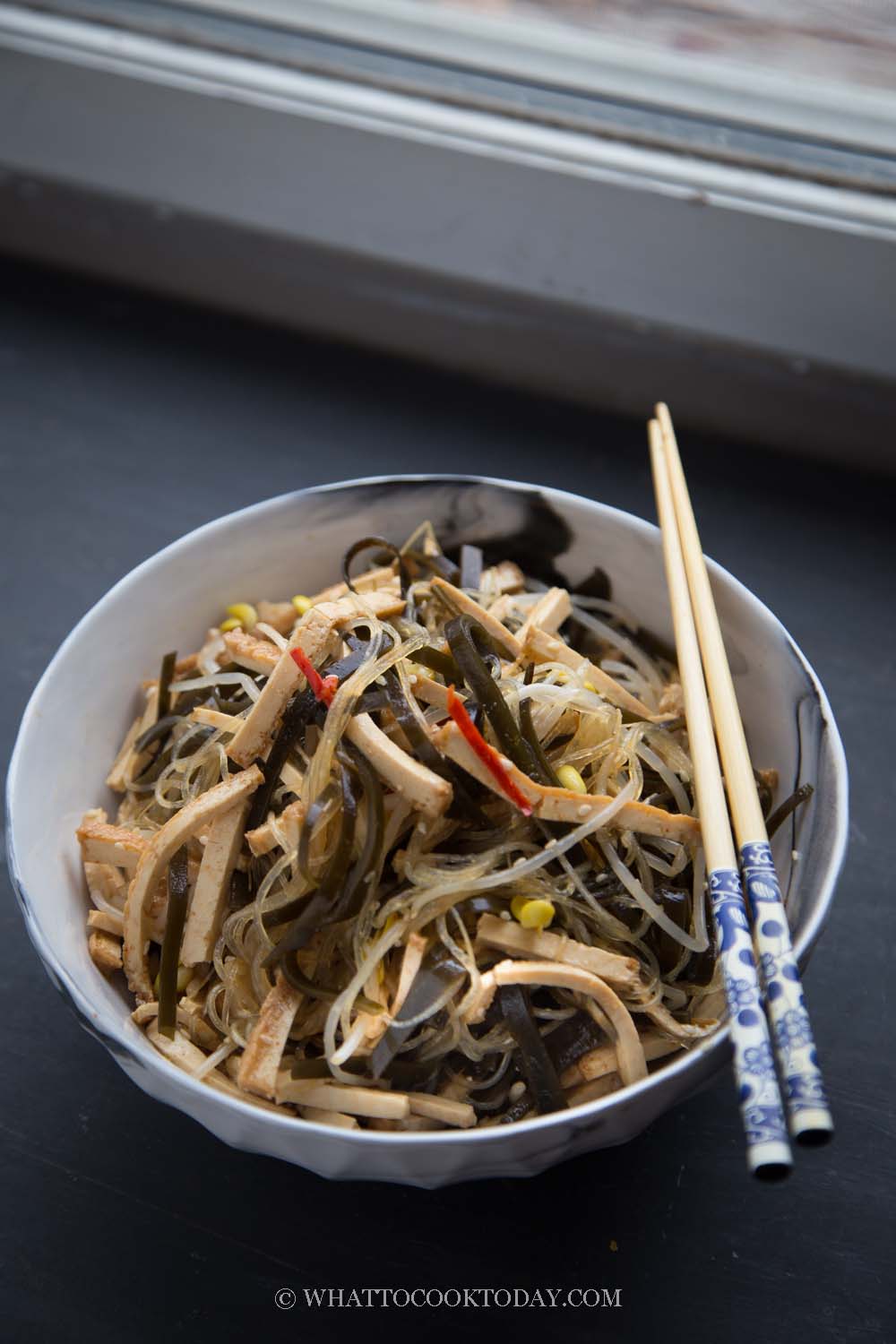 You may also like these salads
Din Tai Fung-inspired Seaweed and Bean curd Salad in Vinegar Dressing
Ingredients
5

gr

Japanese kombu

40

gr

beanthread noodles

(tang hoon)

120

gr

spiced bean curd

50

gr

mung bean sprouts
Optional:
1

red

jalapeno pepper

or any red chili
Instructions
Blanching ingredients:
Soak the mung bean thread noodles in water for 5 minutes or until softened. Cut the spiced bean curds into thin strips. If using the red jalapeno, cut them into half, remove the seeds and cut into thin strips. I added this for visual contrast, that's all

Bring a medium pot of water to a boil. Add mung bean thread noodles and blanch for about half to 1 minute and then remove and refresh with cold water. Blanch the beansprouts for about 30 seconds or so and then remove and refresh with cold water. Do the same thing with the bean curd strips. Blanch in boiling water for half a minute. Remove and refresh with cold water. Put them all in a serving platter
Prepare the kombu:
Dump out the blanching water and give the pot a quick rinse. Place kombu in the pot. Cover with water and bring to boil and then lower the heat to simmer for about 10-15 minutes or until kombu is soft but not mushy. Remove and refresh with cold water and cut into thin strips. You can save the liquid as a dashi for other Japanese dishes
Putting everything together:
Add the kombu strips into the serving platter. Prepare the dressing by combining all the dressing ingredients and whisk to mix. Have a taste and adjust to your preference. It should be savory, tangy, and slightly spicy

Pour this dressing over the salad and give it a toss to make sure all ingredients are coated with the dressing. Cover and keep it chilled in the fridge for 20-30 minutes
Recommended products:
Nutrition
Serving:
1
serving
|
Calories:
178
kcal
|
Carbohydrates:
14
g
|
Protein:
5
g
|
Fat:
12
g
|
Saturated Fat:
2
g
|
Sodium:
760
mg
|
Potassium:
50
mg
|
Fiber:
1
g
|
Sugar:
4
g
|
Vitamin A:
7
IU
|
Vitamin C:
2
mg
|
Calcium:
47
mg
|
Iron:
1
mg