Succulent pieces of shrimp and scrambled eggs with very simple seasonings made this din tai fung inspired shrimp and egg fried rice so delicious. Simplicity at its best. It is one of our family's favorite fried rice dishes. A video tutorial is available.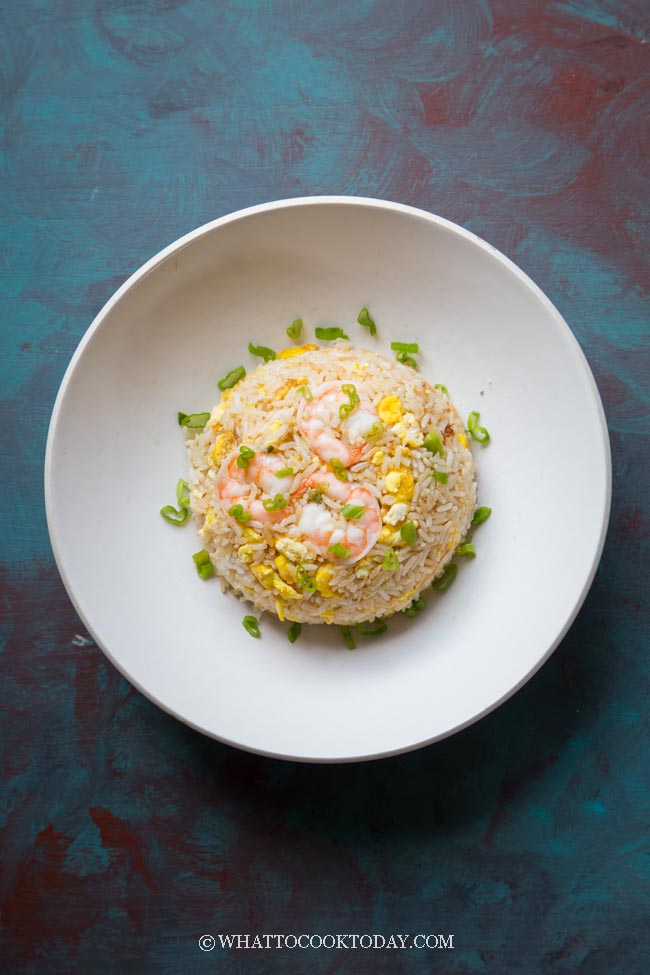 Din Tai Fung is one of my favorite restaurants I often visited with my sister almost every weekend. Their soup dumplings (xiao long bao), shrimp and egg fried rice, noodles with minced pork sauce were the three that we must have every time we went there. How I've been missing Din Tai Fung and there is no Din Tai Fung near us here *sob*.
Sooo..the best thing I can do is at least make the shrimp fried rice LOL! After all, it is one of their signature dishes. Let's get to that shall we, but first, let's talk ingredients! You only need a few, but there are a few things you want to take notes on!
INGREDIENTS
1. Rice
Din Tai Fung uses premium sushi-grade Nishiki rice. It's short-grain rice. Most fried rice I have made usually uses medium or long-grain rice. In this post I used Jasmine rice and in the video, I used sushi rice
2. Shrimp
I use large shrimp. Don't use precooked shrimp as they aren't going to taste nice
3. Baking soda
The baking soda is used to make the shrimp "crunchy"
4. Eggs
I use regular large grade AA chicken eggs. Don't beat the eggs before you cook them
5. Green Onion
Green onion is used as a garnish like in many Asian dishes
6. Salt
At Din Tai Fung website, I saw that they mentioned they use just a touch of salt as seasonings
7. Chicken powder
The addition of chicken powder will kick up the taste. You can opt out if you don't want to
8. Oil
I used neutral-tasting oil like avocado oil or grapeseeds oil, or other oil of your choice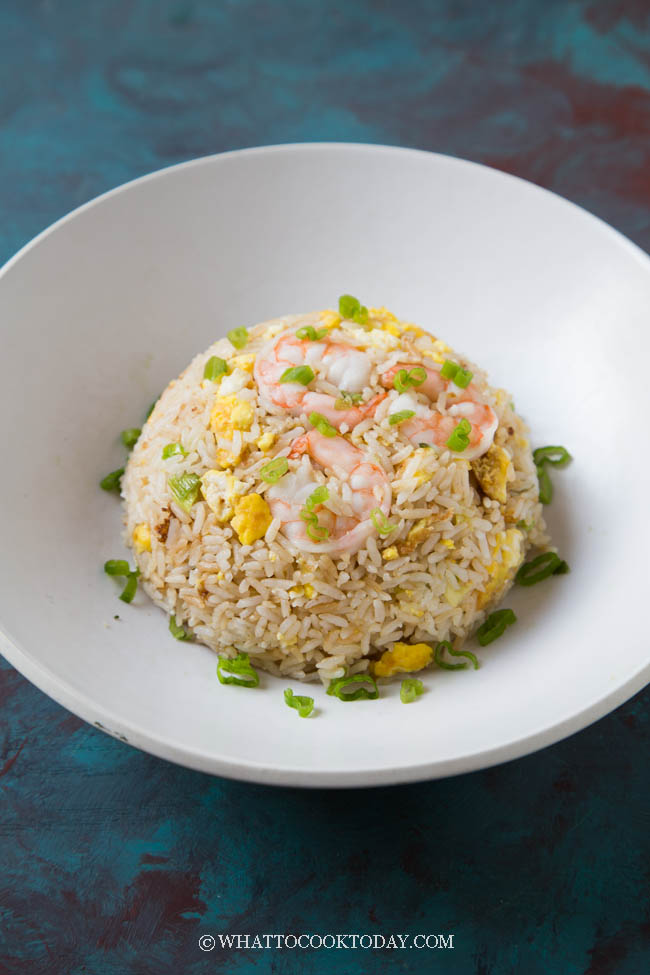 HOW TO MAKE REALLY GOOD DIN TAI FUNG SHRIMP FRIED RICE
1. Soak the shrimp in baking soda + sugar + ice water for 30 minutes. This is to make the shrimp crunchy. Drain off water and pat them dry with an absorbent paper towel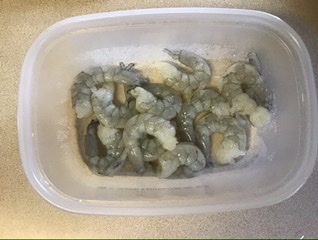 2. Preheat your wok over high heat. Add 1 Tbsp of oil. Add shrimp and stir fry until they just started to turn pink. Remove from the wok


3. Add the rest of the oil into the wok. Crack in eggs


4. Scramble for about 10 seconds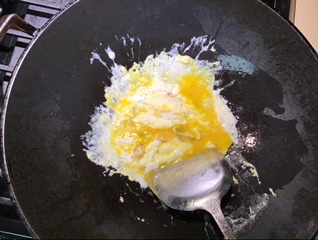 5. Add rice and stir to break up any lumps and make sure the rice grains are coated with the eggs. Add  salt, chicken powder, and ground white pepper and continue to stir fry until the rice grains are really dry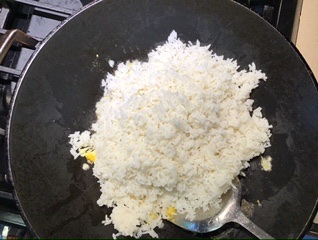 6. Add the shrimp back in followed by some chopped green onion. Have a taste and add more salt and/or sugar as needed to suit your taste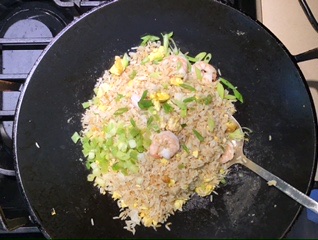 So, there you go! my Din Tai Fung-inspired shrimp and egg fried rice.

TIPS
1. Have everything ready within reach
Making fried rice is a quick business and so you want to have everything ready within your arm length 😉
2. Use leftover refrigerated rice
This will "dry up" the rice and it's perfect to make fried rice without having clumps of rice
3. Pat the shrimp dry
You don't want to stir fry wet shrimp as they will be "steaming" instead and lose that crunchiness
4. Make sure you cook on high heat
Nothing worse than stir frying on a wok that is not hot enough. The fried rice need to be stir-fried until dry. My mom says "you can see the rice grains jumping, that's a bowl of good fried rice" 🙂
DID YOU MAKE THIS DIN TAI FUNG SHRIMP AND EGG FRIED RICE RECIPE?
I love it when you guys snap a photo and tag to show me what you've made 🙂 Simply tag me @WhatToCookToday #WhatToCookToday on Instagram and I'll be sure to stop by and take a peek for real!

Easy Din Tai Fung Shrimp and Egg Fried Rice
Ingredients
To marinade the shrimp:
10

large

shrimp

shelled and deveined

½

tsp

baking soda

1

tsp

sugar

ice-cold water
Other ingredients:
4

Tbsp

cooking oil

divided

4

cups

leftover short-grain sushi rice

it's okay to use long-grain rice too

5

eggs
Instructions
Use your clean hands to separate any clumps from the rice. Leftover refrigerated rice is perfect because they are drier and easy to separate the clumps. This helps a lot when you stir fry they won't stick to each other

Put the shrimp in ice-cold water and place in the fridge for 30 minutes. This will crisp up the shrimp. Drain off water and pat the shrimp dry. Season with a small pinch of salt and ground pepper

Preheat your wok over high heat. Add 1 Tbsp of oil. Add shrimp and stir fry until they just started to turn pink. Remove from the wok

Add the rest of the oil into the wok. Crack in eggs and scramble for about 10 seconds. The eggs should be only about 50% cooked at this point. Add rice and stir to break up any lumps and make sure the rice grains are coated with the eggs. Add seasonings and continue to stir fry until the rice grains are really dry

Add the shrimp back in followed by some chopped green onion. Have a taste and add more salt and/or sugar as needed to suit your taste. Serve immediately
Recommended products:
YOU MAY ALSO LIKE THESE FRIED RICE RECIPES