Learn all the tips you need to know to make the best Thai pineapple fried rice served in a pineapple shell (or not).
We hardly ordered any fried rice when we eat out because I feel like it's something that can be easily made at home, and it's true. Once you know how to make one, you'll never order one anymore. Fried rice is always my favorite thing to whip up because it's easy and you have a meal in no time. You can pretty much throw whatever ingredients you like to include in your fried rice too.
THAI PINEAPPLE CURRY FRIED RICE WITH SHRIMP
Fried rice is common street food in Thailand (and many other Asian countries). Thai pineapple fried rice is just one of the many Thai fried rice dishes exist out there. In Thai language, Khao means rice, pad/phat measn stir fry, sapparod means pineapple. I love the savory and lightly sweet taste from the pineapple in this dish. If you use the pineapple shell as a platter, that makes quite a presentation as well.

WHAT YOU NEED TO MAKE KHAO PAD SAPPAROD
1. Day-old cooked jasmine rice
Like I've mentioned before in my other posts about Indonesian nasi goreng, the important thing in making good fried rice is the rice itself. I suggest using leftover rice and if I know I'm going to make fried rice the next day, I always cook some extra rice and I use a bit less water than I normally would, so the rice is not "wet" when you stir-fry it. For fried rice, I would cook my rice with rice:water ratio of 1:3/4.
I also highly suggest using jasmine rice because they have great flavor and the Thai loves it. In fact, that's the only white rice (besides basmati) that we eat at home on a regular basis.
2. Pineapple
I suggest using fresh pineapple if possible, but I know sometimes it's not always possible for some people for whatever reasons, which is okay! If you don't feel like messing with the whole pineapple, get the canned pineapple chunks. Drain off the juice for other use.
3. Shrimp
Definitely use fresh or frozen large uncooked shrimp.
4. Seasonings
You need soy sauce, fish sauce, shrimp paste, and curry powder. You can get soy sauce and fish sauce in your local grocery store without having to go to Asian grocery store these days. For shrimp paste though, you definitely need to get it from the Asian grocery store. You may be able to get curry powder in your local grocery store too, if not, they are always available at Asian store. I just use Indian Madras curry powder.
5. Other toppings
I used peanuts, golden raisins, and fried shallots crisp in this recipe. I've seen restaurants used cashew nuts as well. Fried shallots crisp is only available in Asian grocery store. You can always use fried onions, they aren't exactly the same, but pretty close.
If you decide to use fresh pineapple and also trying to impress someone by serving the fried rice in pineapple shell, continue to read on then 😉
PREPARE THE PINEAPPLE FOR KAO PHAD SAPPAROD
This is not the perfect way to do it, but it gets the work done!
1. Cut the pineapple in half lengthwise


2. Use a sharp knife to cut around the edge but not cutting through the pineapple, living about 1-inch from the edge


3. Cut the pineapple into large chunks


4. Use a spoon to scoop out the pineapple chunks. The middle part is the core, you can discard that


5. You will use the large chunks for the fried rice and scoop out the rest to clean out the shell


6. There will be some juice at the bottom too. Empty out the juice


7. Here you have chunks of pineapple for the fried rice and the other one you can save for other use like smoothie or just eat it 🙂


8. Optional step: Place the pineapple shells on a baking sheet lined with aluminum foil and bake at 375 F for 20 minutes. This is pretty much to make the pineapple drier

TOP TIPS YOU NEED TO KNOW TO MAKE THE BEST THAI PINEAPPLE FRIED RICE
1. Cook the shrimp first and then dish out. This will prevent overcooking the shrimp


2. Scramble the eggs next until half-cooked


3. Add chopped onion and stir fry briefly


4. Add rice followed by seasonings


5. Stir to mix everything to make sure the rice picks up the seasonings


6. Add pineapple chunks


7. Add peanuts and raisins and then stir to mix


8. Add the shrimp back and stir to mix everything. Have a taste and add more fish sauce or other seasonings to suit your taste


9. Garnish with chopped green onion and fried shallots crisp before serving

My kids got all excited seeing the fried rice being served in the pineapple shell. It's the little thing, isn't it?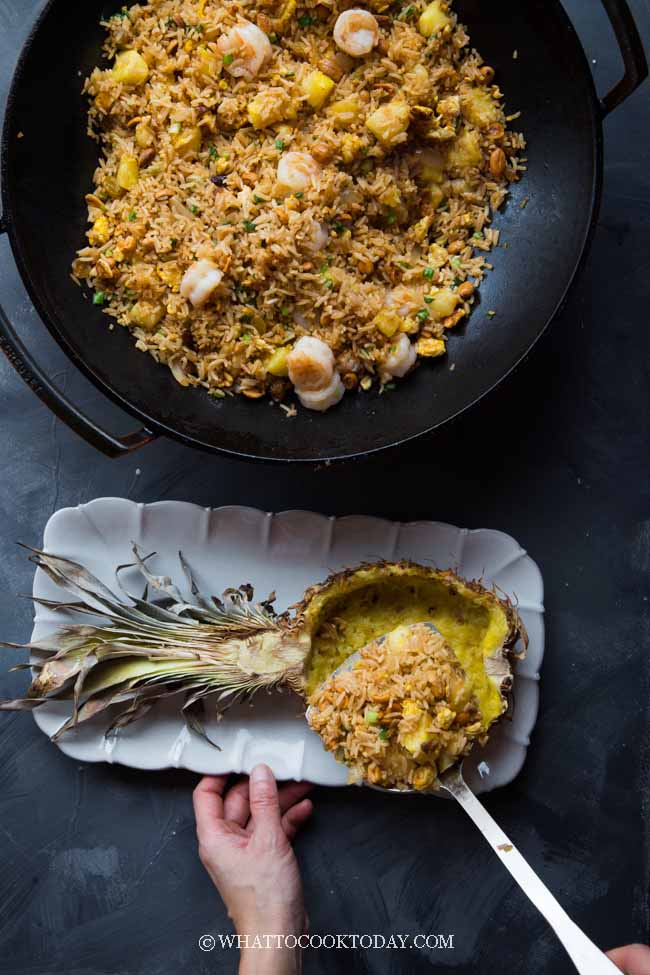 Homemade fried rice is always hands down so much better than those take-out fried rice that doesn't even taste close to how a good fried rice should be!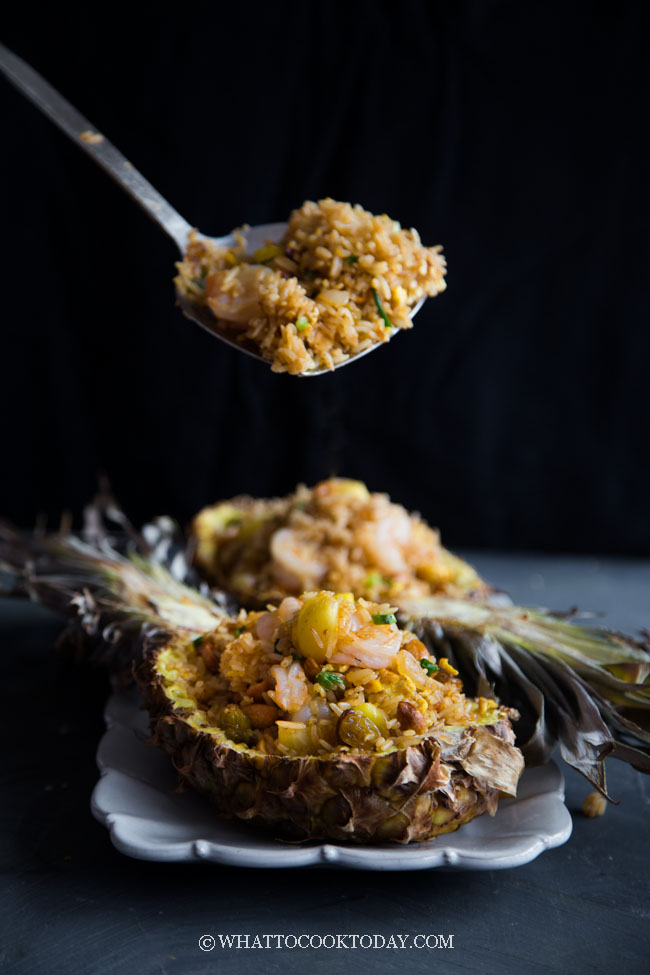 This blog post contains affiliate links. I earn a small commission when you made purchase at no extra cost to you. Learn more.
Thai Pineapple Fried Rice (Khao Pad Sapparod)
Ingredients
1

large pineapple

3

Tbsp

cooking oil

divided

4

cups

cooked jasmine rice

(best is leftover rice)

1

lb

large shrimp

(peeled and deveined)

1

large

onion

(peeled and diced)

3

large

eggs

⅓

cup

golden raisins

½

cup

roasted peanuts
Garnishes:
3

stalks

green onion

(finely chopped)

Fried shallots crisp
Instructions
Prepare the pineapple:
Cut the pineapple into half lengthwise. Scoop out the meat on each half of the pineapple. Cut the meat into 1-inch cubes. You'll only need 1 cup of the pineapple cubes (drain off extra juice). Keep the rest for other use. Empty the juice that's left on the shell and set aside to place your finished dish into the pineapple shells later

This step is totally optional. I put the pineapple shells in the oven at 350 F and bake it for 30 minutes to dry it up. I don't like to put my fried rice in a wet pineapple shell
Cooking the fried rice:
Preheat a wok or large skillet. When the wok is hot, add 1 Tbsp of oil. Add the shrimp and stir fry quickly until pink and cooked through, about 2 minutes or so. Dish out and set aside

In the same wok, add the rest of the cooking oil. Crack in the eggs and break the yolk a little bit and then let it cook for about 10 seconds without stirring. When the eggs are half cooked, add chopped onion and stir fry for another 10 seconds. Add the rice follow by seasonings. Stir fry to mix everything

Add the pineapple cubes, raisins, and roasted peanuts and stir again to mix everything. Have a taste and add more fish sauce if needed. Finally, garnish with green onion, give it one last stir and dish out into the pineapple shells. Garnish with some fried shallots crisp. Serve immediately