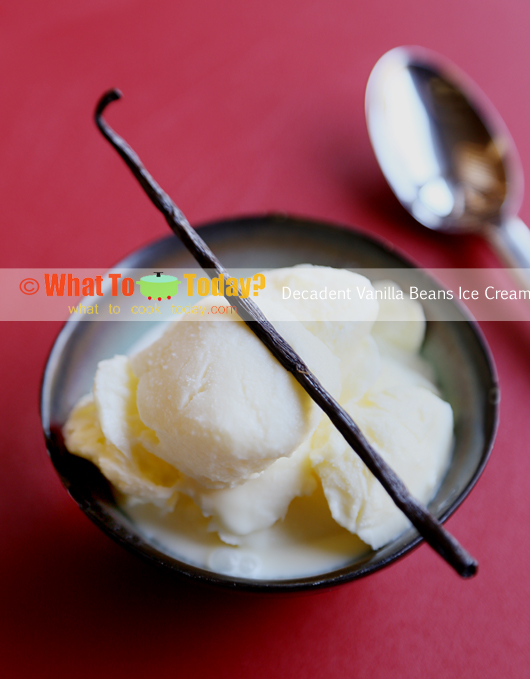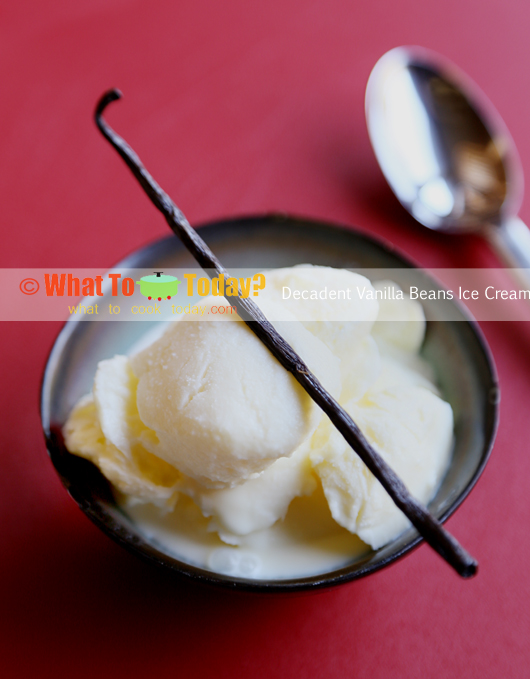 When you bring the topic of ice cream up, you can see smile on most people's faces. Even my daughter lights up the second she hears the word ice cream. Can't I blame her though ? No, I'm a big fan of ice cream myself. Really.. who doesn't ? (besides my mom lol, which I still don't understand why she doesn't like ice cream or anything sweets). I like different flavor of ice creams like chocolate, strawberry, with or without nuts, etc. But there's something about vanilla ice cream that always sounds appealing to me, especially if you make it with real vanilla beans flavor. It's ashamed that I never had real vanilla beans ice cream until recently. But once I did, I get hooked! Vanilla beans are real suckers! These little beans are packed with flavors and smell so heavenly, yet very clean tasting. It goes so well with anything you want it to as well. To me, just the vanilla beans ice cream itself is a real treat. If you want it to go with some warmed brownies, it's seriously DECADENT !! I wish you can see the little black specks of vanilla beans in the photos.
DECADENT VANILLA BEANS ICE CREAM
Ingredients
1

stalk of good quality vanilla beans

(if it's a small think stalk, use two stalks)

1 ½

cups

of half and half

1 ½

cups

of heavy cream

1

cup

of sugar

4

egg yolks
Instructions
In a medium to large pot, add in half and half along with sugar. Bring to a gentle boil and then lower the heat to simmer

While waiting for the half and half mixture to simmer, use a very sharp knife to slit the vanilla beans open in the middle. Carefully scrape all the beans out and put it into the half and half mixture. Throw the stalk of vanilla bean you just scraped in there too, there is still lots of flavor in that stalk. Let it simmer for another 10 minutes

In a mixing bowl, separate yolks from the egg whites (save the white for other use). Use a whisk to beat the egg yolks until they are smooth and light

IMPORTANT STEP: scoop out about 1/2 cup of the hot half and half mixture and VERY SLOWLY pour this into the beaten egg yolks while the other hand keep on whisking the yolks. This step is call tempering the eggs, to bring the eggs temperature higher and so when you cook them later, it won't turn into scrambled eggs in your ice cream. Once you done this. pour the egg yolk mixture back into the pot you're simmering the half and half in. Keep on stirring on low to medium heat until the mixture turn into the consistency of thick and smooth custard

Pour the heavy cream in another large mixing bowl. Once you get the thick and smooth custard consistency above, pour this mixture into the heavy cream and use rubber spatula to stir and mix everything. Cover with plastic wrap and chill this prepared ice cream mix in the refrigerator for the next 12 hours (yes...12 hours at least, but no more than 24 hours). This mixture will be poured into the ice cream machine to be churned. You need to make sure the ice cream machine bowl has been placed in the freezer for chilling for at least 24 hours too or your ice cream will not be firm and too soft. Once you've chilled the prepared ice cream mixture for at least 12 hours and the ice cream machine bowl has been freezed long enough, pour the mixture into the ice cream machine bowl and let it churned according to the instruction on your ice cream machine, mine is about 30-40 minutes

After churning, place this ice cream into a storage container to freeze further so it will be firm enough. You can have it right away too, but I find it too soft right after churning
Notes
Once you scoop the ice cream out to eat, they get soft pretty quickly, and that's normal because we don't have any preservative or other stuff in there, all the good natural stuff 😉 Remember to check your ice cream machine instruction carefully, most of the time the ice cream doesn't firm up properly because the ice cream machine's bowl isn't chilled enough.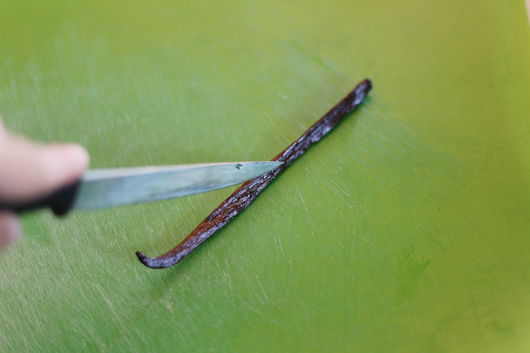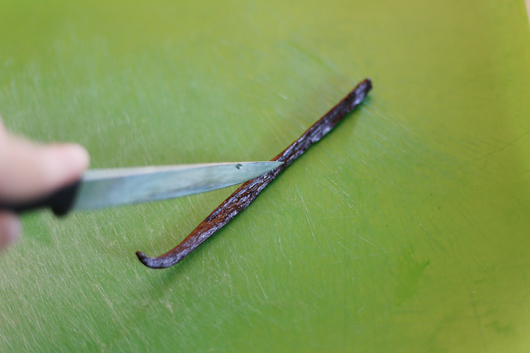 Seeing all the black specks swimming in the ice cream mixture being simmered, just made me so happy 🙂

Time to dig in and get lost in it 🙂