Flavorful rice are cooked with pumpkin, chicken, mushrooms, and Asian seasonings are easy and satisfying dish. The recipe can be made with Instant pot, rice cooker, or on the stove.

This Chinese-style pumpkin rice is one of my favorite one-pot dish (when you use pressure cooker to cook it or cooking it on the stove). I Hokkian, we like to call this as Kiam Peng/Kiam Png, which literally means "salty/savory rice". Usually rice, meat, veggies, and seasoning are all cooked in one pot for kiam peng.
The pumpkin rice can be served as an entrée or as a side dish (simply leave out the meat if you prefer). The rice is flavored with umami ingredients like dried shrimp and shiitake mushrooms.
How to cook pumpkin rice with Instant Pot
The method for cooking the pumpkin rice with Instant Pot, rice cooker, or on the stove are roughly the same. You can refer to the recipe card below for more details.
1. Cut the chicken into bite-size. Add ingredients for marinade and toss to combine. Let it marinate while you prepare other things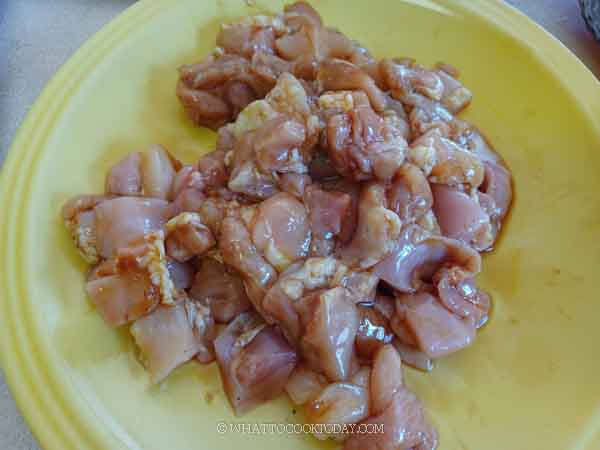 2. You can peel the pumpkin and dice into large chunks (if you use pressure cooker). I usually wash the pumpkin skin really well as I don't peel the skin and usually cook with the skin. The skin is actually quite tasty after being cooked. I love it!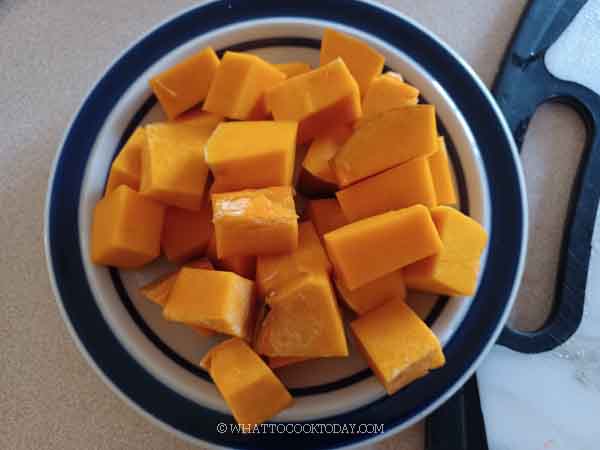 3. Press saute mode. When it's hot, add cooking oil. Saute the minced garlic for about 10 seconds


4. Add the dried shrimp and mushrooms and stir fry for another minute


5. Add the marinated chicken pieces and saute until they turn opaque but not cooked through yet


6. Add the rice followed by seasonings. Stir to mix everything. Turn off saute mode


7. Scrape the bottom of the pot to make sure nothing get stuck or it will trigger "burn" alert later. Add liquid. Stir to combine and make sure the rice are submerged in the liquid so they cook properly


8. Add the pumpkin cubes on top. Cover with the lid and turn the pressure release valve to sealing. Press "Pressure cooker" and make sure it's on high pressure. Set the timer to 1 minute. When it's done, do natural release. Let the valve collapse on its own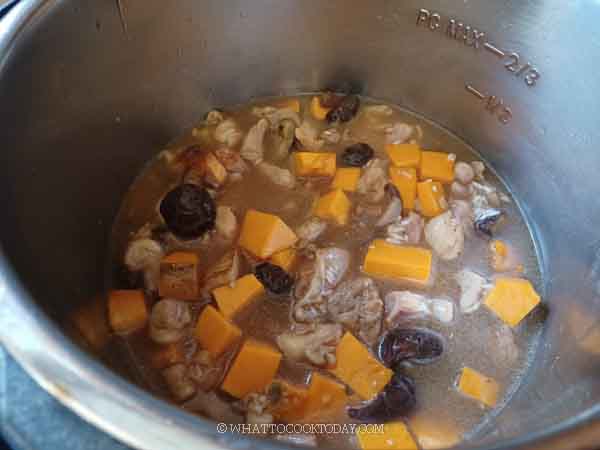 9. Carefully unlock the lid and gently fluff the rice. If you see some uncooked rice grains, don't worry, close the lid back up and they will fluff while you use the "keep warm" function. Have a taste and adjust seasonings to your preference

Tips
1. Don't cut the pumpkin cubes too small especially if you are cooking with a pressure cooker
I like to be able to still see some of the cubes instead of just mushy pumpkin mixed with the rice
2. I usually use a rice cup (the cup that comes with a rice cooker or pressure cooker) and use the same cup to measure the liquid
3. If you cook with a pot on the stove, make sure you use a heavy-bottom pot so the rice won't get burnt at the bottom of the pot
4. Please pay attention to the rice : water ratio.
Not much liquid evaporates during cooking when you use pressure cooker or rice cooker, so I usually use a bit less water compared to when cooking the rice on the stove
5. Do not rush to open the lid when the rice is done cooking. Letting it sit for 10-15 minutes allows extra liquid to be absorbed by the rice
6. Gently fluff the rice after that taking care not to mush the pumpkin too much
Variations
Vegan/vegetarian: omit dried shrimp and oyster sauce. You can use vegetarian oyster sauce if you like
Other meats: Chinese sausage, pork belly are also popular one to use in kiam peng recipe like this
Meatless protein: extra-firm tofu or tempeh can be used
How to store leftovers
Leftovers can be kept in the fridge for about 5 days. This dish also freezes well. You can cook in big portion and portion them out into serving size. They can be kept frozen for one month. Simply thaw them in the fridge or reheat from frozen in a steamer, microwave, or on the stove until heated through.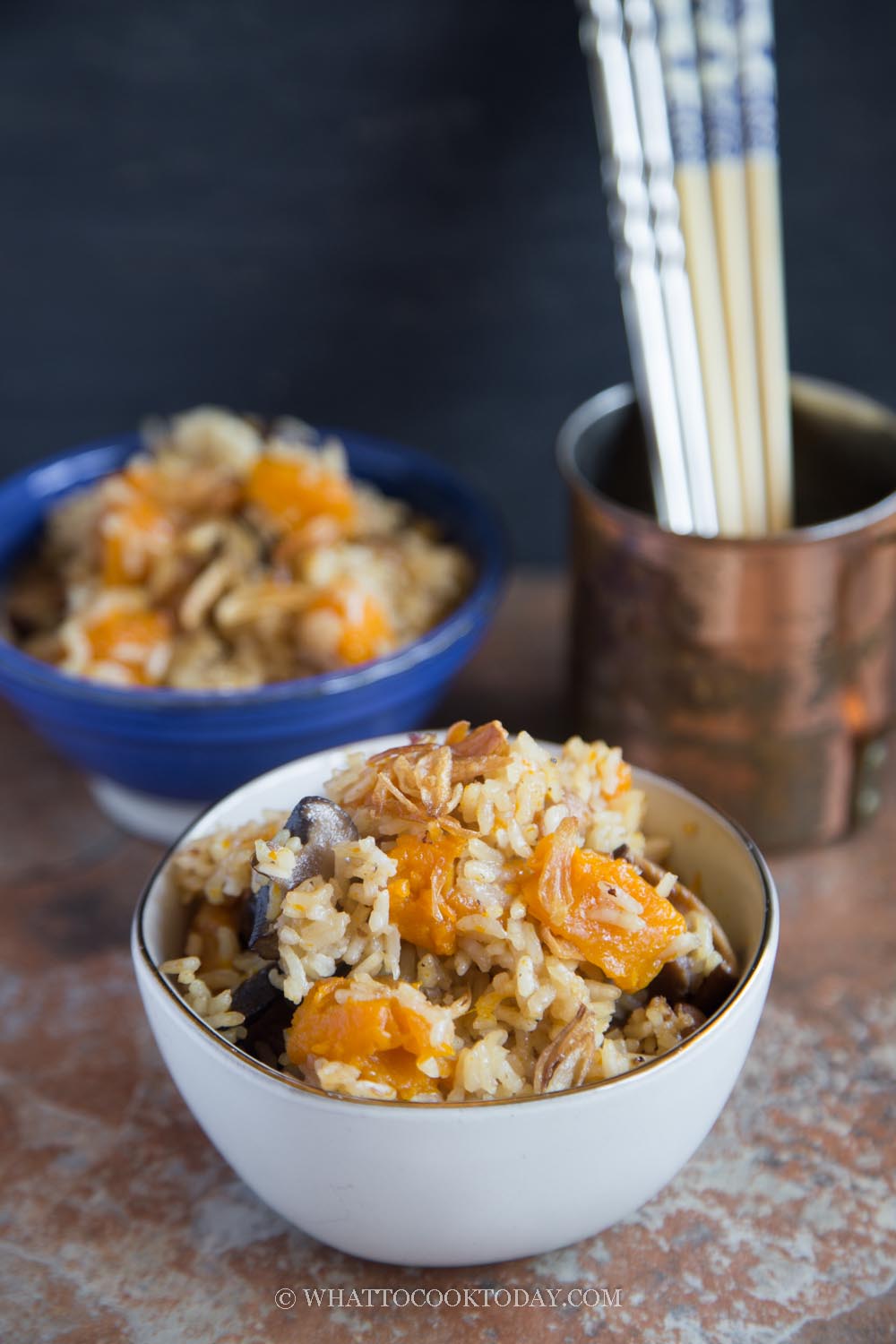 Did you make this recipe?
I love it when you guys snap a photo and tag to show me what you've made 🙂 Simply tag me @WhatToCookToday #WhatToCookToday on Instagram and I'll be sure to stop by and take a peek for real!

Chinese Pumpkin Rice (Instant Pot, Rice Cooker, Stove-top) / Kiam Peng
Ingredients
2

cups

long-grain white rice

use the rice cup

1 ½

cups

liquid from soaking the mushrooms (top up with water if needed)

if using pressure cooker or rice cooker

2 ¼

cups

liquid from soaking the mushrooms (top up with water if needed)

if cooking on the stove

350

gr

boneless skinless chicken thighs

400

gr

pumpkin

cut into cubes

2

Tbsp

dried shrimp

8

large

dried shiitake mushrooms

3

Tbsp

cooking oil
Aromatics:
5

cloves

garlic

finely minced
Garnishes:
Instructions
Marinate the chicken:
Cut the chicken into bite-size. Add ingredients for marinade and toss to combine. Let it marinate while you prepare other things
Prepare other things:
You can peel the pumpkin and dice into large chunks (if you use pressure cooker). I usually wash the pumpkin skin really well as I don't peel the skin and usually cook with the skin. The skin is actually quite tasty after being cooked. I love it!

Soak dried shrimp and dried shiitake mushrooms separately in warm water until they are soften. Save the liquid from soaking the mushrooms, top up with water if necessary. Finely chop the dried shrimp and cut the mushrooms into slices
Cooking with Instant Pot:
Rinse the rice in several changes of water until they water runs clear. Drain off any excess water

Press saute mode. When it's hot, add cooking oil. Saute the minced garlic for about 10 seconds. Add the dried shrimp and mushrooms and stir fry for another minute. Add the marinated chicken pieces and saute until they turn opaque but not cooked through yet. Add the rice followed by seasonings. Stir to mix everything. Turn off saute mode

Splash with a tablespoon of water. Scrape the bottom of the pot to make sure nothing get stuck or it will trigger "burn" alert later. Add liquid (water + liquid from soaking the mushrooms). Stir to combine and make sure the rice are submerged in the liquid so they cook properly

Add the pumpkin cubes on top. Cover with the lid and turn the pressure release valve to sealing. Press "Pressure cooker" and make sure it's on high pressure. Set the timer to 1 minute. When it's done, do natural release. Let the valve collapse on its own

Carefully unlock the lid and gently fluff the rice. If you see some uncooked rice grains, don't worry, close the lid back up and they will fluff while you use the "keep warm" function. Have a taste and adjust seasonings to your preference
Cooking with a rice cooker:
Preheat a large skillet. When it's hot, add oil. Saute the minced garlic for about 10 seconds. Add the dried shrimp and mushrooms and stir fry for another minute. Add the marinated chicken pieces and saute until they turn opaque but not cooked through yet. Add the rice followed by seasonings. Stir to mix everything. Turn off the heat

Transfer the rice and everything to the inner pot of rice cooker. Pour the liquid in. Stir to mix. Add pumpkin cubes on top. Press "cook" or use "white rice" function if there's one

If your rice cooker has the function of telling you how much time left, you can add the pumpkin cubes 10 minutes before end of cooking time, so the pumpkin won't be overly mushy

When it's done cooking, wait 10 minutes before opening the lid. Gently fluff the rice and have a taste. Adjust seasonings if necessary
Cooking on the stove:
Use a heavy-bottom pot with a tight-fitting lid, something like a Dutch-oven. Don't use anything there's too thin, as the rice will get burnt at the bottom of the pot

Preheat the pot. When it's hot, add oil. Saute the minced garlic for about 10 seconds. Add the dried shrimp and mushrooms and stir fry for another minute. Add the marinated chicken pieces and saute until they turn opaque but not cooked through yet. Add the rice followed by seasonings. Stir to mix everything

Add the liquid and stir again to make sure nothing gets caught at the bottom of the pot. Bring to a boil and then cover the lid and lower the heat to let it simmer for the next 10 minutes. Add the pumpkin cubes on top of the rice and close the lid back and let them cook for another 10 minutes. Turn off the heat, but DO NOT open the lid. Let it sit for about 15 minutes to let the liquid get absorbed by the rice

Then carefully uncover the lid and gently fluff the rice
To serve:
Garnish with fried shallots and serve when it's warm
Recommended products:
Nutrition
Serving:
1
serving
|
Calories:
624
kcal
|
Carbohydrates:
88
g
|
Protein:
32
g
|
Fat:
15
g
|
Saturated Fat:
2
g
|
Polyunsaturated Fat:
4
g
|
Monounsaturated Fat:
8
g
|
Trans Fat:
1
g
|
Cholesterol:
169
mg
|
Sodium:
1011
mg
|
Potassium:
731
mg
|
Fiber:
2
g
|
Sugar:
5
g
|
Vitamin A:
8534
IU
|
Vitamin C:
10
mg
|
Calcium:
96
mg
|
Iron:
3
mg