Crispy chicken pieces are tossed in buttery, aromatic, and milky sauce. This tutorial is to show you how to easily make it from scratch at home.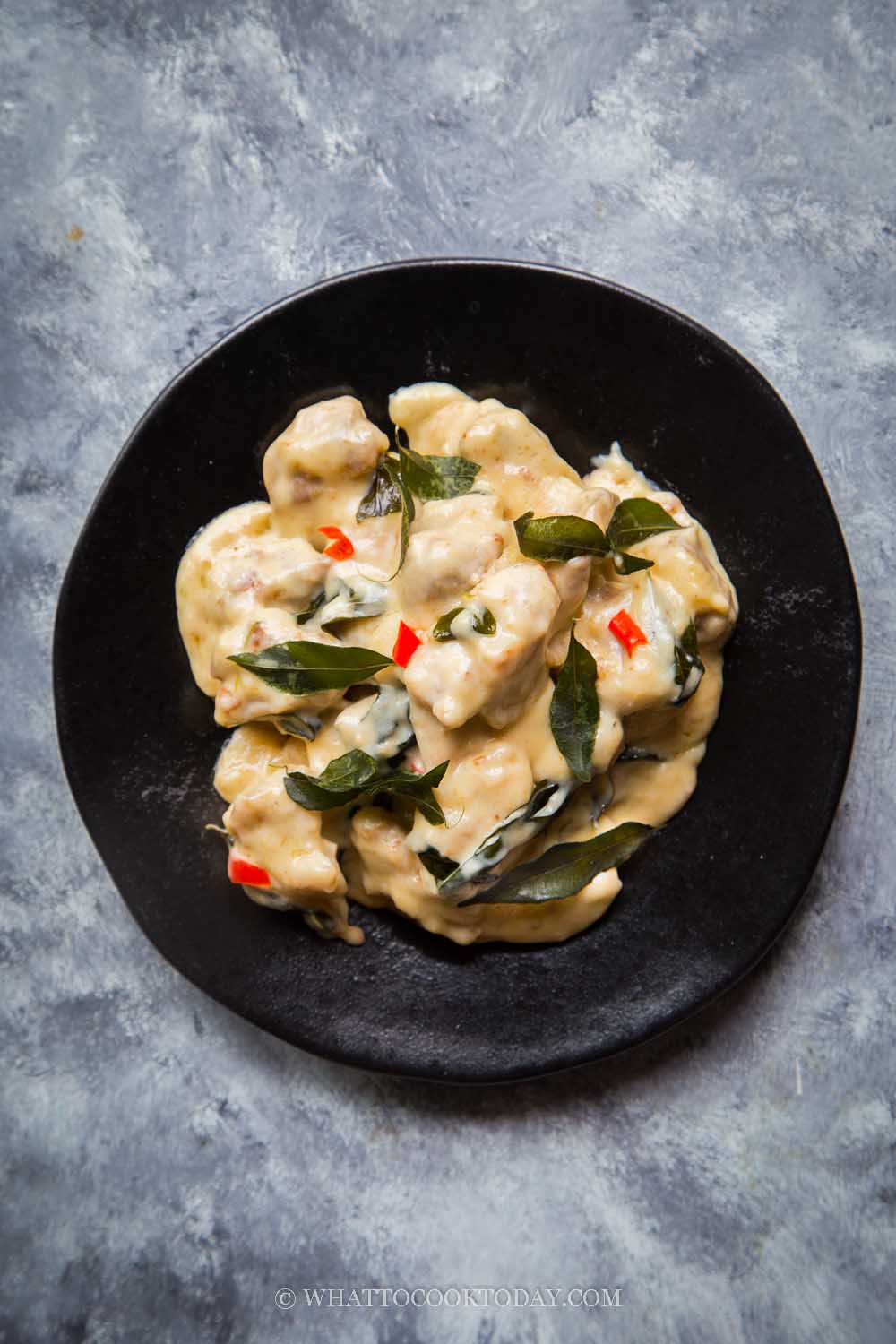 What is Chinese creamy butter chicken?
You have probably heard of the popular Indian butter chicken. The Indian butter chicken is usually orange-red in color, almost like a curry in presentation. The Chinese version of creamy butter chicken is totally different from that. The chicken pieces are fried and then tossed in butter and evaporated milk sauce. This dish is also known as Malaysian/Singapore buttermilk chicken (not the sour buttermilk used in the U.S. here). The sauce is what makes it really special and out of this world if you ask me. This dish is a popular zi char food in Malaysia and Singapore.
How to make creamy butter chicken (Lai Yao Kei) at home
1. Combine ingredients for the marinade. Add the chicken and coat chicken pieces in the marinade. Cover and let it marinate for at least 30 minutes to one hour


2. Preheat about 2 inches of oil for frying. Combine the tapioca starch, rice flour, chicken powder in a bowl and whisk to combine.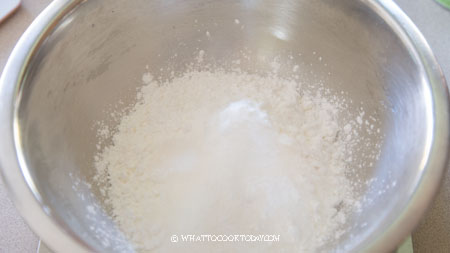 3. Coat the chicken pieces in the flour mixture. When you put a skewer into the oil, there will be lots of bubbles around it. The oil is ready. Fry the chicken pieces in batches until they are crispy and golden brown over medium heat. Remove from the oil and put an absorbent paper towel and continue frying the rest in batches. If you want extra crispy, go for second frying. Start from the chicken pieces that you first fried. This time around will be faster. Fry until the chicken really crisp up, about 1 minute or less


4. Melt the butter in a pan over medium heat


5. Saute the garlic, chili, and curry leaves until the leaves are crispy and aromatic


6. Add the evaporated milk and bring it to a simmer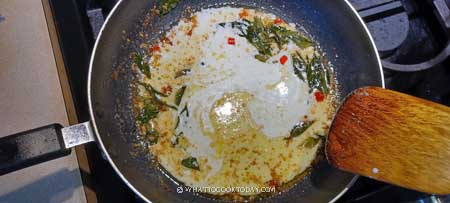 7. Add condensed milk, chicken powder, salt, and sugar and let it cook until the sauce reduce slightly. Have a taste and adjust to your liking


8. Add the chicken pieces and toss in the sauce to make sure the sauce coats the chicken evenly. Serve immediately

Did you make this Malaysian/Singapore creamy butter chicken recipe?
I love it when you guys snap a photo and tag to show me what you've made 🙂 Simply tag me @WhatToCookToday #WhatToCookToday on Instagram and I'll be sure to stop by and take a peek for real!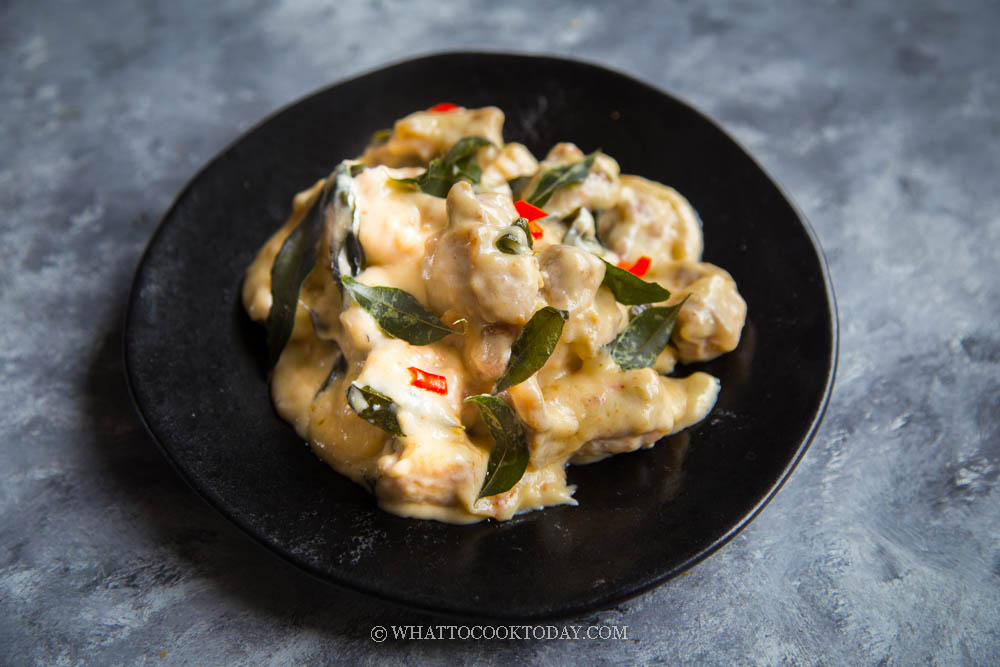 Chinese Creamy Butter Chicken (Lai Yao Kei)
Ingredients
Instructions
Marinate the chicken:
Combine ingredients for the marinade. Add the chicken and coat chicken pieces in the marinade. Cover and let it marinate for at least 30 minutes to one hour
Frying the chicken:
Preheat about 2 inches of oil for frying. Combine the tapioca starch, rice flour, chicken powder in a bowl and whisk to combine

Coat the chicken pieces in the flour mixture. When you put a skewer into the oil, there will be lots of bubbles around it. The oil is ready. Fry the chicken pieces in batches until they are crispy and golden brown over medium heat. Remove from the oil and put an absorbent paper towel and continue frying the rest in batches

If you want extra crispy, go for second frying. Start from the chicken pieces that you first fried. This time around will be faster. Fry until the chicken really crisp up, about 1 minute or less
Prepare the sauce:
Melt the butter in a pan over medium heat. Saute the garlic, chili, and curry leaves until the leaves are crispy and aromatic

Add the evaporated milk and bring it to a simmer. Add condensed milk, chicken powder, salt, and sugar and let it cook until the sauce reduce slightly. Have a taste and adjust to your liking. Add the chicken pieces and toss in the sauce to make sure the sauce coats the chicken evenly. Serve immediately
Nutrition
Serving:
1
serving
|
Calories:
663
kcal
|
Carbohydrates:
31
g
|
Protein:
26
g
|
Fat:
49
g
|
Saturated Fat:
15
g
|
Polyunsaturated Fat:
9
g
|
Monounsaturated Fat:
22
g
|
Trans Fat:
1
g
|
Cholesterol:
207
mg
|
Sodium:
1406
mg
|
Potassium:
464
mg
|
Fiber:
1
g
|
Sugar:
10
g
|
Vitamin A:
641
IU
|
Vitamin C:
45
mg
|
Calcium:
178
mg
|
Iron:
1
mg