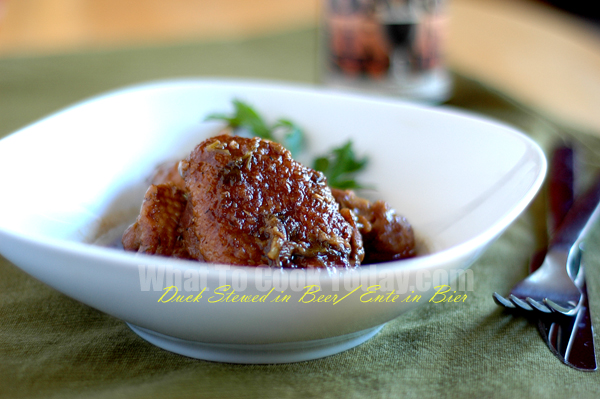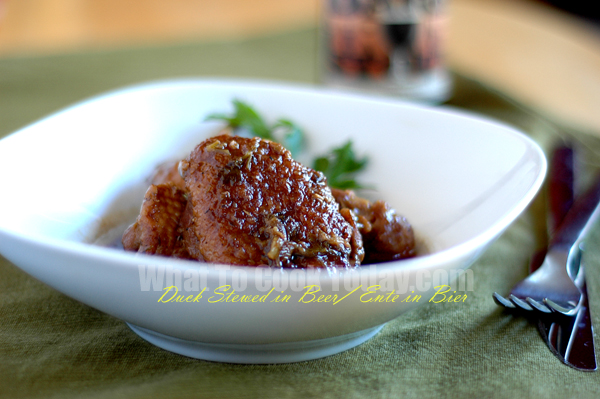 I have always wanted to cook duck at home. I mean, I've never touched a raw duck. I was a bit scared to cook duck at home actually. I love eating them though. My mom told me that she's not a big fan of cooking duck as well, because if you don't get it right, it will smell "ducky" and that's a real turn-off.
So, I'm cooking German food this week and got this The German Cookbook by Mimi Sheraton. It's a pretty old cookbook with no pictures, however, I go ahead and gave it a try since it said Authentic German cooking lol. I saw duck and I saw beer and they just seemed like that's what I wanted to cook. The duck wasn't cooked in whole. I purchased a 5 lb-duck and cut it into serving pieces. I don't really like cutting off my own duck, but they only sell it in whole. So, I guess it was just another little challenge I need to get rid of the I-don't-know-how-to-cook-duck statement forever. The stewed duck in beer is excellent. The fat from the duck itself is flavoring the dish and you add butter and alcohol in there, you just can't deny that it is going to be good. I'm not a drinker, but I do alcohol in food 😉
If you never cook duck before, I think this is a good recipe to start off. I think I'm going to tackle Roasted Peking Duck soon lol!
DUCK STEWED IN BEER / ENTE IN BIER (4 servings)
5-lb duck
Salt
1 sprig of marjoram
Flour for dredging
3-4 Tbsp butter
1/2 cup dark beer
3/4 to 1 cup hot chicken stock
1 clove garlic
1/4 small onion
1 bayleaf
small piece of lemon rind
1 stalk of celery
3 sprigs parsley
1/4 tsp thyme
2 Tbsp flour mixed with 3 Tbsp water
1/4 tsp anchovy paste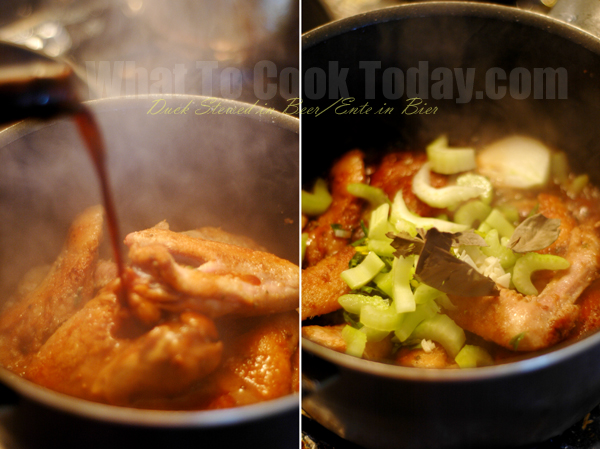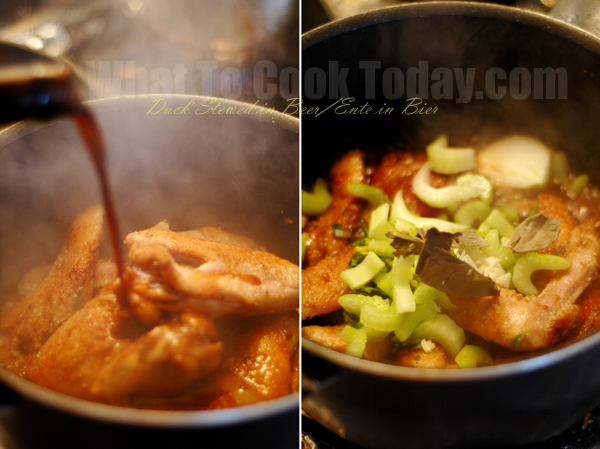 COOKING METHOD:
1. Cut duck into serving pieces. Sprinkle lightly with salt and a little marjoram and dredge with flour
2. Heat butter in a 10 to 12″ skillet with a cover. When hot and bubbling, add duck and brown well, on all sides, you may need to work in batches. Pour in beer, let it sizzle up for a minute or so, then add chicken stock, garlic, onion, bay leaf, lemon rind, celery, parsley, and thyme. Cover and simmer gently for about 40 minutes, or until duck is tender
3. Remove vegetables, bay leaf and lemon rind. Skim fat from gravy. Stir in flour mixed in water. Stir in anchovy paste and check seasoning
4. Serve duck on heated deep serving dish and pour gravy over it