Easy Chinese Fish Congee (Bubur Ikan) – Rice grain is boiled in water until soft and fish slices are added and served with toppings like ginger, scallion, cilantro leaves, etc. It's a comfort food by many in Asia. Instant pot method included.


Food has heavy Chinese influence in the little town where I grew up in Indonesia. It's kinda nice that I have the advantage of tasting the Chinese Indonesian food and also the local native Indonesian food. I guess in most Asian culture, or maybe let's just say at our very own home growing up, whenever we were not feeling well, my mom would cook rice congee/porridge. It is the belief that porridge is "easier" on our digestive system. I love to eat fish ever since I was a kid and so my mom made fish congee pretty often.
I covered lots of details here on how to make Asian rice porridge if you are interested to know about the rice and water ratio in cooking porridge.

WHAT KIND OF FISH TO USE IN CHINESE FISH CONGEE?
Mom would use cod, snapper, mackerel, grouper, barramundi, to make fish congee. Other suitable white fish fillets are: swai, sole, snakehead fish, sea bass, tilapia. Usually, white fish fillet is used, but I have used fish like salmon before too (like in the video) and it is tasty too.
FEW TIPS TO MAKE GOOD CHINESE FISH CONGEE:
1. Starch
Unlike cooking plain rice where you want to rinse the rice in cold water until the water is clear, making congee isn't the case. Just give it a rinse briefly to get rid of any impurities. Sometimes it says on the packaging that "no rinse necessary" and I just skip when I see that. The starch will help to thicken the congee and gives it that smooth feel too.
2. Use a basic chicken broth (bone broth is even better!)
While it's perfectly fine to cook your congee with water, I often find that using broth like chicken or bone broth adds that extra flavor to the congee. Even the kids notice that.
3. Add the fish last
Usually, fish is added last after the congee has cooked to the consistency you like. This way, you do not overcook the meat or seafood.
HOW TO MAKE EASY CHINESE FISH CONGEE
1. Prepare the fish
Thinly slice the fish at an angle with a very sharp knife to about 1/4-inch thickness and large pieces


Toss them in cornstarch and soy sauce mixture. Set aside


2. Cooking the rice
It is not necessary to rinse the rice unless it says so on the package. Place chicken broth in a medium-large pot.


Bring it to a boil, add the rice and the better than bouillon (if using) and then lower the heat and cook over medium heat for about 30-40 minutes


Stir it every now and then until the rice has thickened to the consistency you want. Add a bit more broth if you find it too thick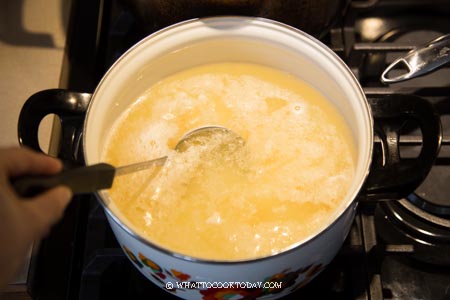 3. Cook the fish
Add fish slices into a simmering broth


Cook until the fish turns into opaque white color and fully cooked, about 1-2 minutes.Turn off heat. Proceed to serving

Serve this with a homemade youtiao (Chinese fried crullers) and oh my oh my!!

HOW TO KEEP LEFTOVER
You can keep them in the fridge for 2-3 days max. I won't recommend any longer than that. Simply reheat them on the stove or in the microwave, in one-minute increments, until heated through.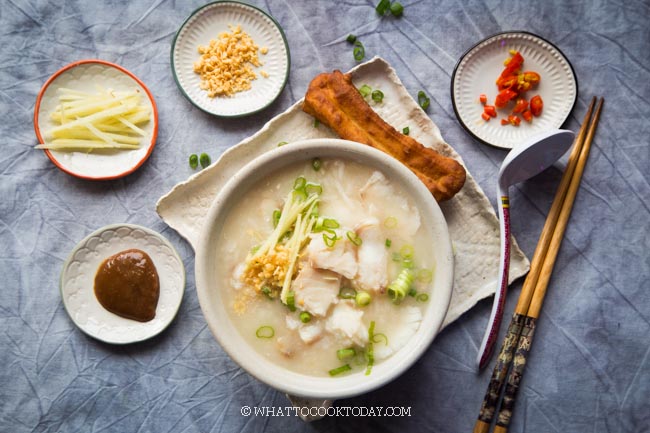 DID YOU MAKE THIS EASY CHINESE FISH CONGEE RECIPE?
I love it when you guys snap a photo and tag to show me what you've made 🙂 Simply tag me @WhatToCookToday #WhatToCookToday on Instagram and I'll be sure to stop by and take a peek for real!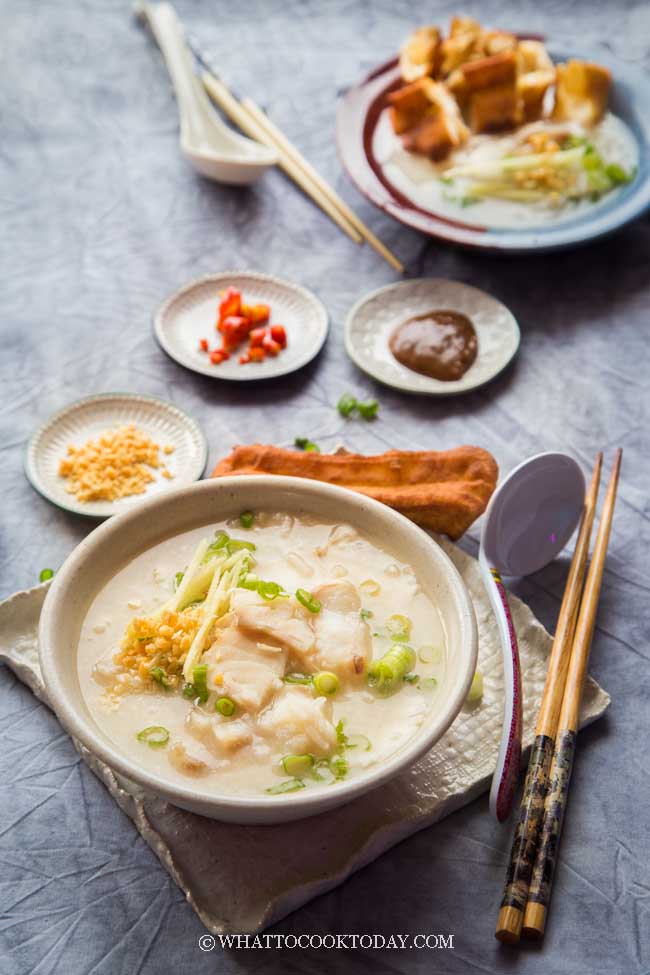 *Recipe is written for 6-quart Instant Pot. Cooking time should remain the same for 8-quart size but will take longer to pressurize. For mini duo (3-quart), I recommend to half the recipe and use the same amount of time to cook*
Easy Chinese Fish Congee (Bubur Ikan)
Ingredients
1

cup

Jasmine rice

about 200 gr

10

cups

chicken broth

more or less, but at least start with 8 cups

2

Tbsp

Better than bouillon

(optional) or use chicken powder seasoning

300

gr

boneless skinless fish fillet

Use cod, snapper, grouper, sole, seabass, snakehead fish, swai fillet, salmon fillet, etc
Serve with (optional):
green onions

finely chopped

fresh ginger

julienned

Fresh cilantro leaves

White pepper powder
Instructions
Prepare the fish:
Thinly slice the fish at an angle with a very sharp knife to about 1/4-inch thickness and large pieces. Toss them in cornstarch and soy sauce mixture. Set aside
Cooking the congee:
It is not necessary to rinse the rice unless it says so on the package. Place chicken broth in a medium-large pot. Bring it to a boil, add the rice and the better than bouillon (if using) and then lower the heat and cook over medium heat for about 30-40 minutes, stirring every now and then until the rice has thickened to the consistency you want. Add a bit more broth if you find it too thick

Add fish slices and cook until the fish turns into opaque white color and fully cooked, about 1-2 minutes.Turn off heat. Proceed to serving
Instant pot - Pressure cooker setting:
Place rice and broth in the insert of instant pot. Press pressure cook and set to high pressure. Set timer to 15 minutes. When the timer is up, wait 10 minutes and then release pressure and wait until the pressure valve to come down and then open the lid

Switch to a "saute" mode and let it come to a boil. Stir the porridge and make sure the bottom of the pot to make sure nothing catches and burns the porridge. Add fish slices and gently stir and cook until fish slices are cooked through. This way, we do not overcook the fish slices
Instant pot - Porridge setting:
Place rice and broth in the insert of instant pot. Press "porridge" setting and it will automatically set its own pressure level and time. When it's done cooking, do natural release (let the pressure valve comes down on its own) or it will be a big mess when you release the pressure

Switch to a "saute" mode and let it come to a boil. Stir the porridge and make sure the bottom of the pot to make sure nothing catches and burns the porridge. Add fish slices and gently stir and cook until fish slices are cooked through. This way, we do not overcook the fish slices
Serving:
Portion into a bowl and garnish with green onion, cilantro leaves, couple drops of sesame oil, pinch of white pepper powder and some ginger. The porridge will get thicker the longer it sits. You can always thin it out with some water or broth
Recommended products: