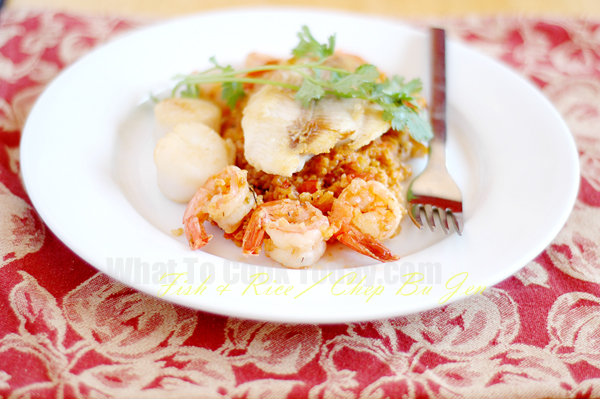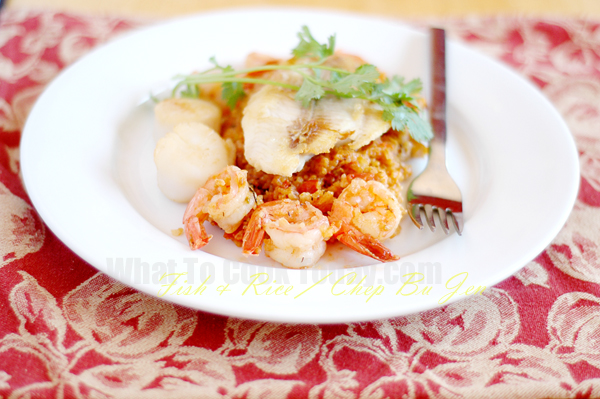 Chep Bu Jen which literally means fish and rice is commonly served in Senegal, a country south of the Senegal River in western Africa. It is usually prepared with inexpensive fish as a humble dish and served with broken jasmine rice.
The Chep Bu Jen recipe in The Soul of A New Cuisine cookbook by Marcus Samuelsson is a more "luxurious" version of traditional Chep Bu Jen. It is a hybrid of Chep Bu Jen and the seafood paellas of Spain. Broken jasmine rice is not widely available in the U.S., so preparation using regular jasmine or any other long-grain rice is acceptable. I can tell you that the rice cooked with all the spices is indeed have my two thumbs and two toes up! (okay..maybe you don't need to see my ugly big toes, but you get my point). My husband really enjoy the rice. The flavor is intense and it just reminds both of us of the flavor of the spiced rice in Indonesia.
The recipe in the cookbook calls for littleneck clams and mussels, but I didn't use any of those, I just used jumbo prawns, fish and scallop. Feel free to use any type of seafood you like and you will still be very satisfied with this family-style meal, which is very much in keeping with the spirit of African dining.
The sight of the jumbo prawns and scallops made me delighted.


FISH AND RICE/ CHEP BU JEN (4 servings)
5 Tbsp olive oil, divided
3 garlic cloves, cut in half
2 shallots, minced
2 serrano chilies, seeds and ribs removed, finely chopped (I didn't remove mine as I like mine hot as usual 😉 )
8 littleneck clams, scrubbed (if using)
3 cups chicken stock
1/2 cup white wine
8 mussels, scrubbed and debearded (if using)
1 1/2 lb jumbo scallops (used in this recipe)
1 cup jasmine or other long-grain white rice
2-inch piece ginger, peeled and minced
1 tsp coriander seeds
1 bay leaf
2 sprigs thyme
3 tomatoes, diced, or 1 1/2 cups chopped canned tomatoes
1 Tbsp tomato paste
1 Tbsp mild chili powder
Salt
Four 3-oz bass fillets or any firm white fish fillets
8 jumbo shrimp (shelled and deveined)
Juice of 2 limes
2 sprigs cilantro, chopped
1 lemon, quartered
4 Tbps of all-purpose flour
COOKING METHOD:
1. Heat 3 Tbsp of the olive oil in a Dutch oven or other large pot over medium heat. Add the garlic, shallots, and chilies, and saute until soft. If using, add the clams and cook for 2 minutes, stirring constantly. Add the chicken stock and wine, bring to a simmer, and simmer for 3 minutes. Add the mussels, cover, and cook until the mussels and clams open up. Transfer the clams and mussels to a bowl; discard any unopened shellfish. Strain the liquid and set aside.
If not using clams and mussels, once you saute the garlic, shallots and chili until soft, strain the liquid and set aside
2. Wipe out the pot, add 1 Tbsp olive oil, and heat over medium heat. Add the rice, ginger, coriander seeds, bay leaf, thyme, tomatoes, tomato paste, chili powder, and 1 tsp salt and cook, stirring, for 3 minutes. Add the 1 cup of the reserved cooking liquid, cover, and bring to a boil. Reduce the heat and simmer for 10 minutes. Remove from the heat and let sit, covered, for 15 minutes, or until all the liquid is absorbed
3. Meanwhile, heat the remaining tablespoon of olive oil in a large saute pan over medium heat. Season the fish on both sides with salt, and dredge each fillet in the all-purpose flour, add to the pan and saute and sear for about 2 minutes each side, until you get a nice golden crust. Transfer to a pate. Add the scallops to the pan and sear for about 3 to 4 minutes on each side. Transfer to a plate. Lastly, but not least, add the shrimps to the same pan and saute for 30 to 60 seconds, or until they turn bright red. Transfer to a plate and sprinkle with about 1/4 tsp of salt
4. Stir the lime juice, cilantro, and 1/2 tsp salt into the rice. Fold in the mussels, clams, shrimp and scallops. Remove the bay leaf. Arrange the fish fillet on top of rice and serve hot