Learn how to make gluten-free hot cross buns without using gluten-free premix flour and xanthan gum. The recipe uses commonly used and easy-to-find ingredients.

I have been searching high and low for gluten-free baked buns recipe that doesn't require using any premix gluten-free flour or other difficult-to-find flour/starches. Premix gluten-free flour varies by brand and the result varies too. I finally saw Lucy made some of her gluten-free bread/buns using very simple ingredients and not using any binder such as xanthan gum in some of her gluten-free recipes. Immediately, I was so intrigued to try.
What to expect from this gluten-free hot cross buns
1. Ingredients are easy to find
2. A little bit of extra work, but it's not complicated
3. The final result is soft fluffy bun while they are still warm
4. The baked buns will not stay soft once they have cooled down, and this is normal for gluten-free bread IMHO

Substitution
I haven't tried substitute any of the ingredients listed in the recipe below, so I can't advise you much if you try to substitute the flour/starch with a different kind. But please let me know how they work if you do substitute. I'm sure others will be curious too. When I have the time and energy to explore more, I might try it out too.
How to make gluten-free hot cross buns
1. Get about 200 grams of potato or more if you don't mind some leftover. Peel the potato and cut them into small chunks, about 2 inches roughly. You can pressure cook the potatoes on high pressure for 5 minutes or steam them over high heat for 10 minutes. You can also boil them in a pot. Cover the potatoes with some water. Bring to a boil and then lower the heat to let them simmer for 10-15 minutes or until you can easily mash with a fork. Drain off water and put the potatoes back in the pot to let them dry out a bit. Mash the potatoes while they are still warm. You want to make sure you mash them finely as we will use this in the dough


2. Get 30 grams of tapioca and 30 grams of milk and mix them to make a slurry. Set aside


3. Combine sugar, 40 grams of mashed potatoes, 90 grams of milk and oil in a saucepan. Bring to a simmer and then turn off the heat


4. Add the tapioca slurry you make earlier and keep stirring to combine. Turn the heat back on low-medium and keep stirring until it thickens into like a goop. Remove from the heat and set aside to let it cool down until it is lukewarm (so we won't kill the yeast later)


5. Combine yeast, rice flour, the spices, the lukewarm dough paste, salt, raisins (if using), and the rest of the milk. Knead into a dough. The dough is actually stretchy, thanks to the "goop"

6. Divide into 12 equal pieces of smaller dough balls (I only made half recipe so only 6 shown here). Arrange them on a baking sheet lined with parchment paper. You can arrange them next to each other (they won't rise a whole lot). Cover the shaped dough with a damp tea towel. I mist them with a bit of water


7. Let them proof at a warm place until the dough feels light and puffy. They won't double in size. It takes about 1 hour when I use my oven's bread proof function. It may take you longer if the temperature is lower

8. 10 minutes before the end of proofing, remove the dough from the oven if you use your oven to proof the bread. Preheat the oven to 350 F (180 C) for a conventional oven. Put 2 cups of water in a heat-proof pan underneath the rack you are going to bake the buns. Let the water heat up together with the oven. Mix the yolk with water to make an egg wash. Brush the top with the egg wash. Bake in the middle rack for 20-25 minutes. Remove from the oven and immediately brush with the glaze. Let them cool down on the pan for about 10 minutes


9. Put icing sugar in a bowl and start adding 1 teaspoon of water. The consistency should be thick but pipeable. Transfer to a plastic bag and then cut off the tip. Pipe a cross pattern on the top of each bun

This gluten-free hot cross buns are adapted from here.
How to store gluten-free hot cross buns
1. They are best served on the same day. I don't recommend making a huge batch
2. If you do have leftover, simply store them in an air-tight container. They can be kept at room temperature for 2-3 days. If it's humid where you are, store them in the fridge for about 5 days or in the freezer for up to one month
3. The buns need to be reheated once they have cooled down as they harden after that. Simply reheat in a microwave for few seconds or until warm through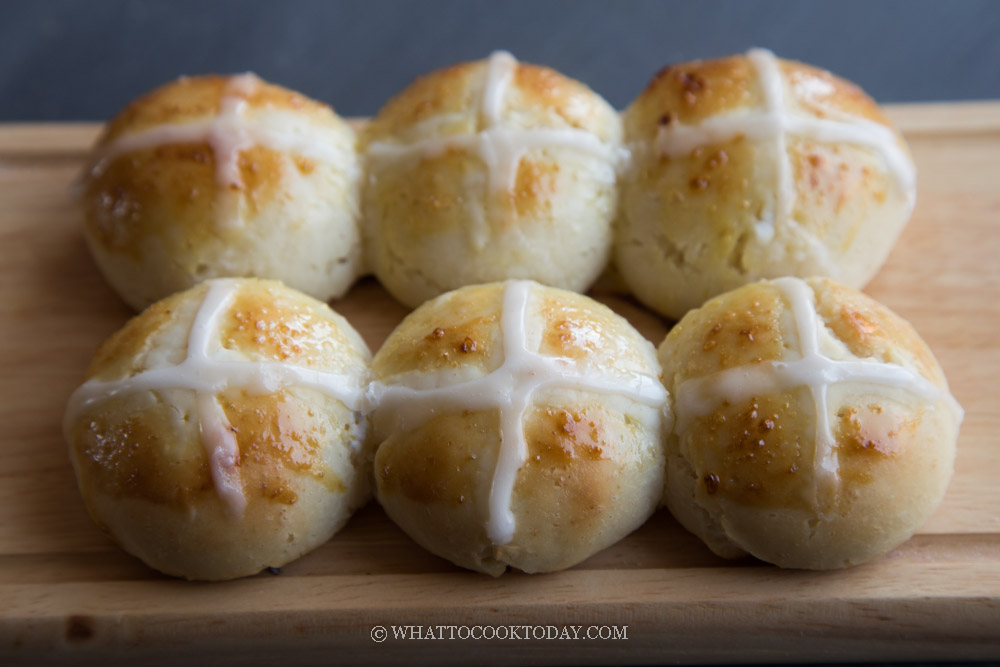 Did you make this gluten-free hot cross buns recipe?
I love it when you guys snap a photo and tag to show me what you've made 🙂 Simply tag me @WhatToCookToday #WhatToCookToday on Instagram and I'll be sure to stop by and take a peek for real!

Gluten-free Hot Cross Buns (Dairy Free)
Ingredients
Please measure by weight for accuracy
For the dough:
100

gr

mashed potato

80

gr

tapioca flour

120

gr

soymilk/almond milk

10

gr

oil

120

gr

rice flour

5

gr

active dry yeast

30

gr

sugar

½

tsp

salt

50

gr

raisins

optional
Spices:
1

tsp

ground cinnamon

½

tsp

ground ginger

¼

tsp

ground nutmeg

¼

tsp

ground cloves
For the glaze:
10

gr

sugar

10

gr

hot water
Instructions
Prepare mashed potato:
Get about 200 grams (about 7 oz) of potato or more if you don't mind some leftover. Peel the potato and cut them into small chunks, about 2 inches roughly. You can pressure cook the potatoes on high pressure for 5 minutes or steam them over high heat for 10 minutes. You can also boil them in a pot. Cover the potatoes with some water. Bring to a boil and then lower the heat to let them simmer for 10-15 minutes or until you can easily mash with a fork. Drain off water and put the potatoes back in the pot to let them dry out a bit

Mash the potatoes while they are still warm. You want to make sure you mash them finely as we will use this in the dough
Prepare a dough "goop":
Get 30 grams (about 2 Tbsp) of tapioca starch and 30 grams (about 2 Tbsp) of milk and mix them to make a slurry. Set aside

Combine sugar, 40 grams (about 1/4 cup) of the potatoes, 90 grams (about 1/3 cup) of milk and oil in a saucepan. Bring to a simmer and then turn off the heat. Add the tapioca slurry you make earlier and keep stirring to combine. Turn the heat back on low-medium and keep stirring until it thickens into like a goop. Remove from the heat and set aside to let it cool down until it is lukewarm (so we won't kill the yeast later)
Prepare the dough:
Combine yeast, rice flour, the spices, the lukewarm dough paste, salt, raisins (if using), and the rest of the milk and mashed potatoes. Knead into a dough. Divide into 12 equal pieces of smaller dough balls. Arrange them on a baking sheet lined with parchment paper. You can arrange them next to each other (they won't rise a whole lot)
Proof the dough:
Cover the shaped dough with a damp tea towel. I mist them with a bit of water. Let them proof at a warm place until the dough feels light and puffy. They won't double in size. It takes about 1 hour when I use my oven's bread proof function. It may take you longer if the temperature is lower
Bake:
10 minutes before the end of proofing, remove the dough from the oven if you use your oven to proof the bread. Preheat the oven to 350 F (180 C) for a conventional oven. Put 2 cups of water in a heat-proof pan underneath the rack you are going to bake the buns. Let the water heat up together with the oven

Prepare the simple glaze by mixing sugar with hot water to dissolve the sugar. Set aside. You can also use apricot jam mixed with a bit of water

Mix the yolk with water to make an egg wash. Brush the top with the egg wash. Bake in the middle rack for 20-25 minutes. Remove from the oven and immediately brush with the glaze. Let them cool down on the pan for about 10 minutes
Prepare the icing:
Put icing sugar in a bowl and start adding 1 teaspoon of water. The consistency should be thick but pipeable. Transfer to a plastic bag and then cut off the tip. Pipe a cross pattern on the top of each bun
Serve:
The buns are best served while they are still warm. Like many typical gluten-free bread/buns, they will harden once they cool down completely. Simply reheating for a few seconds in a microwave will soften them
Nutrition
Serving:
1
hot cross bun
|
Calories:
151
kcal
|
Carbohydrates:
33
g
|
Protein:
2
g
|
Fat:
2
g
|
Saturated Fat:
1
g
|
Polyunsaturated Fat:
1
g
|
Monounsaturated Fat:
1
g
|
Trans Fat:
1
g
|
Cholesterol:
16
mg
|
Sodium:
114
mg
|
Potassium:
155
mg
|
Fiber:
1
g
|
Sugar:
9
g
|
Vitamin A:
62
IU
|
Vitamin C:
8
mg
|
Calcium:
21
mg
|
Iron:
1
mg