If you are looking for a really good soft and fluffy gluten-free chiffon cake recipe, you have to try this easy no-fuss recipe. It is incredibly soft and fluffy with an amazing pandan aroma (or whatever flavor you like). No xanthan gum needed. All the tips you need to know.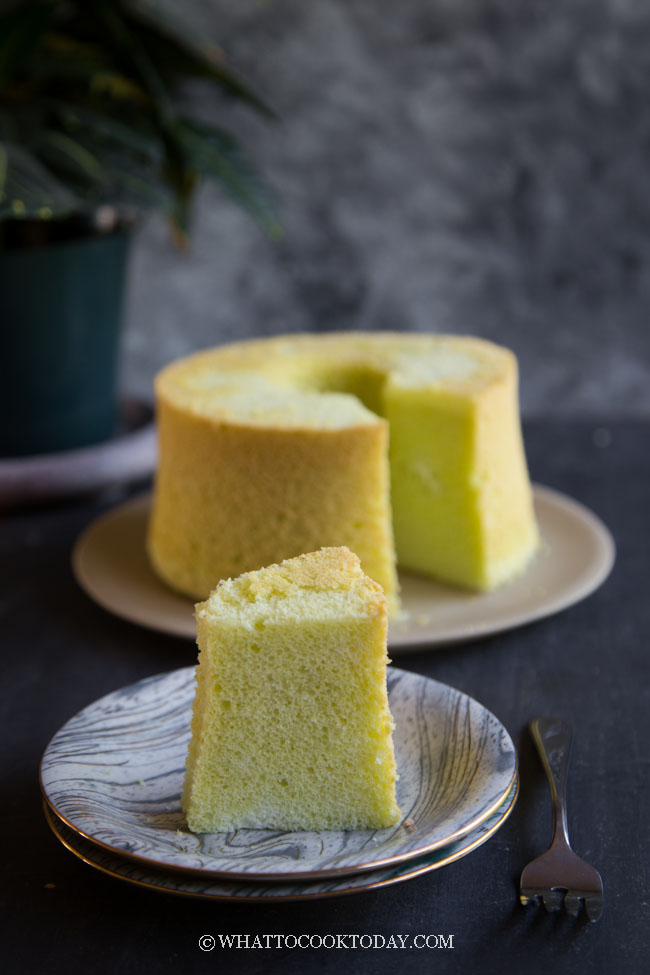 You have no idea how many chiffon cakes I've baked in a month's time. I almost feel bad that my family had to try them out as I was experimenting with different kinds of chiffon cake. They didn't seem to mind because chiffon cakes are truly our favorites. Super soft, fluffy, and just so light.
WHY YOU'LL LIKE THIS GLUTEN-FREE CHIFFON CAKE
Making gluten-free cakes and cookies is actually less challenging compared to making gluten-free bread and steamed buns LOL! We don't want much gluten in cakes anyway, especially one like chiffon cake.
1. Only two types of flour/starch needed
This gluten-free chiffon cake recipe only calls for rice flour and cornstarch. You don't need 4 or 5 different types of flour/starches. Rice flour and cornstarch are very common ingredients in almost everyone's pantry these days, gluten-free or not. So, I like that you don't have to go hunting for exotic flour/starches
2. No xanthan gum
I'm not on a gluten-free diet, but every now and then I like to try out gluten-free bread, cakes, etc. I was surprised to see how pricey a small bag of xanthan gum can be. I honestly don't really like it either, but I know it is needed in some recipe so things won't fall apart. This gluten-free chiffon cake doesn't need xanthan gum
3. Incredibly soft, fluffy, and spongey
It's everything you are looking for in a chiffon cake. Really! I had my family tested it without telling them that it was a gluten-free chiffon cake and they voted that the cake was so soft and fluffy indeed!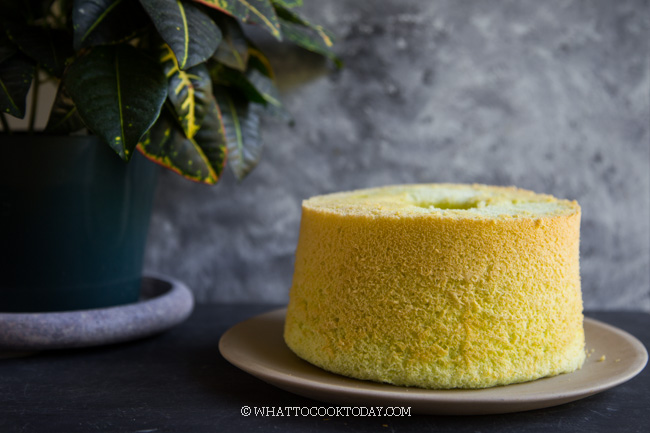 HOW TO MAKE THE BEST GLUTEN-FREE PANDAN CHIFFON CAKE
1. INGREDIENTS NEED TO BE AT ROOM TEMPERATURE
Before you start making the recipe, make sure eggs, pandan juice (or milk) are at room temperature. Get them out from the fridge 20-30 minutes and let them sit at room temperature before you plan to start working on this
2. MAKE PANDAN JUICE
Make sure you cut the leaves into little pieces to extract the juice out from the leaves. Put in a blender and add coconut milk and water and blend until smooth. Transfer to a cheesecloth or muslin cloth or use a strainer to squeeze the juice out Set aside for later use. Measure out the amount you need for this recipe and top up with some coconut milk if necessary to get the amount you need and store the rest in the fridge for other use
3. PREPARE CAKE BATTER
Whisk the egg yolks with sugar and cooking oil, coconut milk, water (or homemade pandan juice) and pandan essence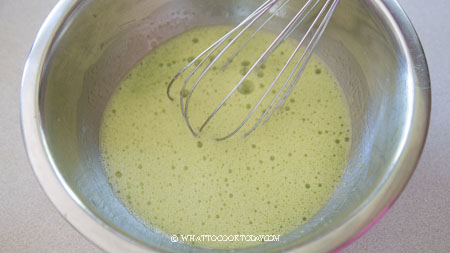 Sift the flour, baking powder, and salt into the egg yolk mixture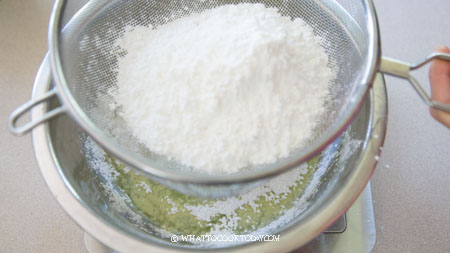 Use a rubber spatula and combine. Try not to overmix it too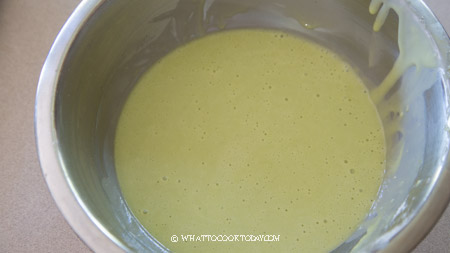 4. WHIP THE MERINGUE
Place the egg whites in a clean bowl. You will have trouble whipping your meringue if there's a trace of grease in your utensils or bowls. Beat the egg whites on medium speed, speed 4 on Kitchen Aid, until frothy, add cream of tartar and whip until it turns whitish. Increase the speed to 6 and gradually add the sugar as you beat, in about 1-minute interval before adding the next sugar. Continue to beat until you get a firm peak. When you lift the meringue up with the whisk, it should maintain its shape with its tail bending slightly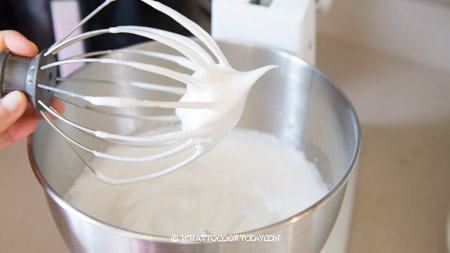 5. FOLD MERINGUE INTO BATTER
Gently fold in 1/3 of the meringue into the thick batter. Using a rubber spatula, swipe from the side and gently fold over to mix and then continue. Repeat this motion several rounds. Continue with the rest of the meringue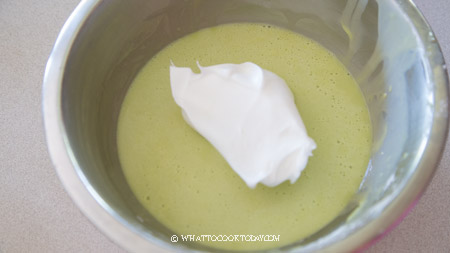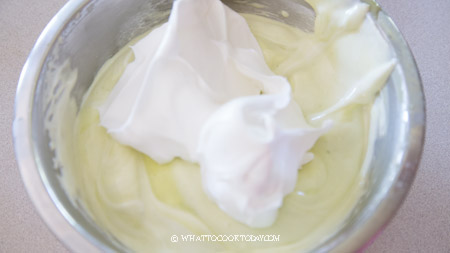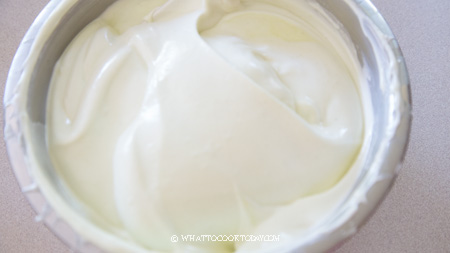 DO NOT grease your chiffon pan. Pour batter into the pan and gently drop the cake pan from about 10 cm height on the counter 3-4 times. This will pop any air bubbles inside the cake
*in this experiment I used 20 cm (8-inch) chiffon cake pan and thank goodness it didn't overflow in the oven. I recommend using 22 cm (9-inch) instead. It should only fill up about 70% of your pan not so high like in this photo below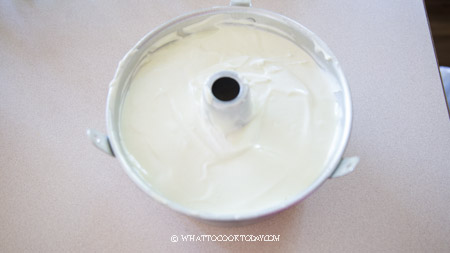 6. BAKE
Pop into the oven and let it bake at 325 F (160 C) for conventional oven, for 50 minutes to 1 hour. If you have convection oven, please lower the temperature by 20 degrees. Do not open your oven door at least for the first 50 minutes of baking or you are risking deflating the cake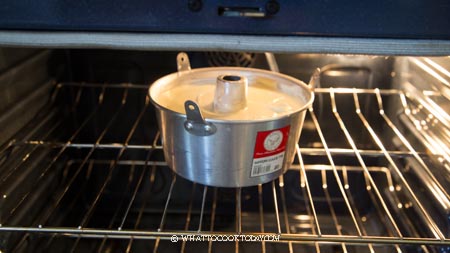 7. INVERT, COOL DOWN, AND UNMOULD
Once out of the oven, carefully invert the pan upside down. You can use a wine bottle or any bottle to prop it up too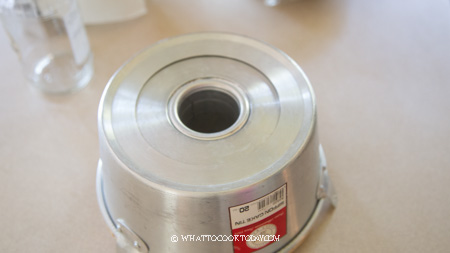 Once it's cool down completely, use a spatula knife to run through the edge of the cake to help release the cake. Gently push the base of the pan down. Use the knife again to run through the top of the cake to help release it from the base of the pan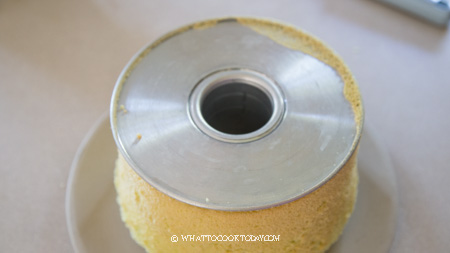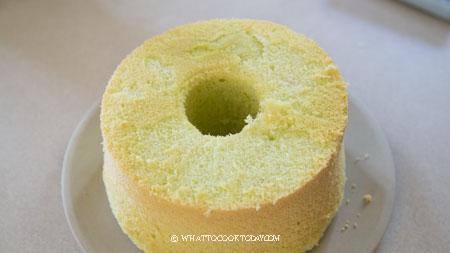 8. SERVE
Use a sharp serrated knife to cut the cake so you won't squish this delicate soft and fluffy chiffon cake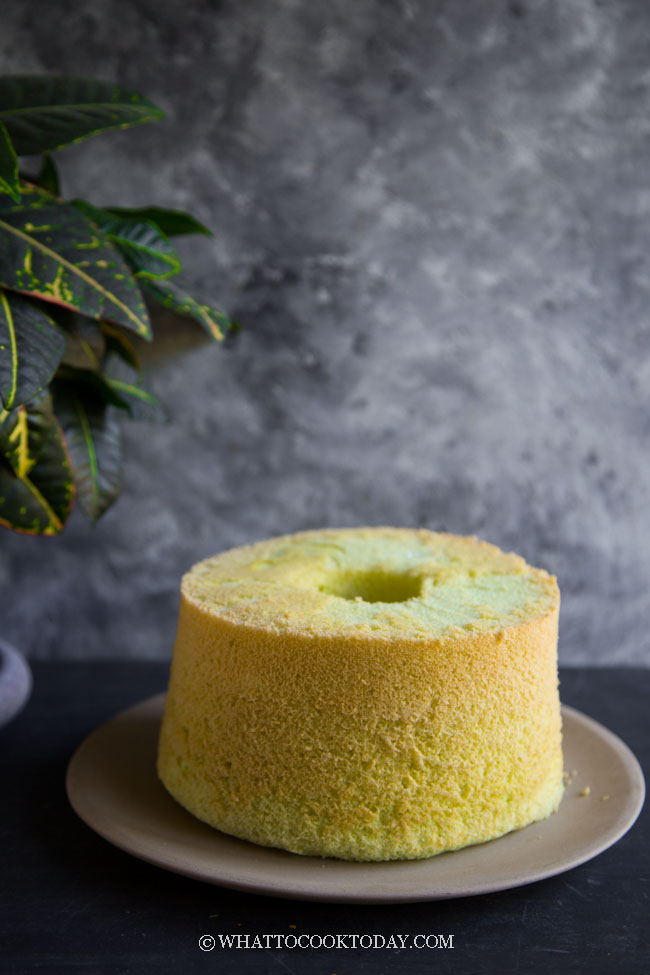 HOW TO STORE CHIFFON CAKE
Chiffon cake can be kept at room temperature for a day or two. Wrap them up with a cling wrap after it has cooled down completely. After that, it's better to store them in the fridge for about 3 days or so. The longer you keep it in the fridge the drier the cake will be.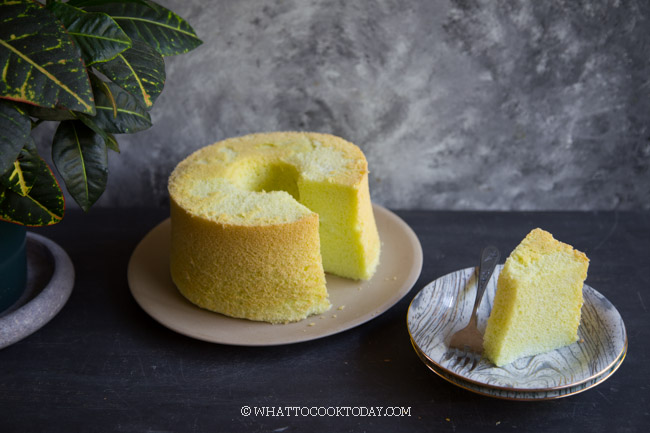 DID YOU MAKE SOFT FLUFFY GLUTEN-FREE PANDAN CHIFFON CAKE RECIPE?
I love it when you guys snap a photo and tag to show me what you've made 🙂 Simply tag me @WhatToCookToday #WhatToCookToday on Instagram and I'll be sure to stop by and take a peek for real!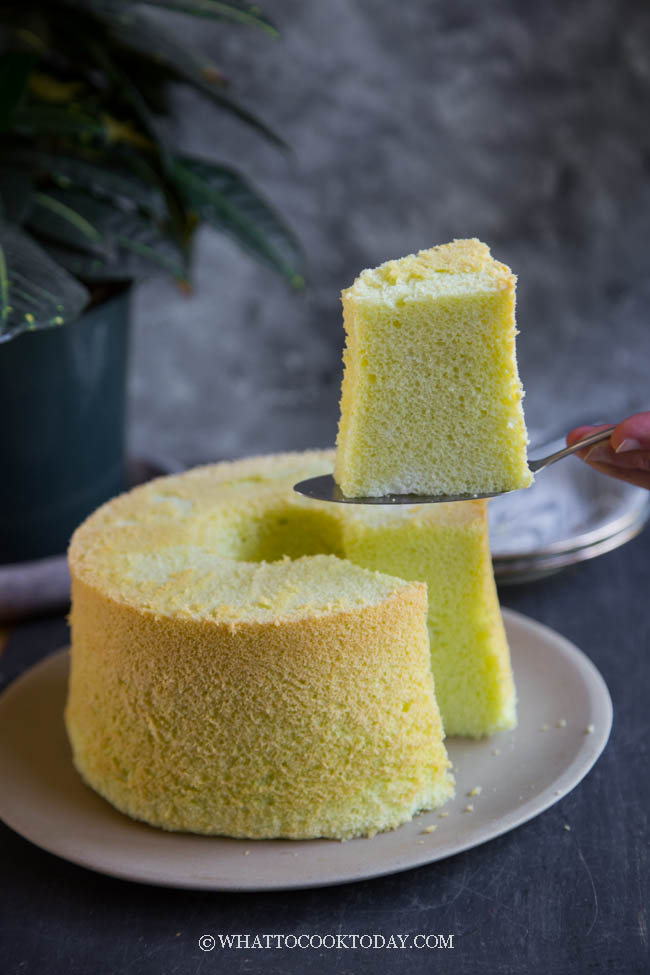 Soft and Fluffy Gluten-Free Pandan Chiffon Cake
Ingredients
Wet ingredients:
5

large

egg yolks (room temperature)

from 58-60 gram egg with a shell

70

gr

cooking oil

30

gr

sugar
If you use pandan essence and not homemade pandan juice:
60

ml

canned coconut milk

40

ml

water

1

tsp

pandan essence

optional (it gives more greenish color) or other flavor like vanilla extract if not doing pandan flavor
If you make your own pandan juice:
15

pandan leaves

60

ml

canned coconut milk

see notes 1

40

ml

water
Meringue:
5

egg whites (room temperature)

100

gr

sugar

½

tsp

cream of tartar

or use 1 tsp of lemon juice or vinegar
Instructions
Make sure your chiffon cake pan does not have a non-stick coating or your cake will not rise. The cake needs to cling to the side of the pan to rise tall

Before you start making the recipe, make sure eggs, pandan juice (or milk) are at room temperature. Get them out from the fridge 20-30 minutes and let them sit at room temperature before you plan to start working on this
Make pandan juice:
Make sure you cut the leaves into little pieces to extract the juice out from the leaves. Put in a blender and add coconut milk and water and blend until smooth. Transfer to a cheesecloth or muslin cloth or use a strainer to squeeze the juice out Set aside for later use. Make sure you get 100 ml of liquid total. Top up with a bit of water if needed to make up to 100 ml
Prepare the cake batter:
Separate the egg yolks from the whites and let them sit out for 30 minutes at room temperature. The meringue whips better at room temperature

Put egg yolks, oil, sugar, coconut milk, water (or homemade pandan juice), pandan essence in a mixing bowl and whisk to combine

Sift the flour mixture into the egg yolk mixture. Use a rubber spatula and combine. Try not to overmix it too
Whip the meringue:
Preheat your oven to 325 F (160 C) for conventional oven. If you have convection oven, please reduce the temperature by 20 degrees. Place the oven rack on the middle rack of your oven

Place the egg whites in a clean bowl. You will have trouble whipping your meringue if there's a trace of grease in your utensils or bowls. Beat the egg whites on medium speed, speed 4 on Kitchen Aid, until frothy, add cream of tartar and whip until it turns whitish. Increase the speed to 6 and gradually add the sugar as you beat, in about 1-minute interval before adding the next sugar. Continue to beat until you get a firm peak. When you lift the meringue up with the whisk, it should maintain its shape with its tail bending slightly
Fold meringue into batter:
Gently fold in 1/3 of the meringue into the thick batter. Using a rubber spatula, swipe from the side and gently fold over to mix and then continue. Repeat this motion several rounds. Continue on with the second 1/3  of the meringue again to mix. Continue to do this until you are done with the meringue and the batter and meringue are nicely mixed. You shouldn't see anymore white meringue

DO NOT grease your chiffon pan. The cake needs to cling to the pan to rise. You can use a toothpick to pop any air bubbles you see and gently drop the cake pan from about 10 cm height on the counter 3-4 times. This will pop any air bubbles inside the cake
Baking:
Pop into the oven and let it bake at 325 F for 50 minutes to 1 hour for 9-inch cake. If you make your cake smaller or bigger, you may need to adjust the baking temperature accordingly. Please DO NOT open your oven door to peek or check on the chiffon cake at least for the first 45 minutes
Check for doneness:
The surface may have some cracks or it may not, but don't worry if there are some cracks, this will be the bottom of the cake. The surface should bounce back when you touch and no longer jiggly. You can insert a cake tester and it should come out clean with maybe just a bit of crumbs, but it shouldn't be wet. If it is, bake a little longer in a 5-minute increment until a cake tester comes out clean
Invert and cool down:
Once out of the oven, immediately invert the pan upside down. Your chiffon pan may have the little stands for you to invert, but I find it not high enough. I use a glass jar and set the inverted pan on top of the jar or you can use a wine bottle and let it cool down completely. Please don't be tempted to remove from the pan if it's still warm. It takes about one to two hours to cool down completely

Once it's cool down completely, use a spatula knife to run through the edge of the cake to help release the cake. Gently push the base of the pan down. Use the knife again to run through the top of the cake to help release it from the base of the pan
Notes
Recipe adjustment for different tube size:
For 6 inch tube: use 2 eggs and multiply 0.4 the rest of the ingredients. Bake for 40-45 minutes or until cake tester comes out clean
For 7 inch tube: use 3 eggs and multiply 0.6 the rest of the ingredients. Bake for 45-50 minutes or until cake tester comes out clean
For 8 inch tube: use 4 eggs and multiply 0.8 the rest of the ingredients. Bake for 50 minutes or until cake tester comes out clean
For 10 inch tube: use 7 eggs and multiply 1.4 the rest of the ingredients. Bake for 60-65 minutes or until cake tester comes out clean
Recommended products:
Nutrition
Serving:
1
slice
|
Calories:
237
kcal
|
Carbohydrates:
28
g
|
Protein:
4
g
|
Fat:
12
g
|
Saturated Fat:
4
g
|
Polyunsaturated Fat:
2
g
|
Monounsaturated Fat:
6
g
|
Trans Fat:
1
g
|
Cholesterol:
92
mg
|
Sodium:
134
mg
|
Potassium:
100
mg
|
Fiber:
1
g
|
Sugar:
14
g
|
Vitamin A:
123
IU
|
Vitamin C:
1
mg
|
Calcium:
39
mg
|
Iron:
1
mg
YOU MAY ALSO LIKE THESE GLUTEN-FREE RECIPES: