Make this really simple naturally gluten-free Indonesian ongol-ongol tepung kanji with only 6 ingredients. The ongol ongol has an amazingly soft yet bouncy texture, just lightly sweetened and rolled in slightly salty grated coconut. A humble snack that is popular among the locals.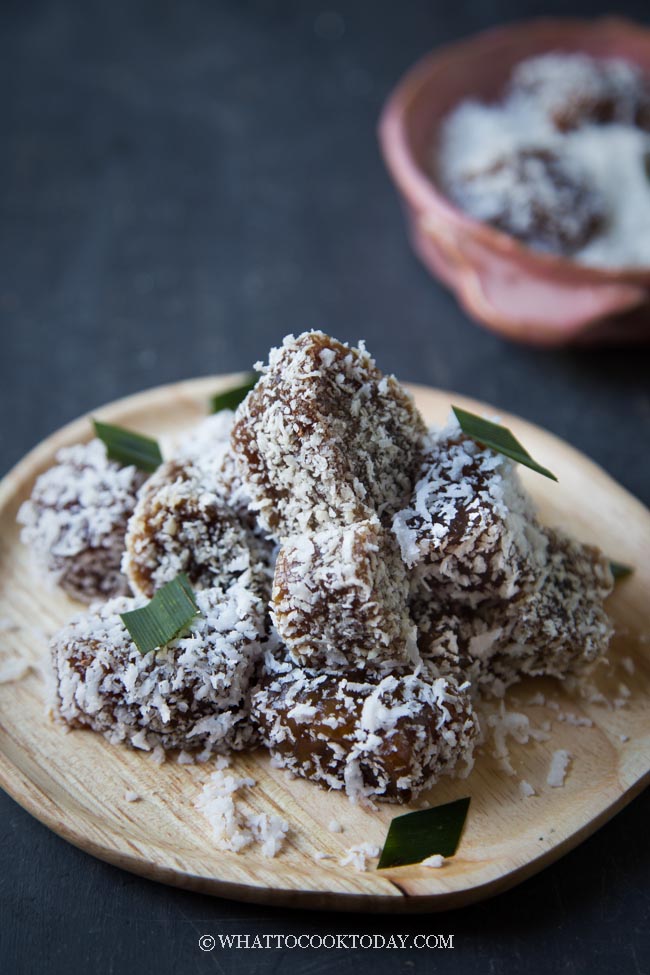 My aunt shared with me her very simple ongol ongol tepung kanji recipe the other day. I love it so much because it has a really soft yet bouncy texture. A texture that people love when it comes to ongol ongol.
WHAT IS ONGOL ONGOL?
Ongol ongol is a type of Indonesian kue originated from West Java. It is an extremely simple cake to make, but I can tell you almost every Indonesian love ongol ongol, including yours truly!
DIFFERENT TYPES OF ONGOL ONGOL
A while ago I made ongol ongol hunkwe, which is basically made with hunkwe flour (mungbean starch) and also ongol ongol/cenil singkong, which is made with actual grated cassava roots. Ongol ongol kanji is made with tapioca starch, not the actual cassava/tapioca roots like with ongol ongol singkong.
ONLY 6 INGREDIENTS
This is truly a very simple recipe and you don't need a steamer or oven to make. This kueh is cooked on the stove
1. TAPIOCA STARCH
This is the star ingredient in this recipe. Some have substituted tapioca starch with arrowroot starch, but I haven't tried this myself in person so I can't tell you for sure if it is a good substitution or not for ongol ongol tepung kanji
2. CORNSTARCH
You can substitute cornstarch with potato starch
3. PALM SUGAR/GULA JAWA
You can substitute with coconut sugar. They have the same taste and aroma of palm sugar
4. PANDAN LEAVES
Pandan leaves add a nice aroma. Pandan leaves are available at the frozen section at Asian grocery store or sometimes you may find them fresh at the refrigerated produce section at Asian grocery store. If you can't find, you can simply omit or use 1/2 tsp vanilla extract for a different flavor
5. GRATED COCONUT
Use unsweetened grated coconut. Usually available at the frozen section at Asian grocery store
6. WATER
You can mix with half coconut milk and half water if you want a richer taste. But I just use all water

HOW TO MAKE ONGOL ONGOL TEPUNG KANJI
1. PREPARE PALM SUGAR SYRUP
Place palm sugar blocks (cut into smaller pieces), water, and pandan leaves (knotted) in a saucepan. Bring to a boil and cook until the sugar melts.


Strain the mixture. If you are using coconut sugar, you don't need to strain


Let it cools down for about 5 minutes. It doesn't have to cool down completely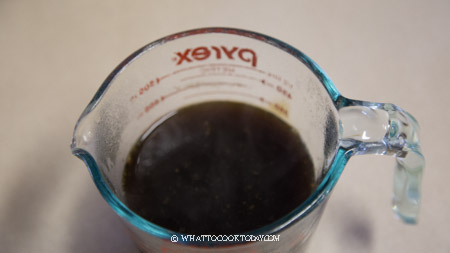 2. PREPARE COCONUT TOPPING
Steam the grated coconut on high heat for 10 minutes. Season with a small pinch of salt and then let it cools down completely after that


3. PREPARE ONGOL ONGOL BATTER
Put tapioca and cornstarch in a mixing bowl. Stir to mix. Pour in the warm palm sugar syrup into bowl


Stir to mix until there are no lumps.


Transfer this to a non-stick pan. I highly recommend using non-stick pan versus regular saucepan (unless it is not-stick too, then you can use it)


Turn on the heat to between medium and low, more to a low side and keep stirring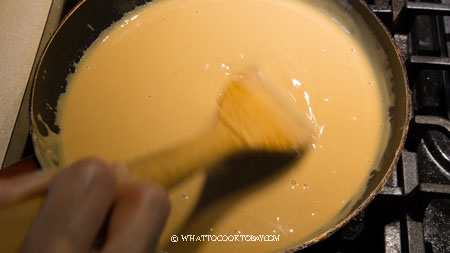 Nothing seems to happen the first 2-3 minutes, but keep stirring. Don't be tempted to crank the heat up. Lumps will start to form as the batter starts to thicken, probably around 4 minutes or so (this depends on the level of the heat too)


Stir until the mixture gets heavier and sticky (but thank goodness we are using non-stick pan!). The mixture gets REALLY thick, turns translucent, and color turns darker as the sugar caramelizes. Some spots may not be as dark yet, continue to cook and stir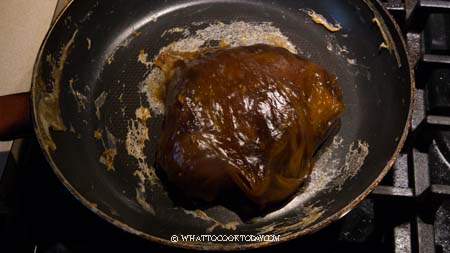 Once the color has all turned dark, and the batter is no longer wet, you are done cooking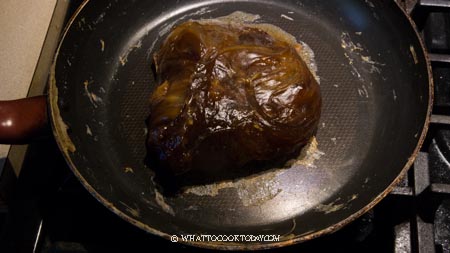 Remove from the stove and transfer to a plate and let it cools down completely before cutting and rolling them in grated coconut


4. CUT AND ROLL
Smear a bit of oil on the knife or use a non-stick cooking spray. Cut the ongol ongol dough into the desired size


Roll each piece in the grated coconut and serve

IMPORTANT TIPS
1. I recommend using non-stick pan/pot to cook this as the dough will get very sticky and heavy as it thickens and non-stick pan makes it easier to stir it
2. It is important to let both the cooked dough and coconut toppings to cool down completely before rolling the cake in the coconut. The coconut spoils faster if you roll the warm dough in a warm coconut
3. Store in air-tight container and put in the fridge and they stay soft for up to 5 days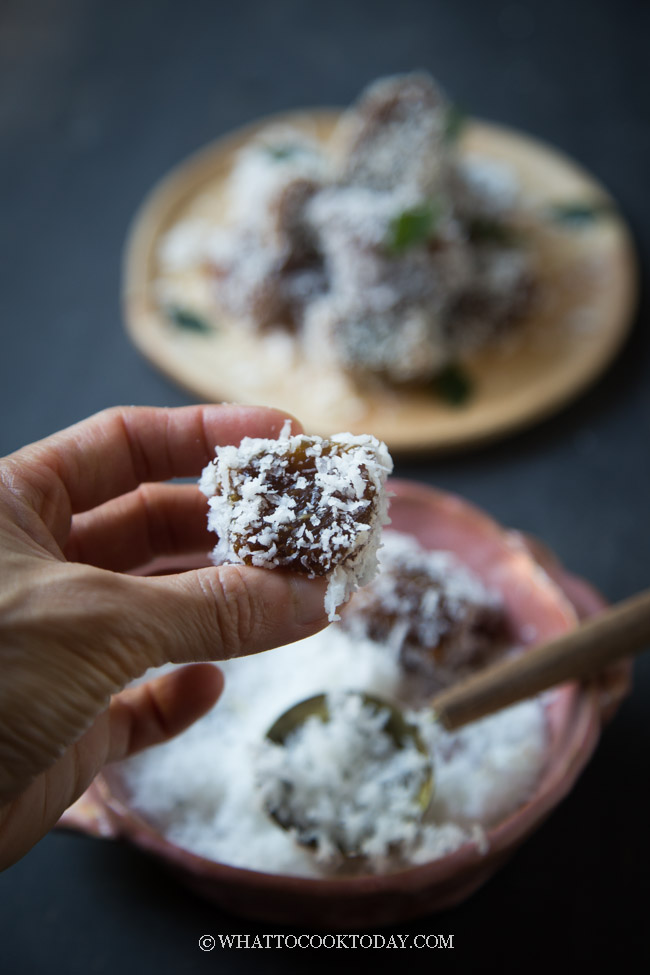 DID YOU MAKE THIS ONGOL ONGOL TEPUNG KANJI RECIPE?
I love it when you guys snap a photo and tag to show me what you've made 🙂 Simply tag me @WhatToCookToday #WhatToCookToday on Instagram and I'll be sure to stop by and take a peek for real!

Ongol Ongol Tepung Kanji (Tapioca Starch Coconut Cake)
Instructions
Prepare the palm sugar syrup:
Place palm sugar blocks (cut into smaller pieces), water, and pandan leaves (knotted) in a saucepan. Bring to a boil and cook until the sugar melts. Strain the mixture. If you are using coconut sugar, you don't need to strain. Let it cools down for about 5 minutes. It doesn't have to cool down completely
Prepare the coconut topping:
Steam the grated coconut on high heat for 10 minutes. Season with a small pinch of salt and then let it cools down completely after that
Prepare ongol ongol batter:
Put tapioca and cornstarch in a mixing bowl. Stir to mix. Pour in the warm palm sugar syrup into bowl and stir to mix until there are no lumps. Transfer this to a non-stick pan. I highly recommend using non-stick pan versus regular saucepan (unless it is not-stick too, then you can use it). Turn on the heat to between medium and low, more to a low side and keep stirring

Nothing seems to happen the first 2-3 minutes, but keep stirring. Don't be tempted to crank the heat up. Lumps will start to form as the batter starts to thicken, probably around 4 minutes or so (this depends on the level of the heat too). Keep stirring baby!! 🙂 Stir until the mixture gets heavier and sticky (but thank goodness we are using non-stick pan!). The mixture gets REALLY thick, turns translucent, and color turns darker as the sugar caramelizes. Some spots may not be as dark yet, continue to cook and stir

Once the color has all turned dark, and the batter is no longer wet, you are done cooking. Remove from the stove and transfer to a plate and let it cools down completely before cutting and rolling them in grated coconut. If you roll them in the coconut while they are warm, the ongol ongol won't last as long and coconut will spoil faster. So it's important that both coconut and the ongol ongol are cooled down
Cut and roll with coconut:
Smear a bit of oil on the knife or use a non-stick cooking spray. Cut the ongol ongol dough into the desired size. Roll each piece in the grated coconut and serve
Storing:
This ongol ongol tepung kanji can be kept in the refrigerator for up to 5 days and the texture remains soft and bouncy. I won't recommend freezing as that will change the texture