Ongol Ongol Hunkwe (Mung Bean Starch Cake with Grated Coconut) – This naturally gluten-free, vegan, and dairy-free cake is made with mung bean starch and coconut sugar and rolled in grated coconut.
There are many Indonesian kue kue (cake) that are made not with wheat flour (all-purpose flour). So, they are naturally gluten-free. Not because gluten was a concern back in the old days but it was because wheat was more rare compared to other types of flours that are more commonly use in cooking and baking, just to name a few: rice flour, glutinous rice flour, tapioca flour, potato flour, corn flour/starch, and mung bean flour.
WHAT IS HUNKWE?
Hunkwe is basically a type of starch extracted from mung beans. When cooked it will yield a soft and bouncy texture. It is one of the favorite type of flours used to make kue kue in Indonesia. Don't be mistaken with mung bean flour, which is made by grinding the beans. Though I can tell you in Asia the term mung bean starch and mung bean flour are often used interchangeably, but they aren't the same thing.
This is the brand of hun kwe that my mom always bought. I couldn't find any Indonesian-made hun kwe here, but there's mung bean starch made in Korea, which is a perfect substitution too.

WHAT IS ONGOL ONGOL HUNKWE?
Ongol ongol hunkwe is made with hunkwe flour cooked in coconut sugar and then rolled in grated coconut. Ongol Ongol is originated in West Java. It has a soft, almost translucent appearance, and jiggly like a jello. It has a mild sweet taste with slightly salty grated coconut. Such a simple cake but a huge favorite by the local.
HOW IS ONGOL ONGOL HUNKWE MADE?
There's a recipe printed on the package on how to make ongol ongol. If I followed this recipe, the ongol ongol never turned out good for me though. The flour to water ratio is 1:6, which I found too tough!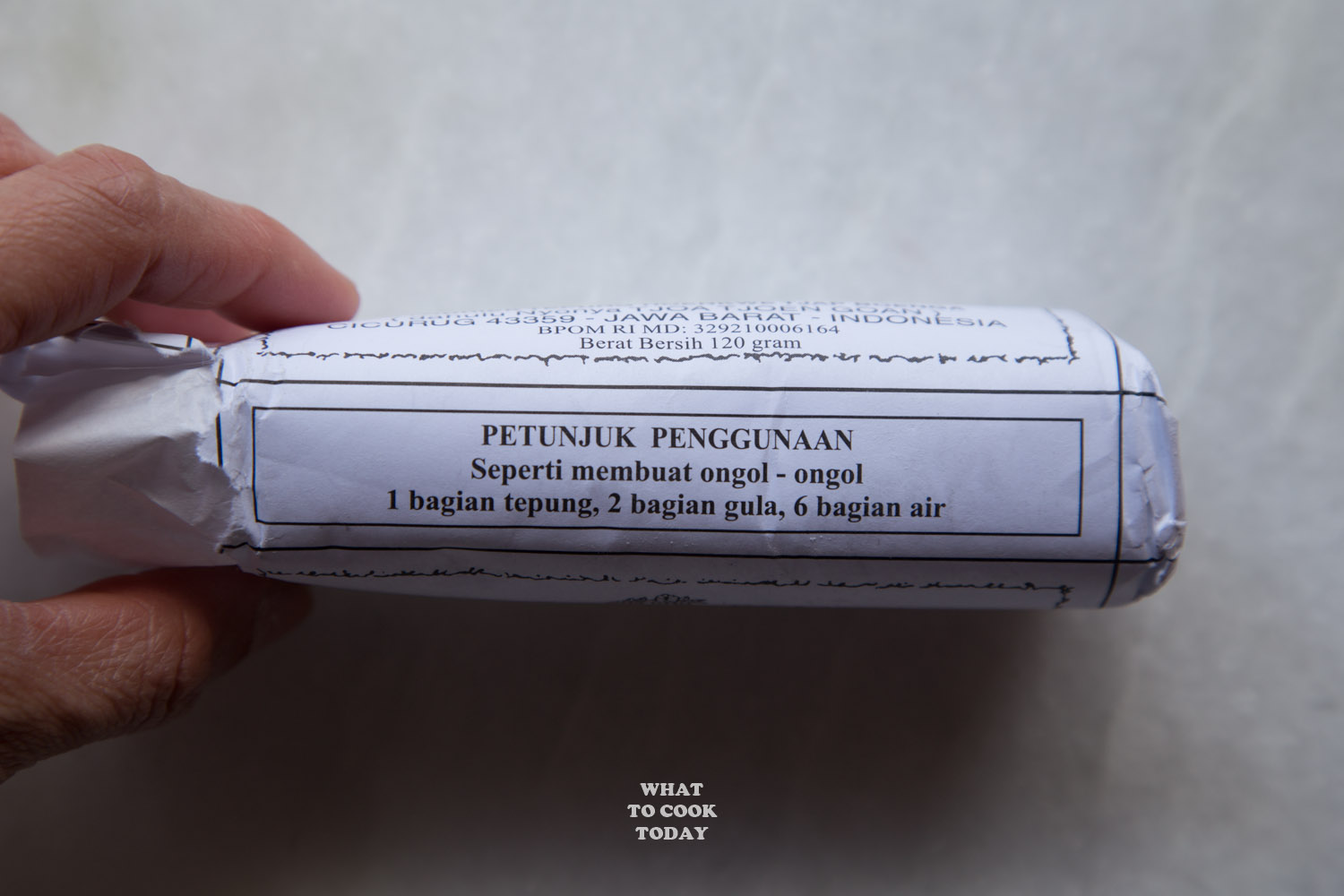 Ongol Ongol hunkwe is very simple to make. You only need: hunkwe flour (or use mung bean flour), water, coconut sugar, regular sugar, grated coconut and pinch of salt.
The dark brown color of ongol ongol comes from gula Jawa/coconut sugar/palm sugar. I like gula Jawa because it really flavors up the food without being too sweet.
My son loves to just munch on the cake itself without any of the grated coconut (look at that eager hand)

HOW TO MAKE ONGOL ONGOL HUNKWE IN A NUTSHELL
1. Melt the coconut sugar and regular sugar in a water
2. Mix hunkwe flour with water
3. Stir in the hunkwe flour into the coconut sugar mixture and cook until it thickens and turns dark brown and transclucent
4. Transfer to a heat-proof container and let it cool down
5. Steam grated coconut with a pinch of salt
6. Cut the cake into squares and roll in grated coconut
HOW TO STORE AND REHEAT ONGOL ONGOL HUNKWE
Store: Leftover can be covered in plastic wrap and then stored in fridge for up to 5 days.
Freeze: I would not recommend freezing ongol ongol. They do not do well after freezing
This ongol ongol hunkwe surely hit home when I made it the other day. Love it !
Ongol Ongol Hunkwe (Mung Bean Starch Cake with Grated Coconut)
Ingredients
Coconut topping:
1

screwpine leaves/pandan leaves

washed and knotted

200

gr

grated coconut

½

tsp

salt
Instructions
Prepare the cake:
Place coconut sugar, regular sugar, and 200 ml of coconut in a medium saucepan. Bring to a simmer until the sugar melted

Meanwhile, mix the mung bean flour and the remaining 700 ml of coconut milk. Stir this flour mixture into the coconut sugar mixture and continue to stir. After about 8-10 minutes, the mixture will start to thicken. Continue to cook until the color gets darker and the mixture turns translucent. The batter will be thick but pourable

Pour this into a heat-proof container. Smooth with a rubber spatula and let it cool down
Prepare the coconut mixture:
While waiting for the cake to cool down, prepare a steamer by bringing the water to a boil. Mix the coconut with a pinch of salt and cut pandan leaves into smaller pieces and mix with the coconut. Steam for about 10 minutes on high heat. Set aside to let it cool down before rolling the cake
Putting it together:
Unmould the cake from the container. You should be able to do this without any difficulty as the cake doesn't stick to the container at all. It has this soft and jiggly texture once it is cooled down. Use a plastic knife or rub a thin layer of oil on a knife and cut the cake into squares

Roll each square in the coconut mixture and serve.
Reheat:
Save any leftover in the refrigerator for up to 5 days. Do not freeze any leftover as they do not do well after freezing