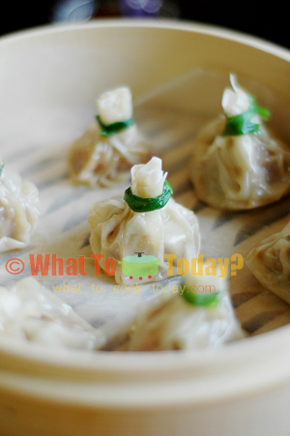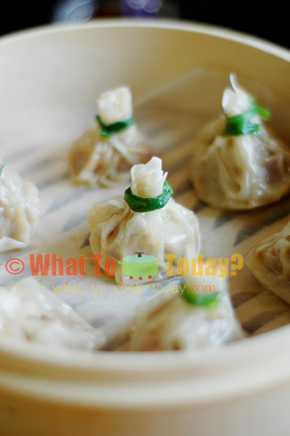 Climb the Himalaya mountain I have not, but tasting the Himalayan steamed dumplings I have! Thanks to who else if not Jeffrey Alford and Naomi Duguid in their Home Baking cookbook, I could make this happen 🙂 Love..love..that cookbook!
These dumplings are known as momos in Tibetan language. They are originated in Tibet. The momos are very similar to steamed pork-filled dumplings you find in East Asia called Jiao-Zi. The Tibetans make the momos with yak meat. You and I know that there's no way we can find yak meat here in the U.S ? or is there ? (Please let me know if you seriously know where to get it!). This is a beef version however, they are still really good.
This recipe is not the traditional way of making momos. I personally think it's okay to incorporate some "help" from technologies to make life easier: a food processor for both the filling and the dough. I'm making the wrappers but you don't have to if you choose not to. You can always use the store-brought wonton wrappers.
I did add some "garnish" to the dumplings by using stalks of chives to wrap around the knot. This is more for photography purpose but complement well with the dumplings too when you bite into them with the chives.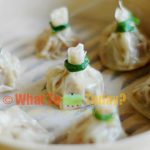 HIMALAYAN STEAMED DUMPLINGS / MOMOS
Ingredients
Filling:
1

lb

lean beef

, such as round steak, cut into 3 or 4 pieces

2

medium onions

(1/2 pound), quartered

2

large garlic cloves

, peeled and halved

1-

inch

piece of ginger

, peeled and roughly sliced

1

tsp

salt

2

Tbsp

soy sauce
Wrappers:
4

cups

unbleached all-purpose flour

About 2 cups warm water

Peanut or vegetable oil for coating
Garnish:
24

stalks of chives

(blanch briefly in pot of boiling water so it's soft enough for you to wrap it around the knot of the dumplings. Cut it shorter if it's too long to wrap one dumpling) - optional
Instructions
Put the beef, onions, garlic, ginger, salt, and soy sauce in a food processor and process to a paste. Transfer the filling to a bowl, cover with plastic wrap, and refrigerate until ready to assemble the dumpings. (The filling can be made up to 24 hours ahead)

Wash and dry the food processor bowl. Place the flour in the food processor and put the lid on. With the processor on, gradually add the water, or as little as 1 3/4 cups. Once there is a ball of dough spinning around inside the processor, turn it off

Turn the dough out onto a lightly floured surface and knead briefly, just to get a feel for the dough. It should be fairly stiff, not too sticky; knead in a little flour if necessary. Set the dough aside, covered with plastic wrap, for at least 30 minutes, or up to 8 hours at room temperature; if longer, the dough should be refrigerated (for up to 2 days, then brought back to room temperature before using)

Prepare the steamer: Use peanut or vegetable oil to lightly oil one large or two smaller bamboo steamer baskets (or use another steaming device that fits over a pot of boiling water)

Cut the dough into 3 equal pieces, then cut each piece into 8 equal pieces. Work with 1 piece at a time, keeping the remaining pieces covered with plastics. On a lightly floured surface, flatten the dough into a disk. With a rolling pin, roll it out until it is approximately 4 inches in diameter

Place 1 level Tbsp of the filling in the middle of the dough, then pick up the edges in several places, gather them together over the filling, and twist and squeeze to seal the top, making a kind of topknot. Place in a steamer basket topknot side up, and continue with the rest to form dumplings

Fill a wok or pot with about 3 inches of hot water, place on a burner, and place a steamer basket over the water; the water should not touch the dumplings. Cover the steamer, bring the water to a boil, and steam the dumpling for 10 to 12 minutes, until the filling and wrappers are cooked through. Serve hot with a bowl of soy sauce and a bit of rice vinegar for dipping, but they are good on their own as well