Soft and fluffy milk buns are filled with sweet and aromatic coconut filling and decorated with sweet toppings are popular and iconic Hong Kong-style sweet buns.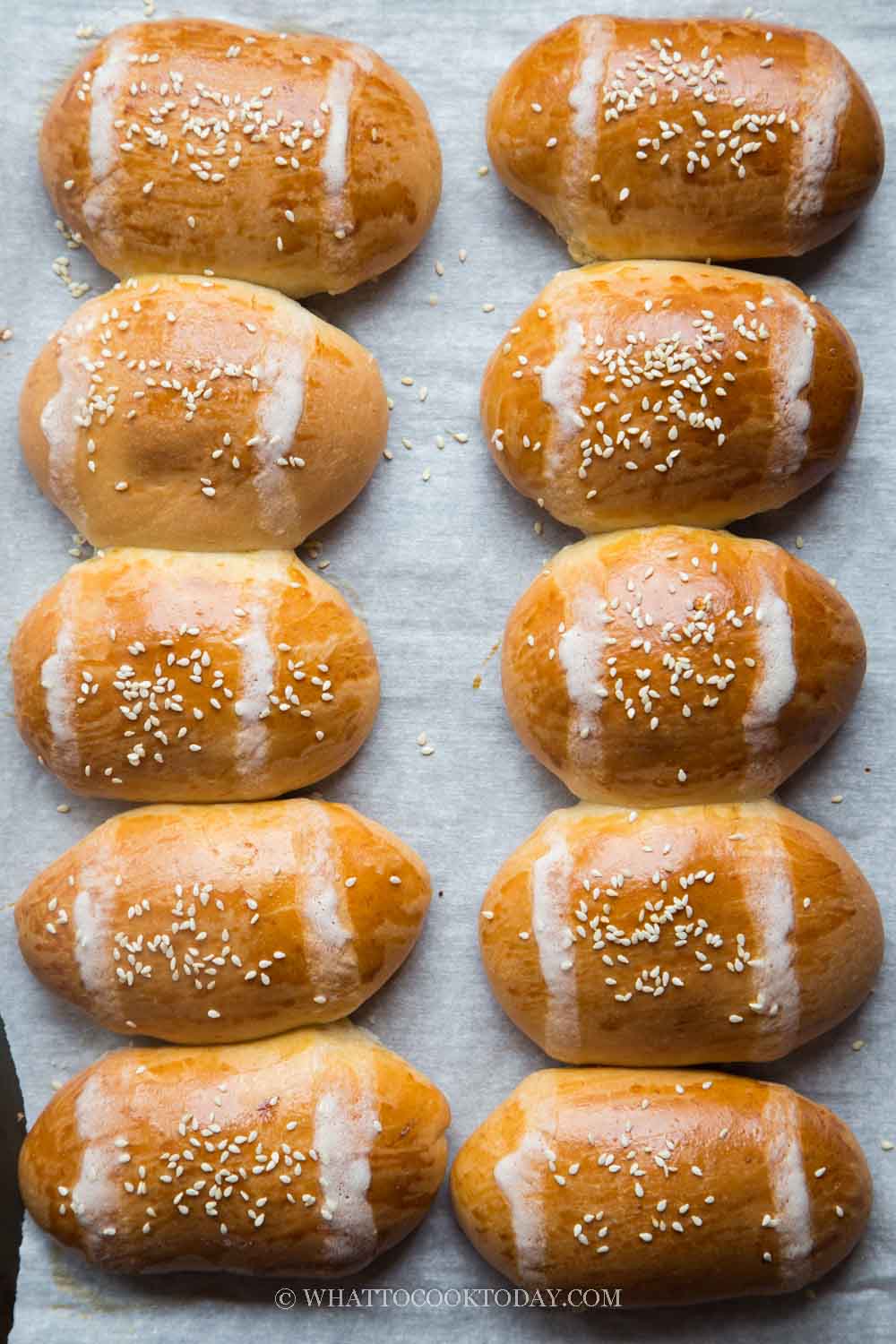 Walking past the bakery shops in Hong Kong and you will often see one of these coconut cocktails buns on displays among other iconic Hong Kong buns such as po lo bao. They are both my favorites! The soft, fluffy, and buttery milk buns with the aromatic sweet coconut filling are hard to resist!
What is Hong Kong cocktail bun?
There is no alcohol of any kind in the buns if you are wondering. According to Wikipedia, the cocktail name came from comparing how bakers concoct the mixture of ingredients for these buns, just like a bartender concocting a mixture of liquors for the cocktails. The Cantonese name "Gai Mei Bao" is a direct translation from English, which means, Chicken/Cock (Gai) Tail (Mei) Buns (Bao). Interesting 🙂
The recipe rundown
Taste: Slightly sweet buns with aromatic and sweet coconut filling on the inside
Texture: Soft and fluffy buns with a good mouthfeel of the sweet coconut filling
Level: Intermediate

How to make Hong Kong cocktail buns
1. Place all ingredients for the dough in a mixing bowl of a stand mixer fitted with a dough hook attachment.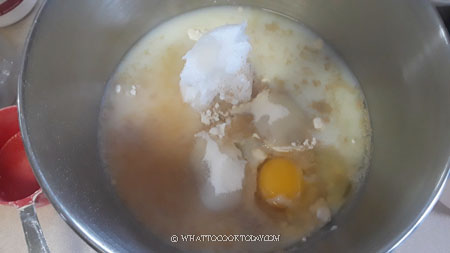 2. Mix on low speed for about 2 minutes, then increase speed by one notch to medium and knead for about 10 minutes. The dough should leave the sides of the bowl. Stop the kneading. The dough will be very soft and just slightly sticky and if you stretch it thin, it won't break. It has reached a windowpane stage. If not, knead just a bit longer


3. Place the dough in an oiled bowl. Cover and let it proof at a warm place until it is doubled in size. It may take 1 to 1 1/2 hours or longer depending on how warm your place is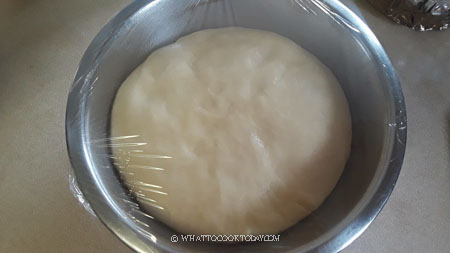 4. Mix all the ingredients for filling until it's well-combined and creamy. Cover and chill in the fridge for 30 minutes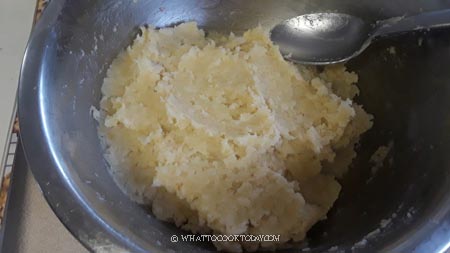 5. Then divide the filling into 20 portions and roll them into oval shape


6. Once the dough has doubled in size and when you gently press on it, it never bounces back, the dough is done proofing.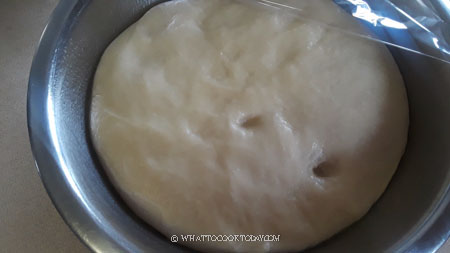 7. Lightly dust your work surface with a little bit of flour. Get the dough out and punch the air out on the dough to flatten. Divide the dough into 20 equal pieces. Keep them covered and work with one dough at a time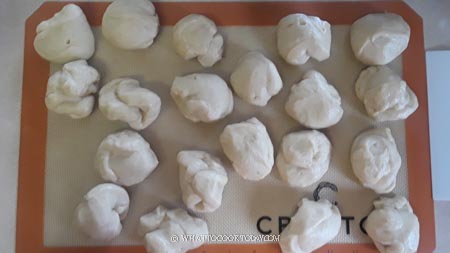 8. Get one dough and flatten into a long oval. Place the filling on top and gather the side to enclose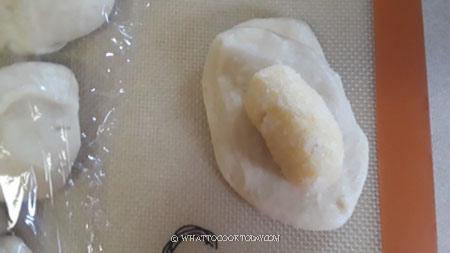 9. Pinch to seal tightly so the filling won't leak out butter during baking.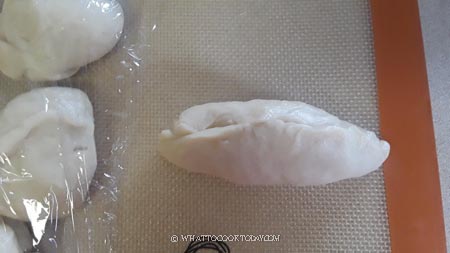 10. Shape the dough into an oval shape and place it on a large baking sheet lined with parchment paper. You will need two baking sheets. Cover them with a clean cloth and let them rise again until about double in size. When you press on the dough gently, it will gradually bounce back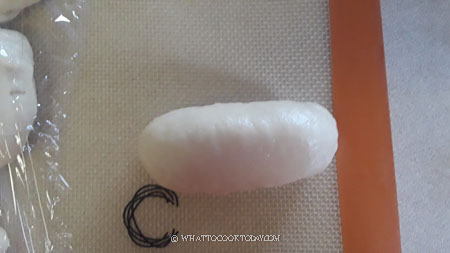 11. Preheat oven at 350 F (180 C) for a conventional oven. For a convection oven, lower the temperature by 20 degrees. Beat one egg with one tablespoon of water and set aside.  Mix all ingredients for topping and transfer to a piping bag. It should be of a paste consistency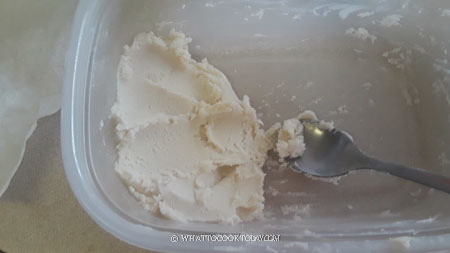 12. Brush the top of the buns with egg wash. Pipe two stripes of topping near the end of the buns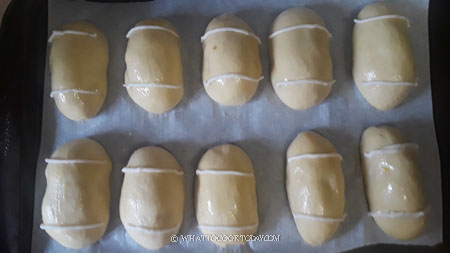 13. Sprinkle with some white sesame seeds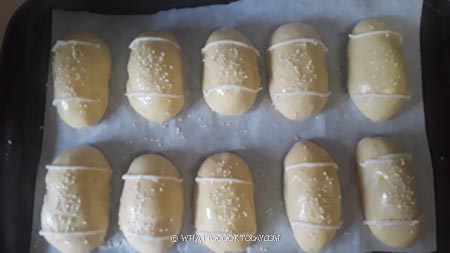 14. Place the pans on position racks and bake for 10 minutes then rotate the pans top to bottom, front to back then bake for another 8-10 minutes or until golden brown. Remove from the oven and then transfer to a cooling rack to let them cool down completely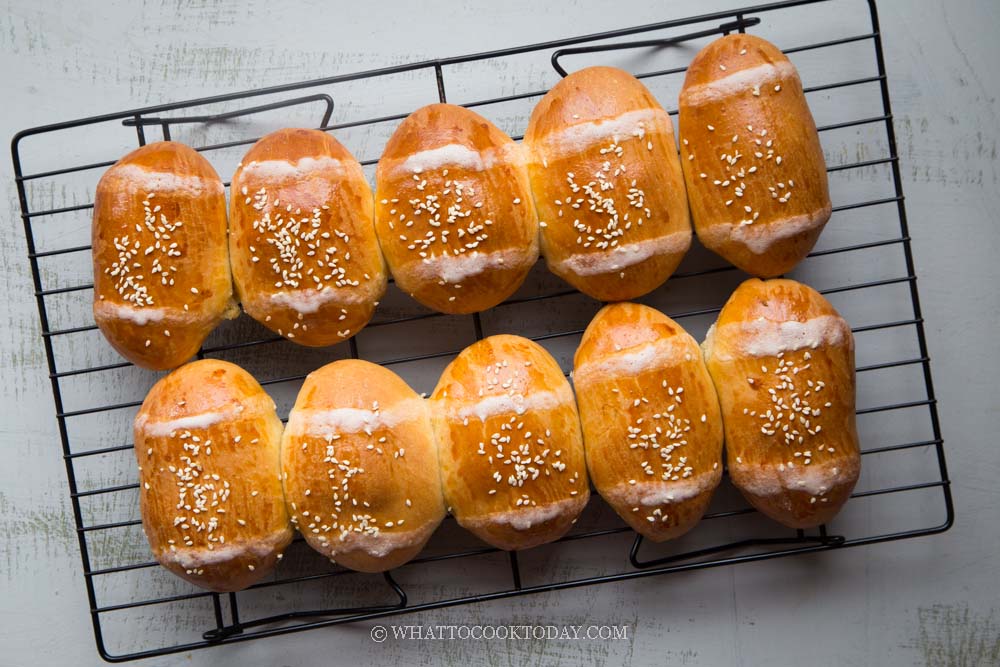 How to store baked cocktail buns
This is my favorite way of making ahead and when I want them, I just need to reheat.
1. Let the buns cool down completely on the rack
2. I individually wrap it up with a cling wrap. They can be kept at room temperature for about 3 days
3. For longer storage, wrap them up in the foil on top of the cling wrap, then put them inside a freezer bag. Transfer to a freezer and they can be kept for up to one month. I won't keep any further than that as quality starts to deteriorate
4. When ready to serve, simply thaw overnight in the fridge and warm it up for a few seconds in the microwave
5. You can also reheat without thawing. Remove the foil and the cling wrap. Wrap them back up loosely in the foil and bake at 300 F for 10 minutes or so or until heated through

Did you make this Hong Kong cocktail buns recipe?
I love it when you guys snap a photo and tag to show me what you've made 🙂 Simply tag me @WhatToCookToday #WhatToCookToday on Instagram and I'll be sure to stop by and take a peek for real!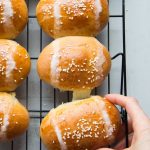 Soft and Fluffy Hong Kong Cocktail Buns (Coconut Buns)
Instructions
Prepare the dough:
This recipe yields 20 buns, you can always half the recipe if you don't want to make that many

Place all ingredients for the dough in a mixing bowl of a stand mixer fitted with a dough hook attachment. Mix on low speed for about 2 minutes, then increase speed by one notch to medium and knead for about 10 minutes. The dough should leave the sides of the bowl. Stop the kneading. The dough will be very soft and just slightly sticky and if you stretch it thin, it won't break. It has reached a windowpane stage. If not, knead just a bit longer
Proofing:
Place the dough in an oiled bowl. Cover and let it proof at a warm place until it is doubled in size. It may take 1 to 1 1/2 hours or longer depending on how warm your place is
Prepare the coconut filling:
Mix all the ingredients for filling until it's well-combined and creamy. Cover and chill in the fridge for 30 minutes

Then divide the filling into 20 portions and roll them into oval shape
Fill and shape:
Once the dough has doubled in size and when you gently press on it, it never bounces back, the dough is done proofing. Lightly dust your work surface with a little bit of flour. Get the dough out and punch the air out on the dough to flatten. Divide the dough into 20 equal pieces. Keep them covered and work with one dough at a time

Get one dough and flatten into a long oval. Place the filling on top and gather the side to enclose and pinch to seal tightly so the filling won't leake out butter during baking. Shape the dough into oval shape and place on a large baking sheets lined with parchment paper. You will need two baking sheets. Cover them with a clean cloth and let them rise again until about double in size. When you press on the dough gently, it will gradually bounce back
Prepare the topping and egg wash:
Preheat oven at 350 F (180 C) for a conventional oven. For a convection oven, please lower temperature by about 20 degrees. Position racks 3rd from top and 3rd from the bottom. Beat one egg with one tablespoon of water and set aside. Mix all ingredients for topping and transfer to a piping bag
Baking:
Brush the top of the buns with egg wash. Pipe two stripes of topping near the end of the buns and sprinkle with some white sesame seeds

Place the pans on position racks and bake for 10 minutes then rotate the pans top to bottom, front to back then bake for another 8-10 minutes or until golden brown

Remove from the oven and then transfer to a cooling rack to let them cool down completely
Nutrition
Serving:
1
bun
|
Calories:
349
kcal
|
Carbohydrates:
36
g
|
Protein:
6
g
|
Fat:
21
g
|
Saturated Fat:
12
g
|
Trans Fat:
1
g
|
Cholesterol:
37
mg
|
Sodium:
157
mg
|
Potassium:
98
mg
|
Fiber:
3
g
|
Sugar:
9
g
|
Vitamin A:
438
IU
|
Vitamin C:
1
mg
|
Calcium:
41
mg
|
Iron:
2
mg