Learn how to make kerisik the easy way. Kerisik is often used in cooking rendang and other Malay dishes. I'm sharing how to make dry kerisik and kerisik paste.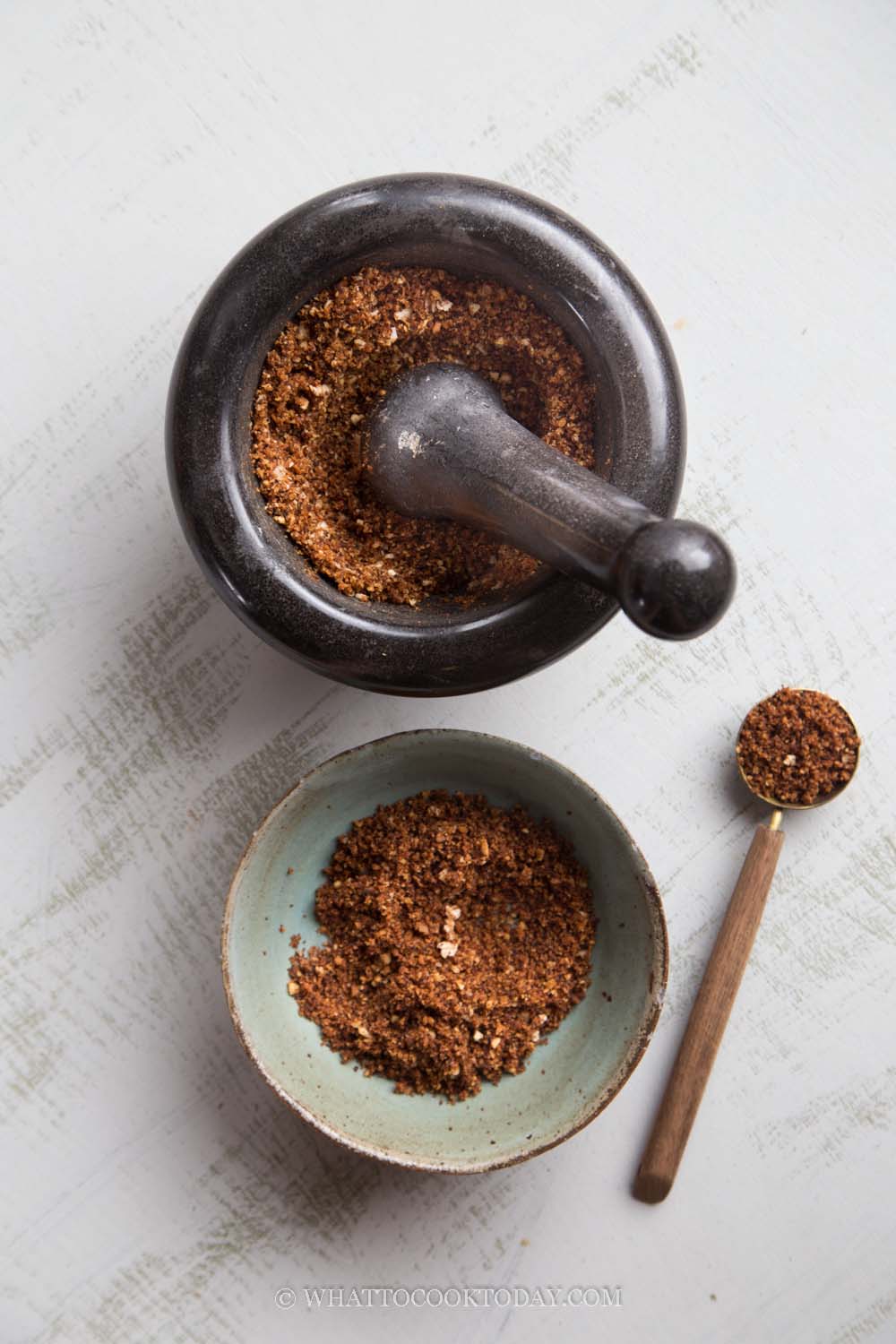 What is kerisik?
Kerisik is made with freshly grated coconut that is toasted dry until aromatic and golden brown. If you just lightly pound the toasted coconut to release some aroma and just a bit of oil, the texture will be drier. This drier version is more often used in salad and rice dishes such as kerabu salad and nasi kerabu. If you pound the toasted coconut with mortar and pestle further until the coconut releases oil and turn into an oily paste, almost like coconut butter, this kerisik paste is often used to thicken rendang such as this rendang ayam Perak and curry dishes.
Difference between kerisik and serundeng
Serundeng is also made with freshly grated coconut that is toasted until aromatic, but usually spices and herbs are added. Serundeng is usually dry in nature, similar to dry kerisik. Serundeng is more commonly used and popular in Indonesia.
How do I make it easy?
The traditional way to make kerisik paste is by pounding the toasted grated coconut until they release oil and turn into a creamy paste by using a mortar and pestle. That is A LOT of manual pounding if you ask me. But, we can use a help from a machine like a food processor 🙂 If you are a hardcore, please don't let me stop you from pounding them with a mortar and pestle.
How to make kerisik
1. Get a fresh grated coconut. You can also use frozen grated coconut. Simply thaw them before using.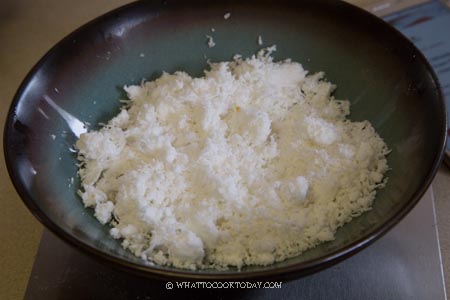 2. Use a heavy-bottom pan to toast the coconut so they don't get burnt easily. Spread the coconut on the pan without any oil and toast them over medium heat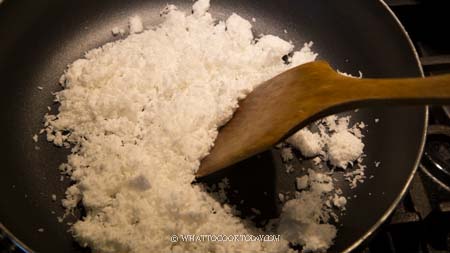 3. The color will turn from pale brown to golden brown. Keep stirring to make sure they cook evenly. The whole process may take about 10-15 minutes. You will smell and amazing nutty coconutty aroma


4. For dry kerisik: Transfer to a mortar and pestle and pound them just a bit to release flavor but they haven't gotten to a point of releasing oil. The consistency is slightly damp and coarse. Let it cools down completely and then transfer to a jar and keep in the fridge for up to one month


5. For kerisik paste: transfer immediately to a food processor and pulse for about 30-45 seconds and then stop. My food processor won't let me go further to prevent overheating the motor. Then do that again for another 30-45 seconds. You may have to do this 5-6 times or until the kerisik gradually release oil and turn into a oily paste consistency like peanut butter, in this case, coconut butter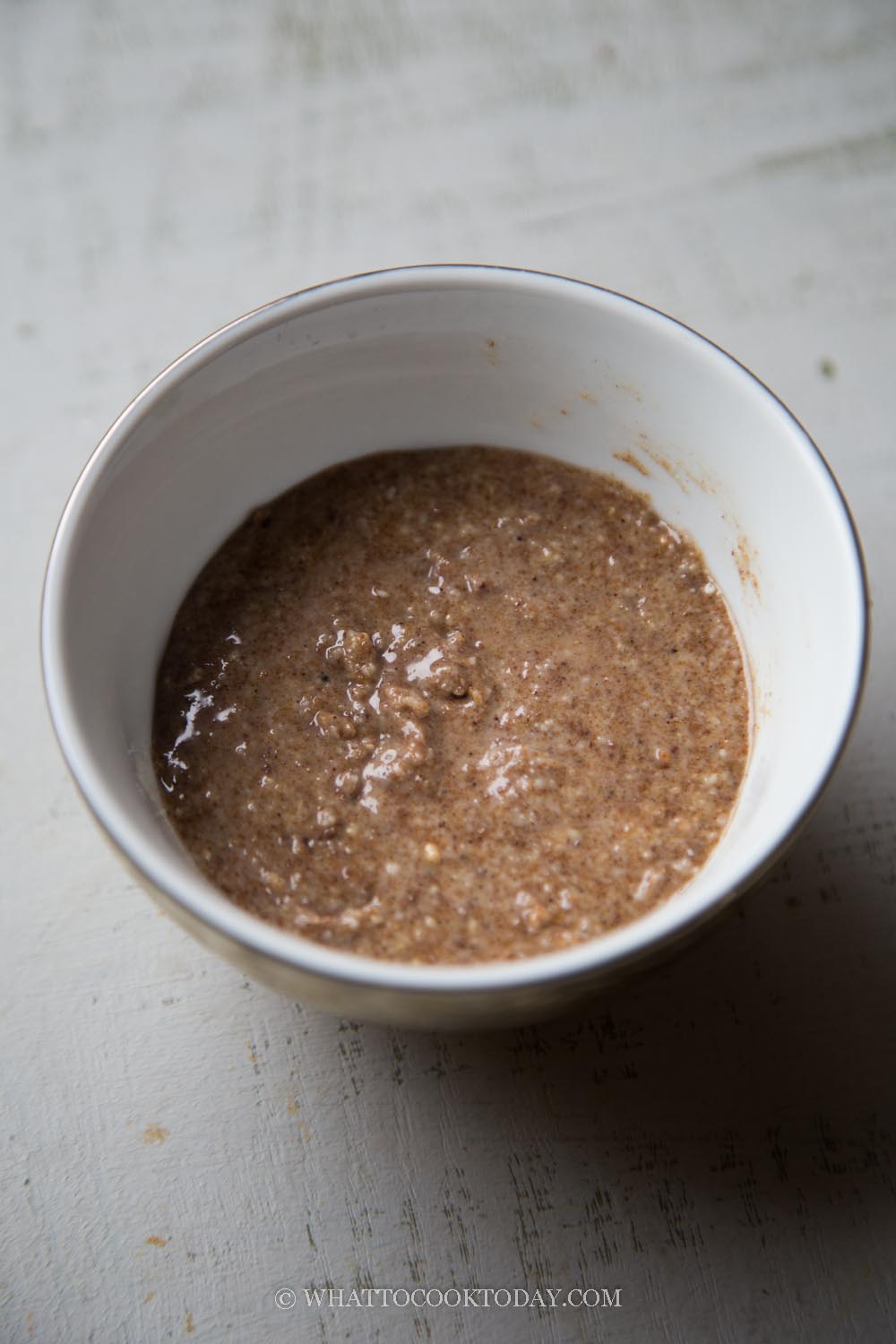 Did you make this kerisik recipe?
I love it when you guys snap a photo and tag to show me what you've made 🙂 Simply tag me @WhatToCookToday #WhatToCookToday on Instagram and I'll be sure to stop by and take a peek for real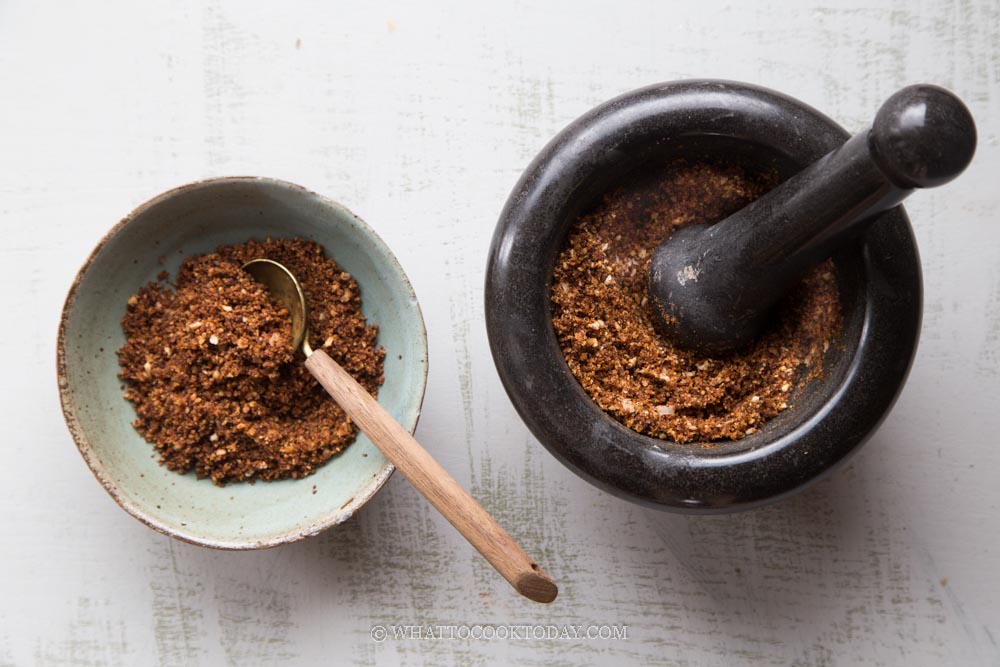 How To Make Kerisik (Toasted Coconut Paste)
Instructions
Get a fresh grated coconut. You can also use frozen grated coconut. Simply thaw them before using

Use a heavy-bottom pan to toast the coconut so they don't get burnt easily. Spread the coconut on the pan without any oil and toast them over medium heat. The color will turn from pale brown to golden brown. Keep stirring to make sure they cook evenly. The whole process may take about 10-15 minutes. You will smell and amazing nutty coconutty aroma
Dry kerisik:
Transfer to a mortar and pestle and pound them just a bit to release flavor but they haven't gotten to a point of releasing oil. The consistency is slightly damp and coarse. Let it cools down completely and then transfer to a jar and keep in the fridge for up to one month
Kerisik paste:
Once you are happy with the color and the coconut is dry and has nice golden brown, transfer immediately to a food processor and pulse for about 30-45 seconds and then stop. My food processor won't let me go further to prevent overheating the motor. Then do that again for another 30-45 seconds. You may have to do this 5-6 times or until the kerisik gradually release oil and turn into a oily paste consistency like peanut butter, in this case, coconut butter

Transfer to a jar and let the kerisik paste cools down. Secure with a lid and can be kept in the refrigerator for about 2-3 weeks. It will harden because coconut oil solidify at cold temperature just like butter
Nutrition
Serving:
0.5
cup
|
Calories:
3960
kcal
|
Carbohydrates:
142
g
|
Protein:
41
g
|
Fat:
387
g
|
Saturated Fat:
343
g
|
Polyunsaturated Fat:
4
g
|
Monounsaturated Fat:
16
g
|
Sodium:
222
mg
|
Potassium:
3258
mg
|
Fiber:
98
g
|
Sugar:
44
g
|
Vitamin C:
9
mg
|
Calcium:
156
mg
|
Iron:
20
mg